Overview
Overview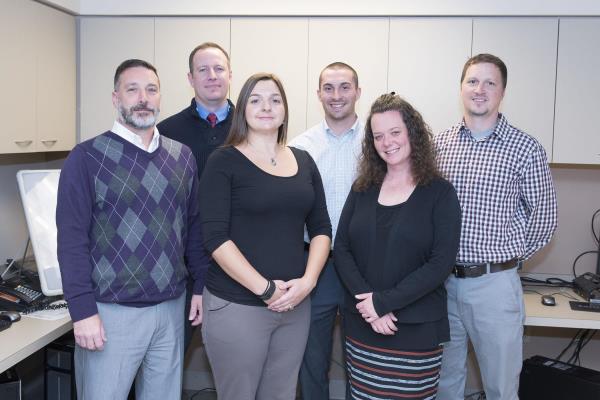 The medical dosimetrist, in collaboration with the radiation oncologist and medical physicist, performs calculations and designs treatment plans that maximize dose to the target, while minimizing dose to nearby healthy tissues. Medical dosimetrists must be knowledgeable of radiation oncology simulators, treatment machines, and brachytherapy. The medical dosimetrist coordinates tumor localization CT, MRI, and/or PET when indicated. The dosimetrist performs in-vivo dosimetry, supervises radiation therapists, and assists with brachytherapy procedures.
Cleveland Clinic's Medical Dosimetry Program offers a one-year training program to meet the demand for qualified dosimetrists. Graduates receive certificates, which qualify them to apply for the Medical Dosimetrist Certification Board (MDCB) examination. The Medical Dosimetry Program is a hospital-based program; therefore, college credit is not earned for participation in this program.
Accreditation
Apply
Apply
How to Apply
Application Information
Please Note:
Submit official transcripts from college(s) and the radiation therapy program
Submit a copy of your resume
Obtain at least three reference (see applicant letter of recommendation)
Interview with the Department of Radiation Oncology Admissions Committee
Pass a criminal background check – prior conviction of a misdemeanor or felony may prevent you from being eligible for the MDCB examination
Pass Cleveland Clinic's health screening which includes substance abuse testing
Transfer credits not accepted
Additional Program Information

Cleveland Clinic does not discriminate in admission, employment, or administration of its programs or activities, on the basis of age, gender, race, national origin, religion, creed, color, marital status, physical or mental disability, pregnancy, sexual orientation, gender identity or expression, genetic information, ethnicity, ancestry, veteran status, or any other characteristic protected by federal, state or local law. In addition, Cleveland Clinic administers all programs and services without regard to disability, and provides reasonable accommodations for otherwise qualified disabled individuals.
Mission, Goals & Outcomes
Mission, Goals & Outcomes
The Mission of the Medical Dosimetry Program is to prepare students to provide accurate, state of the art planning for the radiation oncology patient's treatment. The goal of the program is to provide the profession and community with qualified medical dosimetrists. Upon completion of the program, the graduate will be able to:
Goal 1
Perform competently as an entry level medical dosimetrist in a variety of clinical settings.

Student Learning Outcome


Produce clinically acceptable treatment plans
Prepared for an entry level position

Goal 2
Demonstrate problem solving and critical thinking skills utilized in the practice of medical dosimetry.

Student Learning Outcome


Develop problem solving skills
Comparison of different treatment modalities and treatment techniques

Goal 3
Communicate effectively with oncology patients and professional staff.

Student Learning Outcome


Students will use effective oral communication skills
Students will use effective written communication skills
Program Effectiveness Data & Requirements
Program Effectiveness Data & Requirements
This data is reported to the JRCERT annually and is available at www.jrcert.org.
Minimum Admission Requirements
To be eligible for admission the applicant must have a:
Baccalaureate Degree
ARRT registration in Radiation Therapy
Must have completed the following college level or equivalent prerequisite courses with a grade of 'C' or above:
Human Anatomy and Physiology
Cross-Sectional Anatomy
Physics
Introductory or Pre-Calculus or the combo of College Algebra and Trig
Physical Requirements/Technical Standards:
Manual dexterity and the ability to participate in assisting patients on and off treatment couches
Requires standing, sitting, and walking for extended periods of time
Must lift and carry items weighing up to 50 pounds
Contact
Contact
Susan Carlton
Program Coordinator
Radiation Oncology (CA-50)
Cleveland Clinic
9500 Euclid Avenue
Cleveland, Ohio 44195
Phone: 216.445.8692
Email: carltos1@ccf.org
Matthew Kolar, MS
Program Director, Medical Dosimetry Program
Radiation Oncology (CA-50)
Cleveland Clinic
9500 Euclid Avenue
Cleveland, Ohio 44195
Application period: September 1, 2022 – January 31, 2023
Program start date: July 26, 2023