A blood cancer diagnosis can rock your world in a split second. And it may leave you worrying about what's next.
---
What will happen to me? What kind of treatment will I need? Will I be OK? When you hear you might have lymphoma, these could be some of the first things to run through your mind.
Cleveland Clinic's experts are here to help find the answers — and treatment — you need. Our compassionate healthcare providers are experienced in diagnosing and treating this complicated disease. We'll see you quickly and support you every step of the way — through your diagnosis, treatment and beyond. You're not in this alone.
Why Choose Cleveland Clinic for Lymphoma Care?
Industry leaders:
Cleveland Clinic is part of the National Comprehensive Cancer Network. We're also a National Cancer Institute (NCI) Designated Comprehensive Cancer Center and are accredited by the Foundation for the Accreditation of Cellular Therapy. We got these designations because we've met high standards for innovative research, diagnosis and treatment of lymphoma and other cancers.
Trusted experts:
Our team specializes in lymphoma, chronic lymphocytic leukemia (CLL) and other less common related conditions. Extensive training and experience allow us to make the most accurate diagnoses and best possible treatment recommendations. Many of our healthcare providers are national leaders in lymphoma research. Meet our team.
Patient-centered care:
We'll try our best to see you as soon as possible after you reach out to us. And we'll start treatment quickly so you don't have to feel stressed waiting for information and action. Plus, the sooner we start treatment, the higher the chances it will be more effective.
Caring approach:
Getting a cancer diagnosis is never easy. Our specialists are caring and compassionate, as well as highly skilled and experienced. We want to make this journey as easy as possible for you. We'll always be available for questions and concerns.
Collaborative care:
Lymphoma treatment can be complicated if you have other health conditions, too. Our lymphoma team works closely with many Cleveland Clinic healthcare providers so you get the best, most comprehensive care.
National recognition:
Cleveland Clinic is a trusted healthcare leader. We're recognized in the U.S. and throughout the world for our expertise and care.
Virtual visits:
We offer secure, online virtual visits, where you can talk with your providers from the comfort of home using your smartphone, tablet or computer.
Lymphoma Diagnosis at Cleveland Clinic
Lymphoma starts in your immune system's blood cells and tissues. And because there are more than 50 kinds of lymphoma (the most common are Hodgkin lymphoma and non-Hodgkin lymphoma), diagnosis can be challenging. Sometimes, it's based solely on small differences in test results.
When you come to Cleveland Clinic for lymphoma diagnosis and treatment, you'll work with an experienced team of healthcare providers who know what it takes to precisely pinpoint the cause and craft a personalized treatment plan for you. This team could include:
Hematologists (experts who work with conditions affecting your blood).
Oncologists (cancer specialists).
Radiologists (specialists who diagnose and treat conditions using imaging equipment).
Hematopathologists (blood and tissue sample diagnosis specialists).
Advanced practice providers (certified nurse practitioners, physician assistants).
Pharmacists.
Oncology nurses.
Care coordinators.
During your first visit, your providers will go over any symptoms you might have, talk with you about your medical history, do a physical exam and run some blood tests. They'll also order other tests to help confirm your lymphoma diagnosis.
Imaging tests
We might order tests like a CT scan or PET scan, which can help us see more clearly where the cancer is. The images from these tests can also help us learn if the lymphoma has spread. And if so, where and how much. This is part of a process called cancer staging.
Biopsy
Your provider will also likely check samples of your lymph nodes or other tissues and/or do a bone marrow biopsy. Our pathologists will look at any cells, tissue or marrow (spongy center of your bones) under a microscope to see if there are any changes in them that could signal lymphoma.
Molecular testing
This testing can find subtle — but important — changes to your cells and help us personalize your lymphoma treatment to your unique needs.
Getting a second opinion for lymphoma
Learning you may have lymphoma can be emotional and overwhelming. You'll want to feel confident that you're working with a team of healthcare providers you trust to give you the best possible care. That's why we encourage second opinions.
Our expert lymphoma specialists will spend time with you to help you better understand your diagnosis and what treatment options might be right for you. We also know that cancer doesn't wait, so we always try to meet with you as soon as possible. Getting a second opinion can help you feel more in control of your care and give you peace of mind knowing you're in the most capable hands.
Providers Who Treat Lymphoma
Locations
We offer treatment for Lymphoma at the following locations in Northeast Ohio and Florida.
Lymphoma Treatment at Cleveland Clinic
Our providers are leaders in the field — and have helped create international treatment guidelines. We know the latest, most promising treatment options.
Your treatment will depend on the kind of lymphoma you have and if and how far it has spread. Your treatment plan could include any or all of these options, depending on your unique diagnosis:
You'll get most lymphoma treatments at the hospital through an IV (intravenous infusion, injection or by mouth (tablets or capsules). You'll then be able to go home, although you may need to stay over for a short time for some multi-day treatments.
Questions come up throughout treatment. We're always here for you. You can reach out to a member of our team at any time, day or night, if you have questions or concerns about your treatment.
Preventing infections
Because many lymphoma treatments affect your immune system, we work closely with Cleveland Clinic infectious diseases specialists. We've developed and follow an infection-prevention protocol and know how to recognize and manage infections if you have lymphoma. You can reach out to our infectious disease specialists if you have any symptoms or concerns and they'll get back to you as soon as possible.
Treating complex cases
If you have other conditions in addition to lymphoma, like an autoimmune disease, heart disease, other cancers, are on dialysis or have had organ transplantation, your treatment plan may be more complex. And that's OK. Your lymphoma cancer specialists will work closely with healthcare providers from different specialties — adjusting treatments to make sure you get the best, most comprehensive care.
In-hospital care
Sometimes you might need to stay over at the hospital so we can:
Administer complex, multi-day treatments.
Care for you before and after a bone marrow or stem cell transplant.
Manage treatment side effects.
Take care of your emergency needs when the clinics are closed.
Treat complications and infections.
Lymphoma clinical trials at Cleveland Clinic
At Cleveland Clinic, we work hard to improve how we diagnose and treat lymphoma. We do research to find the best approaches to lymphoma care and test new treatments. Clinical trials can often provide you with access to new, promising therapies before they're available elsewhere.
Patient support
When you're treated for lymphoma at Cleveland Clinic, you can also take advantage of the extraordinary patient support services like social work, financial advisors, support groups and complementary medicine.
Taking the Next Step
Lymphoma is a tough diagnosis to hear. But when you have highly skilled, experienced healthcare providers on your team, you can breathe a little easier. We are your partners in this. We'll walk alongside you through every step of your treatment, recovery and follow-up.
Appointments
Getting an appointment with Cleveland Clinic's lymphoma experts is easy. We'll help you get the care you need.
---
Billing & Insurance
Manage your Cleveland Clinic account. Find billing information and financial assistance, plus FAQs.
---
MyChart
Securely access your personal health information at any time, day or night.
---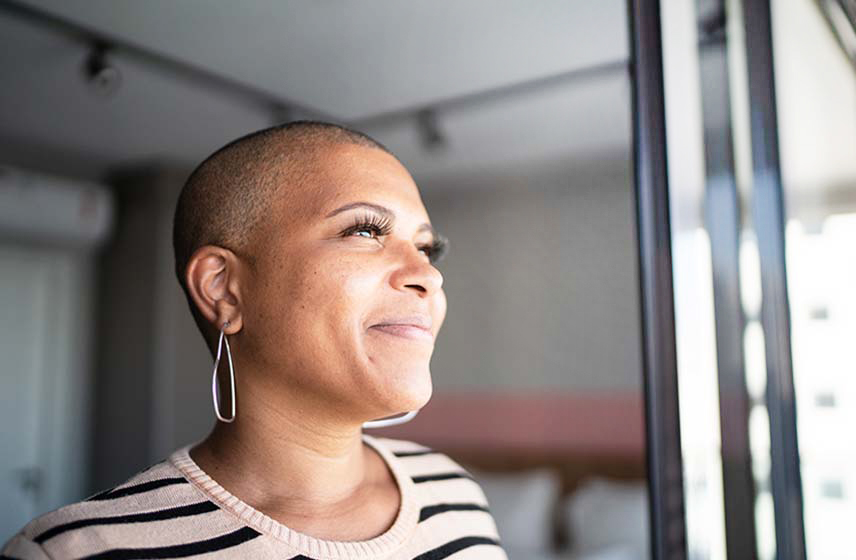 Survivorship
Learning you have cancer can be stressful, shocking and challenging. From the moment you get the news, you're a survivor. As you face the challenges that go along with cancer treatment and recovery — physical and emotional — we'll be right there with you.
At Cleveland Clinic, survivorship care is one part of your journey. We offer a wide range of services, resources, clinics and support groups to help with any physical, emotional, financial and spiritual needs you might have related to your cancer diagnosis. Lending a helping hand along the way, we want you to not only survive, but thrive on this journey and beyond.