Men don't get breast cancer, right?
---
If you have breast tissue, cancer cells can grow there. You might think of breast cancer as something that happens in women or people assigned female at birth (AFAB). But men and people assigned male at birth (AMAB) have breast tissue, too. So, if you find a lump or notice anything unusual (like discharge from your nipple or pain in or around your nipple), it's important to get it checked out right away.
Breast cancer in men is pretty rare. But it's not uncommon for Cleveland Clinic's healthcare providers. We have one of the largest specialized breast cancer treatment programs in the U.S. Our team guides you through your diagnosis and treatment with the latest tools and therapies. And we offer compassionate support as you begin to make sense of what's happening and move forward into treatment and recovery.
Why Choose Cleveland Clinic for Care of Breast Cancer in Men?
Patient-centered care:
We keep you at the center of your care. Our team takes the time to listen and answer your questions so you feel prepared and comfortable taking the next step. Meet our team.
Trusted experts:
Our services are among the best in the nation. The National Cancer Institute designates us as one of only a few Comprehensive Cancer Centers in the U.S. And our breast cancer program is accredited by the American College of Surgeons National Accreditation Program for Breast Centers (NAPBC).
Specialized knowledge:
We offer every available treatment for breast cancer, from well-established chemotherapy and radiation to the newest targeted therapies and biomarker tests. We're a national leader in many of these therapies and are known for our efforts in fertility preservation for people with cancer.
Innovation and research:
We do promising research, including developing a breast cancer vaccine. And we participate in important clinical trials of new treatments for every stage of breast cancer. Your provider can let you know if you can participate in a clinical trial.
Virtual visits:
When you don't feel well, getting to your healthcare provider's office for an appointment can be tough. Virtual visits are a convenient way to get the same great care from your provider but from the comfort of your own home. All you need is an internet connection, and you can connect with your smartphone, computer or tablet.
National recognition:
Cleveland Clinic is a trusted healthcare leader. We're recognized in the U.S. and throughout the world for our expertise and care.
Diagnosing Breast Cancer in Men at Cleveland Clinic
Breast cancer in men and people AMAB often starts in your breast ducts (tubes that carry milk to your nipple). You might be thinking: "Wait. I don't have milk ducts. That's related to breastfeeding, right?"
Everyone has milk ducts and glands. And while your glands and ducts don't make milk, several different kinds of breast cancer can start there, like:
What to expect at your first visit
We understand that you might feel shell-shocked when you hear you may have breast cancer. You probably have lots of questions and want to know what to expect from treatment. That's why your provider will start your first appointment by having an open, honest conversation about what's happening. You'll want to talk about:
The symptoms you're having.
When you first noticed them.
If they're getting worse.
How they're affecting your life.
We'll also ask about your personal and family health histories — especially if anyone in your family has had breast cancer or other cancers. And don't hesitate to ask us questions, too. We'll help you get the answers you need.
While you're here, you'll also get a physical exam. We'll check for lumps, skin dimpling, nipple changes and anything else that seems unusual in your breast tissue and under your arms. And we may order some tests to help us confirm a diagnosis. They may include:
Blood tests
We'll take a blood sample and send it to the lab so our pathologists can run tests on it. They'll look for signs of cancer or other conditions. These tests may include:
Imaging tests
Imaging tests like these help us get a better look at your breast tissue:
Your providers may also order these tests to see if the cancer has metastasized (spread to other parts of your body):
Breast biopsy
A breast biopsy can tell us if there are cancer cells in your breast tissue, and if the tumor has spread. This may include a special mammogram called a stereotactic breast biopsy to guide the breast biopsy.
Genetic testing
Genetics can play a role in breast cancer. You might have an inherited gene in your family, and you may be able to pass along those same genes. Our genetic counselors can help you learn whether your family has a genetic cancer risk. They may recommend genetic testing and counseling.
Second Opinions for Breast Cancer in Men
Learning that you may have breast cancer can cause all sorts of emotions. But one thing is likely certain — you'll want to make sure you have a team of trusted healthcare providers on your side to give you the best possible treatment and support.
At Cleveland Clinic, we encourage second opinions. And we work to provide priority appointments for anyone looking for a second opinion. Our team of experts will dive in and work together to help create the best personalized treatment plan for you.
Meet Our Breast Cancer in Men Team
Your Cleveland Clinic cancer team will include expert providers from different specialties who'll work together to confirm your diagnosis and craft a treatment plan based on your specific needs. Your team may include:
Medical oncologists.
Radiation oncologists.
Breast surgeons.
Physician assistants.
Care coordinators.
Our care coordinators (oncology nurses) will help you understand what to expect during treatment and how to manage any side effects. And our social workers and patient navigators can guide you through the emotional, mental and logistical challenges that come with cancer treatment. We make sure you have everything you need.
Providers Who Treat Breast Cancer in Men
Locations
Our healthcare providers see patients at convenient locations throughout Northeast Ohio and Florida.
Treating Breast Cancer in Men at Cleveland Clinic
We use your test results to learn more about the cancer's stage — its size and if it's spread. This information helps us create your highly personalized treatment plan. It also helps us predict what kind of results you may have. Your treatment may include surgery, chemotherapy, radiation, hormone therapy, targeted therapy or a combination of several of these options.
Surgery
You'll likely need breast cancer surgery to remove the cancerous tissue. Your surgeon may remove your nipple, areola, skin and lymph nodes under your arm to make sure they get all of the cancer cells. Your team will go over which kind of surgery they recommend for you. You may have:
You may also want reconstructive surgery to repair remaining tissue or replace your nipple. Your breast surgeons and plastic surgeons may also be able to work together so you can have breast surgery and nipple reconstruction at the same time, if you choose.
Radiation therapy
Radiation therapy focuses high-energy beams of radiation on the cancerous tissue in your breast. Radiation therapy can destroy cancer cells that remain after surgery. It can also destroy cancer cells in the lymph nodes in your armpit and chest, or in your chest wall. Radiation can sometimes be used to shrink tumors and to relieve cancer-related pain.
Systemic treatments
Your team may also recommend systemic treatments for cancer based on the type of breast cancer you have. These treatments flow through your body in your blood and kill cancer cells. These can include:
Taking the Next Step
You probably never expected to hear you may have breast cancer. Now, as you wrap your head around this news, you're probably wondering what's next. Our experienced breast cancer team is here to help you understand all that you need to know about your diagnosis, treatment, recovery and follow-up care for breast cancer. We're here to care for the whole you every step of the way.
Appointments
Getting an appointment with Cleveland Clinic's experts in men's breast cancer is easy. We'll help you get the care you need.
---
Billing & Insurance
Manage your Cleveland Clinic account. Find billing information and financial assistance, plus FAQs.
---
MyChart
Securely access your personal health information at any time, day or night.
---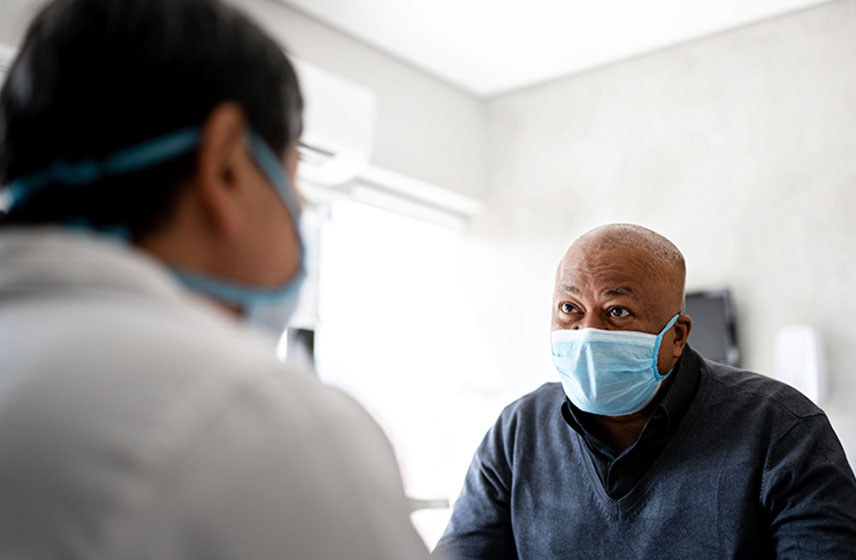 Survivorship
Learning you have cancer can be stressful, shocking and challenging. From the moment you get the news, you're a survivor. As you face the challenges that go along with cancer treatment and recovery — physical and emotional — we'll be right there with you.
At Cleveland Clinic, survivorship care is one part of your journey. We offer a wide range of services, resources, clinics and support groups to help with any physical, emotional, financial and spiritual needs you might have related to your cancer diagnosis. Lending a helping hand along the way, we want you to not only survive, but thrive on this journey and beyond.