Advances in Cardiac MRI
August 4, 2022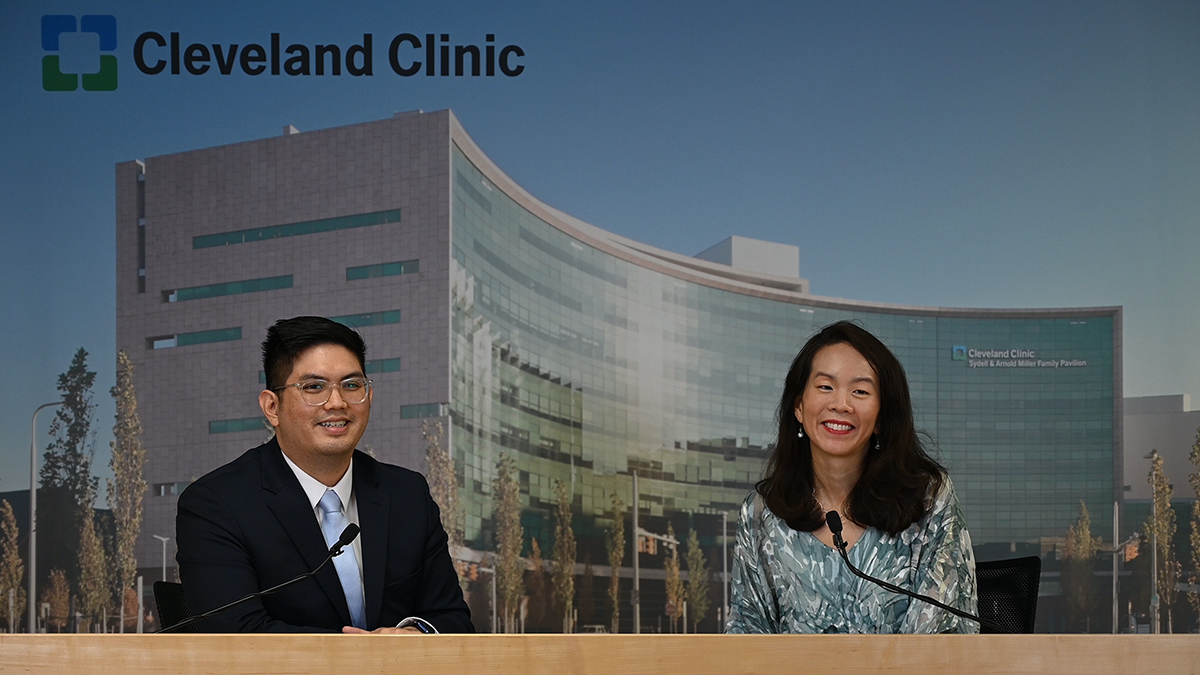 Podcast Transcript
Announcer:
Welcome to Cleveland Clinic Cardiac Consult brought to you by the Sydell & Arnold Miller Family Heart, Vascular & Thoracic Institute at Cleveland Clinic.
Christopher Nguyen, PhD:
Hello, everyone. My name's Chris Nguyen. I'm the director of MRI at HVTI.
Deborah Kwon, MD:
Hello and I'm Debbie Kwon. I'm the director of Cardiac MRI here at the Cleveland Clinic. We're really excited to talk to you about some of the recent developments and exciting advancements in the area of cardiac MRI.
Christopher Nguyen, PhD:
All right. I think the first thing that we should probably talk about and define is what is cardiac MR and what does it show.
Deborah Kwon, MD:
Yeah. Obviously, cardiac MRI is a very advanced imaging modality that we use in patients where the specific questions that cannot be answered by Echo alone. Here at the Cleveland Clinic, we've been doing cardiac MRI for, I don't know, 20, 30 years now. We're really excited because there's been a lot of advancement in this area, particularly now that machine learning and artificial intelligence is becoming much more mature. We're so excited that Chris Nguyen was recently recruited to really bring these new techniques and technology here to the Clinic, so that we can start directly applying it to our patients and start to do really exciting clinical translational research. Chris, maybe you can tell us a little bit more about your role and what you'll be starting here at the Cleveland Clinic.
Christopher Nguyen, PhD:
Yeah. Absolutely. I think for the longest time, the focus on a lot of the wonderful research here at Cleveland Clinic has been about clinical trials. We're moving into a new era where we'd like to do first-in-man studies. I think that's very exciting where we can develop new technologies with the patient in mind. I think that the key thing here is that cardiac MRI is one of those technologies that we can either see new types of tissue characterizations, so fibrosis or inflammation, going away from these qualitative statements of hypointense or hyperintense. And going into saying, "Oh, this is how much percent fibrosis you have." Or potentially even more, "You have, for sure, amyloid," or "This type of subtype of a disease." I think those are super important and very informative for clinicians, especially for example in nonischemic cardiomyopathy. I think that's a fantastic opportunity.
Christopher Nguyen, PhD:
At the Clinic with this new technology of, as Debbie said before, artificial intelligence with AI and machine learning, as well as some of these new tissue characterization techniques, we're able to hopefully suss that out and have a huge potential to do that. And HVTI has made a huge investment to bring myself and my team over and to be able to be on campus with the doctor side by side, to solve this. To really bring a brand new avenue of research to support and enhance what has been done here before and continue on with the legacy of Cleveland Clinic in that regard.
Deborah Kwon, MD:
Yeah, yeah, so we're super excited because the Cleveland Clinic has been so strong in all of its innovation and device development and surgery, and all types of procedures. And we really feel that imaging really can provide a great augmented foundation for that. In some of our more bread and butter cases of patients with valvular heart disease, I think cardiac MR can really help us to identify patients in terms of who are asymptomatic, for instance. Having some early signs of remodeling, which are the patients that are going to be highest risk and should go for surgery early.
Deborah Kwon, MD:
Or as Chris mentioned, nonischemic cardiomyopathy, there's a lot of patients that come and they have symptoms and we know their ejection fraction has dropped, but we don't know why.
Christopher Nguyen, PhD:
Right.
Deborah Kwon, MD:
And we don't know what's the best treatment for them. And we know that there's some patients that really respond robustly to guideline directed medical therapy or CRT implantation. But then there's others that don't get better, and in fact, get worse. And how can we identify those patients and maybe personalize our treatment plans for them so that we can see that their time to the right treatment can be shortened and that their outcomes can ultimately improve. And I think we, as clinicians are often somewhat not sure because it's somewhat of a vague diagnosis that we sometimes give patients, particularly in the cardiomyopathy realm. And I think that's where cardiac MR has a real opportunity to further characterize these patients so that we can provide better treatment for them.
Christopher Nguyen, PhD:
Absolutely. And I think the fact that, and we want to stress this more, that cardiac MR is data rich. And that's where we hope in the potential that being able to analyze all of this increased amount of data per patient, is to get the answers that we want and to meet the unmet clinical needs that providers are asking for. Another area that I think is very interesting to talk about is because of the large volume, it allows us to get into the big data realm and then be able to hook up to other types of data types. This is where I think cardiac MR has a larger strength because you can think of it as a total phenotyping of the patient's heart. And so you can also connect this to genomics or other types of data that we acquire on the patient that would come in.
Christopher Nguyen, PhD:
I think it really brings a new avenue for us to be able to infer beyond just a simple diagnosis. It could be about how well a patient could be down the road, and to personalize into the future in some ways. And the reason why we have that is because we already have a lot of the answers. So much of the patients in experience, we will leverage, looking through electronic medical records, looking at previous cardiac MRI scans. All of those will be hints to how we can diagnose that patient at that moment and to really be very much personalized in our approach and understanding that. I guess one question I have a little bit more would be, is it really worth it all to do all of this? Because it is not easy to do. And Echo is so easy. What makes it worth it for us, to do a cardiac MRI? The machine's loud. Sometimes patients don't want to get into the machine. How do we meet that gap?
Deborah Kwon, MD:
Yeah. I think some of the things that we're really excited about developing here at the Cleveland Clinic, really through Chris's amazing expertise and technical ability, is to really increase the ability for more patients to get cardiac MR's. Right now it's a very underutilized resource and it's only available in very focused areas of tertiary care hospitals that have very dedicated expertise with very dedicated cardiac MRI techs and very dedicated cardiac MRI readers, cardiologists, or radiologists. And so that access to that kind of expertise is very limited. And we as physicians obviously want all patients to have access to that amazing type of resource.
Deborah Kwon, MD:
And so one of the things that I think is really important for we in the cardiac MR field, is to improve the accessibility of cardiac MR. To make it more able to be done on any MR scanner, maybe by any MRI tech, to be able to acquire these images. And to make the interpretability of the cardiac MR easier so that you don't have to have 10 years of training to be able to interpret a cardiac MR, so that again, our patients can have access to this amazing resource. And maybe Chris, you can tell a little bit more about what you hope to be able to do to achieve that goal.
Christopher Nguyen, PhD:
Right, yeah. So I think this idea of democratizing cardiac MR is a very key point. And for providers to understand that things are going to change soon. The complexity that we just sort of hinted at and people have known, oh, with MR being so long, et cetera. Well, the idea is to shorten scans, make it easier for the patient to come in terms of free breathing acquisitions. And to deal with arrhythmia in a lot of those cases, or device implants, we're working on that actively to remove some of these artifacts. The key is to allow cardiac MR to be used on anyone. And then on the back end of it, also to give very robust ways of doing measurements. Some of the work that Debbie has done with her team and others like David Shannon, et cetera, has been to see how we can infer a diagnosis or to even hook it up with other types of data types in a matter of seconds.
Christopher Nguyen, PhD:
I mean, it's amazing and what we have gone to. And take things that take hours before, and I agree, Debbie's saying years of experience, or decades of experience, now can be leveraged and be used at any given patient. And so the future is bright in this regard. Our hope is to really tighten up protocols, make it hopefully as easy as maybe a CT or an Echo. And that way you have best of both worlds, the data rich tissue characterization, all these fantastic ways of answering the questions you want to answer, while at the same time be easy and accessible. And not to be scary to refer your patient for a cardiac MRI at the Clinic. And we have big plans to expand to other sites regionally, and then eventually even more to the other hospitals. Because once it becomes what we hope to be automatic in a lot of ways, then it means that anyone can do it in the Cleveland Clinic network. And I think that's key. And wonderful, so that someone that scans in Florida would be the same as you scan in the main campus, or as I call it, the mothership here. And be able to get the expertise that you can at your local Cleveland Clinic hub. I think maybe the final thing I wanted to ask you, Debbie, is that maybe you can talk a little bit about our team of teams, what makes it so unique, our collaboration. And potentially more about for the provider as well, so they can understand.
Deborah Kwon, MD:
Yeah. Yeah. So I think we are really fortunate and blessed to be able to work at the Cleveland Clinic. It's a tremendous enterprise. But I think one of the things that I love the most about the Cleveland Clinic is that it's truly a teams of teams type of atmosphere, where everybody is working towards the common goal of wanting to heal disease for our patients. And one of the unique things about cardiac MR and specifically is that it spans two institutes. It's in the Heart and Vascular Institute in terms of our patients being referred for cardiac MR, and then half of our cardiac MR readers are cardiologists. But actually our cardiac MR scanners are housed under the Imaging Institute, and half of our readers are also radiologists. And we have such a synergistic relationship here where we can leverage the very important expertise of both radiology and cardiology.
Deborah Kwon, MD:
And then now with Chris being here, having also leveraging the expertise of the technical development, the engineering behind all of it. And then we recently also had the amazing opportunity to work with David Chen who's a data scientist, who can help gather all of the data together. Not only the imaging data, but the EMR data, to really help us understand how best to leverage all of these data points. Again, for the common goal of helping our patients and improving our therapeutic management, and also understanding how disease evolves and how it responds to certain therapeutic treatments. So it's really exciting that now we have a real team of teams approach to trying to really address using all of these technologies to the best of our ability.
Christopher Nguyen, PhD:
Absolutely. And as a final thought also is that this teams of teams of an investment is that furthermore we've actually are going to be getting brand new scanners, clinical scanners, and an additional research scanner specifically in the effort of this, to be able to test and validate a lot of our new techniques. So rest assured there will be a very rigorous amount of data to describe what we are trying to do as being new and be able to be useful.
Christopher Nguyen, PhD:
And then I guess the last thing is to point out is that, this is a very much team effort. It's not just the two of us here. There are many, many people I've brought over about 10 or so and hope to recruit another 10 or so. And Debbie has a very large team as well. And all the clinicians and readers, both radiologists and cardiologists, this is a very huge amount of people working all for the singular goal to provide a cardiac MRI, to providers or those that are referring out to us. And I think that is such a Cleveland Clinic thing. That's why I came here. It's wonderful for that. So thank you. Yeah.
Deborah Kwon, MD:
Yeah. Thank you so much for your time.
Announcer:
Thank you for listening. We hope you enjoyed the podcast. We welcome your comments and feedback. Please contact us at heart@ccf.org. Like what you heard? Subscribe wherever you get your podcasts or listen at clevelandclinic.org/cardiacconsultpodcast.
Cardiac Consult
A Cleveland Clinic podcast exploring heart, vascular and thoracic topics of interest to healthcare providers: medical and surgical treatments, diagnostic testing, medical conditions, and research, technology and practice issues.
Subscribe: