Overview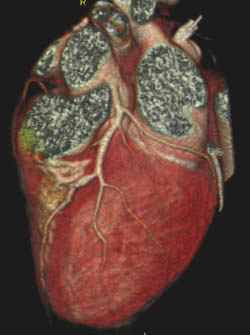 The Section includes five clinicians and two researchers, and their combined expertise is essential to the work of Cleveland Clinic's world-renowned Sydell and Arnold Miller Family Heart, Vascular & Thoracic Institute.
The Cardiovascular Imaging Lab, located in the Miller Pavilion, is equipped with state-of-the-art CT and MRI equipment. The staff is expert in the diagnosis and planning of treatment for conditions that include acquired cardiac disease in adults and congenital heart disease in children and adults. Specific disorders for which patients may present can include chest pain with exercise, leaky heart valves, hypertrophic cardiomyopathy and defects in the size and shape of the heart.
The state-of-the-art technology used by Cardiovascular Imaging includes two MRI scanners that are fully equipped for cardiac analysis and two CT scanners − one that allows imaging of high heart rates and another that can capture 256-slice images with every heart beat.
The Section of Cardiovascular Imaging maintains close clinical working relationships with Thoracic and Cardiovascular Surgery, Vascular Surgery and Cardiology, all within the Miller Family Heart, Vascular & Thoracic Institute. These close collaborations aid in optimizing diagnostic pathways and effecting cost-efficient care.
Procedures
The staff is committed to using the least-invasive procedure with the lowest level of radiation possible for each patient. For example, coronary CTA examination is performed routinely in patients with low-to-intermediate risk factors for coronary artery disease instead of an invasive catheter angiogram. CTA examinations of the thoracic and abdominal aorta are available prior to or following surgery or minimally invasive procedures. Cardiovascular MRI/MRA examinations encompassing the breadth of acquired and congenital heart disease are performed and expertly interpreted on a daily basis.
Research
Cardiovascular Imaging is involved in multiple research projects to improve CT and MRI imaging, provide innovative diagnostic methods and apply them to clinical care. Recent projects include quantifying how well coronary CTA assesses a patient's risk of developing coronary disease, analyzing the safety of contrast agents used in imaging and striving to lower the dose of radiation that patients receive from testing. The staff also is involved in larger trials that are developing national standards for imaging.
Leadership
Members of Cardiovascular Imaging are actively involved in and have leadership roles in many national organizations, including the Society of Cardiovascular Magnetic Resonance, the Society of Cardiovascular Computed Tomography, the American Heart Association, the American College of Cardiology, the American College of Radiology and the North American Society of Cardiovascular Imaging. They routinely make presentations at national and international meetings.
Education
The Section is committed to education and its activities include four advanced imaging fellowships for cardiologists and radiologists, and opportunities for medical students and observers to visit and learn.