A Vascular Surgery Approach to Aortic Aneurysm Repair
January 6, 2022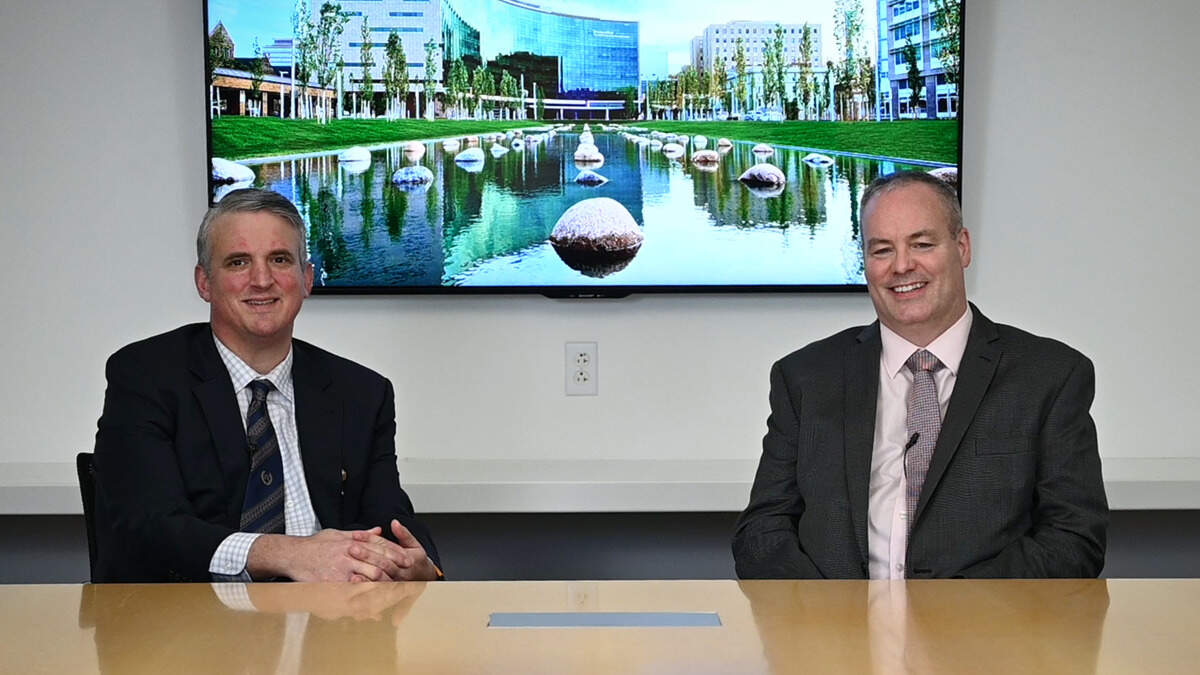 A Vascular Surgery Approach to Aortic Aneurysm Repair
Podcast Transcript
Announcer:
Welcome to Cleveland Clinic Cardiac Consult, brought to you by the Sydell and Arnold Miller Family Heart, Vascular & Thoracic Institute at Cleveland Clinic.
Sean Lyden, MD:
My name's Sean Lyden. I'm the Chairman of the Department of Vascular Surgery at the Cleveland Clinic, and next to me I have Dr. Caputo, and I'll have him to introduce himself.
Francis Caputo, MD:
Hi, my name is Frank Caputo. I'm one of the vascular surgeons here at the Cleveland Clinic. I'm also the Vascular Surgery Director of the Aortic Center here at the Cleveland Clinic, as well as the Program Director of the Vascular Surgery Training Programs.
Sean Lyden, MD:
We're here today to talk a little about aneurysm disease, and we'll first start with infrarenal aneurysms in terms of what's new, what sort of research and trials we're doing, and what sort of approaches that we may have here that are unique that we can offer to both our patients and our referring physicians. Dr. Caputo, do you want to comment?
Francis Caputo, MD:
Yeah. I want to say the first thing that's new in infrarenal aneurysms, and juxtarenal aneurysms for that matter, is the fact that we are seeing a lot of failures, Sean. We see a lot of failed endografts and we see a lot of endografts that are placed, and even recently that they're failing early, and I think one of the things that we're finding out is that open surgery has become a necessity still in this era for aneurysms, even before that these endografts are put in, even in the de novo aneurysms, so I think that's what's new in the aneurysm world. I think that's the trend across the country a little bit too.
Sean Lyden, MD:
And I think that's something that's pretty unique about this place. Last year, even despite the struggles of COVID in 2020, we did 1,300 aortic repairs at the Cleveland Clinic between the cardiac surgeons and the vascular surgeons, both minimally invasive and open, and the unique thing is that many places they're graduating trainees that may have only done five open aneurysm repairs, where we do about 10% of the US population of infrarenal open aneurysm repairs, and so we're very comfortable doing that.
Sean Lyden, MD:
I think the key is you want to always say, "What's the best long-term outcome for my patient?" and trying to, I always say, put a square peg in a round hole. If you hit hard, you can probably get it in there, but that doesn't mean it's going to work really well when you're done, and so having the expertise in both big surgeries, open repairs, as well as minimally invasive repairs, as well as research devices to treat people with thoracoabdominal branches to the kidney and the renal arteries, ascending aortic minimally invasive repairs, I think the great thing here is we work really well with the cardiac surgeons and we're able to say, "Well, what's going to be the most durable as well as the best tolerated procedure for our patients?"
Francis Caputo, MD:
Yeah, and I agree a hundred percent. As an aneurysm gets more complex, the patient has to be healthy, right, and we realize that. It's nice to be able to have the devices and the tools and the expertise here that we can actually use some of these advanced minimally invasive devices to treat our juxtarenals, pararenals and thoracoabdominal aneurysms in patients that necessarily could not tolerate an open procedure. One of the things that we have available here is not just the standard fenestrated grafts, but we also have several thoracoabdominal trial devices as well as arch devices to help with thoracic aortas, so we're able to provide this level of care for our patients.
Sean Lyden, MD:
I think the one question we always get asked a lot is, "If I'm a referring physician, how do I get my patient in, and then how do we work together to be followed in?" and I think I always try to tell people is like, "Our job is to work with you, to help you out, not necessarily to take your patient forever." So if they come and it's something unique that we can offer that they can't get locally, our job is to let the patient and you know what those options are, but also then make sure that they come back when needed for our expertise to be seen, but also make sure that they continue to work home locally. It's important to make sure you have that balance.
Sean Lyden, MD:
The other thing I like to tell people is we always have availability. People say it's hard to get in here, and at least in the Vascular Surgery Department, we make sure that there's always same day or next day appointment. If you're coming from aways, we do try and make sure we get all the information here first, because sometimes we're really good about getting an appointment, and the patient gets here before you get the records to us. We always try to make sure that their visits are the most efficient, so when they're coming from a county away, a state away or half the country away, or even from another country, to make that time most valuable for both you as a physician as well as for your patients.
Francis Caputo, MD:
No, I agree, a hundred percent. I think that the one thing is, you call our department, we will be able to look at that patient and if not immediately, within the next week or so, just to help. I think a large part, like you mentioned, is let's try to gather all the information prior to setting that appointment so that that appointment time is not wasted.
Francis Caputo, MD:
What do you think about how we approach the patient with these complicated aneurysms that are coming for second and third opinions? What do you do, Sean, when everything is so discordant, how do you start sussing things out?
Sean Lyden, MD:
I think the first thing we try and do is first get their outside records and their imaging, see what's been done. We don't always have concordant thoughts about what a radiologist may have said what something was, and so we'll see how big we think the aorta is and the area that needs treated.
Sean Lyden, MD:
One of the things is we really do a good job is holding our partners accountable for following societal based guidelines about when you should treat it, and so the good news is, is that it's not going to be, "Well, we should just treat it because it's there. It's okay." What are the guidelines? What's the evidence basis show in terms of what is the risk of that aneurysm, and then what is the risk of the therapy we're going to do? That's something we actually monitor for both me and all of our physicians on a monthly basis to make sure that we're compliant to following those evidence based guidelines in terms of when the risk of the procedure is finally less than the risk of the problem that we're facing.
Francis Caputo, MD:
If you look at some studies, some studies have shown that states are doing aneurysms less than five and a half, which is the recommended size for the aneurysm repair, particularly in infrarenals, where 30%, 40% of aneurysms are being fixed throughout the entire state less than five or four and a half centimeters. That's pretty amazing. I don't know what the benefit is there of fixing those small aneurysms. They've done multiple trials on small aneurysms, so it's very interesting.
Francis Caputo, MD:
I agree, I think, that one thing our leader has done a good job as, and I think the way that we are held to the metrics as set forth by our society, really allows us to treat the appropriate disease in the appropriate patient at the appropriate time, and I think that's where our second and third opinions really come into play a lot of times.
Sean Lyden, MD:
I think something that we're unique about, we try to be really transparent about our outcomes. If you go to our website, you can see that we report our outcomes for an infrarenal open aneurysm for Medicare patients above 65, there's a 5% percent chance of dying within 30 days of surgery, and here it's been less than a percent. For minimally invasive repairs it's almost 2% in the Medicare population, and here it's been under three quarters of 1%, and so we make sure that we keep our yearly outcomes on our website so people can actually see if they come here, what may be some of the differences.
Sean Lyden, MD:
If we look at the Vascular Quality Initiative, which keeps track of quality and outcomes for vascular surgery for open aneurysm repair, last year we did 10% of the open aneurysm repairs across the Vascular Quality Initiative, so we're doing a large percentage of both minimally invasive as well as complex open repairs, and I think we like to be very transparent knowing how we may be different in outcomes from what you might have at another center.
Francis Caputo, MD:
I want to say, yes, we have excellent outcomes, but it's not like we are operating on the healthiest of patients at all times, too, right? If you look at our severity scores of our sick patients, we are usually in the top two or three of the highest patient severity scores in the country. Not only are we able to offer healthy patients great therapies with great outcomes, but also help patients with several comorbidities and have great outcomes with those patients too, and I think a large part is that we work so well with our cardiology colleagues, our cardiac colleagues, we have great anesthesia, and I think when you have that complete package and the whole team is on board, you have those outcomes.
Sean Lyden, MD:
We really want to thank you guys for watching this and spending time with us today. If you want to go to our website, those outcome booklets are there that will give you some more information on that. There's phone numbers there of how to reach us, and we'd like to do any way we can to help take care of your patients here at the Cleveland Clinic.
Announcer:
Thank you for listening. We hope you enjoyed the podcast. We welcome your comments and feedback. Please contact us at [email protected]. Like what you heard? Subscribe wherever you get your podcasts, or listen at clevelandclinic.org/cardiacconsultpodcast.
Cardiac Consult
A Cleveland Clinic podcast exploring heart, vascular and thoracic topics of interest to healthcare providers: medical and surgical treatments, diagnostic testing, medical conditions, and research, technology and practice issues.
Subscribe: