Mohammed J. Al-Jaghbeer, MD
Mohammed J. Al-Jaghbeer is a pulmonary and critical care medicine provider with the respiratory institute in Cleveland clinic in Cleveland Ohio.
Dr. Al-Jaghbeer completed his training in Internal Medicine in Atlantic Health – Morristown Medical Center in Morristown, New Jersey. He trained in Critical Care Medicine in the Multidisciplinary Critical Care Training Program (MCCTP) at the University of Pittsburgh Medical Center (UPMC) where he was the Patient Safety and Quality Improvement Officer Fellow. He trained in Pulmonary Medicine at University of South Carolina in Columbia, South Carolina where he was a chief fellow on his second year.
He serves as the Program Director for the Internal Medicine Residency Program at Fairview Hospital – Cleveland Clinic and has multiple clinical and administrative roles including the lead physician for the sepsis steering committee. He serves as a member in multiple local and national committees including the Graduate and Resident Education Committee for the Society of Critical Care Medicine (SCCM). Within the Cleveland Clinic, he is the associate director of the COPD center at the Respiratory Institute, the enterprise resuscitation operations council, and the core sepsis committee. In Fairview, he is a member of code blue and rapid response committee, the sepsis committee and the COPD re-admission committee.
---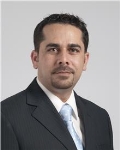 Jalaa Alahmad, MD
Associate Program Director

Graduated from Damascus University-Faculty of Medicine Damascus
Finished Internal Medicine residency from Huron Hospital and Cleveland Clinic
Currently working as a Staff Hospitalist in the Department of Hospital Medicine at Cleveland Clinic Fairview Hospital
Serves as a member in multiple committees including the Readmission Committee, UC Committee
Serves as a communication facilitator in the Center for Excellence in Healthcare Communication
---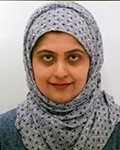 Saaima Arshad, MD, FACP
Associate Program Director
Medical Director, Westown Health Center
Clinical Assistant Professor of Medicine, Cleveland Clinic Lerner College of Medicine, CWRU

Graduated from Rawalpindi Medical College, Pakistan
Finished Internal Medicine residency from Cleveland Clinic Fairview Hospital
Currently working as the Medical Director of Westown Health Center
Serves as a member in multiple committees including the Medicine Performance Improvement Committee.
---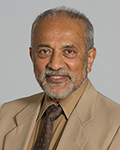 K.V. Gopalakrishna, MD, FIDSA, FACP
Associate Director
Chair, Department of Medicine
Chief, Infectious Diseases
Clinical Professor Cleveland Clinic Lerner College of Medicine, CWRU
Dr. Gopalakrishna (Gopal) is a diplomat in Internal Medicine and Infectious Diseases. Dr. Gopal is a member of many prestigious medical societies and is active in hospital committees. Also, he is very interested in research and has presented papers with residents at many major conferences across the country. He has published many scholarly papers and lectured nationally and internationally on the subject of infectious diseases. He is the 1999 recipient of the Master Teacher award from ACP-ASIM Ohio Chapter. In 2019, he was a recipient of the American College Physician (ACP) Ohio Laureate Award Winner. Dr. Gopal is an avid baseball fan, and serves as a team physician for the Cleveland Indians.
---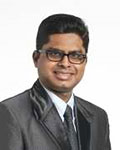 Nirosshan Thiruchelvam, MD
Core Faculty Internal Medicine Residency Program
Director of Simulation, Internal Medicine Residency Program at Fairview Hospital – Cleveland Clinic
Assistant Professor of Medicine, Cleveland Clinic Lerner College of Medicine, CWRU

Graduated from Faculty of Medicine, University of Jaffna, Sri Lanka
Finished Internal Medicine residency from Cleveland Clinic Fairview Hospital
Finished Simulation Fellowship from Cleveland Clinic
Finished Pulmonary and Critical Care Fellowship from Cleveland Clinic
Distinguished Educator Level I certificate for professional teaching excellence at Cleveland Clinic Lerner College of Medicine/ Case Western Reserve University
Currently working as a Pulmonary and Critical Care Medicine provider with the Respiratory Institute in Cleveland clinic
---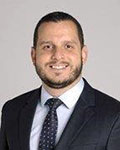 Bahaa Abdelghaffar, MD
Core Faculty Internal Medicine Residency Program

Graduated from Faculty of Medicine - Ain Shams University, Egypt
Finished Internal Medicine residency from Cleveland Clinic Foundation/Fairview Hospital
Currently working as a Staff Hospitalist in the Department of Hospital Medicine at the Cleveland Clinic Foundation