Overview
Overview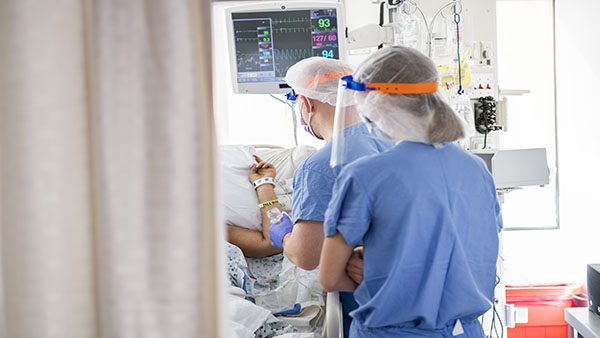 The Critical Care Fellowship at Cleveland Clinic is intended for graduates of Emergency Medicine and Internal Medicine training programs as well as trainees with prior subspecialty training in Cardiology, Infectious Diseases, Hepatology, and Nephrology. The Critical Care Fellowship requires a 2-year commitment for most trainees. Fellows graduating from a Cardiology Critical Care Fellowship may be considered for a one or two year track. In addition, we offer a specific track for trainees with interest in pursuing an academic education portfolio.
| Rotation | 1st Year | 2nd Year | Total |
| --- | --- | --- | --- |
| Orientation | 0.5 | 0 | 0.5 |
| MICU | 3 | 2.5 | 6 |
| MICU Procedures | 0.5 | 0.5 | 1 |
| MICU Nights | 1.0 | 1.0 | 2.0 |
| Bronchoscopy | 0.5 | 0.5 | 1.0 |
| Nutrition | 0.5 | 0 | 0.5 |
| Respiratory Therapy | 0.5 | 0 | 0.5 |
| Nephrology ICU | 0 | 0.5 | 0.5 |
| Neuro ICU | 0.5 | 0.5 | 1.0 |
| Trauma ICU | 0.5 | 0 | 0.5 |
| Surgical ICU | 0 | 0.5 | 0.5 |
| CVICU | 0 | 1.0 | 1.0 |
| Intubation | 0.5 | 0 | 0.5 |
| ECHO | 0.5 | 0.5 | 1.0 |
| Elective | 3.5 | 4.5 | 8.5 |
| Total (core) | 12 | 12 | 24 |
Year 1 and Year 2
Year 1 and Year 2
Year 1
The first year of fellowship focuses on developing clinical expertise in critical care medicine. During this period, our fellows complete a series of core rotations focused on building knowledge and mastering skills specific to critical care including bronchoscopy, bedside ultrasound/echo, intubation, line placement, and ventilator management.
During this year, it is pivotal for fellows to identify an academic mentor (a key aspect of our program) and choose an area of interest from the multiple academic opportunities available. Mentorship and scholarship occur in a coordinated fashion. For example, first year fellows participate in a structured training program in leadership and quality improvement. This program, called Quality in Leadership (QuIL) provides trainees with leadership training, specific skills in quality and process improvement, and meaningful scholarship through team based projects.
Electives during the first year emphasize opportunities to begin research and participate in non-core rotations. These opportunities include, but are not limited to:
Cardiovascular Intensive Care Unit (post-operative cardiovascular patients, ECMO and ventricular assist devices)
Coronary Intensive Care Unit
Heart Failure Intensive Care Unit
Trauma Intensive Care Unit and Burn Center (Metro Health Medical Center)
Surgical Intensive Care Unit
Community Hospital Intensive Care Units
Infectious Disease
Thoracic Surgery
Radiology and Interventional Radiology
Formal education courses (statistics, clinical trial design, epidemiology, teaching pedagogy, curriculum development, etc.)
Leadership Education
Pulmonary Hypertension ICU Management and Right Heart Catheterization
Year 2
The second year of fellowship focuses on developing a deeper understanding of the physiology of the critically ill patient and how organ support systems affect this. The goal is to master the nuances of mechanical ventilation and hemodynamic physiology and to tailor these to the critically ill patient. Further elective time is aimed at continued research, clinical electives and leadership development to support career goals. All fellows also participate in a 3-month mentored writing curriculum. By the end of the year, fellows should expect to submit at least one manuscript for publication and present their research project at an International Critical Care Conference.
Critical Care Cardiology Track
Critical Care Cardiology Track
The increasing complexity of patient care in Cardiovascular Intensive Care Units often requires an understanding and mastery of Critical Care Medicine. The Critical Care Cardiology (CCC) track at Cleveland Clinic offers additional training opportunities to applicants after completion of a General Cardiology Fellowship. We have a well-established history of training Cardiologists to pursue excellence in Critical Care Medicine and offer unique opportunities to gain experience in mechanical ventilation, advanced heart failure, imaging, Cardiac Intensive Care Unit, post Cardiovascular Surgery ICU and ECMO teams. Applicants can apply for either a one or two year training program in Critical Care Cardiology.
One advantage of our program is that cardiologists work in lockstep with both the Cardiology and Critical Care Medicine fellowships. The first year of training focuses heavily on mastering the essentials of critical care and mechanical ventilation. The first year of training focuses heavily on mastering the essentials of critical care and mechanical ventilation. There is wide latitude for those who do a second year to gain expertise in mechanical circulatory support, peri-surgical support, and to pursue mentored research with leaders in both Cardiology and Critical Care Medicine.
| | | |
| --- | --- | --- |
| Orientation | 1st Year | 0.5 |
| MICU | 1st Year | 3 |
| MICU Procedures | 1st Year | 1.0 |
| Bronchoscopy | 1st Year | 0.5 |
| Neuro ICU | 1st Year | 0.5 |
| Surgical ICU | 1st Year | 0.5 |
| Cardiovascualar Surgery ICU / ECMO | 1st Year | 2 |
| Cardiac ICU | | 1 |
| Heart Failure ICU | 1st Year | 1 |
| Intubation | 1st Year | 0.5 |
| Elective / Vacation | 1st Year | 1 |
| Total | 1st Year | 12 |
Critical Care Education Track
Critical Care Education Track
Overview
The Clinical Education Track is designed to provide in-depth training to fellows who aspire to a career in academic medical education.
This is done through:
Training in the science of medical education, theoretical frameworks, and principles
Development of effective didactic and clinical teaching skills
Development of skills needed to create and implement curricula and methods of assessment
Research and scholarship in medical education
Networking with leaders in the field of medical education
The fellows accepted for this track will:
Complete their clinical rotations in the first two years similar to traditional fellows and continue for a third year as a clinical instructor. Fellows will earn a Master of Education in Health Professions Education (MEHPE) during their second year of training and third year as clinical instructor.
The MEHPE program is a collaboration between the Cleveland Clinic Center for Educational Resources and Cleveland State University. It offers a two-year cohort-based curriculum focusing on the skills needed to be a medical educator. The cohort model includes a group of students who progress through the MEHPE program together (i.e., starting/ending at the same time; following a pre-determined schedule of courses). The benefits to the cohort model are that it provides opportunities for cohort members to learn with and from each other while building professional networks and connections.
Specifically, courses address adult learning theory, curriculum design and instruction, learner assessment, evaluation of educational programs, healthcare education research and technology in health professions education. The pedagogy is blended between live and online courses, with live courses delivered at Cleveland Clinic main campus during the evening to accommodate working health professionals. The program occupies six semesters of instruction and 30 credit hours for degree attainment.
Curriculum
The fellows accepted for this track will be committed to staying at CCF for an additional year as clinical instructors. The general clinical training rotations are below.
Clinical Training Rotations
| Rotation | 1st Year | 2nd Year | Total |
| --- | --- | --- | --- |
| Orientation | 0.5 | 0 | 0.5 |
| MICU | 4.5 | 3 | 7.5 |
| Bronchoscopy | 0.5 | 0.5 | 1.0 |
| Nephrology ICU | 0 | 0.5 | 0.5 |
| Neuro ICU | 0 | 1 | 1.0 |
| Trauma ICU | 1 | 0 | 1.0 |
| CVICU | 1 | 0 | 1.0 |
| ECHO | 0.5 | 0.5 | 1.0 |
| Elective | 4.0 | 6.5 | 10.5 |
| Total (core) | 12 | 12 | 24 |
The Education Scholarship Training curriculum includes enrollment in Medical Biostatistics Courses in the fall and spring of the fellow's first year training. During this year, fellows also participate in medical student education as clinical instructors at the Cleveland Clinic Learner College of Medicine.
Master's degree courses start in August of the fellow's second year of training. The Master's courses continue for 24 months with a thesis project required for successful graduation.
Critical Care Clinician Scientist
Critical Care Clinician Scientist
Overview
Beyond excellent clinical training, the Critical Care Fellowship offers a wide array of options for fellows with interest in becoming clinician scientists. Supported by an NIH T32 grant as well as philanthropic and other funding, we offer dedicated training to fellows interested in basic science, translational or clinical trials research. These pathways offer additional masters or PhD training for those interested. Critical Care areas of interest include
ARDS
ECMO
mechanical ventilation
point of care ultrasound
medical education
simulation
informatics/big data
Fellows interested in the Clinician Scientist Track would have their clinical training front-loaded, thus freeing additional time during the second year to begin research. T32 trainees are afforded two additional years of protected time to pursue research with the goal of further NIH funding thereafter. For additional information about this program, please contact our program.
Simulation
Simulation
Simulation in medical education enables learners to practice necessary skills in an environment that allows for errors and professional growth without risking patients' safety. With a 10,000-square-foot expansion of the Simulation Center Dry Lab, two wet-labs, two Difficult Airway Centers and a task-based simulation lab, Cleveland Clinic is at the cutting-edge of simulation training. Simulation-based teaching is built into the educational curriculum of our fellowship program. During fellow orientation, we train incoming fellows in invasive procedures, basic airway skills, critical care ultrasound, and bronchoscopy using the array of resources and faculty committed to simulation education.
Additionally, several on-line and immersive simulation curricula are offered annually on advanced airway management, hemodynamic assessment, neurologic emergencies, ECMO, and mechanical ventilation. These form a core part of our educational profile.
Simulation Fellowship
The Cleveland Clinic Education Institute offers a 1-year fellowship is designed to develop leaders with vision, knowledge and a commitment towards developing simulation-based training to improve healthcare for patients at the Cleveland Clinic and beyond. The fellowship is a one-year project-based, longitudinal experience that enables a fellow to conduct research regarding simulation. Ancillary benefits include exposure to developing, operating and managing a simulation program. The program will use experts in the Cleveland Clinic's Education Institute to provide a core learning experience. In addition, fellows identify a content mentor who will help provide clinical guidance throughout the project as well as a mentor in the Simulation and Advanced Skills Center. Involvement in this program would require extension of fellowship training.