Overview
Overview
What is the DAISY Award?
An international program that rewards and celebrates the exceptional, compassionate and skillful care given by nurses every day.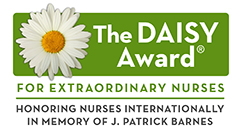 History of the DAISY Award
Co-founders Mark & Bonnie Barnes started the DAISY Awards when they lost their son, Patrick, from an auto-immune disease. Patrick spent eight weeks in the hospital where they experienced some of the most compassionate care. They turned their experience into an international award in their son's honor. DAISY stands for Diseases Attacking the Immune SYstem.
The Barnes's wanted to honor Patrick's memory and knew just the way to do it. They knew they had to start by creating a way to say thank you for the gift that nurses give their patients and families every day. Through the DAISY Award, they honor the super-human work nurses do for patients and families every day.
Cleveland Clinic collaborates with the DAISY Foundation to provide ongoing recognition of the clinical skill, and especially the compassion, nurses provide to patients and families all year long.
Want to Thank a Nurse for Providing Exceptional Care? Share your story.
DAISY Award honorees provide a great patient experience. These nurses consistently deliver excellence through their clinical expertise and compassionate care. They are recognized as outstanding role models in our nursing community. Nominate a nurse today by filling out the form below.
Please complete the form below (cite specific examples) and click "Submit."
*Indicates required information.
Download a copy of the
DAISY Award Nomination Form
if you would like to print it for submission.
Our Winners
Our Winners
DAISY Recognized Honorees
Avon Hospital
Doris Patrick
Lindsay Trotter
Janet Underwood
Cleveland Clinic Florida
Imtiaz Gafoor
Mariya Kalnysh
Regine Jeanty
Yung Lee
Denise Smith
Laverne Cuzzocrea
Louann Lyttleton
Euclid Hospital
Stanley Ndinda
Trisha Laska
Carolyn Ward
Fairview Hospital
Alyssa Kauffman
Cynthia Kovach
Lauren Patton
Katrina Gabriele
Virgina (Ginger) Summers
Meredith Lalak
Hillcrest Hospital
Bethany Casto
Frances Vasquez
Kevin Acierno
Lutheran Hospital
Carolyn Touchet
Stavros Koundourakis
Main Campus
Brittany Rae Lucas
Mary Jane Ziganti
Alexandra Rhoten
Kathleen Jerge
Antonio Rodriguez
Marymount Hospital
Jessica Juchnowski
Marlene Cooper
Melissa Podboy
Robbysean Moore
Jessica Dawson
Medina Hospital
Stephanie Pribonic
Lisa Wilson
Rebecca Prentiss
South Pointe Hospital
Lillian Kuts
Gabrielle Eichler
Kerry Gould
Photo Gallery