Overview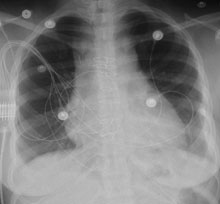 Staff physicians in the Section of Thoracic Imaging are leading experts in diseases including lung cancer, emphysema, asthma, infectious diseases such as HIV and tuberculosis, lymphoma, and occupational lung diseases such as asbestos exposure.
Services
The Section of Thoracic Imaging performs over 150,000 unique examinations each year, and is one of the highest-volume sections in the United States. Eight full-time thoracic radiologists with complementary subspecialty interests collaborate and leverage the newest technologies available to detect and evaluate disease. The benefits of all imaging modalities are provided to patients: chest x-rays, CT, MRI, and fluoroscopy. The Section of Thoracic Imaging also performs a large number of image-guided interventional procedures each year.
Patients seeking care by the physicians of the Section of Thoracic Imaging are greatly benefited by the close working relationships between the Imaging Institute and specialists in the Respiratory Institute, Taussig Cancer Institute, and the Heart, Vascular & Thoracic Institute.
Education
As part of the Section of Thoracic Imaging's academic mission, the section boasts an extensive educational program. In addition to training radiology residents year-round, the section's physicians also train more advanced radiology fellows from all over the world. The section also continues to explore new venues for education, including various forms of electronic media. Participation in many multi-disciplinary conferences further enhances the opportunities for research and collaboration.
Leadership
The members of the Thoracic Imaging section actively participate in national medical societies, including the Society of Thoracic Radiology, the American College of Radiology, and the Radiological Society of North America.