Overview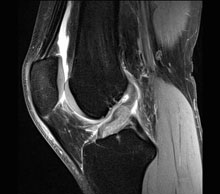 The Section of Musculoskeletal Imaging has 11 specialists who offer the full spectrum of imaging services – including CT, MRI, arthrography, musculoskeletal ultrasound, bone biopsies and bone mineral density studies – to diagnose all disorders of the musculoskeletal system.
The section works closely with the Orthopaedic & Rheumatologic Institute and other departments to provide accurate diagnoses and treatment plans for musculoskeletal conditions, as well as to patients seen in the Emergency Department.
Among those who come within the purview of Musculoskeletal Imaging are patients with disorders of the spine and upper and lower extremities, arthritis, and cancers of the soft tissue and bones. Section members convene weekly to review recently imaged tumors, thus facilitating a collaborative approach to a diagnosis of cancer, with the goal of providing rigorously accurate answers to patients. In addition, regular meetings with sports health clinicians and rheumatologists focus on clinical and imaging cases.
Services
The Musculoskeletal Imaging staff strives to utilize the least invasive technology for diagnosis, advancing to more complex options only as warranted. The staff maintains a commitment to rapid turnaround.
Patient convenience is another priority. Cleveland Clinic's easily accessible Sports Health Center is fully equipped to diagnose musculoskeletal diseases. Musculoskeletal Imaging's state-of-the-art 3-D magnetic resonance imaging (MRI) at this location provides superior diagnostic images that are worthy of presentation at national professional meetings. Sophisticated coil technology is another important asset to ensure accurate images.
Education
The section pursues an educational mission, in part through participation in training programs for residents and fellows in radiology, rheumatology, sports medicine, oncology, orthopaedics and podiatry. It also welcomes medical students and other professional observers.
Research
Particular areas of research interest include advanced imaging of articular cartilage, bone and soft tissue neoplasms, joint replacement, inflammatory arthritis and osteoporosis.
Musculoskeletal Imaging staff members are actively involved in national organizations, including the Society of Skeletal Radiology, the International Skeletal Society, the Radiological Society of North America and the American College of Radiology.