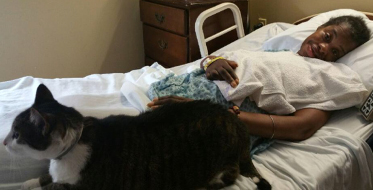 After Evelena Townsend passed away, her children made the decision to donate her body to Cleveland Clinic, but the decision was not without some trepidation on the part of her daughter, Ann Townsend.
"I was not quite comfortable with donating her body," recalls Ann, "but a traditional burial was not an option for us. I was concerned about how my mom would be treated."
Ann then describes the conversations she had with Lisa Gucwa, the manager of the Cleveland Clinic Body Donation Program, and how Lisa walked her through the process and assured her that Evelena would be treated with dignity and respect. Those conversations helped her to eventually become comfortable with the decision.
Evelena was just 55 when she was diagnosed with ALS, or amyotrophic lateral sclerosis, a progressive neurodegenerative disease that has no cure.
"I don't know how my mom felt inside to hear that dreadful news, but she fought all the way to the end. She loved life and lived it to the fullest," says Ann.
Ann recalls that her mom was a "homebody." Until her symptoms started, Evelena spent most of her time shopping at flea markets, watching movies -- horror and science fiction were her favorites -- and doting on her cat, Shakira. She went back to school, earning an associate degree in medical coding and billing, and planned on working. Because of the ALS, however, she didn't get that chance.
Evelena passed away Jan. 2, 2016, just a few weeks shy of her 60th birthday. The family held a memorial service for her about a week later in Cleveland.
Ann feels that her mom would have been comfortable with their decision to donate her body. "She liked science," says Ann, adding that her mom would have wanted to help others. "Hopefully a cure can be found for ALS so other families won't have to endure what I watched my mom go through."
Of her mom, Ann will most remember her smile. "Every time I walked into the nursing home, she would smile at me. She couldn't walk, she couldn't talk, but she could smile."