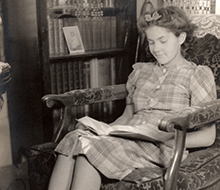 For as long as anyone in her family can remember, Elaine (known as "Nonnie" to those who loved her), was adamant about wanting to donate her body to science when she passed away. She was relentless in making sure that all paperwork was in order and that her wishes were known. It's not surprising to anyone who knew her that she made this choice, as Elaine was a person who lived a life of giving back to others and to her community.
Perhaps her most notable accomplishments were those that surrounded the Hinckley Library. A founding member of the Friends of the Hinckley Library, Elaine was instrumental in helping to raise the money needed for relocating the library from the town hall to the old Merchant House (where Elaine and her family once lived) in 1975.
With no official training but buoyed by a love of books and the written word from her mother, she became a circulation clerk at the Hinckley Library. During her 32-year career, she worked with the Right to Read project, which helped to identify and support children who had difficulty reading or who did not know English as a first language. According to one article, "Elaine has either checked out, given reference to, advised, comforted, laughed, and cried with most of the people in Hinckley. Through it all, Elaine has loved this library and this community."
An avid local history buff, she wrote the occasional article for the Hinckley Reporter and penned the monthly "Library News" column. She was featured in a Community Builder piece and had a chapter written about her own paranormal experience at the library in Haunted Ohio III: Still More Ghostly Tales from the Buckeye State.
Elaine also donated her time and talents to numerous community projects and events. Garage and bake sales raised library funds, floats needed to be built for Memorial Day parades, frog jumps needed to be organized for Community Day, and Buzzard Day required activity coordinators. She answered the call for each one.
Elaine was also involved with the Hinckley Voter's League, worked with the Chamber of Commerce to have the town's war memorial updated to include those who fell in World War II, Korea and Vietnam, dispatched for the Hinckley Fire Department where her husband, Edward, was a volunteer firefighter, and organized an annual gathering of retired fire department volunteers. In 1995, she was named Hinckley Township's Citizen of the Year, an award that "acknowledges a person who has shown an unselfish spirit of service to the community." A flowering crabapple tree was planted at the library in her honor, and newspaper and television reporters covered the event.
Elaine very much enjoyed learning about the meanings and origins of words, and she loved to do crossword puzzles and word searches, and play Scrabble. She was also particularly fond of connecting with nature: walking around Hinckley Lake or in the woods on their property, watching birds come to the feeder, seeing favorite flowers in bloom, finding fossils in the "crick" that ran near their house, picking apples off the tree in the yard and growing her favorite vegetables in the garden.
Elaine believed wholeheartedly in exercise, healthy eating (despite a sweet tooth) and using natural remedies whenever possible. She practiced yoga every day of her adult life. Relatively healthy all her life, she felt that maybe science could learn something from studying her after she passed away. Plus, it gave her one more opportunity to help others.
When the Medina County District Library Director spoke at her retirement reception, he said, "Elaine's spirit here will last forever. There are not enough words to explain her value." Her loved ones could not agree more.
Ninety-three years was not enough, and she will be missed every single day. Her family is pleased to honor her legacy and her many selfless gifts to others. We love you, Nonnie.