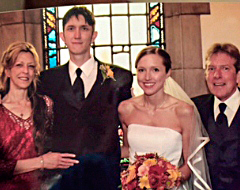 After Willie Friedrich retired in 2002 after a full career at Ameritech in Cleveland, his love of helping others soared to new heights. He began to volunteer full time, most often with Greater Cleveland Habitat for Humanity where he helped build and rehab homes, and with the City Mission, Laura's Home (a women's crisis center) and St. Augustine Church and Hunger Center. His charitable work also extended beyond the region: He sponsored several children around the world through Christian ministries.
"He had a heart to give back, to be of service and to share the love of God with others," says his daughter, Lindsay Hackney, so it was no surprise when he shared his decision to donate his body to science when the time came.
"He explained that it was a way to continue to give back," recalls Lindsay, adding that his passing could benefit others through research.
Willie was also interested in teaching, and the idea that he would be able to teach even after he passed was something that was very meaningful to Willie and his family.
Eventually, multiple chronic illnesses began to take their toll. Willie shared his desire to donate his body with his caregivers at Cleveland Clinic Hospice, who suggested the Cleveland Clinic Body Donation Program. Because he had received a great deal of medical care at Cleveland Clinic, he felt it was most appropriate to donate his remains to the program.
"His donation was his final act of giving and teaching," she says. "He couldn't donate organs, but he could donate knowledge. We found great comfort in the fact that his passing would help educate others."