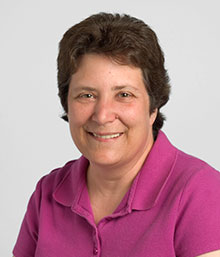 An employee in the Cleveland Clinic Medical Art & Photography Department for almost 23 years, Terri O'Brian loved her job and her colleagues, whom she jokingly would call "fans." Cleveland Clinic played a huge role in her life, says her daughter, Ashley Nemes, PhD, who works as a postdoctoral research fellow at Cleveland Clinic. "She even changed her last name legally to O'Brian because the department receptionist would page 'Terri or Brian' over the intercom so often that the name just sounded right to her."
Dr. Nemes describes her mom as "the most fun person you could ever imagine." She enjoyed beer, and if you were out to dinner with her, you'd likely hear her quip that she "might like a Budweiser" because she'd "rather have a bottle in front of me than a frontal lobotomy."
"She always had a hysterical comeback for everything, and there was never a dull moment when she was around," says Dr. Nemes.
Even as a child, Terri was free-spirited and eager to embrace life. She was close to her twin brother, Todd, with whom she spent hours at the drag strip and fearlessly rode dirt bikes and motorcycles. As an adult, she traveled to England and Australia to visit her son, Jason, who is in the Air Force. She would join Dr. Nemes at out-of-town conferences for the chance to experience a new city.
Terri also possessed a gentle side. She rescued five cats (Stuart, Beardy, Amber, Nala and Sydney) and was an excellent listener. "She used to wonder why people would tell her all their life stories, but, after she was gone, I realized it was because she was such a great friend and the person you wanted to talk to and be around as much as possible," says Dr. Nemes.
Terri, who passed away when she was just 60, lived her life to the absolute fullest. In her last months of life, her family arranged for her to attend a concert starring Cleveland native Michael Stanley, her favorite singer. Not only did she attend the show, but she also got to meet Michael backstage beforehand. Another fan at the show gave Terri a guitar that Michael Stanley had signed.
When Terri decided to donate her body to the Cleveland Clinic Body Donation Program, no one close to her was surprised. Her affinity for both Cleveland Clinic and education ran deep, and knowing that others would benefit from her gift gave her the chance to make a priceless contribution.
There is no doubt that Terri had many fans at Cleveland Clinic and is greatly missed by so many. Those who knew her will always cherish and be inspired by her kindness, love of life and, of course, humor.