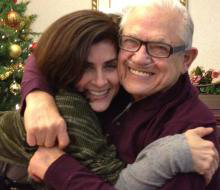 Having been married to her husband for 55 years, Betty Schumacher felt comfortable that her decision to donate Al's body to Cleveland Clinic after he died was what he would have wanted. Kathleen Branch, the youngest of his three daughters, agreed.
"My dad absolutely loved and respected the Cleveland Clinic and, as an educator, he would be so proud to help the medical students learn more," says Kathleen.
Albert Schumacher served as an Akron Public School psychologist for 25 years, and he earned the B'nai B'rith Teacher of the Year award during his career as a high school teacher for Broward County Public Schools in Florida. When he wasn't cheering for his grandkids at their various sporting events, he was on the golf course or trying his luck in Las Vegas. A loving husband and father, he was never shy about expressing his feelings for his family, routinely saying, "Have I told you how much I love you?" and singing 'Happy Birthday' for family members in his marvelous tenor voice.
The idea to donate Al's body originated at the funeral home, when one of Betty and Al's daughters, Tamara, mentioned body donation as an option. (The funeral director said he'd never before been hired and fired so quickly.)
But most body donation programs, including Cleveland Clinic's, only guarantee acceptance of donors who have pre-registered with the program, although in some instances a body that has not been pre-registered can be accepted.
"I called Lisa [Body Donation program manager], and she was fantastic. She showed such professionalism and kindness," says Kathleen. "She called us right back and said, 'We'd be happy to take him.'"
Within just a few months, the ashes were returned to the family.
"The hardest part was the time in between, wondering what was happening," says Kathleen. "But Lisa assured us that the medical students show the utmost care and respect for donors.
"We thought of it as an extension of my dad's life, like he was going on a trip to the Cleveland Clinic. We just all knew this is what he would have loved — contributing to the learning experience of students who are a part of such an exceptional institution."