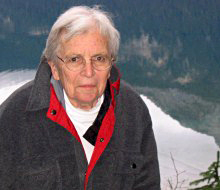 Cleveland Clinic could be defined as a passion in Elaine Koskie's life. Her connection to the hospital started in the 1980s when she would have her annual executive physical, and she entrusted Cleveland Clinic with all her medical care thereafter. In 1992, she was diagnosed with breast cancer. Ten years later Elaine was diagnosed with Parkinson's and began to experience progressive scoliosis and lung compression.
"One of the major consequences was she started to lose her balance," stated her husband, Ed Koskie. "She was not able to go hiking, which was something we enjoyed doing together in the Emerald Necklace locally, and the White Mountains, the Adirondacks and the Rockies."
Facing an uncertain future led Elaine to concentrate her efforts on helping others who were ill. Beginning in 2003, she volunteered at the main campus Surgery Center. She also read to patients in the Children's Hospital and worked at the help desk in the M building lobby.
She also worked in the Breast Center at the Beachwood Family Health & Surgery Center, and, as a breast cancer survivor herself, she would help the women face their fears, explains Ed. "She would welcome them in, talk to them and then take them back to their doctor."
Ed describes Elaine as always being a very positive person who saw the good in everyone she met. She put the welfare of her family and friends before her own. She was especially proud of the fact that through her commitment to education, she helped guide her two children to achieve doctorate degrees in their chosen fields. "She was all that a man could ask for in a wife," says Ed.
After Elaine received a successful hip replacement at Cleveland Clinic in 2009, she, along with Ed, who was also a dedicated Cleveland Clinic volunteer, decided to carry their commitment to medicine and education to the ultimate end and preregistered with the Body Donation Program.
Elaine often gently reminded others of the importance of body donation while she was a volunteer. Her final hope was that her body, even in its broken pieces, would provide a unique perspective of the decline of the human body to enhance medical knowledge.