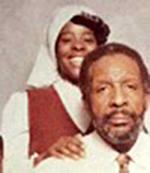 Nearly five months after her mom passed away, Ann Townsend lost her father. As she did with her mom, Evelena Townsend, Ann and her siblings donated their father's remains to the Cleveland Clinic Body Donation program.
"He always told us, for as long as I can remember, that when he passed for us not to spend money making the funeral homes rich. He told us that cremation was what he wanted, and no memorial service," recalls Ann.
Hussian Shah was a follower of Islam and taught his three children to want for your brother what you want for yourself and to treat everybody the way you would like to be treated. He adopted Ann when she was 3 months old and went on to have two children, Saladin and Hazziez, with Ann's mom after they married.
Together, the family lived in a house around the corner from the projects in Cleveland. The neighborhood kids would congregate at the Shah/Townsend household, and when the kids were hungry, which seemed to be most of the time, her father, without hesitation, would feed all of them.
"He was such a good soul," says Ann. "The type of person you'd want to live forever."
Hussian, who suffered from Alzheimer's in his later years, couldn't remember that his wife of 40-plus years passed away early in 2016.
"Every day when I'd pick him up to go to adult daycare, he'd say to me, 'Where's your mother? I have to go home. I miss your mother.' I'd always tell him that she was at work," says Ann.
Hussian, who was 100, passed away May 22, 2016, from lung cancer. "We think he really died of a broken heart," says Ann.
Ann says she'll miss her dad's advice, spiritual knowledge and insights the most. Whenever she needed to talk, he'd be there for her. His parting words to her brother, who was the last one to see him before he passed, were, "Stay strong and never give up."