Pancreatic cancer is quiet and sneaky. You might not have noticed anything different at first. Everyone gets a little tired sometimes, right?
---
Then you started to lose weight without even trying. Your skin got itchy. And your eyes started to turn yellowish. Once that dull, constant ache in your gut showed up, you knew something definitely wasn't right.
A pancreatic cancer diagnosis can change your world in a split second. Now you're wondering what your options (and your future) are as you face this treatment. We know it's hard to wrap your head around all of this. Our experienced healthcare providers are here to answer your questions and give you the care — and hope — you need.
Why Choose Cleveland Clinic for Pancreatic Cancer Care?
Skilled, collaborative providers:
You'll get coordinated care from providers specializing in pancreatic cancer. We'll work together as a team and meet often to plan every step of your treatment. Meet our team.
Recognized expertise:
People travel to Cleveland Clinic from all over for pancreatic cancer treatment. Our nationally recognized providers offer the highest-quality care for diagnosing and treating pancreatic cancer, even if your cancer is further along.
Patient-centered care:
At Cleveland Clinic, you won't face pancreatic cancer alone. We'll make sure you get the personalized support, pain relief and care you need every step of the way. Our focus is you and your peace of mind.
Innovation and research:
Cleveland Clinic is a leader in clinical trials and research. We're always testing ways to find this cancer earlier, trying new drugs, looking deeper into the role of genetics and trying new surgical techniques.
National recognition:
U.S. News & World Report consistently ranks Cleveland Clinic a top hospital in the nation. Newsweek has also named us a top hospital in the world.
Virtual visits:
We understand treatment can be hard, and you might not feel well enough to see your providers in person. That's why we offer virtual visits, where you can talk with your providers from the comfort of your home using your smartphone, tablet or computer.
Pancreatic Cancer Diagnosis at Cleveland Clinic
We know you want answers quickly. At Cleveland Clinic, you can expect to see several specialists in a single visit, which keeps your care moving forward. During your diagnosis and treatment you might see providers from different areas, including:
While you're here, you'll get testing to help us confirm your diagnosis and to find out if the cancer has spread beyond your pancreas. The results of these tests help us design a treatment plan that's just right for you.
Tests can include:
Blood tests to check for abnormal cells and tumor markers.
Ultrasound-guided biopsy.
Pancreatic cancer second opinions at Cleveland Clinic
Pancreatic cancer are two words you probably never thought you'd hear from your provider. It's a life-changing diagnosis. When you're facing a serious illness like this, having the best and most compassionate medical team on board is your number one priority.
That's why we encourage second opinions. We know you might have a million questions swirling around in your head. And you want to make sure the answers you get are the right ones. Our specialists will listen to your concerns, answer your questions and go over treatment options. And because we know cancer doesn't wait, we'll always try to get you in to see us as soon as possible after you reach out. A second opinion can give you peace of mind knowing you have the most capable and compassionate team on your side.
Who Treat Pancreatic Cancer
Locations
We offer treatment for pancreatic cancer at many locations throughout Northeast Ohio and Florida.
Pancreatic Cancer Treatment at Cleveland Clinic
Many things play a role in how we treat your pancreatic cancer. Treatment depends on your health, how large the tumor is and if it has spread (metastasized) outside of your pancreas to other areas of your body. We craft your treatment plan to suit your unique diagnosis.
Surgery is the main treatment for localized pancreatic cancer. If we can, we'll use minimally invasive robotic or laparoscopic surgery. These methods need only small incisions (cuts) and use the latest technologies, which cause less scarring and damage to healthy tissue. They also speed up recovery time. Other surgeries are "open," which means you'll have one large incision and spend at least a week or so in the hospital and several more weeks of recovery time at home.
The kind of surgery you'll have depends on your particular diagnosis. Your providers will talk with you and answer any questions you have about which options are best for you.
A form of pancreatectomy is the most common type of surgery for pancreatic cancer. We'll rarely remove all of your pancreas (total pancreatectomy). We'll more likely remove only the cancerous part of your pancreas, depending on where your tumor is, among other things. We might also take out any nearby lymph nodes to test if your cancer has spread.
This surgery can improve your long-term survival odds if you have a cancerous tumor on the right side (head) of your pancreas. It does this by helping to stop the cancer from spreading. This is usually an open surgery, but sometimes we can use a minimally invasive approach.
Other surgical techniques
Cleveland Clinic is also exploring new pancreatic cancer surgery technologies like irreversible electroporation (NanoKnife®), which destroys tumors using an electrical current. Your surgeon will surround the tumor with probes and inject a current between them. This will shock the tumor cells, poke holes in them and kill the tumor.
Chemotherapy and radiation
In crafting your treatment plan, your providers might decide you need chemotherapy or radiation, or a combination of both. Chemo uses drugs to kill cancer cells, while radiation uses high-speed energy. If you can't have surgery, chemotherapy and/or radiation may be your main treatment. We might also use it to shrink your tumor before you have surgery or kill any remaining cancer cells after surgery.
This radiation therapy is different than traditional radiation treatment. SBRT targets small tumors with large doses of radiation without damaging nearby healthy tissues and organs. Your provider might recommend SBRT if your tumor is small and hasn't spread anywhere else in your body.
Other therapies
We also offer newer medical treatments like immunotherapy and targeted therapy. These work for some people and certain kinds of tumors. Your provider will talk with you about these treatments and if they feel either is a good option for you.
Genetic counseling and testing
We recommend that everyone newly diagnosed with pancreatic cancer consider genetic counseling and testing. You might have a hereditary (inherited) reason you developed it. Our genetic counselors can walk you through the testing process, go over your results with you and let you know about any needed next steps.
Taking the Next Step
Learning you have pancreatic cancer can turn your world upside down and leave you worrying about what comes next. But this diagnosis doesn't mean you're out of options — or hope. At Cleveland Clinic, you'll have access to the latest pancreatic cancer treatments, including the newest surgery techniques and clinical trials. And you'll get the care and support you need to travel down this road with the very best team right beside you.
Request an Appointment
Scheduling a visit with Cleveland Clinic's pancreatic cancer experts is easy. We're here to help you get the care you need.
---
Billing & Insurance
Manage your Cleveland Clinic account. Find billing information and financial assistance, plus FAQs.
---
MyChart
Securely access your personal health information at any time, day or night.
---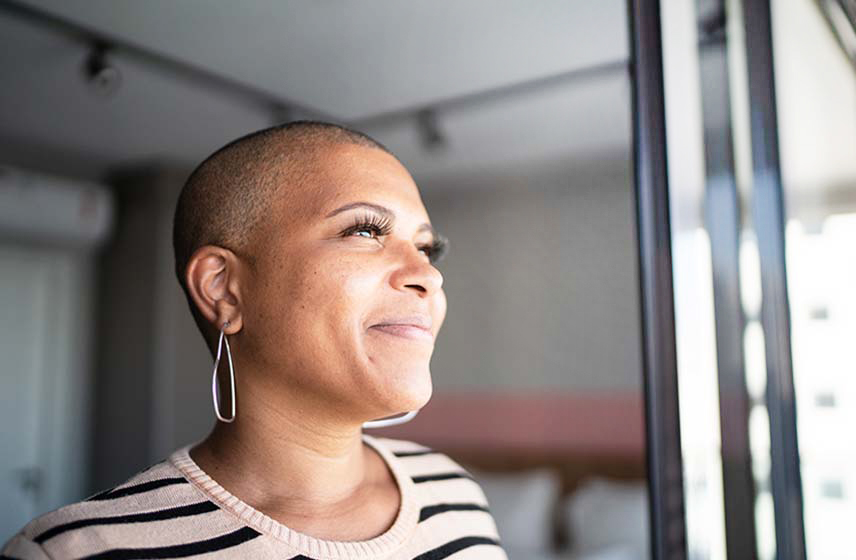 Survivorship
Learning you have cancer can be stressful, shocking and challenging. From the moment you get the news, you're a survivor. As you face the challenges that go along with cancer treatment and recovery — physical and emotional — we'll be right there with you.
At Cleveland Clinic, survivorship care is one part of your journey. We offer a wide range of services, resources, clinics and support groups to help with any physical, emotional, financial and spiritual needs you might have related to your cancer diagnosis. Lending a helping hand along the way, we want you to not only survive, but thrive on this journey and beyond.