The cold you couldn't shake just turned out to be something a lot more serious.
---
The symptoms of head and neck cancer are often mild and can be similar to those of the common cold — like a sore throat that won't get better and frequent headaches. But you could also have pain when you chew or swallow, neck pain that doesn't go away and even trouble speaking or breathing.
So if you experience any of these things, it's important to get checked out right away. And if you find out that your "common cold" is actually cancer in your head and neck, you'll want to find the best care as quickly as possible. Cleveland Clinic offers hope and support, even when you're feeling stressed, tired and unsure of what's next. We're here to guide you with expertise and compassion as you begin this journey — and all along the way.
Why Choose Cleveland Clinic for Head and Neck Cancer Care?
Skilled collaborative providers:
We'll design a treatment plan with a team of trusted experts like head and neck surgeons, radiation and medical oncologists and mental health providers. All of these experts specialize in treating complex cancers, using the latest treatments and techniques.
Patient-centered care:
We offer the highest level of expertise combined with compassionate care. You can count on us for a personalized treatment plan, innovative therapies and support at every turn. Meet our team.
Innovation and research:
Our providers constantly research ways to improve treatment and outcomes for head and neck cancer with clinical trials, new therapies and tools. We've also helped develop national guidelines to improve emotional and mental wellbeing for head and neck cancer survivors.
Comfort and convenience:
We want you to be comfortable and make things as easy for you as possible throughout your cancer treatment and beyond. Our team of providers, nurses and administrative staff work together to help coordinate your care and answer your questions.
Virtual visits:
If side effects from your treatments make it hard to leave home (or if you live out of town), you can schedule some of your regular follow-up appointments as virtual visits. We make it easy to keep in touch with your provider without having to travel. Talk to your provider from the comfort of home using your computer, tablet or smartphone. It's a quick and convenient way to get the care you need when you need it.
National recognition:
Cleveland Clinic is a trusted healthcare leader. We're recognized in the U.S. and throughout the world for our expertise and care.
Head and Neck Cancer Diagnosis at Cleveland Clinic
The sooner we can diagnose your head and neck cancer, the faster we can start your treatment. At your first appointment, your provider will do a physical exam and several tests.
Physical exam
Many head and neck cancers can be found during a physical exam. Your provider will check inside your mouth, nose and throat. We'll also look at your tongue and feel your neck, lips, gums and cheeks for lumps. We might also take some blood samples and check them for anything that looks abnormal.
Endoscopy
This test allows us to see deeper inside your head and neck than we can during a physical exam. We'll do this with a thin, lighted tube (endoscope) that we put into your nose. We'll look at your voice box, nasal cavity or other areas where you're having symptoms. Your provider will do this in their office. The scope might tickle a bit or feel weird, but it's usually not painful.
Imaging
We'll use X-rays, MRIs, CT scans and PET scans to take detailed pictures of your body. We'll look for abnormal areas and lumps. These pictures will tell us a lot about your cancer from the start.
Biopsy
A biopsy is one of the best ways for us to diagnose cancer. We'll remove tissue samples from where you have a lump. We'll then check the samples under a microscope to see if they have cancer cells in them. You'll have this procedure under a local anesthetic in your provider's office. Or you might have it done in an operating room. If so, you'll get general anesthesia to put you to sleep during the biopsy.
Second Opinions for Head and Neck Cancer at Cleveland Clinic
Learning that you may have cancer can be an emotional moment. You'll want to make sure you're working with a team of healthcare providers you trust to give you the best possible treatment. At Cleveland Clinic, we encourage second opinions. And we do our best to get you seen as soon as possible after you reach out. When you come in for your appointment, we'll ask you to bring all of your medical records. Our team of experts will dive in and work together to help you through the process of finding the best personalized treatment plan for you.
Meet Our Head and Neck Cancer Team
Your care is a team effort at Cleveland Clinic. Experts from many different specialties work together to diagnose and treat you for head and neck cancer. These providers may include:
Medical oncologists.
Head and neck surgeons.
Maxillofacial surgeons.
Facial plastic and reconstructive surgeons.
Radiation oncologists.
Prosthodontists (dental specialists).
Dieticians.
Nurses.
Providers Who Treat Head and Neck Cancer
Locations
Our healthcare providers see patients at convenient locations throughout Northeast Ohio and Florida.
Head and Neck Cancer Treatment at Cleveland Clinic
We start planning your treatment the minute you get your diagnosis. Your providers work together to ease your worries and design the right care plan for you.
Tumor boards
Your providers may talk about your cancer as a team in something called a tumor board. This team includes surgeons, radiation and medical oncologists, radiologists, pathologists and other clinical specialists. We work together to choose treatment options that'll give you the best results and the fewest side effects.
Your team will also talk about the size and location of your cancer, and if it's spread to your lymph nodes or other areas of your body. These factors, along with your age and overall health, help us build a treatment plan that's best for you. Your plan could include surgery, radiation therapy, chemotherapy or other systemic (targeting your entire body) treatments, or a combination of any or all of these.
Surgery
Cleveland Clinic is home to some of the nation's best head and neck surgeons. If you need surgery, we use the latest methods to remove your cancer while preserving nearby healthy tissue. After surgery, you may need head and neck cancer reconstruction to repair areas where you've lost a lot of tissue so you can look and feel more like yourself.
Radiation therapy
We can also target and attack your tumor and kill cancer cells with safe, high-energy radiation therapy. We'll protect your healthy cells by making sure you're positioned correctly under the radiation machine. We test this before your treatments begin and throughout your treatments.
There's a good chance you'll have a dry mouth throughout your treatment. You can also get tooth decay, infections and other side effects. Our providers will work with you to lessen these effects. We want you to be comfortable during this important treatment for head and neck cancer.
Immunotherapy and targeted therapy
Immunotherapy uses your body's immune system to find and kill cancer cells. It's often used in combination with targeted therapy, which pinpoints the cancer cells and destroys them without damaging healthy tissue. You typically get this type of therapy as a medication through your vein with an IV (intravenous) tube.
Chemotherapy
We also might decide to use drugs that can destroy cancer cells throughout your body. Chemotherapy can be an effective treatment. It's a good option if you have advanced head and neck cancer. In most cases, you'll get these drugs through your vein with an IV.
You've probably heard about chemo side effects like nausea, vomiting and hair loss. Your team will help you manage these side effects during treatment.
Other treatments
You might also need other treatments to manage the common changes that can happen with head and neck cancer treatment. You might need to have:
Dental restoration to give you replacement teeth if your treatment affects your jaw.
Nutrition therapy to help you get the nutrients your body needs, particularly if you're having a hard time eating and swallowing.
Oncology rehabilitation to relieve muscle weakness, swelling or joint stiffness from chemo or radiation.
Pain management to help you get relief from pain that's not responding to standard therapies.
Speech and swallowing rehabilitation to relearn how to speak and swallow.
Taking the Next Step
Head and neck cancer can cause frustrating symptoms and side effects. And you might wonder if things will ever be right in your world again. At Cleveland Clinic, we offer hope for a brighter tomorrow. Our specialists stay by your side from the time you walk through our doors, throughout your treatment and beyond. You can count on us for the best treatment and compassionate support every step of the way.
Make an Appointment
Getting an appointment with Cleveland Clinic's head and neck cancer experts is easy. We're here to help you on your journey.
---
Billing & Insurance
Manage your Cleveland Clinic account. Find billing information and financial assistance, plus FAQs.
---
MyChart
Securely access your personal health information at any time, day or night.
---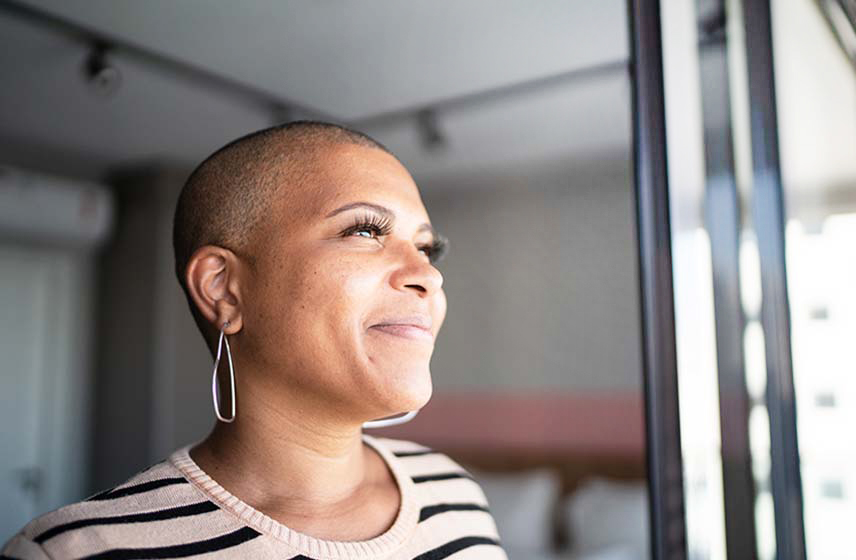 Survivorship
Learning you have cancer can be stressful, shocking and challenging. From the moment you get the news, you're a survivor. As you face the challenges that go along with cancer treatment and recovery — physical and emotional — we'll be right there with you.
At Cleveland Clinic, survivorship care is one part of your journey. We offer a wide range of services, resources, clinics and support groups to help with any physical, emotional, financial and spiritual needs you might have related to your cancer diagnosis. Lending a helping hand along the way, we want you to not only survive, but thrive on this journey and beyond.