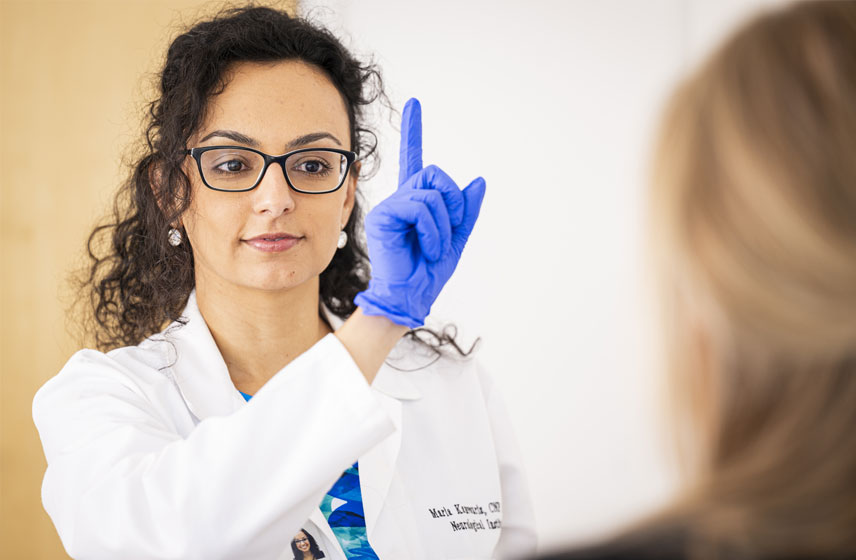 Gliomas and Glioblastomas
No one wants to hear the words "brain tumor" as a diagnosis for what started out as a lingering headache, some dizziness and a little forgetfulness.
---
When you get a glioma or glioblastoma diagnosis, chances are you're feeling lost in a swirl of emotions. Fear. Worry. Grief. Anger. And you probably have a lot of questions about what's next and how to move forward.
At Cleveland Clinic, we're here to help you find the answers you need. Our expert and compassionate healthcare providers know what it takes to treat gliomas and glioblastomas to slow tumor growth for better outcomes. And we'll help you (and your family) cope with this challenging diagnosis.
Why Choose Cleveland Clinic for Glioma and Glioblastoma Care?
National recognition:
Cleveland Clinic is a trusted healthcare leader. We're recognized in the U.S. and throughout the world for our expertise and care.
High-volume specialty
Cleveland Clinic has one of the largest, most comprehensive brain tumor programs. Thousands of people visit each year for our exceptional glioma and glioblastoma care. We offer the specialists, tests and treatments that give you the best chances of healing.
Innovation and research:
Cleveland Clinic is quickly bringing scientific discoveries and new brain tumor treatment options to our patients. We have a large team of researchers who focus on advancing glioma and glioblastoma treatment. Clinical trials are another way you may be able to receive new targeted therapies, vaccines, immunotherapies, surgical and ultrasound treatments to improve how medications are delivered to the tumor.
Caring approach:
Throughout your diagnosis, treatment and recovery, our social workers can guide you through unexpected challenges and connect you with useful resources. And we offer palliative care to help with lingering pain and other uncomfortable symptoms.
Virtual visits:
Sometimes you might feel too tired to leave home for an appointment. Our virtual visits let you talk one-on-one with your providers from the comfort of your couch. All you need is an internet connection and a smartphone, tablet or computer.
Personalized care:
Our Cleveland Clinic brain tumor team will meet regularly to talk about your unique case. This tumor board includes providers from different specialties who work together to recommend treatment specifically for you. Meet our team.
Glioma and Glioblastoma Diagnosis at Cleveland Clinic
First, you'll have physical and neurological exams and imaging tests like a CT scan or MRI so we can get a better look at the tumor. Then, our Cleveland Clinic brain tumor team will look at your test results and unique diagnosis during regular tumor board meetings. Our tumor board is made up of different providers from different specialties. All these experts work together to make the best recommendations for your treatment.
Biopsy
If we see something unusual, we'll likely do a biopsy to get a small tissue sample from the tumor, using a computer-guided (stereotactic) needle or surgery. By studying this tissue, we can learn if the tumor is cancerous, what kind of cells are in it, how fast the cells are multiplying and if there are any inherited (genetic) reasons causing it.
Second opinions for glioma and glioblastoma
At Cleveland Clinic, we know getting a cancer diagnosis can be emotional — and stressful. That's why we encourage second opinions. And when you reach out to us, we'll do our best to schedule your appointment quickly, so can feel confident with your diagnosis and get the high-quality care you need.
Meet Our Glioma and Glioblastoma Team
At Cleveland Clinic, our team approach means you'll get coordinated care from highly skilled providers who specialize in brain tumor diagnosis and treatment. They'll work together to learn more about the tumor and design a treatment plan personalized to you. Your care team could include:
Providers Who Treat Gliomas and Glioblastomas
Locations
Our healthcare providers see patients at convenient locations throughout Northeast Ohio and Florida.
Glioma and Glioblastoma Treatment at Cleveland Clinic
Once we know what kind of tumor you have and understand how fast it's growing, we can start putting together your personalized treatment plan. We don't have a single type of glioma and glioblastoma treatment because no two tumors are alike. Instead, we look at all your test results and decide what we think will work best to ease your pain and slow the tumor's growth.
Surgery
Removing all of the tumor, or as much as possible, is the first step in glioma and glioblastoma treatment. Most likely, you'll need to have open brain surgery (craniotomy). In this surgery, you'll be asleep from general anesthesia. Your surgeon will carefully remove a piece of your skull to get to your brain and remove the tumor.
Laser ablation
Depending on the tumor's size and location, you may need to have a minimally invasive treatment called laser ablation instead of surgery. We'll make a tiny hole in your skull and use heat from a laser probe to destroy the tumor. We often do this when the tumor's located too deep inside for us to safely do a craniotomy.
Other treatments
There are other ways to slow and manage glioma and glioblastoma tumor growth. Our providers might use any or all of these as part of your personalized treatment plan:
Tumor treatment fields (TTF).
Clinical trials
Cleveland Clinic's active research includes new approaches to targeted therapy and immunotherapy. We often suggest clinical trials in your treatment plan right away instead of waiting to see whether standard therapies will work.
Sometimes your body can start resisting glioma and glioblastoma therapies, and the tumors may come back. Clinical trials that research new therapies can give you the chance to get better outcomes. Some people with glioma or glioblastoma remain cancer-free long after receiving our innovative treatments. Talk with your provider to see if you're able to take part in any clinical trials as part of your personalized care plan.
Post-treatment care
During and after treatment, you'll keep seeing your providers for exams and imaging scans to see if the cancer returns. Sometimes the treatments to destroy the cancer cells can also damage healthy brain tissue, so you might need to see our physical and occupational therapists. They can help you with walking, speaking, remembering things and other treatment side effects.
At Cleveland Clinic, your cancer survivorship reaches beyond the physical and includes your mental and emotional health, too. We're here to help you get counseling, find support groups and learn ways to eat better and exercise more.
Taking the Next Step
Brain cancers like glioma and glioblastoma can leave you feeling uncertain about your future — during and after treatment. It's important to remember that you're not alone. We're here to support you every step of the way with personalized treatment that focuses on your physical and emotional needs. We want to relieve your symptoms and ease your fears so you can put your energy toward recovery.
Make an Appointment
Getting an appointment with Cleveland Clinic's glioma and glioblastoma experts is easy. We're here to help you get care.
---
Billing & Insurance
Manage your Cleveland Clinic account. Find billing information and financial assistance, plus FAQs.
---
MyChart
Securely access your personal health information at any time, day or night.
---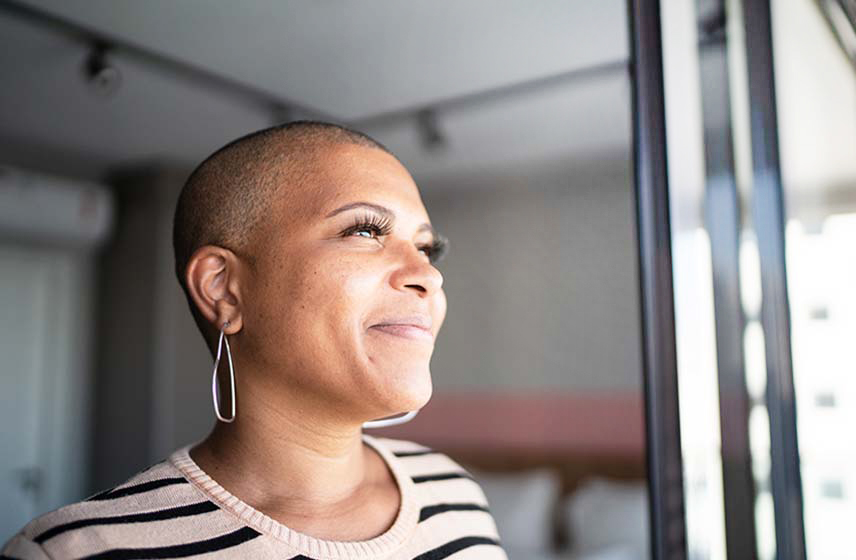 Survivorship
Learning you have cancer can be stressful, shocking and challenging. From the moment you get the news, you're a survivor. As you face the challenges that go along with cancer treatment and recovery — physical and emotional — we'll be right there with you.
At Cleveland Clinic, survivorship care is one part of your journey. We offer a wide range of services, resources, clinics and support groups to help with any physical, emotional, financial and spiritual needs you might have related to your cancer diagnosis. Lending a helping hand along the way, we want you to not only survive, but thrive on this journey and beyond.