Cleveland Clinic at the Combined Otolaryngology Spring Meetings 2023
May 3, 2023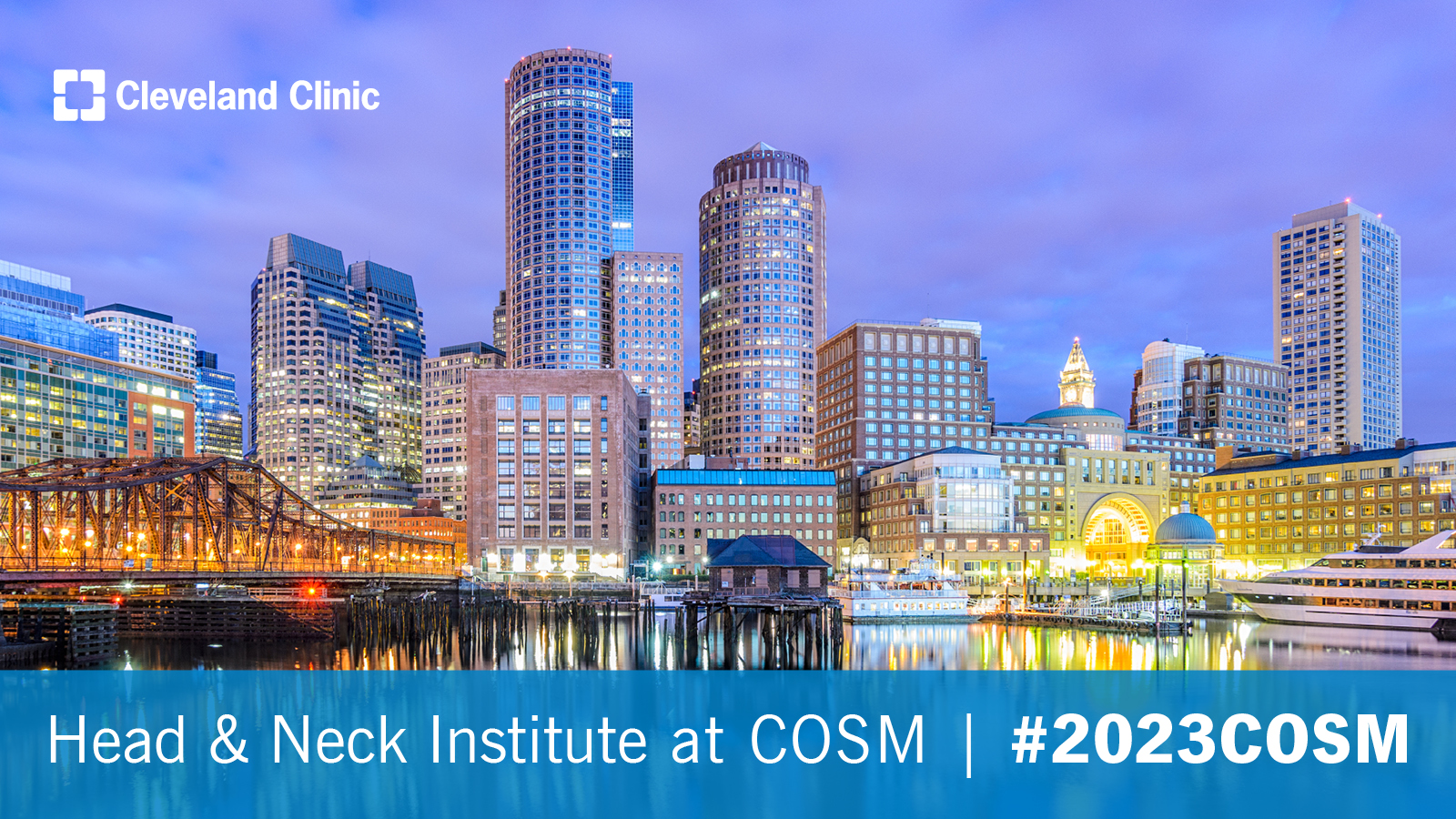 Cleveland Clinic at the Combined Otolaryngology Spring Meetings 2023
Podcast Transcript
Paul Bryson: Welcome to Head and Neck Innovations, a Cleveland Clinic podcast for medical professionals exploring the latest innovations, discoveries and surgical advances in otolaryngology-head and neck surgery.
Thanks for joining us for another episode of Head and Neck Innovations. I'm your host, Paul Bryson, Director of the Cleveland Clinic Voice Center. You can follow me on Twitter @PaulCBryson, and you can get the latest updates from Cleveland Clinic Otolaryngology - Head and Neck Surgery by following @CleClinicHNI on Twitter, that's CleClinicHNI. And new this year, find us on LinkedIn at Cleveland Clinic Otolaryngology - Head and Neck Surgery, and Instagram at Cleveland Clinic Otolaryngology.
We have a short episode for you today on Head and Neck Innovations. As many of you might be attending the COSM, or the Combined Otolaryngology Spring Meetings next week, I wanted to take the opportunity to highlight some of the work being done in our center here at the Head and Neck Institute, as well as in my own Division of Laryngology in the Voice Center. I'm very excited to be in Boston, joined by a dozen of my colleagues and trainees from our Head and Neck Institute who are presenting on a wide range of topics across various organizations, including facial plastic and reconstructive surgery, The Triological Society, ARS, ALA, ASPO, and ABEA.
I wanted to specifically shout out some presentations and featured research from my team in Laryngology in the Voice Center being presented through TRIO, the American Broncho-Esophagological Association and the American Laryngological Association. Here's a preview of if you're able to join us. On Thursday, May 4th at 11:00 AM in Ballroom B, as part of the Laryngology and Broncho-Esophagological Trio session, my colleagues will be presenting on trends in Medicare reimbursement for laryngology procedures between 2000 and 2021. This is a great collaborative effort that includes Dr. Rob Lorenz, one of our medical students, James Xu, and me, as well as some other colleagues with expertise in reimbursement through otolaryngology and head and neck surgery.
Then on Friday, May 5th at 3:30 in Ballroom A as part of the ALA scientific session on vocal folds in airway, there will be a presentation on the management of refractory chronic cough with bilateral superior laryngeal nerve blockade. This has been an ongoing project and treatment option for the most refractory of chronic coughs here at our center over several years, and we have a long experience to share. This will highlight the work of several in my team as well as a dedicated medical student, Brooke Quinton, from Case Western Reserve University's School of Medicine.
On Saturday May 6th, my colleague in the Voice Center and Laryngology, Dr. Will Tierney, will be presenting on variation and endoscopic dilation for the management of idiopathic subglottic stenosis as part of the ABEA Airway Scientific Session. Dr. Tierney's been a dedicated researcher in this area for a number of years, including his time here as a resident, and we're excited to hear what he has to say.
I'd also be remiss if I did not mention on Saturday morning May 6th, I'll be moderating a panel on surgeon wellness and burnout with several colleagues from around the country.
On May 7th, Sunday, my colleague and new President of Cleveland Clinic London, Dr. Rob Lorenz, will be presenting on an ALA panel discussing recalcitrant airway stenosis, the battle for decannulation. Dr. Lorenz has been a thought leader and surgical leader in this space for more than a decade, and this will be one you definitely want to tune in for.
Finally, we have several posters that will be featured in Exhibit Hall D on Friday and Saturday, including topics ranging from awake tracheostomy, a multi-institutional retrospective study on indications, patient characteristics and outcomes, a scoping review of surgical rehabilitation of post-intubation phonatory insufficiency, aka surgical rehabilitation of posterior commissure insufficiency. This particular problem is difficult to treat, and we have seen more of this as we emerge from the COVID-19 pandemic for patients that have had prolonged intubation in the ICU setting.
And the next one would be surgical management of subglottic stenosis during pregnancy, a systematic review. This is very important information as many of our patients that have idiopathic subglottic stenosis are female of childbearing age, and this is a condition that we sometimes have to navigate the demands of pregnancy for anesthesia management. This is an important poster and contribution. And finally, the application of superior laryngeal nerve block for non-cough laryngeal complaints. This will be a nice poster with many patients who do not fit into the chronic refractory cough paradigm but may have other sensory complaints in the larynx that are refractory to traditional care.
As we wrap up our cause and preview, be sure to check out our social media channels throughout the week from insights from our staff, residents and fellows on their featured research. And visit consultqd.clevelandclinic.org/headandneck for a full list of our presentations and posters. We're looking forward to seeing you in Boston and remember that to speak with a specialist or submit a referral to our Head and Neck Institute, please call 216.444.8500. That's 216.444.8500. Thanks for listening to Head and Neck Innovations and see you in Boston.
Thanks for listening to Head and Neck Innovations. You can find additional podcast episodes on our website at clevelandclinic.org\podcasts, or you can subscribe to the podcast on iTunes, Google Play, Spotify, SoundCloud, or wherever you listen to podcasts. Don't forget, you can access real-time updates from Cleveland Clinic experts in otolaryngology, head and neck surgery on our Consult QD website at consultqd.clevelandclinic.org/headandneck. Thank you for listening and join us again next time.
Head and Neck Innovations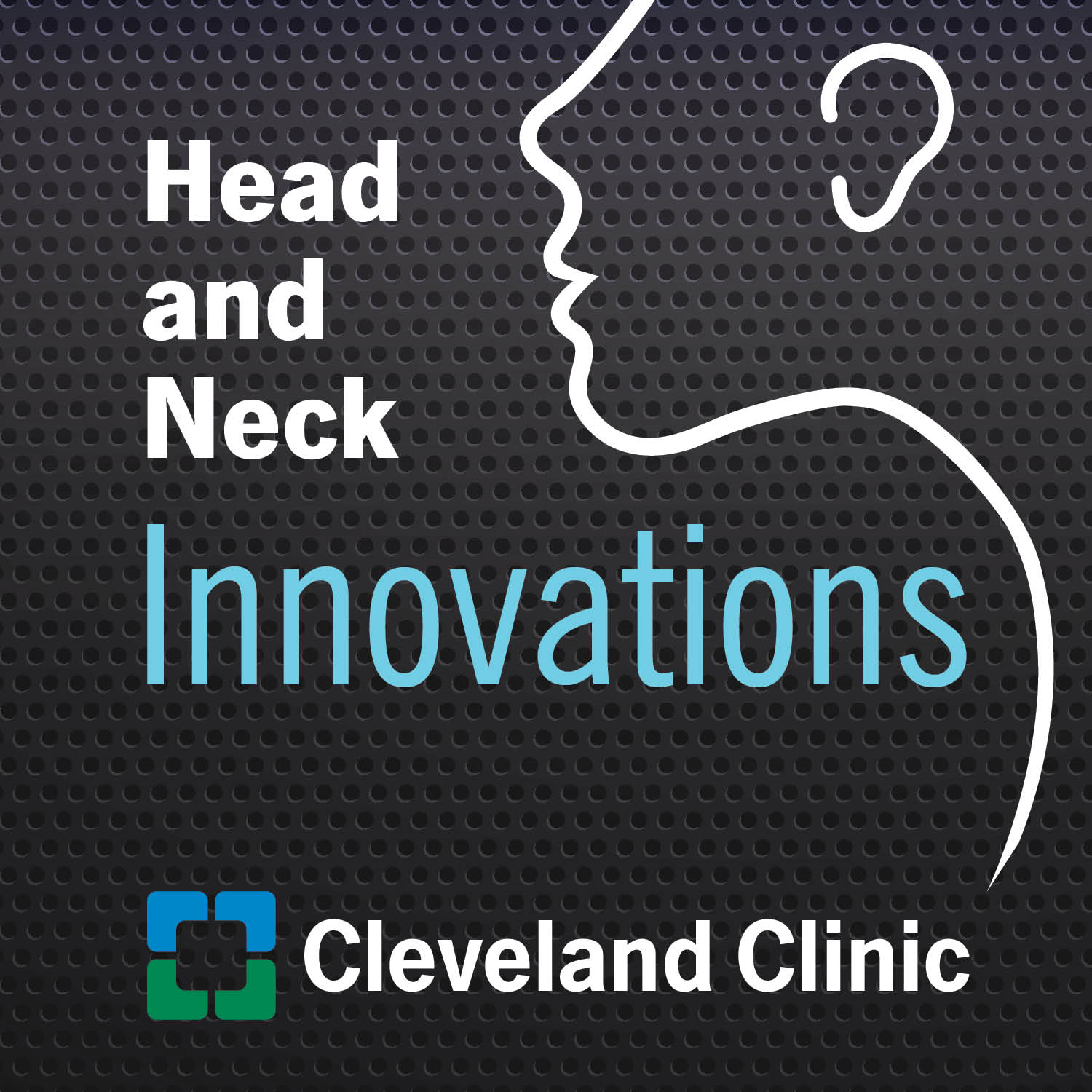 Head and Neck Innovations
, a Cleveland Clinic podcast for medical professionals exploring the latest innovations, discoveries, and surgical advances in Otolaryngology – Head and Neck Surgery
.
Subscribe: