VALOR-HCM Shows Promise for Patients with Symptomatic Hypertrophic Cardiomyopathy
April 21, 2022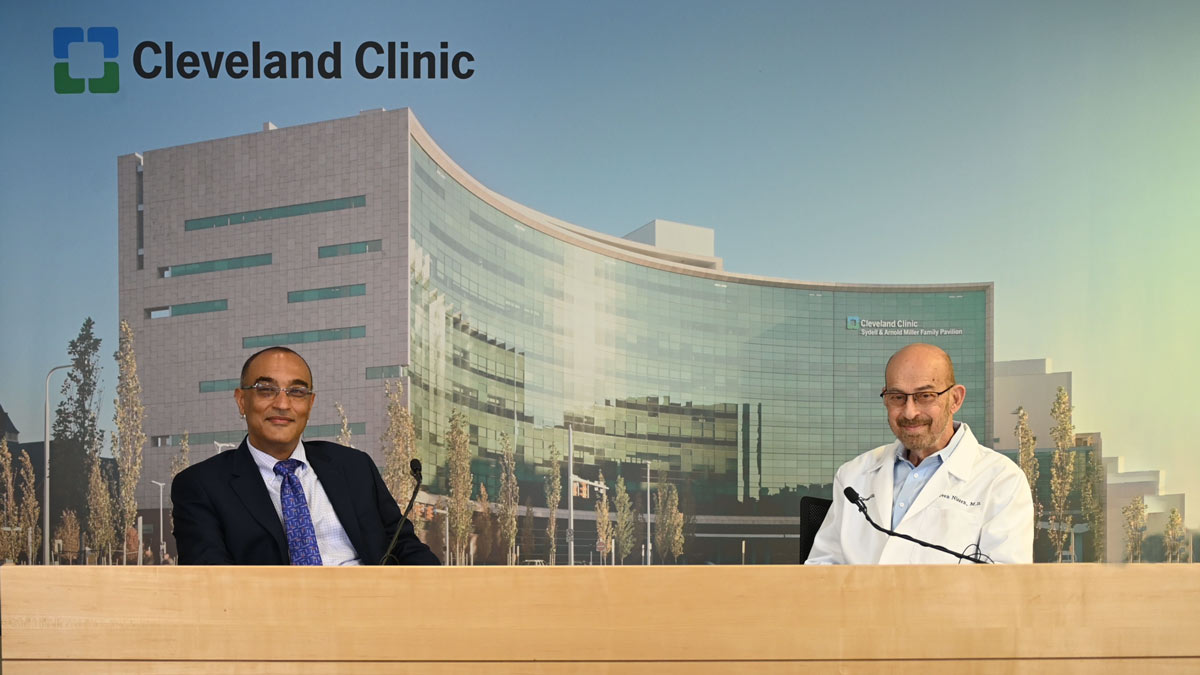 VALOR-HCM Shows Promise for Patients with Symptomatic Hypertrophic Cardiomyopathy
Podcast Transcript
Announcer:
Welcome to Cleveland Clinic Cardiac Consult, brought to you by the Sydell and Arnold Miller Family Heart, Vascular & Thoracic Institute at Cleveland Clinic.
Steven Nissen, MD:
I'm Dr. Steve Nissen, and I'm here with Dr. Milind Desai, who's reported the results of the VALOR trial at the American College of Cardiology meeting. So Milind, what was VALOR all about?
Milind Desai, MD, MBA:
Thank you so much. VALOR was a trial which tested whether or not the use of mavacamten, which is a novel cardiac myosin inhibitor, can help reduce the need for invasive septal reduction therapies in patients with advanced hypertrophic obstructive cardiomyopathy, who were maxed out on standard medical therapy and were referred for invasive procedures.
Steven Nissen, MD:
So, the invasive procedures that were being considered, you used the term septal reduction therapy. What does that mean?
Milind Desai, MD, MBA:
Septal reduction therapy, so there's two types of commonly performed invasive procedures. One of them is surgical, where you do septal myectomy, where you shave a piece of the heart muscle which is causing obstruction to the flow of blood.
Milind Desai, MD, MBA:
The other is where you squirt a little bit of alcohol into the septal perforator, which supplies the base of the heart, base of the septum causing it to shrink. The ultimate result is reduction in our flow tract gradient.
Steven Nissen, MD:
How severe was the disease in these patients? How high were their outflow tract gradients at rest and with provocation?
Milind Desai, MD, MBA:
Because these were patients with advanced symptoms being referred for invasive therapy, they were pretty symptomatic. In fact, 92.5% patients were in NYHA class three or four. The resting gradient, outflow tract gradient was around 50 millimeters and post provocation either by Valsalva or stress test was little higher than 85 millimeters of mercury. So, as one would expect, very severe outflow tract obstruction and very significant symptoms.
Steven Nissen, MD:
Now, as I understand it, they all met the criteria, the ACC/AHA criteria for undergoing these invasive procedures.
Milind Desai, MD, MBA:
Yes they did, and each and every one of these patients was referred to the individual HCM centers. These were experienced centers with established septal reduction therapy programs. They were referred to individual centers for consideration of septal reduction therapy. At the baseline, at the beginning of the trial, the entry criteria was for them to have met criteria for an invasive procedure.
Steven Nissen, MD:
Now tell us about the primary endpoint.
Milind Desai, MD, MBA:
The primary endpoint was, at week 16, how many patients chose to proceed with septal reduction therapy or how many patients remained guideline eligible for septal reduction therapy? In other words, if you look at it the other way round, how many people did not, after being on this 16 week trial, how many people did not meet criteria for guideline therapy?
Steven Nissen, MD:
Okay. So this is a randomized control trial. You got a placebo group, you got a group with this investigational agent, mavacamten. As I understand, 112 patients so, 56 in each group. What happened to the two groups?
Milind Desai, MD, MBA:
Yes. As you said, there were 56 patients in the mavacamten group and 56 in the placebo group. Each patient was followed monthly for up to the period of 16 weeks. Everyone, the mavacamten group, they were started on five milligrams and then up-titrated or down-titrated based on core lab measured ejection fraction, as well as outflow tract gradient. The endpoint were as follows, the primary endpoint, about 18% patients in the mavacamten group remained guideline eligible or chose to undergo septal reduction therapy.
Milind Desai, MD, MBA:
On the other side, in the placebo arm, about 78% patients remained guideline eligible or chose to undergo septal reduction therapy. This absolute difference of almost 59 was highly statistically significant with P values, less than 0.0001. In addition to this, we also tested some secondary endpoints in a hierarchical manner that included improvement in gradient, whether or not they're improved by at least one New York Heart Association class, what happened to the Kansas City Quality of Life Questionnaire, what happened to their biomarkers, BNP as well as troponin I and each, and everyone had a highly significant improvement in the mavacamten group compared to placebo with P values less than 0.0001.
Steven Nissen, MD:
That's really quite an extraordinary result, highly significant for all of the endpoints. The question is, why do we need a drug for hypertrophic cardiomyopathy? Why not just send these patients for surgery?
Milind Desai, MD, MBA:
That's a very interesting and important question because the surgery, especially the surgical myectomy data have shown that, if performed at an experienced center by the right personnel, the outcomes are excellent, especially in a place like the Cleveland Clinic. You could have surgical myectomy outcomes mortality data is less than 1%, which is very, very good.
Milind Desai, MD, MBA:
But unfortunate reality is as follows: number one, there are not too many centers that can get to the level of excellent outcomes that are to be expected from a place like Cleveland Clinic. In fact, in the data published from United States National Inpatient Sample, the average 30 day mortality after surgical myectomy was about 5.9%. And in centers that were less experienced or low volume centers, the mortality rate reached almost 16%. In relatively more experienced centers, the mortality rate was about 3.8%. In short, there's not enough centers doing all these invasive procedures and not enough centers that are doing it with the outcomes that are desired by these patients. That leaves a huge unmet need to develop non-invasive alternatives to these invasive therapies.
Steven Nissen, MD:
As I understand it, this drug, mavacamten is coming up for consideration by FDA approval. So obviously, your findings are going to be very important for clinicians and for patients to know about, because it sounds like it's a pretty viable alternative to undergoing a surgical procedure.
Milind Desai, MD, MBA:
Sounds like it, but an important thing that we need to make sure is, this was a trial of 16 weeks. What we need to do is make sure we have long term data available, which all these patients will be enrolled in long term extension studies. Time will tell whether it is safe, number one, and number two, do enough patients continue to feel better, and that gradients are significantly improved to a point where they choose to defer surgery. Or in some cases they may choose to not have surgery because they are fairly significantly improved in the long term.
Steven Nissen, MD:
When you give a drug that reduces contractility, you could reduce it too much and cause heart failure. Did that happen in the trial?
Milind Desai, MD, MBA:
That's a very interesting and an important point. In the study, we did not see any new additional safety concerns. There were two patients who dropped their ejection fraction to less than 50% temporary, and the drug had to be discontinued temporarily, but restarted. There were no patients who developed ejection fractions less than 30%. There were no other adverse events like heart failure admission, sudden cardiac death, or any other death during the study.
Steven Nissen, MD:
So titration with echocardiography in this case actually worked.
Milind Desai, MD, MBA:
Absolutely. Another crucial thing, is that the way we managed the titration was using clinically relevant criteria of echocardiography sim, as well as outflow tract gradient assessment and ejection fraction, and it worked.
Steven Nissen, MD:
So bottom line, designer drug, designed to affect the contractility of the myocardium, made these people with very severe obstructive hypertrophic cardiomyopathy. They felt better, they improved their NYHA class. Their gradients went down, they no longer were eligible for invasive procedures. After 16 weeks, we'll find out what the long term data show, and it should be very interesting to see what happens.
Milind Desai, MD, MBA:
Absolutely. We are entering into an exciting new era of precision medicine as it relates to hypertrophic cardiomyopathy and the future is truly bright for patients with this disease.
Announcer:
Thank you for listening. We hope you enjoyed the podcast. We welcome your comments and feedback. Please contact us at [email protected]. Like what you heard, subscribe wherever you get your podcasts or listen at clevelandclinic.org/cardiacconsultpodcast.
Cardiac Consult
A Cleveland Clinic podcast exploring heart, vascular and thoracic topics of interest to healthcare providers: medical and surgical treatments, diagnostic testing, medical conditions, and research, technology and practice issues.
Subscribe: