Talking Tall Rounds®: Comprehensive Care of the Marfan Patient and Family
November 11, 2021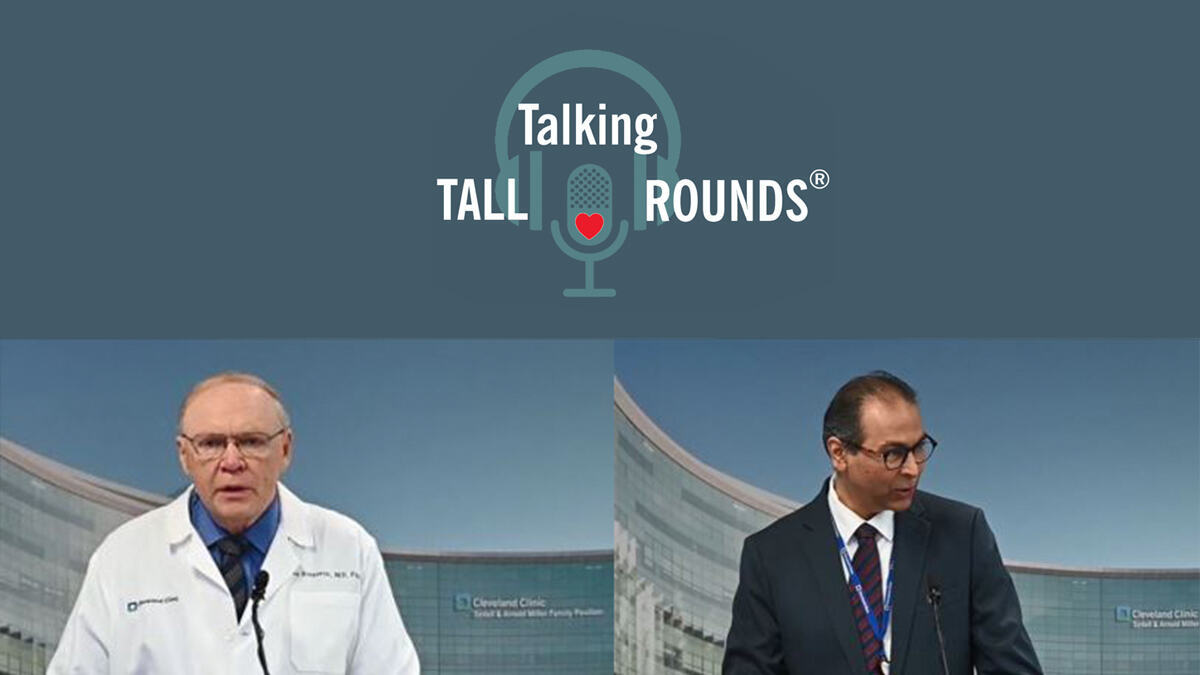 Dr. Lars Svensson and Dr. Sagar Kalahasti provide an overview of the recent Tall Rounds session highlighting collaborative and comprehensive care of the Marfan patient and family
Enjoy the full Tall Rounds® & earn free CME
Introduction by Moderators: Lars Svensson, MD, PhD & Sagar Kalahasti, MD
Patient Case Presentation & Perspective (media consent has been obtained): Adam Haniff, MD
Hernia Repair for Patients with Connective Tissue Disorders: Michael Rosen, MD
Treatment of Scoliosis in Marfan Syndrome: Ryan Goodwin, MD
Ophthalmology Managements Strategies: Elias Traboulsi, MD
Approaches to Pulmonary Complications: Neal Chaisson, MD
Genetic Testing : Christina Rigelsky, MS
Long-term Surgical Considerations for Marfan Syndrome: Eric Roselli, MD
Marfan Foundation Community Initiatives - Patient Awareness & Education: Eileen Masciale, Chief Program Officer
Subscribe: Apple Podcasts | Google Podcasts | Blubrry | SoundCloud | Stitcher | Spotify
Talking Tall Rounds®: Comprehensive Care of the Marfan Patient and Family
Podcast Transcript
Announcer:
Welcome to the Talking Tall Rounds series brought to you by the Sydell & Arnold Miller Family Heart, Vascular & Thoracic Institute at Cleveland Clinic.
Lars Svensson, MD, PhD:
Good morning, and thanks for joining us today with this special Tall Rounds. And it's unusual in that we have one of our former are patients who has a extraordinary story, Adam Haniff, and his experience with Marfan syndrome and his journey and his great success. It's a wonderful story, and it's a testament to the team that we have here too. Just as an aside, our team has done 214 re-implantation operations. And we're in process of analyzing and reporting that, and we have not had a death in patients with Marfan's, Loeys-Dietz and other connected tissue disorders.
Lars Svensson, MD, PhD:
And the long-term durability of the reimplanted valve is ready excellent, looking somewhere in the 95%. And so, our Marfan's Connective Tissue Disorder Team and Center will be presenting really great team, have a lot of experience now. We've treated over 1000 patients surgically with all types of operations.
Lars Svensson, MD, PhD:
And with that, I'm going to introduce Sagar Kalahasti, who leads our medical side of the Marfan and Connective Tissue Disorder Center. Thank you for joining us and one final special invitation also to Eileen Masciale from the Marfan Foundation. Thank you for joining us, too, today. Thank you.
Sagar Kalahasti, MD:
Thanks Dr. Svensson. Good morning, everybody. Thanks so much for joining on this special session Tall Rounds. We'll be talking about the comprehensive care of Marfan patient on the family. To hit it off, we have Adam Haniff. He's going to present the patient perspective. Adam is graduating from medical school, and he'll be joining residency in PM&R. Adam?
Adam Haniff:
Thank you, Dr. Kalahasti. Hello. My name is Adam Haniff. And as Dr. Kalahasti had mentioned, I'll be a future PM&R resident here at the Clinic. Today, in the spirit of the topic of this Tall Rounds, the comprehensive care of Marfan patient and family, I hope to impart all of you an appreciation for the patient perspective and also give you an insight into some of the strategies that Marfan patients like myself have used to achieve success in our lives.
Adam Haniff:
I wanted to start with a very common presentation of a Marfan patient, a six-year-old male presented with delayed academic milestones, clumsiness, and tall thin stature. I wanted to discuss how a six-year-old, like this would be me in my situation, how I physically dealt with Marfan's throughout my life. In the classroom, difficulty seeing overhead projectors and whiteboards, different issues with musculoskeletal, and visual impairments combining together to show like frequent falling, difficulty with sports, knocking over objects, and also the Marfanoid habitus that I have.
Adam Haniff:
Having the tall thin stature, there was a lot of clothes that didn't fit, school uniforms that were improperly sized, different recess equipment that was too small. What I want to get across here is that the way that patients experience Marfan syndrome is usually in terms of functional deficits, and we often have difficulties with very specific things in our lives. And when we go to physicians, we're hoping that when physicians treat the different aspects of our disease that are going to open up new realms of potentials for us so that we're able to live better in more complete lives.
Adam Haniff:
And for this, I wanted to just get across how, me as a first grader, how I specifically experienced Marfan syndrome. In the next slide, I wanted to give kind of a more medical perspective. Each of the two views, they kind of have pros and cons for each. Here, when you're looking at just the diagnoses themselves, you can lose an appreciation for how the combination of different problems from different organ systems can result in different losses of function.
Adam Haniff:
For example, a combination of issues with depth perception and poor visual acuity with poor hand musculature and hypermobility resulted in me acting clumsily as seen on the previous slide. So you can lose an appreciation for the day-to-day experiences of a patient, as well as the combination of how different organ systems can combine to lead to the presentation that a lot of Marfan syndrome patients experience.
Adam Haniff:
For the next, I wanted to just talk about some of the ophthalmological interventions that helped me the most for my life. I wanted to specifically mention having access to a low vision specialist early on in life allows individuals to have access to visual aids, different IP accommodations in school, and that was really key to allow me to perform well in school so that the possibility of studying medicine and pursuing different things in my life were all available to me.
Adam Haniff:
But without the help of a low vision specialist, it would've been very difficult to navigate school. And even now in different occupational environments, the skills that I learned there, I've taken with me my whole life. I was only able to have access to that because of meticulous documentation that my physicians had made, and I was able to take that documentation to my school to be able to get a lot of the different things that I needed in order to succeed in the classroom environment.
Adam Haniff:
Another part is, for the musculoskeletal side of things, having access to modified furniture, different orthoses, and also different IP accommodations, having an occupational therapist and a physical therapist definitely improved my ability to handle my pain. And they were able to exercise different muscle systems to be able to give me joint stability. And they also imparted in me, it was like a self... they taught me how to advocate for myself in the classroom. Those are all skills that I've taken with me across the whole spectrum of my life.
Adam Haniff:
Once again, without the documentation that my physicians provided me, I wouldn't have been unable to get a lot of these different things. Also, for orthoses, the OT and the PT can work together to trial different equipments with the patients. And that is something that being able to try a lot of different approaches to fixing a lot of the issues that I was experiencing, that was something that was invaluable going forward too.
Adam Haniff:
For the cardiovascular side of things, the cardiovascular system, it mostly results in a lot of... We have a lot of restrictions for certain activities. Gym class, for example, I had to take my physical therapy sessions, replaced my gym classes through middle school and high school, and I had to avoid a lot of contact sports and other things like that.
Adam Haniff:
But I wanted to really bring attention to when all the Marfan patients eventually have to get the surgeries, the modified David's procedure that I had, I had here at the Cleveland Clinic. And because of the experience of the providers that were here and from the surgical planning at the very beginning all the way to the post-op care at acute rehab and the cardiac rehabilitation that followed, these all played major roles in why my outcome was very, very good.
Adam Haniff:
And just as like a quick story, I remember when I visited Dr. Roselli for my appointment for planning the surgery, and I remember when he literally told me that for the modified David's procedure, it was a bread-and-butter procedure for him and that the Cleveland Clinic, they had seen a large number of these patients. And you can't imagine the weight that was taken off my shoulders the moment I heard someone of that caliber saying those words to me. It was just positivity from there.
Adam Haniff:
I just wanted to also quickly mention that patients after surgery, because of the muscle wasting and other things that occur in the postsurgical phase, in the healing phase, it can exacerbate a lot of the symptoms that Marfan patients experience, like a lot of our chronic pain. And for me specifically, it was a combination of ophthalmological symptoms and musculoskeletal symptoms. I had really bad balance impairments after the procedure that were all addressed at the acute rehab facility that I had visited.
Adam Haniff:
And I feel that by going to the acute rehab, it definitely allowed me to reintegrate back into my life a lot easier. And without that, it would've been a much more difficult journey. They were also able to train me and my parents, my family, and everyone around me, so that for injury prevention and other things to make sure that the transition went as smoothly as possible. So just because some of the patients are younger, I think that there is a role to at least assess a lot of the people that go through such traumatizing procedures to see if they are candidates for rehab.
Adam Haniff:
For the other interventions section, these are all kind of things that are hard to categorize, but they're all very significant issues that we deal with. And I wanted to mention how the Marfan Foundation having access to these patient-centered advocacy organizations, it fills in all the gaps that the modern medical system can't necessarily fill just because of how short some of our doctor's appointments are, and it's impossible to address us all the different ways that Marfan's can affect a person in just 15 to 20 minutes.
Adam Haniff:
So to get answers for the very difficult questions and to get kind of like an existential settling in your mind, it's really important that patients have other Marfan individuals to talk to that have went through a lot of the things that they're going to go through or that family is going through so that they're able to take on all of their lives empowered.
Adam Haniff:
Basically, from my experiences, I strongly believe that medical care at highly experienced multi-specialty institutions leads to better patient outcomes as was in my case, having access to all the different specialties here, both for the longitudinal outpatient care and also after each procedure, having rehab services available. All of these things definitely played a key role in why my outcome is really great.
Adam Haniff:
Physician documentation and functional assessment are definitely things that as Marfan patients age, it needs to be tracked to really have comprehensive care for these patients. The successful management should always include strategies to preserve function and quality of life. These are the things that are the most valuable to patients. And every time we go to a physician, we're always looking at ways to improve those two things.
Adam Haniff:
All patients, family, and physician should be made aware of patient advocacy organizations, such as the Marfan Foundation, physicians and others, just because by going to a lot of these events, they're able to see Marfan's from the other side, seeing more of the patient perspective and also for patients and family, just so they're able to understand what their loved ones are going through as well. And they play a valuable role in the comprehensive care for these for patients like myself with significant aortic disease. Thank you.
Eric Roselli, MD:
It's really great to be here with everyone today and have such a diverse group. I'll be focusing on long-term cardiovascular surgical considerations. I always show disclosure slide, but I'm not sure any of that's relevant today. The one thing we know about Marfan syndrome and for connective tissue disorders in general is that we are getting better.
Eric Roselli, MD:
Survival is definitely improving. You can see some of these older papers, average survival was somewhere around 45 years back in the '70s. In the last century, many patients are living well into their 70s, and also better improving quality of life. Thanks to many of the insights and help of so many different disciplines helping with these patients.
Eric Roselli, MD:
Adam, your insight was really fantastic. Thanks. And we're looking forward to hearing more from what you're going to do as a physician to help patients.
Eric Roselli, MD:
But when it comes to cardiac surgery, this is the problem that we want to avoid, the aortic dissection. This looks like the one that I just spent all night fixing actually. There's a big tear in the aorta. You can see how ugly that thing looks and kind of amazing that something like this can even hold on for the minutes and hours that it takes to get to us in a center where we can operate on these things.
Eric Roselli, MD:
The dissection often extends into the root and you can see the tissues all around the valve and the coronary arteries, and these specimen are affected by the dissection. In this patient, we were able to clean it up and save the valve. That's true to the lady that I operate on this morning as well. Dissection causes death by several different ways. One is by rupture of the aorta. Pericardial effusion with tamponade can cause your heart to fail. You can get acute regurgitation.
Eric Roselli, MD:
You saw that dissection down around the aortic valve, which can lead to acute heart failure and death from that or branch vessel obstruction and ischemia to organs. So it is an emergency situation, but many of our patients survive these and they're left with issues. And I think it's important all of our patients understand that they're not just their genetic code and although it may be the root cause of a lot of these problems as we heard from Christina, every patient is affected differently. They have other issues going on in their lives, and they have different caregivers who can provide different levels of care.
Eric Roselli, MD:
The one thing that we do to try to avoid those aortic dissections, and we've been doing better and better at, you can see by the increasing volume of this operation in our center, and Dr. Svensson alluded to this earlier, is saving the valve and doing these elective preventative valve-sparing root replacement operations. We've done these remarkably well.
Eric Roselli, MD:
Although Dr. Svensson says we'll have an update, we did publish a paper a few years ago, looking at 178 patients with connective tissue disorders, most of them not surprisingly had Marfan syndrome, several of them with leaking valves, we did extended repairs through the arch in many of these patients included mitral surgery. There were no deaths, one stroke, and no infections.
Eric Roselli, MD:
And when we looked at how these patients did over time, we also saw that they had excellent survival greater than 96% at five years, 94% at eight years and freedom from operation, you can see that curved levels out pretty quickly on the left. And when we look specifically at valve re-operations or freedom from valve re-operations is 93% at five years. So these are durable operations for these patients.
Eric Roselli, MD:
And as we've gotten better at it and more commonly doing it, we are even taking care of patients who have more complex disease like leaking valves, like you can see this patient one portion of their valve, you can see the green there was really stretched out, was still able to reconstruct that one component of the valve. You can see the beautiful leaflets that were spared in this patient, in this valve-sparing root replacement operation.
Eric Roselli, MD:
The problem is, even though we try to do these preventative operations to avoid dissection, is that acute aortic syndrome sometimes will still occur at smaller sized aortas with or without connective tissue disorders. We see this increasingly. So we need to be better at understanding how to prevent it, but when it does happen, we need to also appreciate the fact that no patient should be considered cured of the disease as the real pioneer, Dr. Crawford, taught us many years ago.
Eric Roselli, MD:
We haven't published this, but we looked at our own experience and found that in our database, we have many patients who had de novo dissections occur after they had an elective ascending aortic repair. These dissections occurred in their downstream aorta. That's a little easier to treat certainly medically, and the survival was excellent in these patients.
Eric Roselli, MD:
It was a exceptionally small percentage of those when we look at the denominator, patients who had valve-sparing operations at our center, but it's important to understand when you do have dissection, and that lumen is left patent that you have an increasing need for being re-operated on and survival data also mirrors this. So when there's flow in the false lumen, these patients can go on to have trouble.
Eric Roselli, MD:
We looked at our patients who had surgery beyond their aortic root with connective tissue disorder a few years ago. We found 121 patients who had repairs beyond the left subclavian artery. The more complex it is, the more difficult it is to treat when it's extensive disease, but in 104 chronic dissections, these patients were young. Most of them had open surgery before. There were a few endovascular operations in the past, but our outcomes were excellent with mortality of two and a half percent and zero spinal cord injuries in these patients.
Eric Roselli, MD:
When we looked at specifically what was happening with them with regards to re-interventions, we found at an immediate follow up of only four and a half years, that 55% of the patients went on to have more re-interventions, a third of those were endovascular with stent grafts and two thirds of those were open operations.
Eric Roselli, MD:
So you could see in this analysis that the probability of having a re-intervention if you've had an aortic dissection with connective tissue disorders is 61% at 10 years, so we have to have lifelong plans for these patients. And we have to consider that when we do an operation in one segment in the aorta, we may need to operate on another segment in the aorta.
Eric Roselli, MD:
And so we've developed these better operation like this, branch stenting anastomosis, frozen elephant trunk repair, which we're studying in a PSIDE right now, where we can prepare the aorta to allow us to have some endovascular treatment for segments of the aorta, knowing that over a lifetime, we may ultimately be replacing the whole aorta in patients. And we've looked at this, this endovascular completion of this, we've also developed other endovascular techniques, several of which are shown across this slide. I don't have time to get into the details, but we'll be using hybrid techniques where we combine open and endovascular operations.
Eric Roselli, MD:
We can provide a complete treatment for patient's aorta, and we've even studied this as well. We published this in Europe a few years ago, what we call the ultra hybrid extended repair where a patient undergoes open thoracoabdominal repair after endovascular repair. And if you look at this recent update that was just presented at the AATS by one of our medical students here, 20 of the thoracoabdominal aneurysms we did last year, were inpatients who had a previous TEVAR operation.
Eric Roselli, MD:
So a high-volume center who understands how to combine all these technologies is where patients need to go and embracing these various complimentary technologies is going to allow us to do this safer. You can see these outcomes are quite good with a survival at five years over 70% in really complex group of patients, and we're developing new devices for this as well.
Eric Roselli, MD:
So again, thank you for all of the multidisciplinary team members that help take care of our patients with connective tissue disorders. They often come through the Heart Center because of the major problems associated with heart disease from this, but every one of the caregivers is important for this treatment plan for not only our patients, but their families as well. I look forward to a discussion. Thanks, Sagar.
Announcer:
Thank you for listening. We hope you enjoyed the podcast. Like what you heard? Visit Tall Rounds online at clevelandclinic.org/tallrounds and subscribe for free access to more education on the go.
Cardiac Consult
A Cleveland Clinic podcast exploring heart, vascular and thoracic topics of interest to healthcare providers: medical and surgical treatments, diagnostic testing, medical conditions, and research, technology and practice issues.
Subscribe: