The sky blue "Team Erin" T-shirt displayed in the Cleveland Clinic office of orthopaedic surgeon Ryan Goodwin, MD is a constant reminder of the power of persistence.
"Erin is mature beyond her years and has always faced her disease head-on," said Dr. Goodwin of 17-year-old Erin Black, who has undergone complete surgical reconstructions of both feet due to a progressive neurological disorder. "She is clearly an example that patient outcomes can be better when their attitudes are better."
A graduate of Lakewood High School, Erin is bright, articulate and determined not to be defeated by Charcot-Marie-Tooth disease (CMT), a group of nerve disorders that can cause deformities in the feet, hips and/or hands of the patient. The disease typically progresses gradually, but there is no cure – and worsening pain and muscle weakness can make it difficult to use the affected limbs and organs.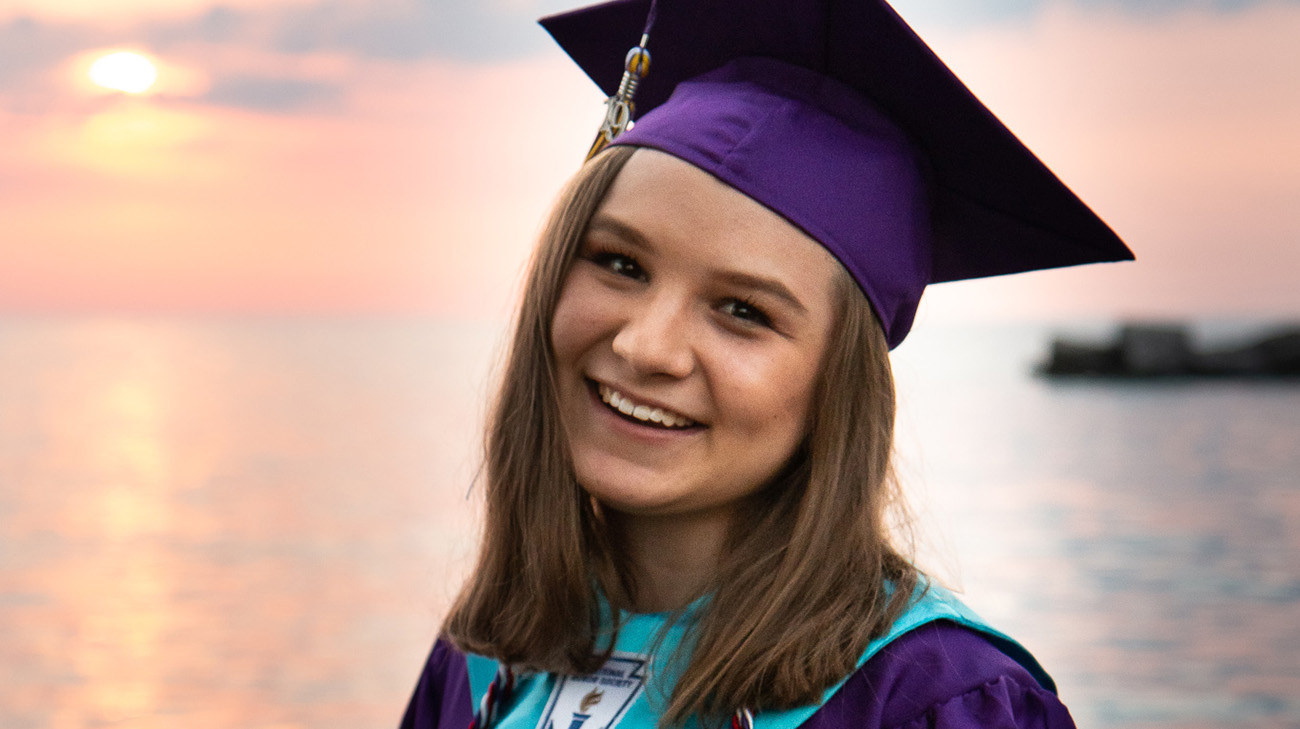 Erin will attend The University of Toledo to pursue a degree in disability studies. (Courtesy: Samm Foster)
Not that it's slowed Erin down. In the summer of 2018, Walk for CMT – a charity event in Lakewood Park to benefit the CMT Association organized by Erin, and where Dr. Goodwin got his blue T-shirt – drew 300 participants and raised more than $11,000. It's just the latest in a series of awareness- and money-raising endeavors Erin has orchestrated in her fight against CMT.
"One of my favorite things to do is volunteering and dedicating my time to the CMT Association is my passion," Erin explained. "Sometimes people feel sorry for me, but frankly, I now see this disease as a privilege. It's taught me how to handle the things you face in life. I'm blessed that I can use my CMT to help others."
Erin was diagnosed with Type 1A CMT, by Cleveland Clinic Children's pediatric neurologist Manikum Moodley, MD at age 7. But it came as no surprise. Her father also has the genetic disease and Erin began showing signs of CMT at a very early age. "I was a toe walker, simply because my hamstrings and Achilles are a lot shorter and tighter," she said. "I couldn't run or do things that most kids did. It was very visible that I was different."
As Erin grew older, through middle school and into her early high school years, the pain of walking grew worse. She has tried every form of support possible – from braces on each lower leg, to a wheelchair when required to traverse a larger area, like an amusement park. The worst, in her view, were walking canes which she used like ski poles, for balance.
"I needed them, because I would fall down all the time," she recalled. "But I hated them, especially in middle school. That's an awkward age anyway and I felt so embarrassed."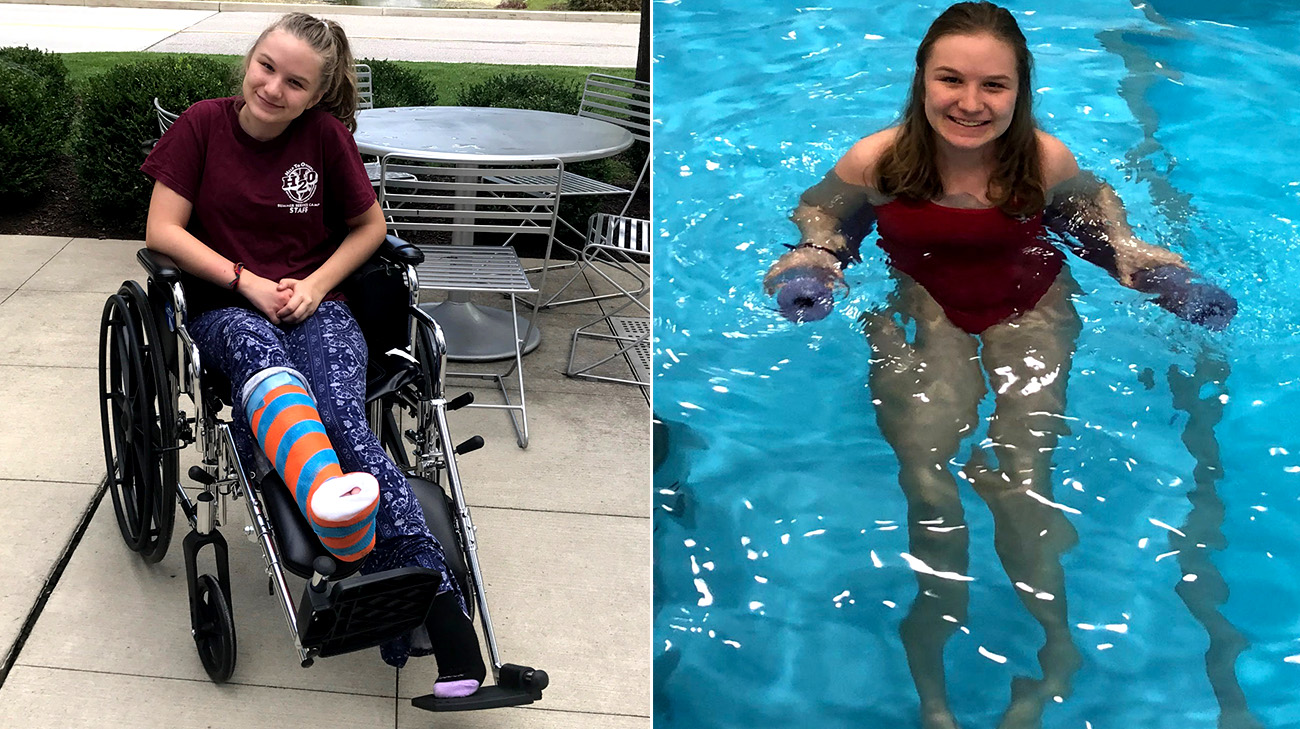 Cleveland Clinic physical therapists have worked with Erin for 11 years to help build physical strength and endurance. (Courtesy: Erin Black)
As the years passed, Erin – who has endured thousands of hours of physical therapy throughout her life – knew that surgery would be a possibility. She and her family held consultations with a number of surgeons before choosing Dr. Goodwin at Cleveland Clinic's Orthopaedic & Rheumatologic Institute.
According to Dr. Goodwin, that level of proactivity by Erin and her parents is a key to her ability to skillfully manage the disease: "Starting regular doctor consultations as soon as symptoms are noticed can enable us to take steps, like early (leg) bracing, that can prevent or slow some of the deformities that happen with a progressive neurological disease."
Erin noted that she appreciated Dr. Goodwin's approach. "I loved his mentality. Some surgeons are scissor-happy, but Dr. Goodwin never forced me to do anything before I was ready."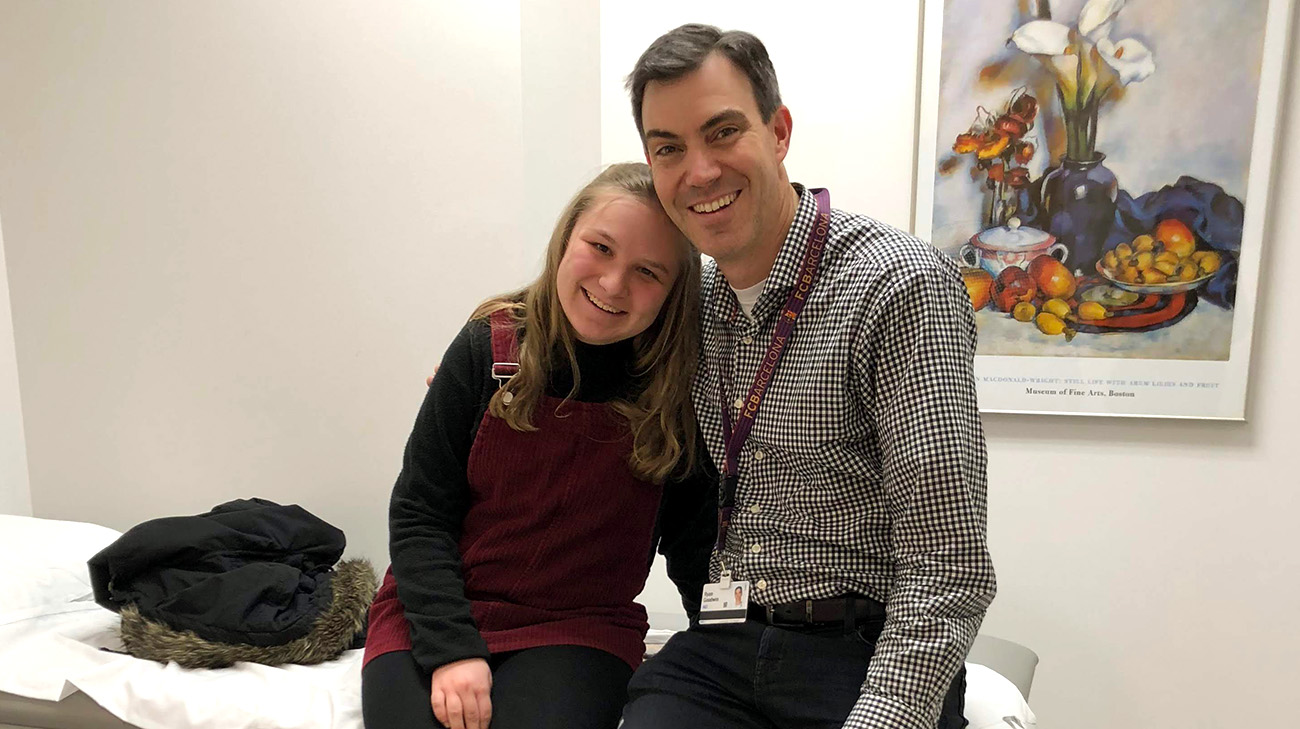 Orthopedic surgeon Dr. Ryan Goodwin performed both surgeries on Erin, who says she trusted him from the first day they met. (Courtesy: Erin Black)
And she was ready, for her first surgery, on her right foot, in August of 2017. Dr. Goodwin performed a complete reconstruction of her foot, even using healthy muscles and nerves from other parts of her body and transplanting them into her feet. Although the recovery process was long and arduous, Erin realized almost immediately that her life would be different.
"One day, you have feet that barely help you get by and cause you pain. And the next day you wake up with brand new ones," Erin exclaimed. "My feet look 100 percent different and I'm doing a lot better walking further distances. I'm so blessed!"
The success of her first surgery – especially the elimination of most of the pain she's endured for over a decade -- encouraged her to have the same procedure on her left foot, which Dr. Goodwin performed in June 2018.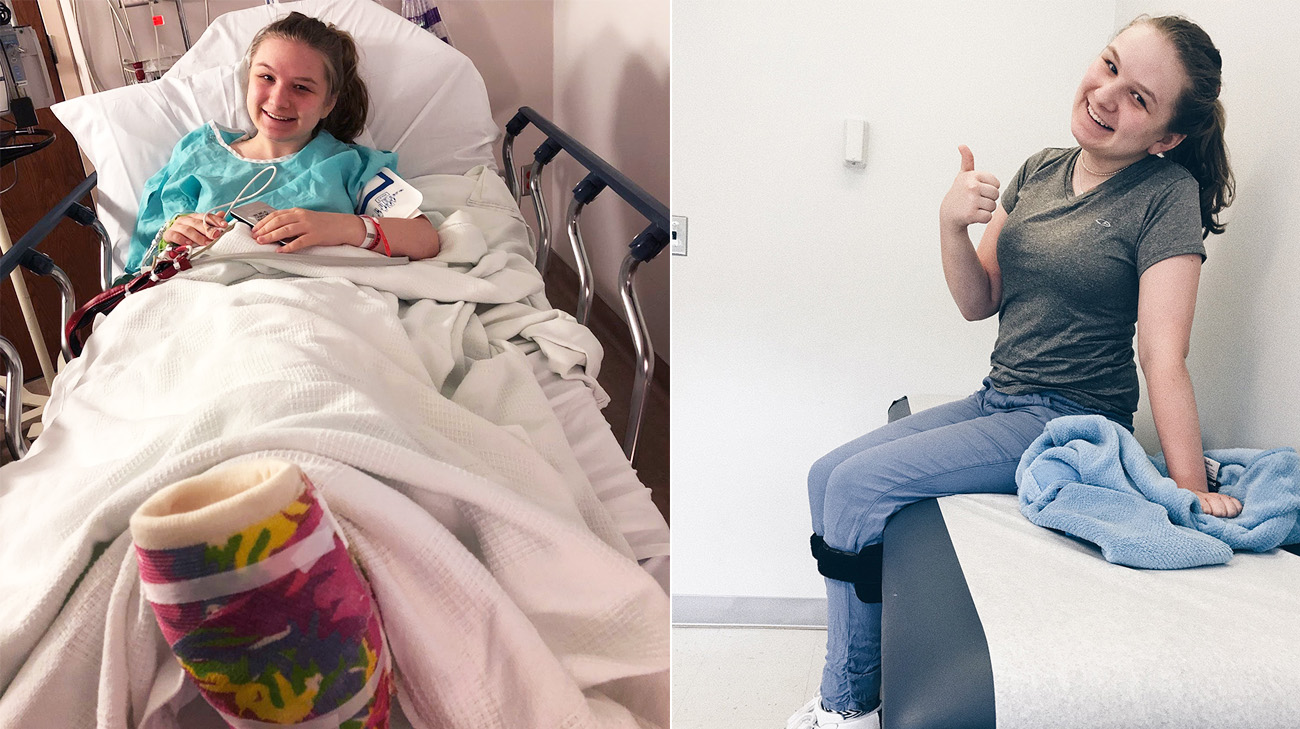 Erin underwent two foot reconstructions at Cleveland Clinic, the first in August 2017 and the second June 2018. (Courtesy: Erin Black)
Erin's recovery is slow and steady but hasn't prevented her from her favorite pastimes – singing in the school chorus, playing clarinet in the band, volunteering at church and socializing with countless friends.
And, naturally, she's even more diligent than ever with her CMT advocacy. "Some of my friends with CMT will always be wheelchair-bound, so I realize how lucky I am to have had these surgeries."
"I can walk and that's so cool!"
Related Institutes: Orthopaedic & Rheumatologic Institute, Cleveland Clinic Children's
Patient Stories
Patient Stories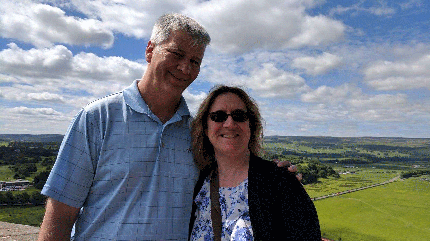 Nov 30, 2023
"I was under enormous stress and having difficulty sleeping, so I reached out to Dr. Saper to see if he had any suggestions as to how I could better cope."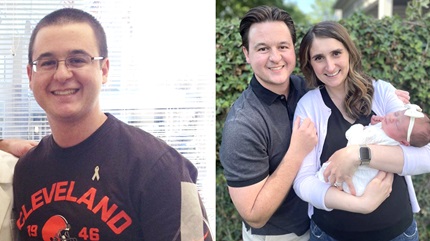 Nov 30, 2023
"At the time of my diagnosis, I was thinking, 'I'm 24. I'm a lifelong nonsmoker. I'm not supposed to get cancer.'"