Overview
Overview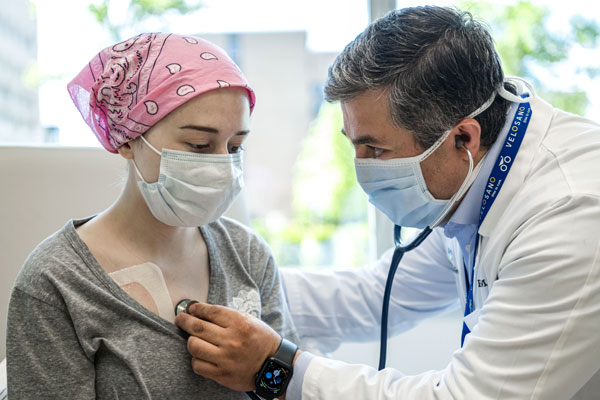 We provide innovative cancer and blood disorder care for children, including adolescents and young adults. Our cancer physicians are all board-certified in the subspecialty of Pediatric Hematology-Oncology, and our Nurse Practitioners also have subspecialty certification.
Many of our pediatric cancer treatment protocols are developed through the Children's Oncology Group (COG), an international collaborative group dedicated to curing and preventing childhood and adolescent cancer.
We have dedicated inpatient and outpatient facilities specifically geared toward the needs of our childhood and adolescent patients, who come to Cleveland Clinic for pediatric cancer care from around the world.
We see children and adolescents in the R Building at Cleveland Clinic's Main Campus, as well as at specialty clinics at Fairview Hospital, Hillcrest Hospital and Twinsburg Family Health and Surgery Center. In collaboration with MetroHealth Medical Center, we also see patients at their main campus, 2500 MetroHealth Drive, Cleveland.
Multidisciplinary approach to pediatric hematology and oncology care
The primary care team includes pediatric oncology/hematology physicians, nurses, surgeons and radiotherapists.
To meet all the needs of our pediatric patients, our team also includes social workers, psychologists, child life specialists and art therapists. These caring individuals help children understand and comply with medical and surgical procedures through play, art and other expressive activities.
Children's Oncology Group/Clinical Trials
We use the most up-to-date treatment protocols designed by leading experts and are specifically tailored to treat childhood cancer. For more information, please visit the Children's Oncology Group website.
What We Treat
What We Treat
Childhood cancer is one of medicine's true success stories. Currently, eighty percent of children and adolescents diagnosed with cancer survive their disease and go on to live productive lives.
Our compassionate team cares for pediatric patients with a variety of oncology and blood disorders including:
ALL (Acute Lymphoblastic Leukemia) and AML (Acute Myeloid Leukemia).
Bleeding and clotting diseases such as: ITP (Idiopathic Thrombocytopenic Purpura), hemophilia, blood clots, and platelet disorders.
Bone tumors: osteosarcoma and Ewing's sarcoma.
Bone marrow and neutrophil disorders including: aplastic anemia, storage diseases, and neutropenia.
Bone marrow transplant (hematopoietic stem cell transplant).
Brain tumors: astrocytoma and medulloblastoma.
Eye tumors: retinoblastoma.
GU tumors: Wilms tumor and germ cell tumors.
Lymphoma and Hodgkin's disease.
Red blood cell disorders including: various forms of anemia and iron deficiency.
Programs
Programs
Sibling Outreach Program
A program designed to address the educational and psychosocial needs of siblings who are touched by cancer.
We are an interdisciplinary team that includes psychology, nursing, social work, child life and medicine.
A program that provides long-term follow-up for cancer survivors and coordinates a multidisciplinary approach to care.
We also provide education to patients and a summary of important medical information as they enter college or adult life.
Specialty-trained pediatric neurosurgery and neuro-oncology collaborative team
Treating children and adolescents with cancers that affect the developing brain and spinal cord
Offering the latest diagnostic and treatment approaches to provide patients and their families the most advanced care available
The AYA Cancer Program cares for patients through the age of 25. This new service was developed in response to several trends and is supported by the National Cancer Institute-sponsored Children's Oncology Group.
Cancer rates are higher in adolescents and young adults than among younger children. However, adolescents and young adults are less likely to receive a prompt diagnosis or be enrolled on a clinical trial for innovative treatment.
Benefits
Benefits
Children's Cancer Answer Line
Parents and pediatric patients can talk directly with a pediatric nurse, social worker or physician to address concerns and assist in making appointments. Please call 216.444.5517
Physicians are on call 24 hours a day for urgent concerns and referrals.
Pediatric outpatient clinics designed to inspire comfort and peace of mind
14 treatment rooms with computers, DVDs, and other play activities
Conference room for private time with families
Patient and family library
In addition to a children's waiting area, the space includes a separate teen waiting room with computers, a foosball table and a karaoke machine.
Staff
Appointments
Appointments
Children's Cancer Answer Line
Call: 216.444.5517 or toll-free 800.223.2273 ext. 45517, select option 1
Hours: 8 a.m. – 5 p.m. weekdays
Pediatric Infusion Clinics
Pediatric Infusion Clinics are available. Learn more.
On call physician for urgent concerns and referrals
Call: 216.444.2200 and ask for the Pediatric Oncologist on call
Hours: 24 hours a day, 7 days a week, weekends, and holidays
Email: Send us an email
Online: Make an appointment
Additional Information
Additional Information
Childhood Cancers and Blood Disorders Support
We need your help now to raise funds for pediatric cancer patients at Cleveland Clinic Children's. Funds support family and patient support services, critical programs, and important research projects. You can be assured that 100% of your donation will support the highest priority projects at Cleveland Clinic Children's, and it will come directly to our hospital.
Your donation will make a difference in the life of a pediatric cancer patient today. We are truly appreciative of your support of our mission to help these children and their families.
Contact childrensfundraising@ccf.org for more information.