Overview
Overview
The Hematology team is part of the Department of Pediatric Hematology, Oncology, and Blood and Marrow Transplantation at Cleveland Clinic Children's. The team provides inpatient and outpatient services for children and adolescents with all hematologic disorders that are not malignant.*
Outpatients can be seen in three locations: Cleveland Clinic Main Campus, Fairview Medical Office Building, and Hillcrest Medical Office Building II. Clinical hematology laboratories are located at all three locations as well as various other conveniently located Cleveland Clinic Family Health Centers. We have many clinical trials as well, including BMT trials for hemoglionopathies.
Inpatients are admitted to Cleveland Clinic Children's and are seen daily by the attending physician as well as a team of residents. Hematologists will arrange consultations with physicians in other subspecialties as needed for your child's condition.
At Cleveland Clinic Children's, your family will have access to social work and other support services within the Department of Pediatric Hematology, Oncology, and Blood and Marrow Transplantation. We will also work with your child's referring physicians to keep them informed about your child's diagnosis and treatment so they can remain part of your child's care team.
What We Treat
What We Treat
The Hematology team treats a wide variety of hematological disorders. Some of the more common conditions we treat are:
Anemia: Anemia happens when there aren't enough healthy red blood cells in the body. It can be caused by many things, including nutritional disorders, blood loss, destruction of red blood cells, medical treatments, and inherited conditions.
Blood Clots: Blood clotting is an important process that prevents excessive bleeding when a blood vessel is injured. Typically, your body will naturally dissolve the blood clot after the injury is healed. Sometimes, however, clots form on the inside of vessels without an obvious injury or do not dissolve naturally, which can be dangerous.
Deep Vein Thrombosis: Also called DVT, deep vein thrombosis is the formation of a blood clot within a deep vein, most commonly the legs. These can be especially dangerous because they may lead to pulmonary embolus.
G6PD Deficiency: An inherited condition, G6PD deficiency is when someone doesn't have enough of the enzyme glucose 6 phosphate dehydrogenase (G6PD), which protects red blood cells. Certain triggers can lead to anemia in children who have G6PD.
Hemophilia and von Willebrand disease: Hemophilia and von Willebrand disease are bleeding disorders that prevent the blood from clotting properly. With modern treatment, most children who have these conditions can lead full, healthy lives.
Immune Thrombocytopenic Purpura (ITP): ITP causes low levels of the blood cells that prevent bleeding (platelets). ITP may occur when the immune system mistakenly attacks platelets.
Iron Deficiency: Iron helps the body carry oxygen in the blood and plays a key role in brain and muscle function. Too little iron can lead to iron deficiency anemia.
Neutropenia: Neutropenia is an abnormally low concentration of neutrophils (a type of white blood cell) in the blood. Neutrophils make up the majority of circulating white blood cells and serve as the primary defense against infections. Patients with neutropenia are more susceptible to bacterial infections.
Sickle Cell Disease: Sickle cell disease is a blood disorder that causes red blood cells to change shape and cause problems. Thanks to advancements in early diagnosis and treatment, most children born with sickle cell disease grow up to live active, healthy, and productive lives.
Thrombocytopenia: Thrombocytopenia is a condition characterized by abnormally low levels of thrombocytes, also known as platelets, in the blood.
Thrombocytosis: Thrombocytosis is a condition characterized by abnormally high levels of thrombocytes, also known as platelets, in the blood.
Comprehensive Programs
Comprehensive Programs
Sickle Cell Disease Program
A Comprehensive Pediatric and Adult Program with sub-specialties
Our multidisciplinary team of physicians and other healthcare professionals with expert knowledge of sickle cell disease treat patients of all ages. The Sickle Cell Disease program involves both pediatric and adult care and offers lifelong support and management of the disease. Services are located at Cleveland Clinic Children's, which is consistently rated among the "Best Children's Hospitals" by U.S. News & World Report.
What to Expect
During your visit, you will meet with various members of the team. This could include:
Hematologists
Primary care physicians
Social workers

Milvon Wright, MSW
Rosa Young, MSW

Specialty care coordinators

Katrina Osborne, RN
Kristin Seastrand, RN
Hemophilia Comprehensive Program
A comprehensive team of physicians and other healthcare professionals with expert knowledge in hemophilia work with children and adolescents (ages birth to 18) and their families to help keep them healthy. The Comprehensive Clinic is held twice a year.
What to Expect
During your visit you will meet members of the Hemophilia Comprehensive team, including:
A hematologist and/or nurse practitioner – who will address your medical needs.
A physical therapist – who will help to maintain you or your child's joint health.
A social worker – who can help you and/or your child create strategies for coping with hemophilia.
A Child Life Specialist – who can help children work through tougher parts of the visit, such as lab draws.
During the visit, patients may also visit other specialties, such as dentistry and orthopedic surgery.
Our multidisciplinary team collaborates with Dr. Anne Neff, an adult hematologist specializing in the care of hemophilia, to provide care to our adolescent and young adult patients. This partnership allows for a seamless transition from pediatric to adult care.
Our Team
Our Team
Other Providers
Brittany Griffin, PhD, CGC, Genetic Counselor
Christina Rossi, RN, Care Coordinator
Milvon Wright, MSW, Dedicated Hematology Social Worker


Appointments & Referrals
Appointments & Referrals
For more information or to make an appointment with one of our pediatric hematology specialists, please call 216.444.5517.
Locations
Cleveland Clinic Children's hematology team sees patients at these locations:
Cleveland Clinic Main Campus
8950 Euclid Avenue, 2nd Floor
Cleveland, OH 44195
Amherst Family Health Center
5172 N Leavitt Road
Lorain, OH 44053
Fairview Medical Office Building
18099 Lorain Avenue, 2nd Floor
Cleveland, OH 44111
Hillcrest Medical Office Building II
6801 Mayfield Road, 2nd Floor
Mayfield Heights, OH 44124
Stow-Falls Medical Outpatient Center
857 Graham Road
Cuyahoga Falls, OH 44221
Referrals and Second Opinions
If you are coming to Cleveland Clinic Children's through a referral or second opinion request from an outside hospital, please contact:
Ana Luiza San Martin
SANMARA@ccf.org
Phone:
216.444.3360
Fax:
216.444.3577
Note: All patients looking to schedule an appointment must have a Cleveland Clinic Medical Record Number (MRN). If you do not have a Cleveland Clinic MRN, please call the appropriate number below and we will assist you with getting a record created.

USA:
216.444.5437
International (including Canada):
216.444.6404
Patient Stories
Patient Stories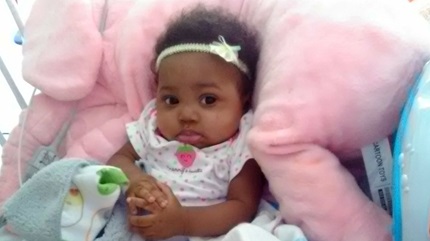 Sep 25, 2017
"I'm so grateful for Dr. Hanna and all of the Cleveland Clinic caregivers we came into contact with — from housekeeping to nurses to doctors. They were all part of Team Denniya."