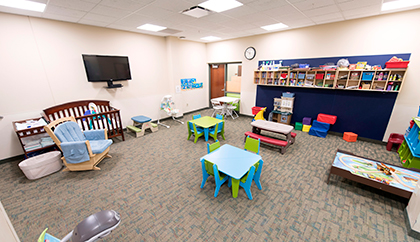 Babysitting
Babysitting is available for children ages 6 weeks to 5 years old and at no cost for family and single-parent memberships. Each member can use a maximum of 1.5 hours (single session) of babysitting per day. For the safety of your child, we keep an information card on file that you complete on your initial visit. Please notify us if that information changes.
KidStyles
A supervised play area for youth ages 5 to 12 years old. Usage of this area is free for children included on family and single-parent memberships. A nominal fee is associated with children who are a guest of a member. Non-members must check in through babysitting or pay the guest fee at the front desk. Children engage in activities such as rock wall climbing, circuit training, gym activities, group games, jump rope and free play.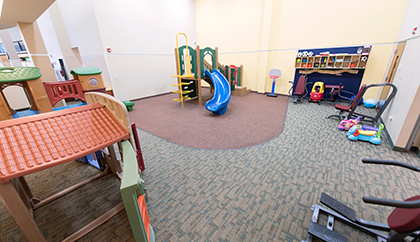 Please note: Refrain from bringing food including gum, candy and soda, into babysitting and KidStyles areas. Babysitting and KidStyles are also peanut and tree nut free zones.
Reservations are required at least 48 hours before your visit. Please review the hours of operation for updated details.
Parent-supervised Preschool Play Time (Bath only)
Parents are welcome to utilize the KidStyles area with their pre-school age children during the day. Parents must remain in KidStyles to supervise their children.
Family Fun Night
Every Friday night, families are encouraged to participate in unrestricted dependent hours from 3-10 p.m.
Parents' Night Out
Enjoy a night out while we entertain your children! Participants can enjoy swimming, gym games, dinner and a movie. Pizza and snacks will be provided during our theater-style projection movie viewing. With so much to do, we can almost promise to send your children home tired. Open to children ages 3 to 12 years old.
Summer and Holiday Kids' Camps
A variety of camps for children and young adults ages 3-14 years old will be offered throughout the year. Discounts may be available for early registration and payment is required before the specified deadline.