Open Gym & Rock Wall
Open Gym & Rock Wall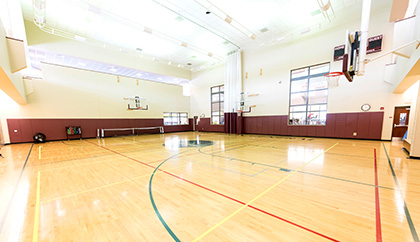 Recreation
If you're looking for a space to keep your athletic skills sharp, LifeStyles has you covered!
Open gym times are available every day and the equipment you need to practice: volleyballs, basketballs, pickleball equipment and soccer balls. Plus a martial arts station where you can practice your technique on our 80lb punching bag, sway bag and speed bag. You may even want to work some battle ropes intervals in.
Download the current open gym schedule (PDF format):
Rock wall
Climbing is scheduled by appointment only. Climbs for adult and children members. A certified staff member will be present to teach proper climbing techniques. For information, please contact the fitness desk of the preferred location.
The following locations are open for appointment:
Green: 330.896.5006.
Stow: 330.945.3106.
Bath: 330.665.8106 – Rockwall is currently CLOSED (last updated Feb. 2, 2023).
Rock wall certification courses
Learn the fundamentals of climbing and proper techniques of belaying in order to add more to your normal workout routine. Attendance is mandatory to obtain a Rock Wall Certification.
Rock Wall certifications are free for any member 16 years or older.
To register or learn more about the certification courses, please contact our individual locations:
Bath: 330.665.8139.
Green: 330.896.5016.
Stow: 330.945.3141.
Rentals
Rentals
Birthday parties
Does someone you know have an important birthday coming up? There isn't a better place in town than LifeStyles to host a birthday party!
Choose from our packages or create your own al a carte to create the perfect birthday celebration. Activity areas available include gymnasium, swimming pools, KidStyles and the Rockwall.
After-hour events
Calling all Scouts, Girls Scouts, Youth Groups and any community groups!! LifeStyles is the perfect place to hold an after-hours event. Enjoy an unforgettable night with fun and fellowship.
Packages include an overnight option where you have the entire LifeStyles facility to yourself! Don't want to stay all night? We have after-hours events as well that can be customized for you. Activities for the over-nighters and after-hours events may include use of the Rockwall and indoor pool.
To book your event or learn more, please contact our individual locations:
Bath: 330.665.8139.
Green: 330.896.5007.
Stow: 330.945.3130.