Radioactive Plaque Therapy
A radioactive plaque is a sealed device that delivers a high dose of radiation to a tumor. The plaque is positioned on the surface of the eyeball directly over the tumor inside the eye. The plaque gives off radiation constantly while in place on the wall of the eyeball. Once the plaque is removed, no radioactivity is left inside the body.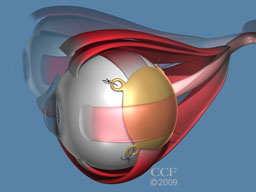 What to Expect During Surgery
The implantation and removal of the radioactive plaque is generally performed under local anesthesia with sedation by specialists from Cole Eye Institute. This requires one or more injections around the eye to numb it. There is likely to be a moderate amount of pain on the day of surgery after the anesthesia wears off. Pain killers are provided during the hospital stay. Most of the severe discomfort is gone within the first 24 to 48 hours. Patients typically stay at Cleveland Clinic main campus for three to five days. Mild headaches and scratchiness of eye may persist for about two weeks.
How Long Does the Plaque Remain in Place?
The course of radioactive plaque therapy is planned by the physicians in the Department of Ophthalmic Oncology in conjunction with the Department of Radiation Oncology at Cleveland Clinic. A very sophisticated computer program calculates the appropriate duration of your treatment. The amount of radiation needed for treatment depends on the type of plaque used, its radioactive energy, and the thickness of the tumor.
Radioactive plaques come in various sizes and shapes. Shown here is an Iodine plaque. Each plaque is custom designed by arranging Iodine-125 radioactive seeds on a gold plate. The sutures are passed through the rings to keep plaque in place.
What Radiation Precautions Must be Taken?
While the radioactive plaque is in place, certain radiation safety precautions must be observed. These precautions for healthcare professionals and visitors are necessary to meet the regulatory requirements of the United States Nuclear Regulatory Commission (NRC):
Wear lead shield or eyeglasses at all times.
You may not have any visitors under 18 years of age.
You may not have any pregnant visitors.
Your visitors may greet you with an embrace or may shake hands with you, but they should remain at least six or more feet away from you for the remainder of the visit.
Your visitors should limit the total time of their visit to three hours per day; they may divide this time into several short visits throughout the day.
You are not permitted to leave your room and walk the halls while the radioactive plaque is in place.
You should generally stay in the areas of your room designated by your nurses while the radioactive plaque is in place.
Linen and garbage will not be removed from the room until it is surveyed. On weekends, this may lead to a larger accumulation of materials in your hospital room.
Common Questions About Radioactive Plaque Therapy
Am I radioactive after the plaque is removed?
No. Once the plaque is removed, there will be no residual radioactivity in your body, on your clothing, your glasses or any other personal belongings.
Will my hair fall out from the plaque radiation?
The plaque delivers a localized radiation treatment which is not likely to produce any hair loss, nausea, damage to your brain or visual problems in your other eye.
Will the radiation make me sterile?
No. The amount of radiation necessary to produce sterility is hundreds of thousands of times the amount that your reproductive organs will receive.
What sort of care will my eye need after I return home?
Your doctor will generally prescribe eye drops to be used twice daily and an eye ointment to be used four times daily. You may have to wash away the mucus that collects along the eyelids each morning and periodically during the day.
How quickly will my tumor go away?
It may be three to six months before definite signs of tumor shrinkage can be established. Occasionally, a tumor appears to enlarge minimally during the initial months after treatment before it begins to shrink. A treated tumor almost never disappears completely, leaving behind a residual lump that may persist indefinitely.
How often do I need to be checked after plaque treatment?
We generally recommend outpatient follow-up evaluations at three intervals during the first year and then every four to six months. We generally prefer to have you return to the Cole Eye Institute for these evaluations, but they may be performed by your referring ophthalmologist if you live far away from Cleveland. We also recommend physical examinations, a blood test, and ultrasound of the liver every six months to determine whether there has been any spread of the tumor.
What will be done at the follow-up visits?
Your follow-up evaluations will be done on an outpatient basis, usually requiring two to four hours for tests and medical review. In addition to an examination there may be a need for diagnostic photography and ultrasonography.
What will happen to my vision?
Plaque radiation treatment may cause eventual blurring, dimming or even total loss of vision in the eye with the tumor. The amount of visual loss varies depending upon the location and size of the tumor and cannot be reliably predicted. However, the plaque radiation does not affect the vision in the other eye.
How soon can I return to normal activities?
The eye generally heals quickly following removal of the radioactive plaque. Although the eye may remain red and somewhat scratchy for about two weeks, you can expect to return to most of your normal activities within a week after your hospital discharge. We typically allow patients to return to work or school two to four weeks after the completion of treatment, presuming that the eye is healing as expected.
Cleveland Clinic is a non-profit academic medical center. Advertising on our site helps support our mission. We do not endorse non-Cleveland Clinic products or services. Policy