Learning you have cancer can turn your world upside down. When it involves your eyes, one fear often stands out from the rest: Will I lose my sight?
---
But that's not the only question you likely have with an eye (ocular) cancer diagnosis. What will my treatment be like? What does my future hold? Will I be OK?
At Cleveland Clinic, we're here to ease your fears, answer your questions and, importantly, to do everything we can to preserve your sight. Eye (ophthalmic) cancer is rare, so it's important to work with healthcare providers who have a deep understanding of it — and who know what it takes to treat it. Our compassionate, experienced ophthalmic oncology team is here to help you through your diagnosis and treatment and into your future.
Why Choose Cleveland Clinic for Ophthalmologic Oncology (Eye Cancer) Care?
Specialized knowledge:
Cleveland Clinic healthcare providers have advanced training in treating all types of eye tumors. Eye specialists throughout the country (and around the world) send people here to get treatment for rare eye tumors. Meet our team.
Comprehensive treatment:
Cleveland Clinic offers the latest treatments for eye cancer, including specialized surgical techniques and radiation therapy. We'll create a personalized treatment plan that preserves as much of your eyesight as possible.
Caring approach:
If you need help, we're here for you. We can connect you and your loved ones with mental health providers or other people who have had similar treatment. And if you're traveling to Cleveland Clinic, our care coordinators can help with travel plans, appointments and more.
Innovation and research:
Our ophthalmic oncology providers participate in research and clinical trials that improve the way doctors everywhere diagnose and treat eye cancer. If you're eligible, you may be able take part in one of the latest trials or treatments before they're available anywhere else.
Virtual visits:
When you're going through treatments, you might not always feel up to leaving the house. We offer virtual visits for some appointments so that you can meet with your providers one-on-one from the comfort of your couch on a smartphone, tablet or computer.
National recognition:
U.S. News & World Report consistently ranks Cleveland Clinic a top hospital in the nation. Newsweek has also named us a top hospital in the world.
Eye Cancer Diagnosis at Cleveland Clinic
When you come to Cleveland Clinic for eye cancer diagnosis and treatment, you'll work with a team of skilled providers who'll design your personalized care plan. These could include:
Pathologists (tissue specialists).
Advanced practice providers (certified nurse practitioners, physician assistants).
Often, our providers can see some ocular tumors through your pupil during an eye exam. But to confirm a diagnosis, we may have you do more tests, including:
Retinal scan (digital pictures of the back of your eye that show where light and images hit).
At Cleveland Clinic, we want you to feel comfortable seeking the best possible care. That's why we encourage second opinions and offer priority scheduling for these kind of appointments. If you come to us for a second opinion, it's important to bring all of your medical records so our providers can better understand your condition and help you get the best care.
Eye Cancer Treatment at Cleveland Clinic
When you have a rare cancer like eye cancer, you want a team of experts behind you. Our ocular oncology providers offer treatments for all kinds of eye cancer, including the rarest and most complex cases. They'll walk you through the details of your treatment options and answer all of your questions.
Depending on your treatment plan, your options for ocular cancer may include one or more of the following:
Surgery: Your surgeon will use the latest surgical methods to remove your tumor. This includes using minimally invasive options whenever available so we can save as much of your eye as possible.
Chemotherapy: This anticancer medication destroys cancer cells, slows their growth and prevents them from spreading. You may receive targeted chemotherapy for eye tumors through eye drops or injections. You may also receive traditional intravenous (IV) cancer medications through a needle or tube that goes into a vein in your arm.
Laser therapy: Various forms of lasers like photodynamic therapy (PDT) and transpupillary thermotherapy (TTT) are available to treat eye tumors.
Radiation therapy: High-energy X-ray beams can destroy cancer cells or shrink tumors. Our radiation oncologists will carefully plan your radiation therapy (based on the type of cancer you have and the size of your tumor) to protect the healthy tissue that surrounds it. We also have treatment options to guard your retina during radiation therapy.
When it comes to rare eye tumors, treatment options are evolving — and because of limited data or studies, some of them are still considered experimental. But our providers have access to the latest information, research and treatments for these rare conditions. And we can often find options for you that aren't yet available at other centers.
Taking the Next Step
While the thought of losing an eye to cancer can be more than a little scary, you won't have to take the next steps after diagnosis alone. Cleveland Clinic's ophthalmic oncology providers will be by your side, from diagnosis and beyond, with the best care and compassionate support. We'll plan a treatment that meets your needs and goals, and we'll always take the time to explain what's happening and what you can expect — so that you can feel confident about your eye cancer treatment every step of the way.
Appointments
Getting an appointment with Cleveland Clinic's eye cancer experts is easy. We're here to help you get the care you need.
---
Billing & Insurance
Manage your Cleveland Clinic account. Find billing information and financial assistance, plus FAQs.
---
MyChart
Securely access personalized health information at any time, day or night.
---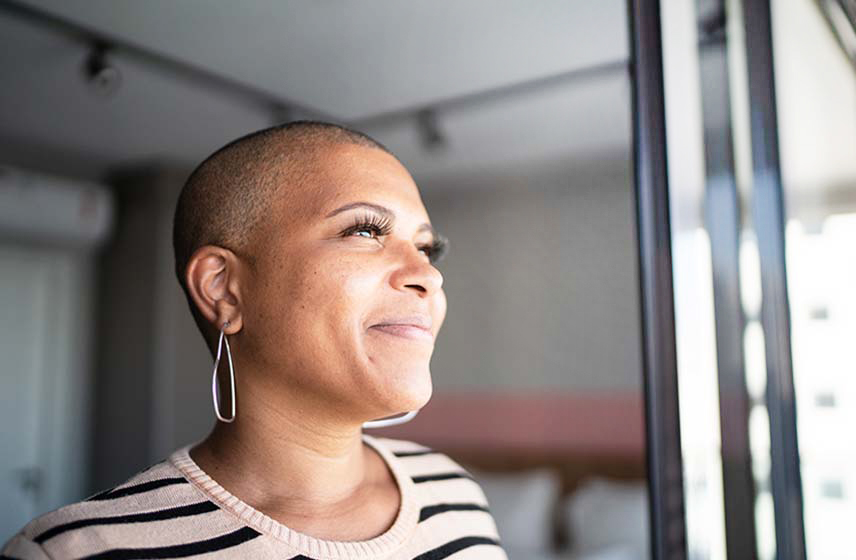 Survivorship
Learning you have cancer can be stressful, shocking and challenging. From the moment you get the news, you're a survivor. As you face the challenges that go along with cancer treatment and recovery — physical and emotional — we'll be right there with you.
At Cleveland Clinic, survivorship care is one part of your journey. We offer a wide range of services, resources, clinics and support groups to help with any physical, emotional, financial and spiritual needs you might have related to your cancer diagnosis. Lending a helping hand along the way, we want you to not only survive, but thrive on this journey and beyond.