Overview
Overview
This two-year fellowship program in pelvic medicine and reconstructive surgery accepts urology residents who have graduated from an ACGME-accredited urology program. The program is jointly accredited by the American Board of Urology, American Board of Obstetrics and Gynecology, and Society for Urodynamics, Female Pelvic Medicine and Urogenital Reconstruction.
Fellows are given intensive and broad-based clinical, surgical and research experiences with progressive autonomy. They obtain in-depth familiarity with clinical and investigative work that enables them to pursue productive careers in female pelvic medicine and reconstructive surgery, specializing in voiding dysfunction, neurourology, female pelvic floor reconstructive surgery and urodynamics. Fellows also gain experience in writing scientific proposals, grants and manuscripts.
Diversity & Inclusion
Discover the role diversity and inclusion plays at Cleveland Clinic and at its Graduate Medical Education program, as well as our diversity and inclusion efforts.
Learn more
Curriculum/Training
Curriculum/Training
Clinical Training
Fellows spend time on clinical rotations, participating in outpatient clinics, office procedures and surgery. There are also months dedicated to rotations with urogynecology and colorectal surgery. Fellows also learn the fundamentals of research. They also have access to the Cleveland Clinic Simulation and Advanced Skills Center, and participate in several advanced wet lab exercises focusing on pelvic anatomy and reconstructive surgical techniques.
Surgical Training
The program offers exposure to a wide spectrum of female and male surgical procedures. On average, fellows perform a total of 300 surgeries per year including:
Female and male incontinence
Female pelvic organ prolapse repair
Transvaginal reconstructive surgery
Open abdominal reconstructive surgery
Laparoscopic and robotic pelvic reconstructive surgery
Complex female urethral reconstruction
Neurourology
Didactic Activities
Fellows participate in the following didactic activities:
Journal club
Urodynamic conference
Staff lectures
Research reviews
M&M
Joint Center of FPM&RS meetings with Urogynecology and Colorectal Surgery, which includes journal club, case presentations and research studies
Opportunity to participate in most of the general urology departmental educational activities
Research
Research
Fellows receive training in clinical research with the opportunity for basic science research if desired. During their first year of training, fellows develop a portfolio of research projects and present their work at SUFU and the AUA. During their second year they finish work on their primary research thesis, which is also presented at local and national meetings.
Fellows have the opportunity to work with clinicians as well as researchers investigating urinary incontinence, lower urinary tract disorders, neurogenic bladder, neuromodulation and stem cell research using animal and other models.
Since 2002, the fellows have initiated and participated in more than 85 IRB-approved studies. In recent years fellows have been awarded multiple SUFU and AUA grants.
Finally, as part of the fellowship training, fellows are mentored in authoring peer-reviewed and invited publications and presenting their work at national meetings
Regularly Performed Procedures
Regularly Performed Procedures
Surgical Procedures
Injectable therapy for SUI
Neuromodulation
Midurethral and fascial slings
Transvaginal prolapse repairs
Abdominal prolapse repairs
Robotic prolapse repairs
Transvaginal urethrolysis
Urogenital fistula repairs
Urethral reconstructions
Urinary augmentations
Complex mesh repairs
Faculty
How to Apply
How to Apply
Up to two fellows are accepted per year.
Interested applicants must electronically submit applications to the Electronic Residency Application Service (ERAS) developed by the Association of American Medical Colleges (AAMC). Information about the application and Match process can be found at clevelandclinic.org/education/gme and Applying to Residencies with ERAS website.
Contact Information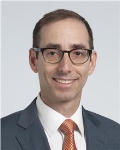 Howard Goldman, MD
Fellowship Program Director, Female Pelvic Medicine and Reconstructive Surgery
Cleveland Clinic Glickman Urological & Kidney Institute
9500 Euclid Ave.,Q10-1
Cleveland, OH 44195
216.445.2267
For any further questions or details, please email the Urology Fellowship Coordinator at UrologyFellowship@ccf.org.
Alumni
Alumni
Fellowship alumni
| Grad Year | Name | Current Position |
| --- | --- | --- |
| 2022 | Sarah Martin | Private Practice, Duly Health and Care, Chicago, IL |
| 2022 | Jacqueline Zillioux | Assistant Professor, University of Virginia, Charlottesville, VA |
| 2021 | Neil Kocher | Private Practice, Premier Medical Group Urology Division, Poughkeepsie, NY |
| 2020 | Samir Derisavifard | Private Practice, USMD, TX |
| 2020 | Jessica Rueb | Academic Practice, Prisma Health-USC, SC |
| 2019 | Laura Giusto | Staff, Chesapeake Urology, MD |
| 2019 | Patricia Zahner | Staff, St. Mary Physician Group, PA |
| 2018 | Juan Guzman | Staff, Cleveland Clinic Florida, FL |
| 2018 | Jessica Lloyd | Private Practice, Oregon Urology Institute, OR |
| 2017 | Elodi Dielubanza | Staff, Brigham & Women's Hospital, MA |
| 2017 | Henry Okafor | Staff, University of Tennessee, TN |
| 2016 | Marisa Clifton | Staff, Johns Hopkins University School of Medicine, MD |
| 2016 | Javier Pizarro-Berdichevsky | Staff, Pontificia Universidad Catolica de Chile, Chile |
| 2015 | Ashley King | Staff, Woodlands Medical Specialists, FL |
| 2015 | Adrienne Quirouet | Staff, Montfort Hospital, Ottawa, Canada |
| 2014 | Nitya Abraham | Staff, Montefiore Medical Center, NY |
| 2014 | Christopher Tenggardjaja | Staff, Kaiser Permanente, CA |
| 2013 | Maude Carmel | Staff, University of Texas Southwestern Medical Center, TX |
| 2013 | Brian Marks | Staff, Concord Hospital, NH |
| 2012 | Alana Murphy | Staff, Thomas Jefferson University, PA |
| 2012 | Ryan M. Krlin | Staff, LSU Health School of Medicine, LA |
| 2011 | Courtney Lee | Staff, Urological Surgeons of Long Island, NY |
| 2011 | Kamran Sajadi | Staff, Oregon Health & Science University, OR |
| 2010 | Michael Ingber | Staff, Center for Specialized Women's Health, Division of Garden State Urology & Atlantic Medical Group, NJ |
| 2010 | Farzeen Firoozi | Staff, Northwell Health, NY |
| 2009 | Mia Swartz | Staff, Overlake Medical Center & Clinics, WA |
| 2009 | Wesley Kong | Staff, El Camino Urology Medical Group, CA |
| 2008 | Sarah McAchran | Staff, University of Wisconsin School of Medicine, WI |
| 2007 | Humphrey Atiemo | Staff, Henry Ford Hospital, MI |
| 2006 | Michael Aleman | Staff, Kaiser Permanente, CA |
| 2006 | Courtenay Moore | Staff, Ohio State University Wexner Medical Center, OH |
| 2005 | Adonis Hijaz | Staff, University Hospitals, OH |
| 2005 | Louis Moy | Staff, University of Florida Medical Center, FL |
| 2005 | Tara Frenkl | Staff, Hospital of the University of Pennsylvania, PA |
| 2003 | Shahar Madjar | Staff, Aspirus Laurium Clinic, MI |
| 2002 | Anne Aspera | Staff, Kaiser Permanente, HI |
| 2001 | Marie Tchetgen | Staff, Urology Clinics of North Texas, TX |
| 2000 | Matteo Balzarro | Staff, Urology Azienda Ospedaliera Universitaria, Italy |
| 1998 | Scott Serels | Staff, Urology Associates of Norwalk, CT |
| 1997 | Howard Goldman | Staff, Cleveland Clinic, OH |
| 1996 | Randy Fralick | Staff, Kaiser Permanente, CA |
| 1995 | Raymond Rackley | Staff, Cleveland Clinic, OH |
| 1994 | J. Christian Winters | Staff, LSU Health School of Medicine, LA |