Adding to your family can be exciting, moving, thrilling and even a little scary.
---
No matter what emotion is racing through your heart or head, we'll be there for you. Our caregivers are ready to help welcome a new life into your family.
Why Choose Cleveland Clinic?
There are a lot of steps between conceiving, carrying and cradling your baby. No matter what type of care you want (or need), a team of caregivers will be with you throughout your entire journey.
Read more about how to choose a healthcare provider for your pregnancy and childbirth.
How Do I Get Started?
Choosing a hospital for the birth of your child is not a zero to five-star rating decision. There are so many more factors to keep in mind.
Where is the hospital related to us on a map? Does the hospital offer an unmedicated birth experience? And is there a neonatal intensive care unit (NICU) in case my baby needs special medical care? These are all very important questions that are probably going through your head. Here are our answers.
Locations
We have five birthing hospitals — Fairview Hospital (on the West Side of Cleveland), Hillcrest Hospital (on the East Side of Cleveland), Akron General (in Akron), Mercy Hospital (in Canton) and Union Hospital (in the Greater Canton area). In high-risk situations, you could also have your baby at Cleveland Clinic's main campus.
Neonatal Care
Our birthing hospitals are ready for anything — including complications. If your baby needs additional medical attention after birth, our teams can match their needs with several levels of care. From the Level II special care nursery at Mercy Hospital to the Level III neonatal intensive care units (NICUs) at Fairview, Hillcrest and Akron General Hospitals, our providers work as a large team to make sure your baby gets the best care. Newborns with the most complex medical issues can also receive care at the Level IV NICU at Cleveland Clinic's main campus.
Types of Delivery
When you start thinking about labor and delivery, many questions swirl through your head. Do you want to receive an epidural or have a natural, unmedicated birth? What happens if there's a complication or an emergency? What if your due date comes and goes, but labor never starts? Childbirth is a very personal experience. Picking the best option for you can be a big decision, but don't worry — our providers will be there to guide you and answer all of your questions while you develop your birth plan. We're ready to handle any type of childbirth, including:
Planned unmedicated vaginal birth.
Planned vaginal birth with an epidural.
Induction.
Planned C-section.
Emergency C-section.
No matter how you bring your little one into the world, we'll be there for you and your child with experienced and compassionate midwives, physicians and nurses specially trained to care for you at each of our hospitals.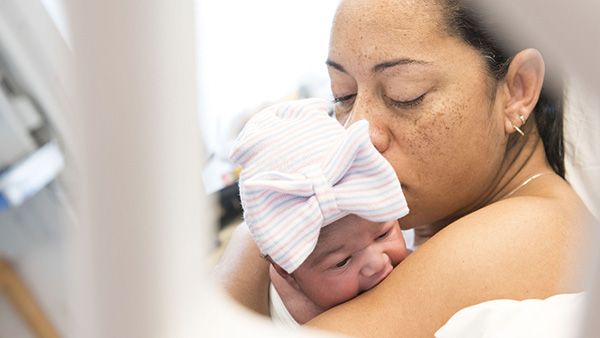 Have You Signed Up for Childbirth and Parenting Classes?
Let us help you get ready before the baby arrives, during your labor and delivery and when you finally bring your newborn home. Learn more about what classes are available and how to sign up.
Learn More About Our Classes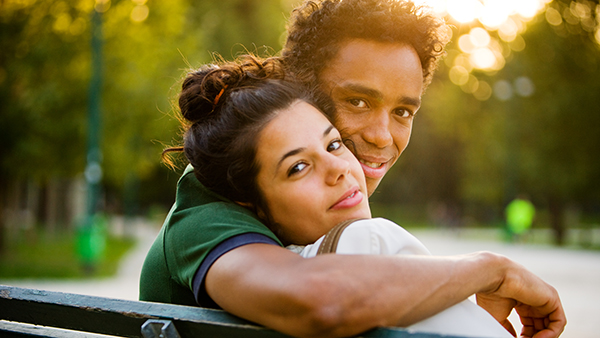 Still Trying To Conceive?
Cleveland Clinic fertility experts provide treatment in a caring environment, where major emphasis is placed on accessibility, personal attention, emotional support and technological excellence.
Visit the Fertility Center
Patient Stories
Patient Stories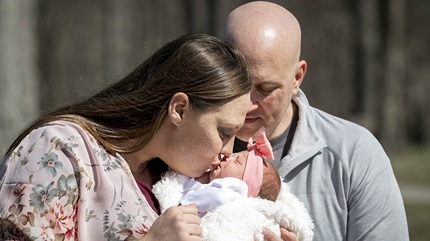 Jul 26, 2021
"I waited my whole life to meet Grace."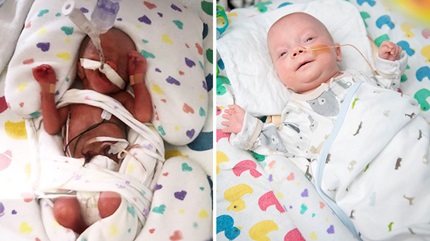 Nov 16, 2020
"His homecoming was beautiful. Four months old, and his siblings got to meet him! We're feeling nothing but happiness."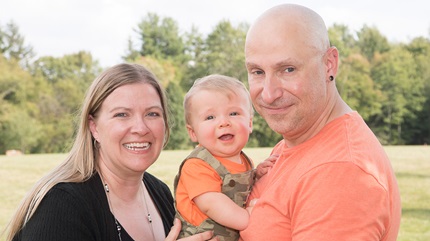 Oct 2, 2019
"We had a good experience at the Fertility Center. It definitely was a team effort! Our doctors were empathetic, explained everything, and never once said, 'stop.' They had to deliver hard news throughout our time, and Dr. Austin held my hand the whole time when I had a miscarriage after the first IVF. My main message to other women is, 'Don't give up hope!' "