Overview
Overview
The Chronic Pain Neurorehabilitation Program (CPNP) at Cleveland Clinic was started in 1979 and has helped thousands of patients since. Originally named the Chronic Pain Rehabilitation Program, this service received national recognition, conducted important research on chronic pain, and was designated as a Clinical Center of Excellence by the American Pain Society in 2012. In 2019 the program was updated and renamed the Chronic Pain Neurorehabilitation Program (CPNP). The CPNP is part of the Center for Comprehensive Pain Recovery, a multidisciplinary center which offers a variety of treatments for individuals with persistent pain.
The CPNP is an intensive interdisciplinary program that focuses primarily on physical reconditioning, medication management, social reengagement, and psychological coping strategies to ensure that chronic pain and other complex neurological symptoms do not take over a person's life. The goal of this program is to restore maximum level of comfort and function among those with persistent pain conditions.
What to Expect
What to Expect
What does the Chronic Pain Neurorehabilitation Program involve?
The Chronic Pain Neurorehabilitation Program is a day program with active treatment Monday – Thursday, 8:00 a.m. – 4:00 p.m. Evenings and weekends are spent at home or at other available lodging. Lodging is available at very discounted rates for those that live out of state or will need to travel from a distance to attend the program. There are free shuttles available across the Cleveland Clinic Campus to assist patients with travel to and from lodging or other areas on the campus.
Our team creates an individualized plan for each person. However, the general components of the program include the following:
Treatment directed by pain and neurological management physicians, nurses and behavioral therapists with special pain training
Daily physical and occupational therapy exercise classes and individual sessions
Medication management (typically weaning off unhelpful medications and trying non-addicting medications for chronic pain and neurological conditions)
Group cognitive behavioral therapy for pain (the most evidence based psychological treatment for pain)
Group skills training focused on improving mindset, managing stress and emotions that impact pain and mood
Chemical dependency education
Family education and counseling
Relaxation training, including breathing and mindfulness techniques
Aquatic therapy
How long does the Chronic Pain Neurorehabilitation Program take?
Most people who are seriously disabled and suffering from chronic pain require time to be able to function well and begin to feel joyous and productive. Such a dramatic change does not occur overnight. Thus, the program is 4-6 weeks in duration. The overall duration of treatment changes based on the progress of the patient. Of course, this treatment is only a start, and working to maintain wellness will need to become a way of life for benefits to endure.
Aftercare services
After completing the Chronic Pain Neurorehabilitation Program, patients are encouraged to continue with follow-up services. Aftercare programs include medication management and coping skills groups.
Results
Results
What should you hope for?
Every person with chronic pain or with a chronic neurological symptom wants it to go away. While chronic pain is generally not curable, it is possible to live a happy, full and active life while also having pain and our program strives to help you achieve this. It may be difficult to imagine, however, our patients do it every day. People commonly arrive depressed or frustrated, in severe pain, fatigued, confined to wheelchairs and walkers, and yet are surprised to find themselves laughing and playing volleyball in the pool after only a few weeks. Although most patients experience a reduction in pain, our most important goal is to help restore your quality of life.
Our main impact is in improved functioning, and over 90% of patients receive significant benefits in this area by the time of discharge from the program: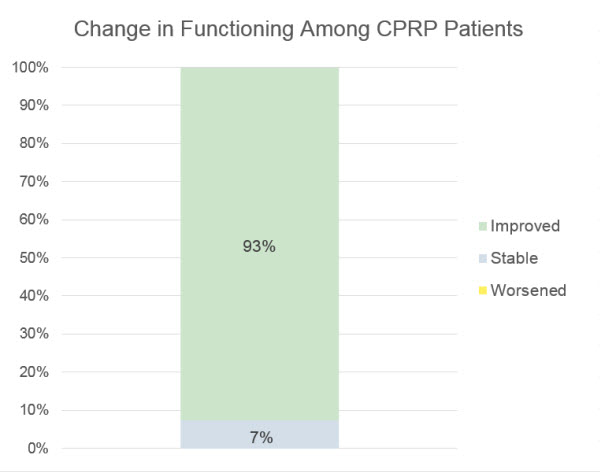 The Chronic Pain Neurorehabilitation Program is also very effective at helping patients safely eliminate ineffective chronic opioid and other medication therapies: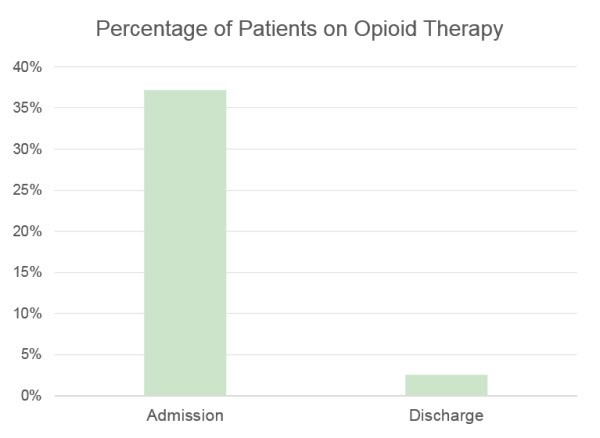 Successful results
Patients completing CPNP go on to lead healthy, functional lives. In fact, one of our earliest graduates went on to found the American Chronic Pain Association, a national leader in our model of care and helping people around the country get the help they need.
View success stories from past patients:
Our Team
Our Team
Treatment in the Chronic Pain Neurorehabilitation Program is provided by a team of physicians, nurses, pain psychologists, counselors, physical therapists and occupational therapists. By combining several disciplines, we are able to deliver comprehensive care that targets the multiple needs of those with chronic pain and other chronic neurological disorders. Pain physicians manage the medical care of each patient, including medications and weaning from habituating medications when indicated. Physical and occupational therapists help patients regain strength, endurance and flexibility. Psychologists and counselors help patients understand, identify and change thoughts and feelings that can increase pain and stress. Relaxation and meditation training are used to help patients learn to regulate the stress response that increases pain and suffering. Education for the patient and family is a central focus of the program and is provided by several disciplines.
Appointments
Appointments
How can I enter the Chronic Pain Neurorehabilitation Program?
Entry into the CPNP requires medical, psychological, physical therapy, and occupational therapy evaluations from our team.
In-Person Appointments
To schedule an in-person evaluation, please contact our Access to Care Center at 216.444.5812.
Virtual Visits
The team in Cleveland Clinic's Chronic Pain Neurorehabilitation Program recognizes that living with chronic pain and other chronic neurological concerns can be overwhelming and leave you with many unanswered questions. You can conveniently see a chronic pain rehabilitation specialist online using the MyClevelandClinic tool.
Informational assessment: Receive an informational assessment from national leaders in the management and rehabilitation of chronic pain and chronic neurological problems, no physician referral required. Let our specialists answer your most pressing questions, provide personalized education and share insights into how we manage care for individuals with complex chronic pain and neurological symptoms.
Established patient appointment: Receive follow-up or on-going care directly from your Chronic Pain Neurorehabilitation Program team. Benefits of choosing this appointment option include no travel or parking, no facility fees, less waiting, significant time savings and the convenience of seeing a specialist from wherever you choose.
If you would like to use MyClevelandClinic for your initial informational assessment, please call 216.444.5812. Our team will schedule your virtual visit and provide details on the visit cost and setup instructions.
Make that first step to changing your life now – contact us today and start your journey from patient to person.
MyChart
Existing Cleveland Clinic patients and patients who have gone through our program can view portions of their medical record, see test results, renew prescriptions, request appointments and more through the MyChart online tool.
Patient Stories
Patient Stories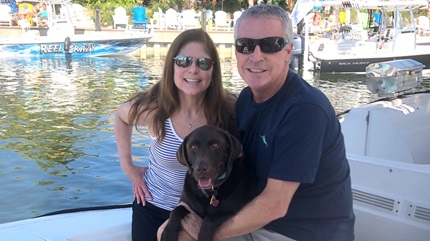 Dec 15, 2017
"Now, I have the chance to have a normal life. And to be happy living it. I've been given a gift, and I'm so thankful."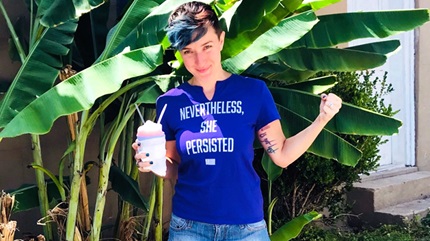 Oct 17, 2018
"Throughout the program I cried, laughed and learned from patients and caregivers. The program changed my mindset and taught me how to live with CIPO. It was the first time I realized I could actually live with this rare disease."