Overview
Overview
The Chronic Pain Rehabilitation Program (CPRP) at Cleveland Clinic was started in 1979 and has helped more than 6,000 people since. Chronic pain affects millions of Americans, many of whom have tried multiple treatments without relief. Pain can interfere with a person's ability to work, participate in social and recreational activities, and may affect relationships with family or friends. Over time people may restrict their activities, which in turn, causes them to become less physically fit to the point that even minor activities cause increased pain.
Research over the last 30 years has shown that acute pain, for example that associated with injury, illness or surgery, is mostly due to changes in injured tissues. Chronic pain, in contrast, is mostly due to changes in the central nervous system. These changes increase its sensitivity to the point that even harmless stimulation and activity may be painful. While the pain that people experience is mostly a result of these neurological changes, the changes in function and quality of life are more determined by general health/fitness and psychological factors. The same is true of overall suffering. Therefore CPRP focuses primarily on physical reconditioning, medication management and psychological coping strategies to ensure that chronic pain does not take over a person's life. When it has already done so, the goal is to restore the person to their maximum level of comfort and function.
In 2012, the American Pain Society designated Cleveland Clinic's Chronic Pain Rehabilitation Program as a Clinical Center of Excellence. These awards are given annually and recognize pain-care teams that "overcome difficult challenges to provide outstanding, exemplary care" for those with chronic pain conditions.
What to Expect
What to Expect
What does the Chronic Pain Rehabilitation Program involve?
The Chronic Pain Rehabilitation Program is an all-day program with active treatment Monday – Friday, 7:30 a.m. – 5 p.m.. Evenings are spent at home or at other available lodging.
We create an individualized plan for each person. However, general components of the program include the following:
Treatment directed by pain management physicians, nurses and therapists
Daily physical and occupational therapy exercise classes and individual sessions as appropriate
Medication management (typically weaning off unhelpful medications and trying non-addicting medications for chronic pain)
Biofeedback training
Cognitive behavioral therapy
Psychotherapies to improve coping, and reduce the anxiety and depression that can result from pain and disability
Vocational rehabilitation
Chemical dependency education, if indicated
Family education and counseling (family participation on certain days is an important requirement, not option)
Relaxation training, including breathing and mindfulness techniques
Aquatic therapy
Yoga
How long does the Chronic Pain Rehabilitation Program take?
Most people who are seriously disabled and suffering from chronic pain require time to be able to function well and begin to feel joyous and productive. Such a dramatic change does not occur overnight. Thus, the program is 3-4 weeks in duration, with minimum duration being three weeks. Of course, this treatment is only a start, and working to maintain wellness will need to become a way of life for benefits to endure.
Aftercare services
After completing the Chronic Pain Rehabilitation Program, patients are encouraged to continue with follow-up services. Aftercare programs include free monthly relapse prevention and coping skills groups. CPRP graduates can also schedule office visits for medication management during aftercare programming days.
Results
Results
What should you hope for?
Every person with chronic pain wants it to go away. Unfortunately, chronic pain is generally not curable, although television and the Internet are full of ads suggesting otherwise. Many find it hard to visualize having a life that is both fun and productive in the presence of chronic pain; however, our patients do it every day. People commonly arrive depressed, in severe pain, confined to wheelchairs and walkers, and are surprised to find themselves laughing and playing volleyball in the pool after only a few weeks. Although most patients experience a reduction in pain, our most important goal is to help restore your quality of life.
Our main impact is in improved functioning, and over 90% of patients receive significant benefits in this area by the time of discharge from CPRP: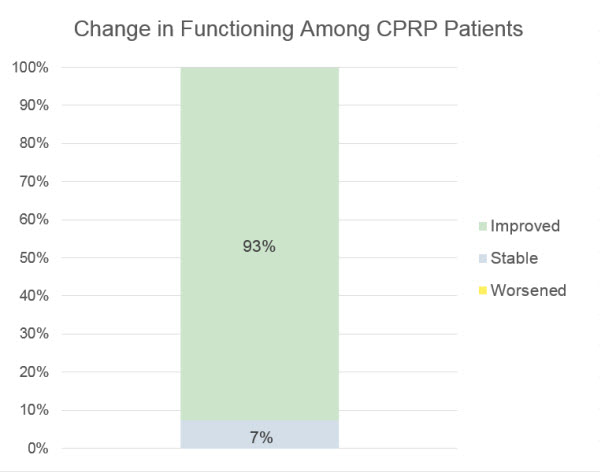 The Chronic Pain Rehabilitation Program is also very effective at helping patients safely eliminate ineffective chronic opioid therapies:
Successful results
Patients completing CPRP go on to lead healthy, functional lives. In fact, one of our earliest graduates went on to found the American Chronic Pain Association, a national leader in our model of care and helping people around the country get the help they need.
View success stories from past patients:
Our Team
Our Team
Treatment in the Chronic Pain Rehabilitation Program is provided by a team of physicians, nurses, psychologists, counselors, physical therapists and occupational therapists. By combining several disciplines, we are able to deliver comprehensive care that targets the multiple needs of those with chronic pain. Pain physicians manage the medical care of each patient, including medications and weaning from habituating medications when indicated. Physical and occupational therapists help patients regain strength, endurance and flexibility. Psychologists and counselors help patients understand, identify and change thoughts and feelings that can increase pain and stress. Relaxation training, meditation and biofeedback assisted therapy are used to help patients learn to regulate the stress response that increases pain and suffering. Education for the patient and family is a central focus of the program and is provided by several disciplines.
Patient Care Team
Staff Clinicians
Darcy Mandell, PhD
Rebecca Mayfield, LPCC
Rebecca Morris, LPCC
Doris Rhodes, LPC
Coordinators
Krishauna Deramus, Program Coordinator
Kelsey Rhoades, RN, BSN, Clinical Coordinator
Melissa Lucas, Admissions Coordinator
Nursing Staff
Eugene Elbert, RN, BSN
Michelle Csire, RN, BSN
Michael Mazur, RN, BSN
Physical and Occupational Therapists
Cara Sieberth, PT
Patrick Baker, OT
Richard Mercadante, PTA
Betsy O'Dougherty, PT
Diana Pajek, OT
Michael Milicia, OT
Manisha Agarwal, OT
Kristen Ogonek, PT
Appointments
Appointments
How can I enter the Chronic Pain Rehabilitation Program?
Entry into the Chronic Pain Rehabilitation Program requires a medical and psychological chronic pain evaluation at our center.
To schedule an evaluation, please contact our Access to Care Center at 216.636.5860. Make that first step to changing your life now – call the number and start your journey from patient to person.