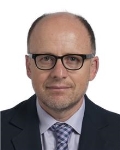 Wael Jaber, MD
Thursday, August 10, 2017 | Noon
---
Description
Heart valve disease occurs when one or more of the heart valves do not work correctly and cause the heart to pump harder to circulate the right amount of blood through the body. Left untreated, heart valve disease can reduce a person's quality of life and become life-threatening. Wael Jaber, MD and Jonathon White, MD answer your questions about valve disease and treatment.
More Information
View more information on valve disease, percutaneous interventions.
If you need more information, contact us or call the Miller Family Heart & Vascular Institute Resource & Information Nurse at 216.445.9288 or toll-free at 866.289.6911. We would be happy to help you.
---
Symptoms
BarbB: Hello- I am a physically fit active 67-year-old female. I have over the past five years developed shortness of breath which has now limited my physical activity to swimming. I have a family history of heart disease. My father had a massive coronary at the age of 54. My sister had a pacemaker put in at age 55. Recently, I was diagnosed with a PFO with Aneurysm. I also had a TEE that showed a leaky Tricuspid. More recently, I have experienced episodes where my blood pressure has dropped very low. 77/47. In one instance I passed out, hit my chin and woke up in a pool of blood. My cardiologist is not concerned? Should I be??
Wael Jaber, MD: Passing out is always concerning. In addition to a TEE, your doctor may recommend a stress test to assess your symptoms with exercise and any EKG changes with exercise. Also the size of the PFO should be assessed and if it is on the large side, consideration for closing it should be taken.
Concerned5: Would a minor heart valve leak cause regular fatigue for an active 65-year-old male?
Wael Jaber, MD: No - not usually.
SharonC: Is it possible to have a bicuspid aortic valve and show many symptoms (shortness of breath, high heart rate, very low blood pressure, fainting) in a 22-year-old, and still not be suffering damage? An Echo and cardiac MRI were done, and we were told not to do anything right now. Cardiologist seems to think nothing is a problem, but I am very concerned.
Wael Jaber, MD: If the valve is truly not stenotic or leaking, it is hard to link your symptoms to the valve. Other tests can be done to assess your low blood pressure and fainting in the setting of syncope clinic.
---
Aortic Valve Stenosis
Aldol: I have aortic stenosis as well as pulmonary dysfunction. Specialists have told me neither causes my dyspnea. Can it be the combination? How do I resolve?
Wael Jaber, MD: These valves can cause symptoms if the stenosis is in the moderate or severe range. It is unusual to have symptoms if they are mild.
kimbo: I am a fit 71-year-old with severe aortic stenosis and a bileaflet aortic valve. I am asymptomatic. My cardiologist and surgeon say I am not a candidate for TAVR and want to do open heart surgery ASAP. Some say I should wait and take another echo at six months. Please advise.
Wael Jaber, MD: For 71-year-old who are fit and in good condition, minimally invasive surgery to replace the valve is the current practice. If you wish to explore TAVR, this would be available for you in the PARTNER 3 trial and as part of clinical investigation where you will be randomized to TAVR vs. surgery.
jensenfl: I have severe aortic stenosis, I have had all the test done. They said I need a TAVR. The results are 1) Non-rheumatic aortic valve stenosis, 2) Atherosclerosis of coronary artery bypass grafts without angina pectoris. 3) Non-rheumatic mitral valve insufficiency, 4) Occlusion and stenosis of bilateral carotid arteries, 5) Hyperlipidemia unspecified, 6) Presence of aortocoronary bypass graft. All tests done about six months ago. I have no symptoms of my disease, my blood pressure steady and good except when I sleep. Do you have any suggestions what I should do? Thank you.
Wael Jaber, MD: If there is confirmation of severe aortic stenosis then a more thorough evaluation is needed to determine timing of surgery and type of approach to replace the valve.
---
Aortic Valve Regurgitation
Marfanista: I had aortic valve-sparing aortic root graft replacement and MV annulus ring with Dr. Svensson. Noticed that echo reports now read aortic valve is not visible enough to evaluate. Can you ever get a good echo view of the aortic valve again once you've had AR graft? Are nonsurgical valve replacements an option for anyone with grafted AR?
Wael Jaber, MD: Yes - you can have a view of the valve with a transesophageal echo (TEE). Since you do not have an artificial valve in the aortic position, a nonsurgical replacement of the valve for severe AR is not currently approved by the FDA.
JDFL: I am 54-year-old male with mild Osteogenesis Imperfecta and a diagnosis of AFib, controlled with medication. I have 3.8cm enlarged aorta with severe aortic valve regurgitation. I am told that valve replacement is in my foreseeable future. Am fairly healthy otherwise. Would I be a candidate for a non-surgical valve replacement, in your opinion? Thanks!
Wael Jaber, MD: Non-surgical valve replacement for aortic insufficiency is still not approved by the FDA in the US. The experience in Europe is not very encouraging either.
JDFL: Is moderate aerobic exercise ok for a person with aortic valve leak and enlarged aorta with impending valve replacement? I am getting conflicting advice. Is getting my heart rate up to about 120 for 20-30 minutes ok? I am 54-year-old male with AFib, also. Could this type of exercise overwork the heart and bring about the inevitable sooner?
Wael Jaber, MD: Aerobic exercise is usually acceptable. Exercise of this nature should not change the time to surgery.
---
Mitral Valve Disease
eileena: Could you please address non-surgical treatment for mitral valve regurgitation. Thank you
Wael Jaber, MD: If the mitral valve is severely leaking and you have one of the classic indications for surgery, medical therapy is inferior to surgical correction of the leaky valve. There are very rare instances when a clip for the mitral valve instead of surgery can be considered. Again this is rare and should be done only if surgery and surgical risk are prohibitive.
krandich: I had a mitral valve repair in 2010. I'm experiencing moderate leaking on my last few echoes. Is a mitral valve replacement my only option, or is there a possibility of another repair?
Wael Jaber, MD: Moderate leak is not an indication to go back again for surgery yet. Redo repairs when the leak is severe can be considered and sometimes done with modest success rate.
746-35: How will I know if my mitral valve regurgitation can be treated non-surgically?
Wael Jaber, MD: You have to be seen at a center that provides these procedures. Also, you have to have a thorough echocardiographic evaluation of the valve to determine the reason for the leak. If the mitral regurgitation is severe, after repair, the breathing will improve.
tabialex: Hello, I have posterior leaflet mitral valve prolapse with "trace/physiologic mitral regurgitation" and tricuspid valve prolapse with "mild to moderate tricuspid regurgitation." When, if ever, is antibiotic prophylaxis necessary for procedures such as GI endoscopy or dental? I have atrial fibrillation under control but wonder if worsening of tricuspid valve prolapse could put me into atrial fib. Thank you for your help.
Wael Jaber, MD: The guidelines for prophylaxis changed about 10 years ago. There are currently no indications for prophylaxis with antibiotics for the valve disease you described.
SUTTER: I have been determined to have AFib. It has resulted from, according a recent diagnosis, severe mitral regurgitation with partial flail P2 and atrial fibrillation with severe left atrial enlargement. This seems to have been caused by the breakage of one or more strands called "chordae tendineae". I am currently on the following medications: metoprolol (25mg), warfarin (10 mg 2days a week and 7.5 mg on 5 days), Lipitor® (20mg), and lasix (20mg). My questions are: What are my treatment options for my current condition? If surgery is the recommended option, will it be invasive or non-invasive?
Wael Jaber, MD: The only reliable and durable treatment option of your condition is mitral valve surgical repair with a maze procedure (for your atrial fibrillation). Any other option (mitral valve clip) is inferior and should be considered only if your surgery is deemed high risk.
Pem: Mitral valve replaced in 2013. Have defibrillator since 2005. Battery replacement 2015. On amiodarone for about eight months. Longstanding on warfarin, metoprolol and Enalapril. Recent echo severely enlarged r and l atrium-r ventricular size and function normal. L ventricular systolic function is mild-moderately decreased with EF 40-45%. Compared to previous study EF is reduced. Abnormal ventricular diastolic function. Mod aortic valve regurgitate, no stenosis. Structurally normal tricuspid valve w moderate regurgitate. Structurally normal pulmonic valve w mild regurgitate. No pericardial effusion. Doctor wants to see me for another echo and possible med change in four months. I'm a 74-year-old former nurse 5'6". 140#.
1. Could amiodarone b causing any problem w heart function?
2. What exactly does severely enlarged atrium mean in regard to how I will most probably die?
3. Would love to join research project - esp. post death- who can I get in touch with?
4. Did you receive upper part of echo?
Wael Jaber, MD: 1. Could amiodarone be causing any problem w heart function? Amiodarone should not affect your heart function.
2. What exactly does severely enlarged atrium mean in regard to how I will most probably die? This is a result of the atrial fibrillation and the valve disease. This enlargement is not known to cause death.
3. Would love to join research project - esp. post death- who can I get in touch with? A project post death - contact your DMV and be an organ donor.
4. Did you receive upper part of echo? Given that we have not reviewed your echo, we cannot give reasonable advice on change in management or medications.
mose: Are there any minimally invasive mitral valve repairs in the works for severe regurgitation with a history of rheumatic fever? I understand that I'm not eligible for a minimally invasive mitral procedure because of the rheumatic fever history. I had my aortic valve replace 24 years ago and now have severe mitral regurgitation that is asymptomatic. I'm apparently high risk so I'm wait/see every six months.
Wael Jaber, MD: With rheumatic valve disease we can do a minimally invasive mitral valve replacement. Repairs do not work very well for rheumatic heart disease.
nodnelg: How long should I (a 67-year-old white male in fair to good health) wait to have my "Mitral Valve" repaired or replaced after receiving a diagnosis of "Moderate Regurgitation of my Mitral Valve"? This diagnosis was arrived at during a "T.E.E." test administered during a 10-day Hospital stay in the later part of May (pardon the accidental rhymes). I was admitted during a visit to the Emergency Room of the Southern Ohio Medical Center where an E.K.G. displayed "Atrial Fib and Flutter" which the Cardiologist was able to convert, using electrical shock on the very first time. As far as I can determine, this was my first episode of "Atrial Fib/Flutter".
Wael Jaber, MD: If your mitral regurgitation is truly moderate, and not severe, you can continue to follow with serial echos every one year or earlier if you have symptoms of shortness of breath.
BCP3964: Twelve years ago, I had mitral valve replaced. What should be life of this valve? If it goes can it be repaired?
Wael Jaber, MD: If it is a mechanical valve and you are on warfarin, and if you don't manage to get the valve infected, these valves usually last for life. If biologic, depending on your age, you are already nearing the end of life for this valve.
Bob: I had mitral valve replacement in April of this year and a repair of it recently. Breathing is very difficult. Can the plug or patch be redone or what?
Wael Jaber, MD: IF you have a paravalvular leak, and depending on the size of the leak, and if you are not a surgical candidate, we can consider you for a plug or multiple plugs. You would need to be evaluated for this.
Promenade205: After a mitral valve replacement, a leak developed which was plugged, but a gradient issue remained and the heart is not performing well due to fluid retention, extreme fatigue, etc. What can be done to correct this or would the valve have to be replaced again?
Wael Jaber, MD: We would need to see the patient, imaging investigations and a surgical report of what was done before.
Bruce: I have degenerative mitral regurgitation. Besides being at high risk for a surgical procedure, what are the other specific factors that are considered in determining whether to utilize the MitraClip procedure on a patient? Thank you.
Jonathon White, MD: The valve needs to be technically suitable for MitraClip. This decision is made using advanced 3 dimensional imaging in close collaboration with a team of advanced imaging specialists.
skhanapur: Hi Dr. Jonathon, my wife has Chronic Rheumatic Heart disease - Mitral Valve Stenosis. Below are findings of her 2D Echo report dated July 24, 2017:
1. Normal left ventricular size and systolic function.
2. Severe left atrial dilatation. ( 4.7cm, 49ml/m2)
3. Rheumatic mitral valve with mild mixed rheumatic valve disease (mild MR, mild MS). 4 mmHg and approximate planimetered area of 1.9cm2 | LVEDD 4.7cm, LVESD 3.4cm, FS 30%.
4. Unremarkable right heart, trivial tricuspid regurgitation with no evidence of pulmonary hypertension.
5. The peak velocity across Aortic valve is 1.6m/sec. The proximal aorta is not dilated, the sinuses measure 2.4cm, sinotubular junction 1.7cm, and proximal ascending aorta 2.0cm.
She is completely asymptomatic. But the Cardiologist has warned us of possible stroke if shortness of breath symptoms are ignored due to dilation of left atrium. Do you have any suggestions on what could be done to avoid Intervention any time soon? Thanks, Sai
Jonathon White, MD: Based on this report, it appears that her valve disease is mild. This requires follow up with imaging specialists but no need for intervention in the immediate future. Given the enlarged left atrium, investigation to rule out atrial fibrillation would be reasonable. If atrial fibrillation is present, then anticoagulation should be considered to prevent stroke.
Amig: My wife is 64 year old and has moderate to severe mitral valve regurgitation plus had radiation. What are her options on repair/surgery?
Wael Jaber, MD: Your only option is to be seen at a center with experience in radiation heart disease and surgical management of this conditions.
Jeannie62: Mitral repair April 14, 2017, maze procedure and pacemaker at Cleveland Clinic. My echo shows moderate leakage. Is this normal?
Wael Jaber, MD: I am sure your doctor at Cleveland Clinic would be happy to discuss this question with you in person. Thank you for your continuous trust in Cleveland Clinic.
---
Tricuspid Valve Disease
mmarcus: I have undergone successful aortic heart valve replacement and ascending aorta aneurism repair, six years ago. I have remained non symptomatic and engage in daily moderate exercise program However over the last three years I have developed a severe tricuspid leak , caused by a traverse pacemaker wire implanted at the time of my surgery. My cardiologist advises me that no treatment is indicated unless the leak affects my heart functions; and even then, the likely preferred treatment is via medications-- not a surgical procedure. Your opinion please.
Wael Jaber, MD: Tricuspid regurgitation can be managed medically with diuretics for a long time if you remain symptomatic and the right ventricular size and function remain normal. However, given that your tricuspid regurgitation was caused by a pacemaker, it is unlikely for it to go away with medications. Early tricuspid surgery depending on your age may not give you long lasting success as you have seen with the aortic valve. Tricuspid valve replacements usually do not last beyond five - seven years.
snorthr: I have a Bi-ventricular pacemaker with a healthy heart, but do have tricuspid valve regurgitation. Because of this I have high vein pressure with no pulmonary hypertension. I've had numerous heart tests including a heart cath last year that found my left ejection fraction at 55% and not other problems. This tricuspid regurgitation condition, combined with borderline anemia and low hemoglobin that I have had for years, causes me problems, and interferes with my exercising. My cardiologists do not want me to have heart surgery. I had A-Fib and A-Flutter for many years, and had two catheter and two surgical ablations already, between 2001 and 2013, along with left atrial appendage ligation in 2006 during a laparoscopic ablation. I am a 72-year-old male, 6'1", 167 lbs, normal blood pressure and normal blood sugar, and have no other health issues. What are my non-surgical options to repair my tricuspid valve? Is there any chance of me getting into a trial for a catheter repair attempt?
Wael Jaber, MD: There are no non-surgical options to replacing a tricuspid valve in 2017. Even if we consider a clinical trial the presence of pacemaker leads will prevent us from implanting a valve without surgery.
Marfanista: I'm a Marfan woman. Are pacemakers and pacer leads contraindicated in a Marfan person due to possibly damaging the tricuspid valve (TV)? Would more damage be caused to the TV at time of pacer implant or more damage over time with pacer leads in way of TV opening/closing? If I opted for the pacemaker, and the TV started to leak, can the TV be replaced or repaired like MV? In worst case scenario, could leads be extracted without further harm to TV?
Wael Jaber, MD: Damage from pacemaker leads to tricuspid valve can happen whether you have Marfan or you have no diagnosis of Marfan. Going in to replace the tricuspid valve is not an easy decision. Replaced tricuspid valve if made out of animal tissue do not last beyond 5 - 7 years and if mechanical, would require lifelong blood thinning with Coumadin. The leads could be extracted without damage to tricuspid valve if there are no adhesions between the leads and the tricuspid valve.
RothC: Please discuss Robotically Assisted Tricuspid Valve Repair. My Echo 06/14/2017 STUDY QUALITY 2D Transthoracic + M-mode with spectral Doppler and color flow exam performed. Right ventricle appears severely enlarged with normal systolic function. The tricuspid valve leaflets are normal. There is severe tricuspid regurgitation. There is no tricuspid stenosis. A small pericardial effusion appears present. MITRAL VALVE: There is mild mitral annular calcification present. There is mild to moderate mitral regurgitation. There is no mitral valve stenosis. HEMODYNAMICS: A D-shaped septum is present, compatible with volume overload of the right heart. IVC appearance at rest and with inspiration is compatible with a right atrial pressure of 15 mmHg. Pulmonary artery systolic pressure is estimated at 46 mmHg based on tricuspid regurgitation. Doppler velocity. The PA systolic pressure may be underestimated due to the severity of tricuspid regurgitation.
Wael Jaber, MD: We can evaluate you for this procedure after the surgical team gets to look at your echo images as well as a CT of the chest to determine access and adjacent structures.
keb70: I have severe tricuspid valve and the leaflets do not close. My right heart is enlarged. Are there non-surgical alternate treatments?
Wael Jaber, MD: There are no non-surgical options for this problem. In addition to diuretics, you should be considered for surgical replacement or repair of the valve.
---
Multiple Valve Disease
Coloradowoman: 78-year-old woman with aortic and mitral valves replaced six years ago (rheumatic fever). Currently, there is significant aortic insufficiency, moderate to severe aortic stenosis Also, moderate to severe tricuspid insufficiency and regurgitation. Cardiologist indicates will need another open heart surgery for these types of repairs. Is there another option?
Wael Jaber, MD: No - unfortunately with this kind of disease and given your previous heart surgery, it seems that replacing the aortic valve and repairing the mitral valve surgically are the only options.
Alicehalo: My wife is 66, has had two aortic valves (St. Jude currently, and it is failing) now her mitral is leaking. Will she be a candidate for non-surgical treatment? Or robotic, or thru her groin? I know you need more information.
Wael Jaber, MD: Unfortunately she will need to have open surgery with traditional approach to replace her aortic and mitral valves.
JohnDMc: It may beyond the scope of this webcast, but I'd also like to know about any new surgical procedures to repair mitral and aortic valves.
Jonathon White, MD: Transcatheter aortic valve replacements are now well established in the treatment of aortic valve stenosis, while the mitral clip is also well established in the treatment of patients with primary mitral regurgitation who are not good candidates for surgery. There are numerous new transcatheter mitral valve replacement systems under ongoing investigation in clinical trials.
Nabil: I have the following heart problems based on TEE and Cardiac Stress MRI:
1- Aortic Root and Ascending Aorta dilatation (Moderate)
2- both Aortic / Mitral Valves regurgitation (Moderate to Severe - and Moderate)
3- Atrial Fibrillation treated by CPVA Ablation and antiarrhythmic medication
4- Dilated Lt Atrium (Moderate to Severe)
5- LV function normal, EF 60-70 % but Mild dilatation and thickening in the LV. I strictly control my BP by COAPROVRL and AMLOR medicines. As well as exercise, diet and weight control.
6- Family history proven for CHF (3 immediate relatives) and brain stroke (Mother)
My Question: WHEN DO I NEED SURGERY and how I shall proceed in my medical investigations what are is the imaging which give precise measurements of: a) the chamber sizes and Aorta dilatation; b) the regurgitation severity to be used for decision whether to do surgery?
Wael Jaber, MD: There are currently specific guidelines to replace the aorta when it reaches between 5 and 5.5 cm. As for follow up on the aortic valve, you need serial echocardiograms to assess any further dilatation. In addition to that, new symptoms of shortness of breath would alone be an indication for surgery.
---
Valve in Valve – Reoperations
PMA: I have an Edwards pericardial magna ease aortic prosthetic 21mm valve, severe calcification of the aorta especially at the sinotubular Junctìon. Also an anomalous circumflex artery. Am I a candidate for a valve in valve procedure? If so what size and type of valve would be suitable?
Wael Jaber, MD: Yes you may be a candidate for valve in valve. The size will be 23 or less.
Shelby21: I had an aortic graft repair for my aneurysm 17 months ago, with a repair for my bicuspid aortic valve. I also have a slight coarctation of the aorta that was deemed not significant to fix which my first surgery. I am 43-year-old female with Turner Syndrome...would there be any nonsurgical options for me when the time came for my bicuspid valve to be replaced?
Jonathon White, MD: At this time TAVR are approved for intermediate to high risk of complications from open heart surgery. These are typically patients who are much older with comorbidities. However, the field is rapidly evolving and it is hard to predict how this will be treated in the future.
---
Timing for Heart Surgery
JohnDMc: How does a surgeon determine that it's time for either a non-surgical or surgical valve repair procedure?
Wael Jaber, MD: It depends which valve, it depends what symptoms you are having, and it depends on the chambers of the heart as far as size and function. It also depends on whether surgery can be done safely.
othellot52: I am a 65-year-old male who has been diagnosed with leaking aortic and mitral valves. I have been taking various medications to improve my heart for about 1 year and my ejection fraction is 53% and rising slowly. I usually walk 5-6 miles daily without becoming winded and am in decent shape. My cardiologist believes I can put off surgery for at least a couple of years. What is the risk of doing that?
Wael Jaber, MD: Since you are asymptomatic and you have relatively normal heart function, subjecting you to surgery will expose you to more risk than conservative management with echocardiography at six to 12 month interval.
swordfish: If I have a leaking valve and heart pumping at 20% is it appropriate to have surgery to have the valve repaired? Clip procedure??
Wael Jaber, MD: If you are talking about the mitral valve, a clip can be considered clinically if you have a prolapse mitral valve. However, if you have a restricted mitral valve the clip is only available as part of a clinical trial.
---
Pregnancy and Valve Disease
Flamingo32: What precautionary steps should be made if a woman is planning to become pregnant with mild heart valve disease?
Wael Jaber, MD: If the disease is mild as described, it should not be an issue.
---
Ehlers Danlos
rbaldassari: My daughter was recently diagnosed with POTS. She is age 26. Will this have an effect on her valves in the future? Doesn't seem to have a valve problem now. She was recently diagnosed with EDS-Hypermobility, gastroparesis, celiac disease, fibromyalgia too. Will these affect her valves in the future?
Wael Jaber, MD: No - POTS does not have an effect on heart valves. EDS if you mean Ehlers Danlos can affect the valves and yearly follow up with echocardiography is indicated. Also evaluation of the aorta should be included in the yearly evaluation.
---
Aortic Aneurysm
655800: Time for visit to CC? AAA of 4.2. Valves: AORTIC tricuspid evidence of mild aortic regurgitation. MITRAL mild mitral regurgitation. TRICUSPID evidence of trace tricuspid regurgitation velocity 2.67 m/s consistent w/ an estimated pulmonary artery systolic pressure of 28.52 mmHg plus right atrial pressure. Estimated right atrial pressure is 5 mmHg. PULMONARY not well visualized in scan. Thanks.
Wael Jaber, MD: If the size of the AAA was confirmed by more than one imaging modality (echo, CT or MRI), then a visit to the Cleveland Clinic in one year from the time of the last test is welcomed. Of course, meanwhile make sure your blood pressure is well controlled and you have no diagnosis of Marfan Syndrome.
---
Other Therapies
nycgal: Has anyone ever gotten positive non-surgical results using ozone therapy, chelazone therapy, or plaquex therapy to treat aortic stenosis?
Wael Jaber, MD: None of these therapies you mentioned without surgery are part of standard clinical practice and should be considered voodoo medicine.
Reviewed: 08/17
This information is provided by Cleveland Clinic as a convenience service only and is not intended to replace the medical advice of your doctor or health care provider. Please consult your health care provider for advice about a specific medical condition. Please remember that this information, in the absence of a visit with a health care professional, must be considered as an educational service only and is not designed to replace a physician's independent judgment about the appropriateness or risks of a procedure for a given patient. The views and opinions expressed by an individual in this forum are not necessarily the views of the Cleveland Clinic institution or other Cleveland Clinic physicians.