Services for Heart Patients and Their Families
Cleveland Clinic creates a welcoming environment for thousands of patients and families from all over the world every year. Though heart surgery can cause fear and anxiety and traveling for an operation can be especially stressful, we'll help you feel at home.
Medical Travel Can Be Comfortable and Convenient
Surgery may feel scary and traveling to a different city for your care can be intimidating. But at Cleveland Clinic, we make medical travel easy to navigate.
Throughout your journey, we address your physical, educational, emotional and spiritual needs to make the experience as stress-free as possible. Our amenities include:
On-site facilities: Our campus has everything you need: hotels, restaurants, coffee shops, pharmacies, convenience stores and a bank. We also have art galleries, a resource center/library, an indoor pool, a gym, and indoor and outdoor areas for walking.
Concierge service: We help you with travel details, such as information on lodging, and provide free transportation to and from the airport. Patients are offered free car service to and from the airport for their surgery. We also can offer advice on other resources, including local parks and places to eat.
Red Coats: These staff members are located throughout the hospital to help you and your loved ones find your way.
Focus on family: Our staff makes extra effort to educate and support family members who accompany you. We provide educational materials and host a class to explain what loved ones can expect during early recovery. And we have a special team that keeps them posted with your progress during surgery.
Complementary therapies: To help you and your loved ones manage stress and anxiety, we offer free meditation resources, art walks, yoga classes, massages and more.
Services for international patients: Cleveland Clinic's Global Patient Services team helps international travelers with embassy relations, payment and language interpretation.
* Please review our current COVID-19 safety measures and changes that may impact visitors and amenities.
The Cleveland Clinic Campus: Much More Than a Hospital
The Cleveland Clinic Campus: Much More Than a Hospital
Our main campus serves as a temporary hometown for patients and families who travel for heart surgery. It has all the medical services you would expect in a world-renowned hospital, plus:
Hotels on-site.
Fine dining, casual eateries and coffee shops.
Shuttle services.
A full-service bank and many ATMs.
Gift shops and pharmacies.
A grocery store and convenience stores.
A farmers market in summer and early fall.
Fitness and Nutrition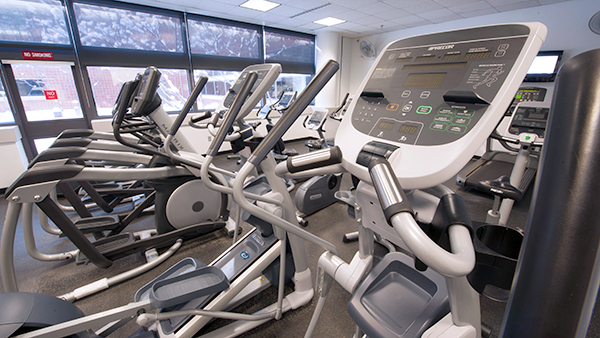 Fitness and Nutrition
At our 33,000-square-foot W.O. Walker Health & Wellness Center on campus, patients and their families can enjoy:
Cardio and weight training equipment.
A heated therapy pool.
Indoor and outdoor tracks.
Locker rooms with towel service.
Access to a registered dietitian by appointment.
Note: If a family member wishes to use the Health & Wellness Center, please contact the wellness center at 216.444.8765.
Educational Resources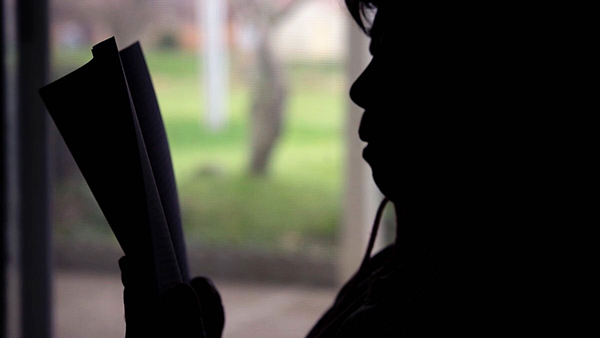 Educational Resources
At the Patient & Family Education Center in the Miller Family Heart, Vascular & Thoracic Institute, you can:
Access free computers and printers.
Read books and watch videos about heart topics.
See samples of cardiac treatment tools and devices (like catheters, stents and replacement valves).
Attend classes about disease prevention.
All heart surgery patients receive a comprehensive, condition-specific binder with information regarding what to expect each step of the way. We also offer online educational resources for patients receiving heart care at Cleveland Clinic.
Rest and Relax From the Rooftop Pavilion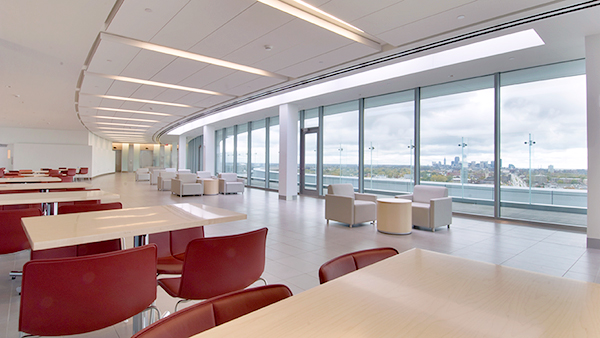 Rest and Relax From the Rooftop Pavilion
We encourage our patients to use complementary therapies to relieve anxiety and increase health and well-being. We offer many options in the Miller Family Pavilion, on the 10th floor of the hospital. The pavilion welcomes patients and loved ones to:
Relax in comfortable seating while enjoying beautiful views.
Walk in for a yoga class.
Get a chair massage.
Walk a labyrinth (or maze) to encourage mindfulness and prayer.
Have tea and cookies with other patients and families.
Enjoy scheduled live music.
Emotional Wellness and Spiritual Support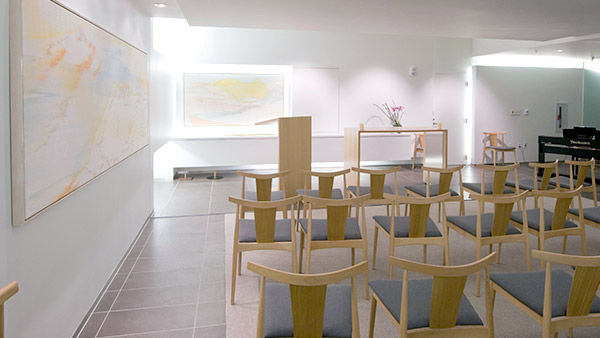 Emotional Wellness and Spiritual Support
Our heart surgery patients also may benefit from:
Spiritual care from chaplains.
Peaceful places for prayer and reflection: a chapel, Jewish chapel and Muslim prayer room.
Cleveland Clinic Patient Information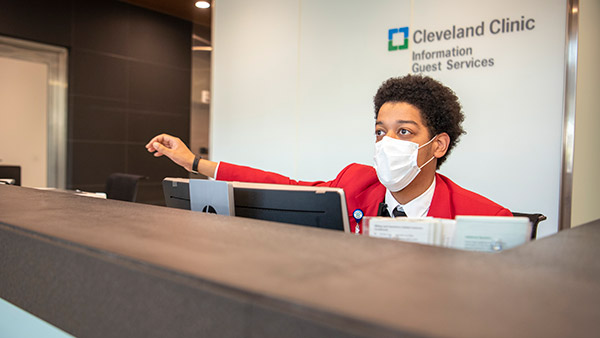 Cleveland Clinic Patient Information
We have specialized staff to offer help at every turn:
Questions about your condition? Our team of resource nurses can answer general questions about your condition, symptoms, treatments or tests. They are available during regular business hours by phone, email and online chat.
Lost? Ask one of many Red Coats, staff positioned throughout campus to help you find your way.
Financial issues? The Billing & Finance Department can help determine your insurance coverage and your financial responsibility.
Need an interpreter? The Global Patient Services team can provide interpreters or bedside electronic interpreter systems. This free service helps patients and families who communicate in other spoken languages or American Sign Language.
Want help with travel, transportation or sight-seeing? Our concierge can make recommendations and help with arrangements.