Finding out your cancer has spread to your brain can feel like you're standing on the edge of a rocky cliff staring down into the unknown.
---
A diagnosis of metastatic brain tumors (also called brain metastases) can be a crushing blow. You might feel discouraged, lost and alone. This changes everything, right? What happens now?
The good news is that Cleveland Clinic is an international leader in cancer care. Our healthcare providers are ready to take the wheel and guide you through this next part of your cancer journey.
Why Choose Cleveland Clinic for Metastatic Brain Tumor Care?
Demonstrated expertise:
Our board-certified and fellowship-trained providers have deep expertise in treating metastatic tumors. Many specialize in neurosurgical oncology and radiosurgery to treat brain and spinal cord tumors. Meet our team.
Minimally invasive options:
We use minimally invasive treatments like Gamma Knife® surgery and whole-brain radiation therapy to provide better outcomes and faster recovery times.
Innovation and research:
We're always researching new treatments for the best possible outcomes. Clinical trials offer hope by testing new medications, surgery techniques and other treatments before they're widely available. At Cleveland Clinic, you have the chance to join clinical trials if you qualify.
Caring approach:
We know how devastating it can be to learn that your cancer has spread. Our compassionate and trusted specialists are here for you. They take the time to listen, answer your questions and offer support.
Virtual visits:
We know treatment can be hard. And you might not feel like leaving the house for an appointment. Virtual visits let you to check in with your providers from home using a smartphone, tablet or computer.
National recognition:
U.S. News & World Report consistently ranks Cleveland Clinic a top hospital in the nation. Newsweek has also named us a top hospital in the world.
Diagnosing Metastatic Brain Tumors at Cleveland Clinic
Metastatic brain tumors can be complex. They typically grow quickly and can happen with many different types of cancer. But some cancers — like breast, lung, prostate and melanoma (skin cancer) are more likely to spread to the brain.
As they grow, these tumors may press on areas of your brain or cause it to swell. When that happens, you might have trouble balancing when you walk or feel dizzy. You might have headaches and feel sick to your stomach. You might even have trouble speaking or have seizures. Other conditions can cause the same symptoms, so it's important to get checked out right away if you experience any of these things.
At your first visit, your providers will pay close attention to your symptoms and talk with you about how you've been feeling. They'll also go over your medical history and will likely want to learn more about your family's health, too. You can expect to have some blood tests to look for signs of tumors (markers) in your blood.
Your provider may also use these tests to help make a diagnosis:
A neurological exam looks for changes in your balance, coordination, thinking, hearing, vision and reflexes.
Sometimes your provider can tell if you have a tumor or tumors just by looking at the pictures of your brain from these scans. But if they still aren't sure, they might remove or take a biopsy of your brain tumor.
Second opinions for metastatic brain tumors
Hearing you have metastatic brain tumors can be emotional and overwhelming. And leave you with all kinds of thoughts swirling through your head. But one thing is certain — you want the best possible care. So it's important you feel confident that you're working with a team of healthcare providers you trust. That's why we encourage second opinions.
And because we know that cancer doesn't wait, we always try to meet with you as soon as possible. Our highly skilled, experienced and compassionate cancer specialists will spend time helping you better understand your diagnosis and what treatment options might best meet your needs. Getting a second opinion can help you feel more in control of your care and give you peace of mind knowing you're in the most capable hands.
Meet our metastatic brain tumor team
When you come to Cleveland Clinic for metastatic brain tumor diagnosis and treatment, you'll have a team of skilled and compassionate healthcare providers on your side. They'll work closely together to make sure you quickly get the most accurate diagnosis so you can begin treatment right away. Your care team could include:
Radiation oncologists.
Physician assistants.
Who Treat Metastatic Brain Tumors
Locations
Our healthcare providers see patients at convenient locations throughout Northeast Ohio and Florida.
Metastatic Brain Tumor Treatment at Cleveland Clinic
At Cleveland Clinic, you'll play an active role in designing your treatment plan. Your providers will talk with you about your health goals and what's most important to you so they can personalize your care. When deciding what and how many treatments might be best for you, we'll also consider the type of cancer that's metastasized, the size and location of the tumors and any neurological symptoms you're having.
The ultimate goal of metastatic brain tumor treatment is to stop or slow tumor growth, treat the cancer in your brain and help you feel better by also managing the symptoms caused by your metastases.
Medications
Certain medications are sometimes used as part of your treatment. Your specialist may recommend:
Anti-seizure medications can help prevent seizures.
Corticosteroids can help reduce edema (swelling) in your brain.
Immunotherapy uses your body's immune system to attack cancer cells.
Targeted therapy looks for and destroys cancer cells without hurting healthy cells.
Chemotherapy uses drugs to destroy cancer cells. It's used only on a case-by-case basis.
Gamma Knife surgery
Despite its name, Gamma Knife surgery (also called stereotactic radiosurgery or Gamma Knife radiation), no incisions (cuts) are made in this minimally invasive procedure. Our expert providers will aim highly focused beams of radiation to destroy or shrink your tumors while sparing healthy brain tissue.
Your provider might recommend this procedure if the tumors can't be reached easily with traditional surgery or if you're unable to have surgery because of your condition or age.
Brain surgery
If you have large, well-defined tumors in only one area of your brain, your neurosurgeon may do brain surgery (craniotomy) to remove the growths. During a craniotomy, surgeons will remove a piece of your skull to find and cut out any tumors. We may also use surgery to make a tumor smaller to help control your symptoms, or so you can have radiation therapy or Gamma Knife surgery.
Whole brain radiation therapy
If Gamma Knife surgery or traditional brain surgery isn't an option, your specialist might recommend whole brain radiation therapy. This treatment treats your entire head with radiation (tumor and healthy cells) so side effects, like hair loss and nausea, are common. This type of therapy is often used for tumors that develop in the meninges (membranes that cover and protect your brain and spinal cord). Treatment can exclude the memory centers in your brain or you can take medication to reduce slight short term memory loss from this treatment.
Taking the Next Step
No one wants to even think about their cancer spreading to their brain, but if it does, you'll want to surround yourself with the most capable and compassionate providers. You'll want to feel confident that your care team is doing everything possible to help you handle this next step in your journey. If this is where you are, take a moment to breathe. We'll be there for you.
Make an Appointment
Getting an appointment with Cleveland Clinic's metastatic brain tumor experts is easy. We'll help you get the care you need.
---
Billing & Insurance
Manage your Cleveland Clinic account. Find billing information and financial assistance, plus FAQs.
---
MyChart
Securely access your personal health information at any time, day or night.
---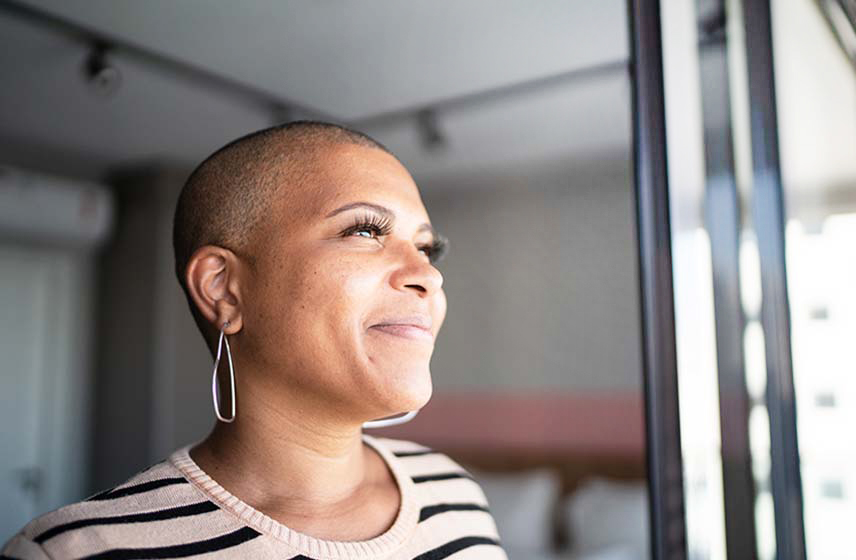 Survivorship
Learning you have cancer can be stressful, shocking and challenging. From the moment you get the news, you're a survivor. As you face the challenges that go along with cancer treatment and recovery — physical and emotional — we'll be right there with you.
At Cleveland Clinic, survivorship care is one part of your journey. We offer a wide range of services, resources, clinics and support groups to help with any physical, emotional, financial and spiritual needs you might have related to your cancer diagnosis. Lending a helping hand along the way, we want you to not only survive, but thrive on this journey and beyond.