Some cancers show up with a splash — a big tumor or noticeable symptoms. Other are quiet. Like cervical cancer.
---
Cervical cancer starts slowly and might not show any signs for a few years, if at all. That's why it's important to have regular exams and screening tests so we can find abnormal cells earlier and start treatment quickly.
Our highly trained healthcare providers are here to help. We use the latest cervical cancer treatments — including fertility-sparing procedures and specialized internal radiation therapies. But our care goes far beyond treating your cancer. We know this kind of diagnosis can stop you in your tracks. That's why we take the time to get to know you and talk about what you're feeling, what your concerns are and answer your questions. Then we'll start to plan your personalized treatment.
Why Choose Cleveland Clinic for Cervical Cancer Care?
Trusted experts:
Cleveland Clinic's gynecologic oncologists (reproductive cancer specialists) are board-certified to do surgery and administer chemotherapy to treat cervical cancer. Together with other specialized healthcare providers, they'll create your personalized treatment plan. Meet our team.
Patient-centered care:
We make sure your care meets your needs. If you plan to have children in the future, you might see our reproductive endocrinology and infertility team. If you face financial, transportation or social challenges with your care, we may connect you with a social worker. Getting these providers involved early on in your care will help ease your mind as you get treatment.
Innovation and research:
We offer the latest treatments if you have advanced cancer. Our tumor board — a group of highly trained providers studying challenging cancer cases — may help guide your treatment. And you may also be able to take part in new national and institutional clinical trials.
Comprehensive treatment:
Your care team will have a range of treatment options to consider, including surgery, radiation, chemotherapy and targeted immunotherapy. Our caring team of specialists will work with you to carefully explain your treatment plan and answer your questions throughout the process.
National recognition:
Cleveland Clinic is a trusted healthcare leader. We're recognized in the U.S. and throughout the world for our expertise and care.
Virtual visits:
We know treatment can be hard — and sometimes, you might not feel up to an in-person follow-up appointment. Our virtual visits give you a way to meet with your providers one-on-one from home. All you need is an internet connection and a smartphone, tablet or computer.
Cervical Cancer Diagnosis at Cleveland Clinic
Regular screenings with a simple test called a Pap smear are the best way to catch signs of cervical cancer in early stages. While this condition often causes no symptoms early on, you may start noticing some things that don't seem right.
You might have watery or bloody vaginal discharge or bleed after sex, between your periods or after you've gone through menopause. Or your periods might be heavier or last longer than they used to. If you have any of these signs, it's a good idea to see your Ob/Gyn or primary care provider.
At your first visit, your care team will make sure you get a thorough physical exam and go over your symptoms (if you have any) and your health history. We might also have you do some tests to help us confirm your diagnosis.
HPV test
Most cervical cancers are caused by a virus called human papilloma virus (HPV), which is spread through sex. Only high-risk strains of this virus can cause cancer. Your providers will take a sample of cells (similar to a Pap smear) and test them for signs of HPV.
Colposcopy
A colposcopy can help us check more closely for abnormal cells. We'll use a lighted tool called a colposcope that magnifies your cervix so we can look for abnormal cells. If we see something that doesn't look right, we'll remove the cells and have them tested for signs of cancer (biopsy).
Other tests
If a biopsy shows you have cervical cancer, your care team might do blood tests and urine (pee) tests to see how well your liver and kidneys are working. They might also do X-rays of your bladder, rectum, bowels and abdomen (belly) to see if the cancer has spread (metastasized). This process is called staging.
Getting a second opinion for cervical cancer
A cancer diagnosis can make you anxious, worried and overwhelmed about what's next. You need to feel confident that you've chosen the right care team — one that will listen to your concerns, answer your questions and give you the best possible care. That's why we encourage second opinions.
Our highly skilled cervical cancer team is here for you. We'll take the time to answer questions, explain treatment options and offer expertise. And because we know that cancer doesn't wait, we always try to schedule your appointment with us as soon as possible. A second opinion can give you peace of mind, knowing that you're in the most capable, caring hands.
Meet Your Cervical Cancer Care Team
If you find out you have cervical cancer after an abnormal Pap test and exam, your provider will then refer you to one of our gynecologic oncologists. They'll lead a team of other skilled providers, like:
Medical oncologists.
Radiation oncologists.
Surgical oncologists.
Fertility specialists.
Nurse practitioners.
Physician assistants.
This team will work together to plan your cervical cancer treatment and guide you through it from the moment you're diagnosed.
Providers Who Treat Cervical Cancer
Locations
Our healthcare providers see patients at convenient locations throughout Northeast Ohio and Florida.
Cervical Cancer Treatment at Cleveland Clinic
Once we confirm your diagnosis, we'll spend time going over your treatment plan with you. We'll consider your age, general health, how far your disease has progressed (stage) and if you want to have children. You might have radiation therapy, chemotherapy, surgery or a combination of all three.
Radiation therapy
Radiation therapy uses high-energy beams to kill cervical cancer cells. We can do this outside your body (external beam radiation — EBRT) with a machine that aims radiation at the area with cancer. Or we can do it inside your body in or near the cancer (brachytherapy).
Chemotherapy
If your providers decide you're a candidate for chemotherapy, you'll get medications that kill cancer cells either through your veins, with an injection or IV, or by mouth with a pill. What kind of medication and the type of chemo you have will depend on the type of cancer and what stage it's in.
Surgery
We use different kinds of surgery to treat cervical cancer. In early stages, we can often remove only the cancerous tissue (cone biopsy or trachelectomy). Sometimes, though, we might need to do one of the different hysterectomy surgeries, depending on how far the cancer has progressed. Your provider will go over all surgery options with you.
Preserving your fertility
Having cervical cancer means you'll need to think about whether or not you want to have children in the future. We'll take the time to talk about this with you at your first appointment and go over our unique programs and fertility preservation treatments. These can help you possibly get pregnant after cancer treatment.
Your provider can also tell you if ovarian transposition is an option. This procedure, done before cancer treatment starts, helps prevent premature menopause by minimizing damage to your ovaries from radiation therapy.
Cervical Cancer Follow-Up Care at Cleveland Clinic
It's important that you meet with your providers for regular check-ups after you've finished treatment for cervical cancer. We'll want to see how your recovery is going and make sure no cancer has come back.
If you're having any side effects from treatment, we may refer you to other specialists — like sexual health experts, pelvic floor physical therapists or mental health providers specializing in the care of people with cancer.
As part of your follow-up care, we'll also work with you to make sure you're doing what you can to prevent cervical cancer. The most important thing is scheduling regular exams and Pap smears with your providers. This schedule will be based on your age and the results of any previous screenings.
We may also screen you regularly for HPV infections and suggest you get the HPV vaccine, which protects against certain cancers caused by HPV infection. It's recommended for all people ages 9 through 45 years old. In addition to preventing cervical cancer, the HPV vaccine also provides protection against cancers of the vagina, vulva, penis, anus and throat.
Taking the Next Step
A cervical cancer diagnosis can instantly change your life — and leave you worried about your future. You might be wondering, "What's next?" It's important to know that you don't have to face any of this alone. Cleveland Clinic healthcare providers are here to listen to you, answer your questions and guide you through a personalized treatment plan that keeps you and your future in mind. Every step of the way.
Appointments
Getting an appointment with Cleveland Clinic's cervical cancer experts is easy. We'll help you get the care you need.
---
Billing & Insurance
Manage your Cleveland Clinic account. Find billing information and financial assistance, plus FAQs.
---
MyChart
Securely access your personal health information at any time, day or night.
---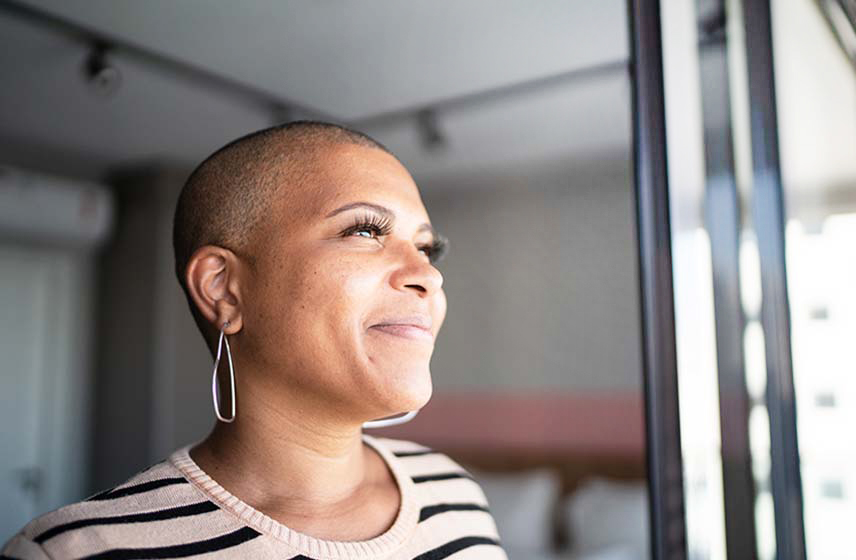 Survivorship
Learning you have cancer can be stressful, shocking and challenging. From the moment you get the news, you're a survivor. As you face the challenges that go along with cancer treatment and recovery — physical and emotional — we'll be right there with you.
At Cleveland Clinic, survivorship care is one part of your journey. We offer a wide range of services, resources, clinics and support groups to help with any physical, emotional, financial and spiritual needs you might have related to your cancer diagnosis. Lending a helping hand along the way, we want you to not only survive, but thrive on this journey and beyond.