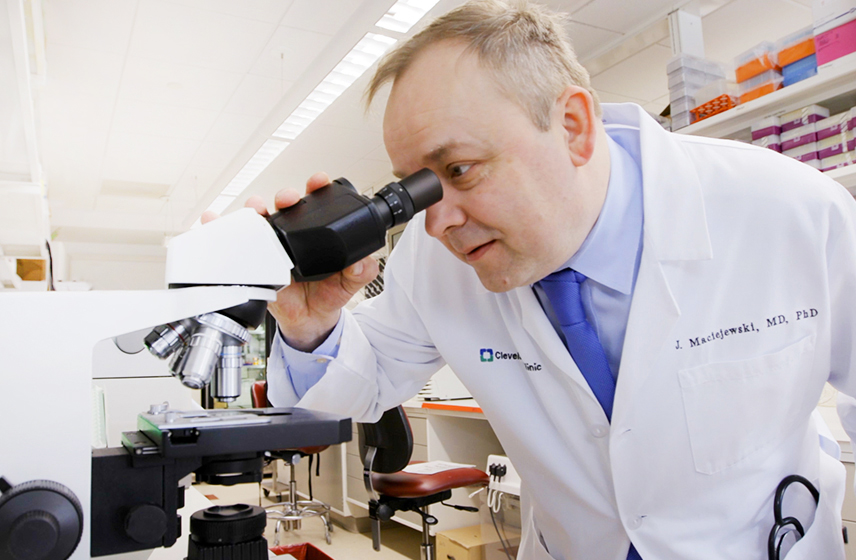 Bone Marrow Failure and Cytopenias
Getting care for rare conditions like bone marrow failure and cytopenias can feel like a mountain you need to climb. But you don't have to face it alone.
---
Your path might take turns you wouldn't expect. But an expert team can help you move through those challenges and find the best steps forward. Our vast knowledge can help you get the best care possible. As one of the nation's top research centers for bone marrow failure and cytopenias, you'll get treatment from internationally renowned experts who understand the intricacies of these blood disorders.
At Cleveland Clinic, rare conditions like these aren't uncommon to us. They're our world. And when you come to us, you are, too. We work with you to get you the care you need and help you through your treatment plan.
Why Choose Cleveland Clinic for Bone Marrow Failure and Cytopenia Treatment
Research and innovations:
We've published 450+ publications and have a proven track record of discoveries and innovations. Our team leads many industry-sponsored, National Institutes of Health, Department of Defense and Leukemia & Lymphoma Society grants. Plus, we offer clinical trials and registries not widely available elsewhere.
Collaborative care:
We know that it takes a team to provide the best possible care. Bringing together knowledge and experience from many different academic and clinical fields, our providers work together to offer insightful and innovative treatment options. We also work with your other providers — particularly when you live far from our offices. We'll communicate with your provider close to home to make sure your care continues smoothly. Meet our team.
Patient-centered care:
When you come to see us, you're our focus. Our team works together to craft a treatment plan that matches your needs. Whether you need a one-time consultation, comprehensive care or continuous care, we can help. And along the way, we're here to answer your questions and help address your concerns.
Convenience and privacy:
Have questions and need to get in touch with us? We offer unprecedented access to our providers through MyChart or direct communication with our offices — without chains of recorded messages and options to choose to get to our providers. Our providers have the ability to contact other specialists in these diseases from around the world to make even more qualified recommendations.
Demonstrated expertise:
We're one of the top programs in the U.S. where doctors send their patients for these rare conditions — and we also see patients from across the world. Our staff sit on medical advisory groups that help create national recommendations and treatment standards. Our clinical expertise stems from the high volume of patients with these otherwise rare and very special conditions that we see.
Virtual visits:
Getting care doesn't always mean leaving home. Virtual visits allow you to talk with your provider using a smartphone, tablet or computer.
Types of Bone Marrow Failure and Cytopenias
Bone marrow failure and cytopenias are a broad category of disorders in which blood cells aren't produced the way they should. Maybe you're thinking, "If I have one of these rare, specific conditions, will my provider know how to treat it?" With us, the answer is yes. Our team has experience working with these rare conditions.
Since 2002, we've seen more than:
As you get started with us, you learn about the wide range of services we offer, including:
Doing a complete evaluation to make a new diagnosis.
Giving you peace of mind with a second opinion that evaluates and confirms a diagnosis you received elsewhere. We can also look at the treatment you're receiving and give you our recommendations.
Performing genetic/genomic testing to get answers that are specific to you.
Helping with answers for an unclear or complicated diagnosis.
Working with your home providers and continuing to follow up with you in case your treatment is possible closer to home.
The diseases and syndromes that fall under bone marrow failure and cytopenias are in two categories — things that you're born with (inherited or congenital) or things you get over time (acquired).
Congenital/inherited
Congenital dyserythropoietic anemia.
Congenital amegakaryocytic thrombocytopenia (CAMT).
Diamond Blackfan anemia (DBA).
Dyskeratosis congenital.
Idiopathic and autoimmune neutropenia.
Cyclic neutropenia.
Shwachman-Diamond syndrome (SDS).
Thrombocytopenia absent radii syndrome (TAR).
Acquired
Idiopathic and autoimmune neutropenia.
Amegakaryocytic thrombocytopenic purpura.
Other unclear cytopenias.
Pure red cell aplasia including B19 parvovirus related/transient aplastic crisis.
Idiopathic (Aplastic anemia).
Paroxysmal nocturnal hemoglobinuria.
Large granular lymphocyte leukemia/lymphoproliferation (NK-LGL, T-LGL) and cytopenias associated with these conditions.
Providers Who Treat Bone Marrow Failure and Cytopenias
Locations
You can get care at our Cleveland Clinic main campus or at Cleveland Clinic Weston Hospital in Florida.
Bone Marrow Failure and Cytopenia Diagnosis at Cleveland Clinic
Whether you're newly diagnosed or your provider suspects you might have one of the rare conditions we treat, your first appointment will start with a conversation. We want to use this time to get to know you and learn about your experience. Get ready for a lot of questions. We'll ask about your medical history, any symptoms you might have and other concerns. Feel free to share your story.
There are also some tests that we might do. Often, we do a physical exam in this early stage, or you might need diagnostic testing. Usually, you'll have blood tests like a complete blood count (CBC) to measure how many red and white blood cells and platelets you have in your blood. Your provider may also want to do a bone marrow biopsy to take an even closer look at these counts.
Diagnosing a condition isn't always straightforward. Sometimes it takes time. But we have experience diagnosing unclear and complicated cases.
Throughout these tests, know that you can ask questions. Your team of providers is there for you and they'll help explain what's going on.
Getting a second opinion for bone marrow failure and cytopenias
You're in charge of your care. And sometimes this means getting a second opinion. You shouldn't feel bad to ask for another provider's opinion — it's your health or the health of your loved one. Our highly skilled, experienced providers will spend time with you to help you better understand your diagnosis and what treatment options are best. We work with providers from all over the U.S. and we're careful not to jeopardize your relationship with your current provider if you're happy with them. As a team, we'll help you get the best possible care.
Meet our team
When you come to Cleveland Clinic, your care doesn't happen in a vacuum. There's a team of healthcare providers who will come together to care for you. You might work with:
Hematologists (blood disease experts) including vascular and coagulation (blood clotting) specialists.
Bone marrow transplant specialists.
Hematopathologists (experts who analyze blood).
Geneticists.
Pharmacy specialists.
Nurses.
Clinical trials researchers.
We'll also work seamlessly with your care team at home to make sure that they know what's happening with your treatment.
Bone Marrow Failure and Cytopenia Treatment at Cleveland Clinic
Since bone marrow failure and cytopenias include a variety of diseases and syndromes, we'll need to craft a treatment plan that's specifically made for you. Your treatment might include any of the following options:
Immunosuppressive therapy
We may prescribe medications to stimulate your immune system. Depending on the type of immunosuppressant medication we recommend, you may take pills, get an injection or have it delivered intravenously (IV). We'll keep a close eye on you while you're on this medication and adjust it as needed.
Bone marrow stimulants
Depending on your diagnosis, we might use medications that cause your bone marrow to produce more blood cells. If you have low blood counts or we anticipate a drop, this could be an option for you.
Blood or platelet transfusion
We often treat many bone marrow failure syndromes with red blood cell and platelet transfusions. But whether you need a blood transfusion will depend on your diagnosis. If we decide it's a good therapy for you, you'll get the transfusion through an IV over the course of a few hours.
Chemotherapy
Some bone marrow syndromes — such as myelodysplastic syndrome or at times large granular lymphocyte leukemia — may require chemotherapy. This treatment rids the bone marrow of abnormal cells and allows healthy stem cells to grow in their place. These healthy stem cells can then make normal blood cells again. Your provider may give you chemotherapy via pill, injection or IV.
Bone marrow transplant
For some bone marrow failure syndromes, like aplastic anemia, a bone marrow transplant is the best option. This treatment replaces your damaged bone marrow cells with healthy ones. Before the transplant, we'll give you a strong dose of chemotherapy to kill diseased cells in the bone marrow. Then, you receive new cells through an IV, and they'll move through your blood into your bone marrow.
Ongoing care
Your care doesn't stop after treatment. You'll have regular follow-up appointments where we'll check on how you're doing and see if you need anything different. Sometimes you have questions after treatment or you have a symptom you're unsure of. We're here to help.
We're very sensitive to the travel and time it takes to get to appointments. We'll do everything we can to minimize your stress and inconvenience.
Taking the Next Step
Hearing you might have a rare condition like bone marrow failure and cytopenias can make you wonder what to do next and who to go see. At Cleveland Clinic, we take a team approach. We work together — combining our highly specialized expertise and knowledge in this field — to provide the best care possible. Think of us as your expert guides. We'll be by your side throughout your journey, guiding you through every step of the testing and treatment process. And when you have questions, we'll be there to answer them. These conditions might be rare, but they're not uncommon to us.
Request an Appointment
Getting an appointment with Cleveland Clinic's bone marrow failure and cytopenias experts is easy. We're here to help you get the care you need.
---
Billing & Insurance
Manage your Cleveland Clinic account. Find billing information and financial assistance, plus FAQs.
---
MyChart
Securely access your personal health information at any time, day or night.
---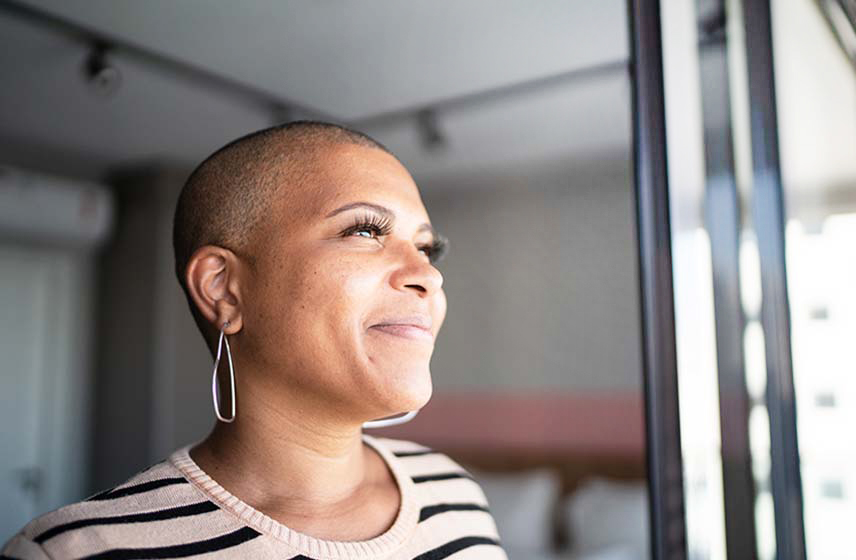 Survivorship
Learning you have cancer can be stressful, shocking and challenging. From the moment you get the news, you're a survivor. As you face the challenges that go along with cancer treatment and recovery — physical and emotional — we'll be right there with you.
At Cleveland Clinic, survivorship care is one part of your journey. We offer a wide range of services, resources, clinics and support groups to help with any physical, emotional, financial and spiritual needs you might have related to your cancer diagnosis. Lending a helping hand along the way, we want you to not only survive, but thrive on this journey and beyond.