Lyssette Cardona, MD
September 3, 2021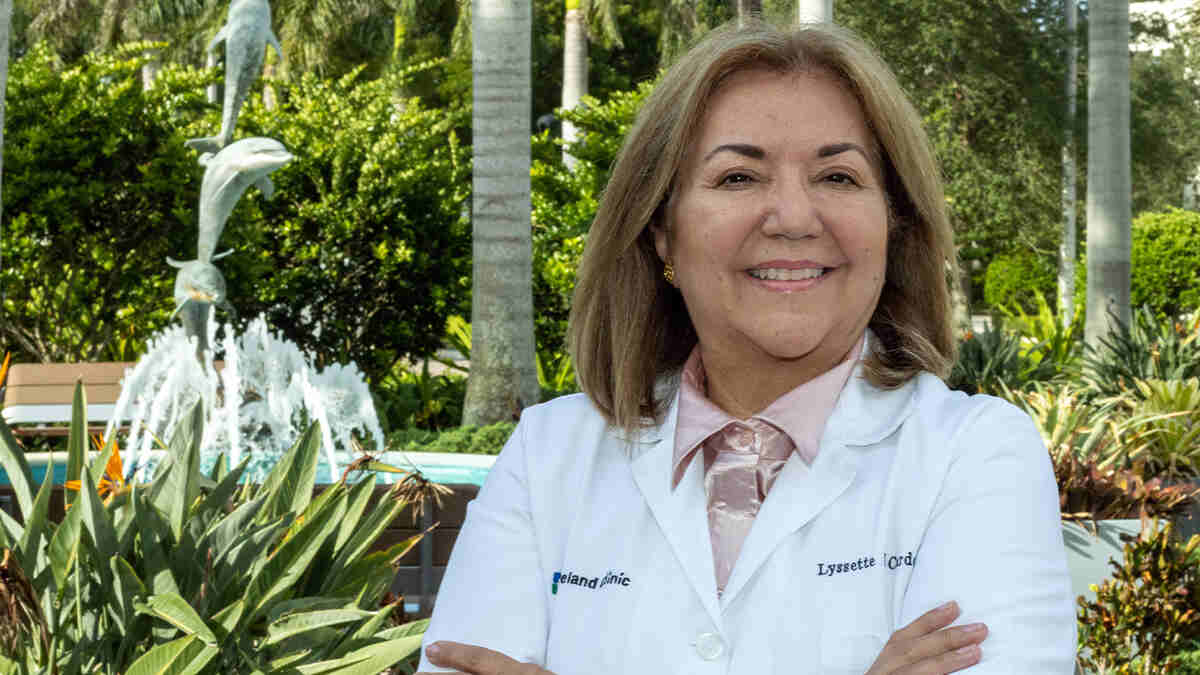 Lyssette Cardona, MD is the Chief Wellness Officer for Cleveland Clinic Florida and the Chair of Infectious Disease at Cleveland Clinic Martin Health in Florida. She spent six years at Cleveland Clinic Abu Dhabi where she pioneered the inaugural Infectious Disease, Infection Control, and Occupational Health Department (and started the Women's Professional Staff Association chapter!) Dr. Cardona discusses thinking outside of the box, the power of a positive mindset, the importance of finding your voice and her (lack of!) skills in the kitchen.
Subscribe: Apple Podcasts | Google Podcasts | SoundCloud | Spotify | Stitcher | Blubrry
Podcast Transcript
Cara King, DO:
Hi team, welcome back to Inspirations and Insights. This is Dr. Cara King, and we are very excited to have you all with us today. On today's episode, we have the exceptional Dr. Lyssette Cardona. Lyssette joined Cleveland Clinic Florida back in 2002 within the Infectious Disease Department. She was an appointed department chair until 2014, when she then joined Cleveland Clinic Abu Dhabi to pioneer the inaugural Infectious Disease, Infection Control, and Occupational Health Department.
Furthermore, Lyssette was named Chair for the Caregiver Wellbeing Division, where she has led multiple innovative and holistic initiatives that have been so good for our soul. On today's episode, Lyssette opens up about the importance of wellness, how she thinks outside of the box, and the power of social media. We hope you enjoy.
Mary Rensel, MD:
Okay, we have a very special day today. We have Dr. Lyssette Cardona with us for our WPSA podcast. Welcome, Dr. Cardona.
Lyssette Cardona, MD:
Thank you so much. I'm so excited about being here with you.
Mary Rensel, MD:
Thank you for taking your time. Tell us about your latest transition. You are now the Chair of the Department of Infectious Disease at Martin Cleveland Clinic (Cleveland Clinic Martin Health, Stuart, Florida). Is that correct? What is your latest title?
Lyssette Cardona, MD:
Exciting.
Mary Rensel, MD:
It is exciting.
Lyssette Cardona, MD:
I think I've been a Cleveland Clinic culture carrier, as Steve Schmitt, my good friend from ID (Infectious Disease) says.
Mary Rensel, MD:
Oh, yeah.
Lyssette Cardona, MD:
So started in (Cleveland Clinic Florida) Weston, came to (Cleveland Clinic) Abu Dhabi, as I said there, six and a half years...
Mary Rensel, MD:
Wow.
Lyssette Cardona, MD:
... made my way back before my shipment to Cleveland Clinic Florida at Martin. And I also spent some time at Cleveland Clinic Indian River Hospital (Vero Beach, Florida)
Lyssette Cardona, MD:
It's very exciting to meet everyone.
Mary Rensel, MD:
That's wonderful. Well, congratulations on the latest, amazing position, of course. And also, you're involved in wellbeing for physicians. Talk to us about that.
Lyssette Cardona, MD:
I'm delighted to report that since I've arrived, I've now been offered the position of the Chief Wellness Officer. Our goal with that is to continue to carry on that amazing effort that's been achieved in (Cleveland Clinic) Florida and all over the (Cleveland Clinic) enterprise to bring physician health and wellbeing to the top of the agenda. It's always been there, but we don't want to let it go.
Mary Rensel, MD:
Right. What does it look like? How does it look that the top of the agenda?
Lyssette Cardona, MD:
It's like we always are, our calling is to make people happy and well. That's our daily calling, and our care priorities are to take care of everyone. But sometimes we forget about caring for ourselves, and especially physicians. And we even put our families first, but we must not forget to take care of our own wellbeing. And I think that's what we hope to achieve is to continue to amplify the voice of the importance of maintaining a healthy and well physician workforce.
Mary Rensel, MD:
Love it. That's so important. So as an Infectious Disease doc, you talk about contagions all the time, right? But I saw a quote from you where you said stress is actually contagious in the workplace. And that it's very important to keep a positive, emotional experience in the culture. How would a new leader take that advice and put that into action if they were looking at their culture as it is, and hoping to make it more of a positive emotional experience, or have more opportunities where wellness is contagious rather than stress?
Lyssette Cardona, MD:
Yes. As you know, because you've also been in this space, wellness can be contagious, of course as much as unhealthy stress. And we know we can eliminate stress. Stress is around us every day and it keeps us going actually. It's healthy. But when it becomes unhealthy that it interferes and depletes your energy, and it can lead to, especially for us physicians, issues with concentrating, medical errors, and how we communicate with others, including our patients. It needs to be highlighted. And we know that if you are feeling stressed out, it will be contagious to least 30% of those around you. But the good news, if you're also feeling well, it will also be contagious. So we need to change the narrative and changing towards wellness and make that contagious instead of unhealthy stress. But we know we can't eliminate stress completely. It's just how to manage it in a healthy way.
Mary Rensel, MD:
There you have it, ladies and gentlemen, mostly ladies. We have the chief of infectious disease saying wellness is contagious.
Lyssette Cardona, MD:
Yes.
Mary Rensel, MD:
So that, there is a fact.
Lyssette Cardona, MD:
That's one thing that we want to make contagious.
Mary Rensel, MD:
There you go. I love it. So you moved from Florida to Abu Dhabi. That was six and a half years ago. Tell us how that was. What was something surprising about the culture when you got there? What were some of the first things you notice about a different culture when you got to Abu Dhabi?
Lyssette Cardona, MD:
So I've always been had the adventurous spirit. I think I got that from my father. He was in the Coast Guard and we used to travel a little bit until he died. And he died when I was 15. But, yeah. He was out for months and he brought back all the stories about the different countries and where he had been. He would sign the Coast Guard so he was in a boat for many months away. And so I picked up on that adventurous spirit from him and never thought twice about moving anywhere, quickly to adapt, but I had no idea about how the Middle East is…I had never even been there at any point in my life. So I was curious to see how that went. A lot of my friends were actually more curious than I was. I was excited to bring the Cleveland (Clinic) Culture there. And that excitement energized me.
Lyssette Cardona, MD:
When I got there, it was an amazing experience. It was incredible, more than what I thought it would be, mainly because I had preconceived ideas of how hard the desert life was and different cultures, et cetera. But the opportunity to meet people from at least 72 nationalities that were represented there is something I will never forget. And I know I have friends all over the world now. I learned a few bits of different languages, at least the basic communication like hello. So I think I can say a few hellos and MarHaba, Hola. also a little Italian. And so basically the diversity of that experience made me, I always say that when I went to Abu Dhabi, it made me a better person to be able to understand how other cultures have different perspectives that we're not aware of and how to treat people in a different way made me a better human. That's what I'm saying. I'm a better person after that trip. So I'm energized to be back. I have fond memories of my experience in Abu Dhabi.
Mary Rensel, MD:
That's wonderful. And we, from WPSA, which is our Women's Professional Staff Association here at Cleveland Clinic, we want to thank you because you started the chapter there. So tell us about that.
Lyssette Cardona, MD:
Yes. I had only been there a month. And it was September. We arrived in August of 2014. We call ourselves the pioneer group.
Mary Rensel, MD:
Right.
Lyssette Cardona, MD:
The (Cleveland) Clinic was not open. And so we arrived early to start preparing for the opening in 2015.
Mary Rensel, MD:
Okay.
Lyssette Cardona, MD:
And most of us had families that we had to get our kids started in school and get prepared. I was there, not at the time doing that type of work and protocols, et cetera. But when September arrived, I said, "There's no way we're not celebrating Women in Medicine Month this year."
Lyssette Cardona, MD:
And so, luckily, we were very supported with Dr. (Tom) Mihaljevic, he was our Chief of Staff at that time. And (Dr.) Mark Harrison was our CEO. We were able to get a small group of OPSA (Office of Professional Staff Affairs) at that time to launch a pink day as just breast cancer awareness. But then, we decided we are celebrating Women in Medicine Month with it. They were all very supportive. We had our pink day, everyone wore pink and we have pink we had pink ribbons. And we launched the WPSA. It was informal at that time. There weren't many of us but now it had progressed to and it has a whole board. So I'm very grateful to have been part of that.
Mary Rensel, MD:
Amazing. Thanks again. That's amazing. Of course, the pioneers in the desert.
Lyssette Cardona, MD:
The pioneers in the desert. And we actually caught a sand storm, my first sand storm was that month. So I really got a warm, I used to say I worked at the warm Cleveland Clinic in Florida but that was, I guess the hot one. It was very hot there, and the sand storm was a very interesting experience.
Cara King, DO:
A whole different level of warm and hot, right?
Lyssette Cardona, MD:
Yes. Yes. But you know what, the people were very warm and that's also important. And the hospitality they had towards us and the appreciation from the community, but what we were doing was felt every day. And so that made it memorable as well.
Cara King, DO:
Yeah, exactly. It makes the move all worthwhile when you're around people who are just as passionate as you are and supportive and all those things. So it sounds like a really exciting move.
Lyssette Cardona, MD:
It was, definitely, it was. And all the things that were achieved during that time, I think we might talk about it later, but I wanted to mention it back when we got our accreditation, I was tearful. I was teary eyed and crying. I said, all the hard work and I'm so happy that we made it to bring them what we want it to bring excellence to the Middle East and the Cleveland Clinic model (of care). It was the hard work of every caregiver there.
Cara King, DO:
It's exciting. Yeah. We're all so proud of the work that you've done. So again, thank you so much for that. Now I want to switch gears a little bit and bring in your social media account on Twitter. I hope that's okay.
Lyssette Cardona, MD:
Yes.
Cara King, DO:
So, when you're so far away, one really great way to keep in touch with you is social media. And you've been really active on Twitter. And I have loved that about you, because it makes the world feel a little bit smaller when you keep us posted on what you're up to.
Lyssette Cardona, MD:
I see. You want to hear a story about that?
Cara King, DO:
Of course, I do.
Lyssette Cardona, MD:
I would have never, never... I still have an AOL account. People laugh about that. They're like, "What? You have AOL?" And some people ask me, "What is it?" I know, we need your account. I said, "That is it. That's my account. It's AOL." But we had a WPSA session, and we were talking about how we can advance women and what can we do. And one of the sessions was to create a Twitter account and I'm going, "What?" I'm going on social media. This scares me a lot. And then people are texting me. "You don't sleep now. You're always on Twitter." So that was how that got started. And I just wanted to make it about what I was solely believed about taking care of each other, and making it being joyful every day. And I try to tweet around that.
Cara King, DO:
And you're right. I mean, getting on social media can be really intimidating at first. And it also requires a lot of responsibility. And so it can be intimidating, but your content is fantastic. We'll be sure to link your Twitter handle to the show notes here so everyone can follow you in and stay in tune with what you're doing. But one thing that really impressed me was your Twitter bio. So I always pick up on people's bio's and what they list about themselves and what you state is very simple. You say "thinking outside the box", and I really like this. Tell me, what does thinking outside the box mean to you?
Lyssette Cardona, MD:
Yes, and I changed it. And at first I've always been getting feedback. Keep it simple, keep it simple and short. And so I thought, okay, I have to think of something, keeping it simple and short, that reflects what I'm about as a person. And I've always done things different and always look to do things that have not been done, futuristic and innovative. And I may call it that way. But if you ask me to do something, I'm going to look way above and beyond what you asked to make it different and special.
Lyssette Cardona, MD:
And so that's how I see thinking about outside the box is when you're just, that the common day-to-day thing, how can we take it to the next level in whatever you do. And it's my personal statement is to always try to be the best me and keep going. I call myself an eternal learner. Maybe I got that from my mom who was a school principal. And she actually taught me in second grade in which she was hard. I was scared of her. I had to get an A. I wouldn't be wanting to disappoint her. And then she taught me in second grade, but I always, I'm a bookworm and eternally learning about everything, everything. And so I think that helps me to just think outside the box a lot.
Cara King, DO:
It's great. And that innovation you talk about and that creativity, I mean, that is why you are the chair of all things. And that is why they sent you to Abu Dhabi because you think about things in a really unique way. And I just love that. Talk to us about how you get outside routine ways of thinking. Like when you feel stuck, do you have any tricks of how you can approach a problem with a new lens or a new viewpoint?
Lyssette Cardona, MD:
It didn't come to me. So first of all, I'm introverted and shy, believe it or not. Being that Spanish was my first language for a long time, I was reserved and am not saying things the right way and overthinking. But I find that in order to focus better, because my mind sometimes tends to go overboard as well. And so thinking too much outside the box isn't that good either, but more about staying focused on simple things. That's what I've learned. You have to take a step back, reflect on the issues and get into the moment. You can't achieve that if you're, I call it the bubble inside your head is full of other things going on. And so it's about learning how to prioritize what you need to get off that bubble in your head and set aside and prioritize what's important to achieve that special project or goal, aspirational goal you may have.
Lyssette Cardona, MD:
And so it takes time. I have learned throughout the years to be more focused on being present, doing more positivity, focusing on positivity and outward mindset. And most of all, and my kids remind me all the time, is being a better listener. And so that you can look at different perspectives and that way put together whatever you're trying to do in a way that takes into account other people. People for instance, I'm a people person. Sometimes, that can work against you. And I've learned that you can't always please everyone, but you can do your best. And the starting point is take care of yourself, take time to reflect, come up with ideas. Maybe you have to go outside to a lake. I was raised in Puerto Rico, so I used to love to go to the beach. And even now, when I tried to get myself into the mental state of relaxation and creativity, I put myself in a beach with palm trees, birds, and that relaxes me immediately. I think I have more clarity to be focus forward.
Cara King, DO:
What we are hearing you say is number one, listen for the sake of listening, right? Like so many of us, me included, when we listen, we sometimes are already trying to figure out how to respond and not actually being present in the moment and listening and valuing other people's thoughts. So I think that's a really interesting point that you bring up.
Cara King, DO:
And the other thing I hear you say is get yourself out of the current setting that you're in, for instance, like go to that beach. And one thing that I have found so helpful when I feel like I'm in a rut is traveling. Like oftentimes, when I get myself out of the culture I'm in, right, like completely shift my lens and just remove myself from it. It can make a really big difference or even like tapping into other industries or other areas that are completely different from what I do, right? Because things that maybe seem very routine to me and obvious to me, when you talk with people outside your field and they add a new creative lens to the discussion, it sheds new light. Do you find that as well?
Lyssette Cardona, MD:
Yes, absolutely. And a lot of times I do things that, I challenged myself to do things outside of my comfort level to learn different ways. Example, I I'm really a bad chef, or I can't even call myself chef a cook. I can barely cook eggs. And so my husband gave up on that a long time ago. So I decided to meet people. When I moved to Weston a lot of my friends were networking. They were at home, but they had a cooking club and I said, "Oh my God, I really wanted them, but I have no idea what I'm going to cook for the cooking club." And it was a requirement. You have to cook, you have to do something, and it was very structured. And they took it seriously. My first assignment, they say, well, you don't really know how to cook, so we'll let you make a salad. And thinking outside the box, I go and get a recipe with goat cheese and this and that. I mean, it was so bad.
Lyssette Cardona, MD:
They said, okay, we'll give you a break. Maybe next time we'll have you do a special drink.
Cara King, DO:
More alcohol, maybe.
Lyssette Cardona, MD:
Here's the recipe. All you have... five ingredients. Buy the ingredients, just bring them to us, I said, "Yeah, absolutely." I go and it had liquid sugar. I don't know what liquid sugar was. I was such a bad cook. I didn't even know that. And someone's showed me liquid Equal. And that was in it. The drink was so bad. They said, I don't know, we're going to put you on probation at cooking club.
Lyssette Cardona, MD:
I like to challenge myself, conquer my fears of doing things. I don't know how to do. And learn a little bit. I still have some recipes. I tried them once in a while. Crème Brulee was my best one, once when I graduated.
Cara King, DO:
That's hard. Isn't it like a fire involved in it?
Lyssette Cardona, MD:
Yes.
Cara King, DO:
That's amazing. Yeah. I'm the same way. Anytime there's any type of picnic or anything, I'm always like, I'll bring the cups and the plates and the silverware, because you don't want my food.
Lyssette Cardona, MD:
Eventually, they just said, forget it. You can just come. You'll just be an observer.
Cara King, DO:
Yeah. Yeah.
Lyssette Cardona, MD:
But, at least, you learned from everything. I took a sewing class. I didn't know how to sew. And I did like a dozen pillow cases. That's all I could do. But it's, yeah. It's about trying to do different things and learning from other people. I think it was more about sharing, doing things in the community, and trying to also balance and integrate life into the day-to-day work we do. It's doing some fun things and things that you enjoy that are different. I currently have 20,000 photos in my iPhone. So I take a lot of photos.
Lyssette Cardona, MD:
And it's just finding that one little thing that will give you that mental ease or joy. And I think it's doing that every day will get your creative juices going. And that worked for me.
Cara King, DO:
And you bring up sewing. And it's funny that you all you can make with pillowcases, but a huge point you're making is take a class. Like do something that is completely out of your comfort zone. It's going to trigger different synapses that have to be created to do that skill or learn that knowledge. And that is going to transcend into the issues that you do every day. So I think you bring up really good points and challenge yourself in ways that may seem unrelated. And it may actually spark things in your brain that are very much related.
Lyssette Cardona, MD:
Yes. And because you did it, if we could just bring that joy to yourself that you actually achieve something that you didn't know how to do. So it's about learning more and more.
Mary Rensel, MD:
You know if you're talking about brains I'm jumping in.
Lyssette Cardona, MD:
Right.
Cara King, DO:
She's brains, I'm vaginas and she goes brains. So I'm going to hand it right back to Mary.
Mary Rensel, MD:
Yeah. We know. Okay. No comment. We all have those parts. Okay. All right. Here's a question. So here you are the teenager living in Puerto Rico. Did you ever think you would have three advanced degrees?
Lyssette Cardona, MD:
No. Yeah, but again, it's the bookworm in me.
Lyssette Cardona, MD:
But a lot of it is, I tell you, you go through life experiences and they teach you lessons. But I always liked to study. I was definitely a bookworm at a young age that when I actually went transition into residency, I had finished medical school. When I transitioned to, I had to look for a residency. I wanted to interview outside of Puerto Rico. I went to the US. I had interviewed in this place and I couldn't really, it was not a good experience, but I was excited to be able to travel out the adventurous person in me.
Lyssette Cardona, MD:
But this person told me, why would I hire a Puerto Rican woman to come here? And what would you bring to the table? And I was not prepared for that, I was not. Now, I think I'm better prepared as women bring diversity to teams. And there's many assets I could have been and now, but at that point, I was very disappointed about it and went back and said, I'm just going to not, I'm just going to stop and just stay home, and be next to my family, not travel and just like here. And it wasn't a good experience, but I didn't match because I didn't put any program. And my friend asked me, "Hey, it's a nice day. I needed a match. Why don't we go find a program?" And we ended up in New Orleans.
Mary Rensel, MD:
Nice. Look at that. At Tulane, no less. Right?
Lyssette Cardona, MD:
At Tulane. But during that time, a lot people always questioned me during those years, it's why I had to keep studying. I needed to do more. And I just felt, ever since that point, I felt like as a woman, I need to be ahead and know more. And so I did an MPH (Masters of Public Health) while I was there, as I combined program with my fellowship in ID (Infectious Diseases). And then when Cleveland actually brought on site at (Cleveland Clinic) Florida a Master's in Health Administration. I said, I'm going to do that too. And so I did it. But I always felt like I needed to study more and make sure I knew a lot more in case I got into a hard situation. But it always worked for the best...
Mary Rensel, MD:
Yeah.
Lyssette Cardona, MD:
... as you learn more and you're able to talk about more things.
Mary Rensel, MD:
You overprepared. Amazingly overprepared.
Lyssette Cardona, MD:
Overprepared.
Mary Rensel, MD:
Yeah. So What would you say to that young woman who's going to be in a residency interview soon, and someone unfortunately might ask them that question that you were asked, what would you recommend that they say?
Lyssette Cardona, MD:
The first thing I would say is you have to have empathy for people. You have to understand where they've come from and their experiences. But you have to be able to express how important it is to bring diversity to every workplace at this time. And how it's well known that women do provide better outcomes with care. And in addition to that, that it brings a diversity to the workplace that we need to build innovation, creativity. By 2030 almost half of the workforce will be women in healthcare. And so, it is important that people start embracing diversity. And I know we've made a long headway in terms of that, and we're very supported now, but we still have ways to go.
Lyssette Cardona, MD:
And so I hope they don't get disappointed about it, but just understand that there's work to be done. And that they join us in continuing on that work, that the trail blazers ahead of us have done already. A lot of strong women like you within the (Cleveland) Clinic to help us. WPSA has helped me a lot as well. I wanted to let you know, since I joined Cleveland and I had strong mentor, Dr. Susan Rehm, who's also Infectious Disease. But I also had my "he for she" (Dr.) Steve Gordon (Chair, Department of Infectious Disease, Cleveland Clinic) and a lot of it, some infectious disease leaders helped me along the way.
Cara King, DO:
You took the words right out of my brain in that. That is one reason why the WPSA is so important and crucial in just building your tribe of people surrounding you that help raise everybody else up. Right?
Lyssette Cardona, MD:
Yes. yes. There's a book about building your own boardroom and being the CEO of me, it's about surrounding yourself with people that create positivity, make you be a better person, help you grow, develop it, develop you and I said criticism. It was hard for me to do at the beginning, but take a look at that, it's just additional feedback to make you better. Listen, listen, listen, listen, listen, listen.
Cara King, DO:
Yeah. That's a common theme for sure. Now my final question. So we're getting close to the end, but there's one question that I wanted to make sure that we included and it's in the same vein of exactly what we're talking about in that you recently posted an article on your Twitter about career factors that mean the most to women. And there was six different factors listed that are crucial for women to be happy at work. And one point really struck me and it was the inability to be themselves in that, in this study, nearly 60% of respondents said that they felt compelled to modify their personality at work in order to be taken seriously. That really struck me quite deeply. I'm just curious, have you ever had that type of experience at work, having to modify your personality or seeing others, having to modify their personality, especially with all your moves in different areas? What have you seen in regard to this?
Lyssette Cardona, MD:
Definitely, definitely. I've had that. Starting from where I came from, I'm from Puerto Rico where we love color. We like music. We are loud, and we're proud of it. And so I had to modify just the way I looked and sometimes the way I talked. And being an introvert, that adds onto the plate. Thinking twice before you talk. I've been leading sometimes think too quiet until I realized that you just have to be yourself. You don't have to fit a mold. You have to bring yourself each time. Just honor your values, be who you are. Be the good person and I'm trying to be what's enough. And that I had good intentions. Sometimes, there may have been challenges around my journey, but it's making them learning experiences. There will be failures. You fail forward, you move forward. There isn't a need to change the way you are.
Lyssette Cardona, MD:
It's about finding your voice and using it the right way at the right time. I recently met with the author of "The Right Kind of Loud". (The Right Kind of Loud: Finding your Communication Voice by Kim Page) This is also is how you communicate. So finding a voice and the right kind of communication voice. But being yourself, and I use that a lot as a hashtag. One of the new things I've learned from my millennial friends is hashtag #beyou. For me, I always said, be your best you, not just that you're being your best you.
Lyssette Cardona, MD:
It requires empathy, empathy, not only for... empathy for others and self-compassion for yourself, because I thought I would just being too hard on myself. Overcritical, thinking too much I think about what to say, when to say, and how to say it, that I wouldn't offend anyone, that sometimes hindered me throughout my journey. And so it's important that you continue to just speak up, honor your values, be tough drivers, be adaptable. And that helped me a lot in through my transition throughout different countries and at dealing with different nationalities and perspectives. And even with leaders, we're all humans. If we can make that as a basic, where you might have humanized, they're always be on the right side.
Cara King, DO:
So good. You're right, right. Staying authentic to yourself, keeping your true north, right? As long as you keep your true north at being patient care and being empathetic, it's going to go very far. And then being cognizant of our self-talk. I heard you say seeing compassionate with ourselves, and a lot of times our self-talk, like the things I say to myself, I would never say to somebody else, right? So why do I let myself think or talk to myself that way? So that's a really important point as well.
Lyssette Cardona, MD:
We're our biggest critics and we beat ourselves down and sometimes that keeps you from moving forward. And I think that's when you need to learn to be compassionate with yourself, try to have more positive than negative thought. And that's, as you know Mary, that's creating a habit. It's a journey, but it's the sooner you get on it. I think the better all of us will do.
Cara King, DO:
How Mary is a professional there. I turned to her with all of my brain issues and there's quite a few of them. With that being said, I think that is all the time that we have today, but thank you so much for your time and your wisdom and your leadership. We are so indebted to you and we hope to have you back someday soon.
Lyssette Cardona, MD:
Thank you, Cara and Mary. I look forward to you, and you're amazing. Keep up the good work.
Cara King, DO:
Thank you for listening today. Join us again as we draw inspirations and insights from women doctors past, present, and future. You can follow us on Facebook, Twitter, and Instagram @WPSA1, that is WPSA and the number one. This podcast is supported by Cleveland Clinic's Women's Professional Staff Association, as part of the Cleveland Clinic centennial celebration.