Handling Holiday Stress with Dr. Matthew Sacco
November 24, 2021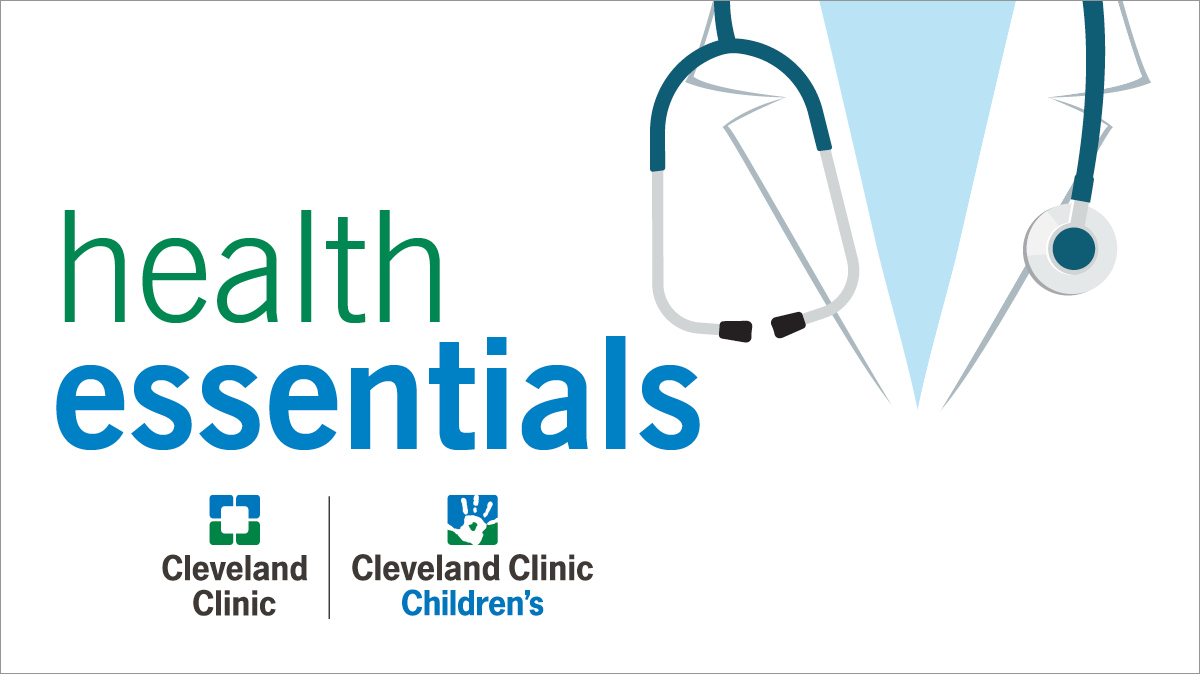 Do you find yourself listing "stressed out" as one of your main feelings during the holidays? You're not alone. Many people experience stress during the holidays. It can be hard to deal with the stress of large family gatherings – especially if it's your first big holiday since the start of the pandemic – and crafting the picture perfect celebration. Psychologist Matthew Sacco, PhD joins us to talk stress management and help us find ways to have a happy holiday season.
Subscribe: Apple Podcasts | Google Podcasts | Spotify | SoundCloud | Blubrry | Stitcher
Handling Holiday Stress with Dr. Matthew Sacco
Podcast Transcript
Intro:
There's so much health advice out there, lots of different voices and opinions, but who can you trust? Trust the experts, the world's brightest medical minds, our very own Cleveland Clinic experts. We ask them tough, intimate health questions so you get the answers you need. This is the Health Essentials podcast, brought to you by Cleveland Clinic and Cleveland Clinic Children's. This podcast is for informational purposes only and is not intended to replace the advice of your own physician.
Molly Shrodes:
Hi, and thanks for joining us for this episode of the Health Essentials podcast. My name is Molly Shrodes, and I'll be your host. The holidays are coming. This could bring joy to your heart, or maybe a little bit of dread. It's totally normal and okay to be stressed out about the holidays. You might be feeling anxious, nervous, or just stressed out in general about it. There can be a lot on your plate when family get together and you're striving for the perfect day. Today we're joined by psychologist Dr. Matthew Sacco to talk about holiday stress and a few ways to ease that tension. Thank you so much for joining us today, Dr. Sacco.
Dr. Matthew Sacco:
Absolutely. Thanks for having me.
Molly Shrodes:
So let's just kind of start off by talking about stress in general. It's not great for your body, right? What happens when you're stressed out?
Dr. Matthew Sacco:
Yeah, it's a good question. So this is something that I have many conversations with folks in my practices about. So first off, it's not specifically the stress itself that's a problem. Rather it's more about what's causing us to kind of have that reaction. So for example, I don't know, if you're out walking in the metro parks and kind of minding your own business and all of a sudden you hear this kind of rustling or something in the bushes and a dog jumps out in the path in front of you, now when that happens, your body quickly shifts into this fight or flight response, almost in a way to prepare you for some sort of immediate action. And it actually happens so quickly that our visual centers and things like that haven't even been activated before we move. That may be why you jump before you even realize what's happening. And in the moments following that, you have this assessment that you do, where you say oh, you realize it doesn't appear to be a dangerous dog. And in fact, right behind it is its owner trying to chase it down. And you kind of put the pieces together, and you recognize you're not really in danger.
However, you could be five, 10 minutes into your walk and you still notice that your heart is beating faster. You might notice that and make sense of that because you had that event that occurred. There was the startling that happened, and you say oh, that's why my heart is beating faster. The challenge is most of what we kind of experience day to day in our lives doesn't fit this idea of clearly an identified stressful event. Yet the same exact system in our body comes into play. So that information, it kind of hits the amygdala, it gets processed, and we respond accordingly. Well, what happens when, I don't know, you... Well, I guess the example that I use with folks is in terms of understanding psychological stress, is I like to give a real, in the moment example. I often tell people to... I'll ask people to think of something like a really embarrassing memory that they have. And not to share, not to talk about. Just to think about though. And I'll kind of push people a little bit and say, "Now, really the most embarrassing thing you could ever think." And they sit with it. Then my next response is I tell people, "Okay, I lied. Now you have to share."
And in that moment, even though I don't actually continue down that path to force them to share, but in that moment, they notice the exact same system of response that occurred when the dog jumped out. So your heart might kind of go up, and muscles might tense. Your breathing changes. Eyes get wide open. And all of that is the exact same series of responses that occur when we're in a bonafide stressful situation. And these overreactions to the stressors that are really life and death can then have serious health consequences, I mean, very serious, in fact. In fact, research has shown that it certainly can contribute to high blood pressure, weight changes, anxiety, depression. There's even research on it on addiction. So the chronic exposure to these things, and as humans, that's kind of our biggest down, is that prefrontal cortex that we have that gives us all these advances is also what causes us to worry, to start to worry about holiday get-togethers, worry about this person, worry about that person. And even if we're not really aware, the body is reacting in a way that it doesn't need to.
Molly Shrodes:
Yeah, it's interesting that historically it was like that stress response was supposed to protect us, but now it's this nagging worry in your mind, because our world is totally different now. We're not being chased anymore by wild animals or need to trigger that to escape.
Dr. Matthew Sacco:
That's correct. Yeah.
Molly Shrodes:
Very interesting. Now I think a lot of people... Holidays can be one of those times where you kind of want to escape because it can be a little stress-inducing, but if you believe all the advertisements, this is supposed to be a time of smiles and cheer and just all happiness, but I think for a lot of people, it really is a stressful time. There's a lot of concerns and worries swirling through their heads. Why are the holidays so stressful?
Dr. Matthew Sacco:
I mean, there are so many different factors that play into this, and they are unique to each person, but I think that to start with, one of the most important things to recognize is a lot of the stress can come from a change in routine. The typical what we expect day to day, it gets thrown off. And if you think about anybody who has or ever had school-aged children, or teachers especially know this, but around the holidays and holiday times in the schools, children's behaviors start to get a little squirrely. They start to do things that you are like where? Why? What's going on? Maybe they're more irritable, crabby, impulsive, talking back, all of these things. And then you look at, well, okay, now they have holiday parties, they're watching movies, they have special activities, all of these things that are just thrown onto the schedule right before holiday break, where they're already thinking about the holidays. And you clearly, as adults, we can see these behaviors as really not typical. They don't normally behave this way.
Well, I mean, our behaviors might be a little bit different as adults, but the stressors that are associated with this change in routine and Friday doesn't look like Friday, or we've got to go here, we've got to go there, and it turns out that as adults, we're just equally susceptible to these changes. And I think it really speaks this idea where we often end up doing too much, even with things you might enjoy, like we might enjoy cooking things. We might enjoy going to parties, but of course, even more so when they're things we don't enjoy. But those changes in routine have a huge impact. Think about how our diet changes, our exercise routines during the holidays. We're attending holiday parties. Kind of we're inundated with cookies and candies, and those things aren't around during our normal kind of yearly routine of things. And if you're traveling, even if it's just local, even if you're just going for the day or whatever, that interrupts the routine that might be related to exercise or getting enough sleep. And it can start there.
And then, if you're around too many people, if there's too much going on. You have to know yourself and your family, but if you know your tolerance for this kind of thing is a little lower, then you kind of have to plan accordingly, which again, is another change in the routine. And it builds up.
Molly Shrodes:
Yeah. That's a good point. It's almost like you have your everyday normal, and then you have your holiday normal.
Dr. Matthew Sacco:
Yeah. Absolutely.
Molly Shrodes:
And it is absolutely shuffled up too by all the extra people you add in. So let's talk a little bit about that added family, a lot of those people you don't see all the time, and then all of a sudden you have everybody together all at once. What are some of the stressors with family that come up?
Dr. Matthew Sacco:
Oh, geez. Again, similar to how varied our own unique experiences are. There's just as many kind of different stressors that family can add in. The fact is when many of us... And what kind of what we're talking about are these family gatherings, and they usually involve people going back to be a part of the family that they kind of grew up in, and we start talking about this from adults. And that can get really strange, because when you're not around people for a period of time and all of a sudden you're thrust back into that, it's really common for people to kind of also both fall back into some of the roles that they had when they were part of that family directly. People kind of know you for a certain thing and try to behave the same way. And then people put you in those roles as well. So, you're trying to figure this out as an adult where you're back into this family that you kind up grew up in, and that can start things off, which is just it makes it very, very difficult, because you're standing there, and something says, "Well, wait. I'm a grown up why are we doing this?" You kind of have those moments.
But then you do also have to consider and deal with personality factors that come into play. You always have that person who maybe likes to stir the pot. And given how divided or polarized things might be in our society right now, it can be really difficult to even imagine where any common ground might exist where you can actually have these conversations, and then people kind of get stuck. So you're kind of being asked to navigate this tricky scenario where you're, for most of us as we're talking about as adults, interacting with other adults who at some point in time were the parents, the grownups. So you're trying to navigate this respect piece. You're also trying to navigate figuring out how do you manage different viewpoints? All the while you're trying to just enjoy a holiday get-together. And so I can imagine that if you're a person who just kind anticipates what this is going to look like or if so-and-so is going to be there, then it can start to build even before you get there, just in the planning of it.
I often tell people try to set some ground rules. You can let people know if conversation topics are uncomfortable, if this isn't going anywhere good, and I'm going to just remove myself. It sure beats... You can't change people's behaviors, but it might certainly be just passively sitting there and listening and not saying anything, but it also avoids getting into an argument over a different viewpoint. So things like that, where if they choose to continue after you've told them you're getting up because you don't like it and it's not what you want to get in... Then that's on them. That's why I say you can't change people's behaviors. But it also allows you to maintain some sense of kind of integrity and saying, "Well, listen, I'm not going to sit here and get myself worked up, even just sitting there passively by." So that's just kind one way that personalities can kind influence these things.
Molly Shrodes:
I'm kind picturing as you're talking that table, that big table with everybody gathered around and the two opinionated people sitting across kind of shooting daggers at each other with their eyes and the grandma who's kind of converted back into mom again and is mothering her adult children. And I'm curious. Let's talk for a moment about that dynamic, that grownup children coming back into their childhood home and that kind of butting up against it thing. Can we talk for a moment about that and maybe some ways that you can approach it as the grownup child maybe?
Dr. Matthew Sacco:
Yeah, yeah. It's a normal, Often what I refer to as, not just a holiday issue, but normally an age and stage of life issue, where... Excuse me... parents and adult children have to figure out how to have adult, parent, child relationships. And that is a process that is... Excuse me... that is challenging for folks in kind just the typical kind of growing up, because no longer are you... As a parent, you don't have that kind absolute kind of rule in saying kind of the, "What I say goes," if people have opinions and growing up. So that's a normal process. Now, throw in the gasoline that often is the holidays. And again, I said before, the difficulties in being able to identify what really is an okay, safe topic to have a conversation about that may not be somewhat politically charged.
So oftentimes one of the most helpful things that you can do is set some ground rules up at the outset. I know people will often say, "Well, that's just kind of like maybe too much work." If you worry that your family is that family, and you've had these experiences, then it probably does behoove you to take some added steps ahead of time and creating a list of topics that you believe and sending it to family or whoever's going to be there, that you can agree to avoid these just because it might make this dinner or this party, whatever, go a little bit better. And that way, if it does start to go in a direction that people are recognizing isn't anywhere good, start stepping into that minefield, then you clearly have something to lean on and say, "This is one of those things we talked about." It's not a surprise. You say, "Listen, we talked about we're not going to go there," or whatever.
But doing that ahead of time versus trying to do it on the fly when the conversations happen can be really helpful. And I think again, setting the stage for those kinds of things in advance as much as possible might... Again, I say might... might help you avoid some of those unnecessary pitfalls. It doesn't mean that it's going to be the thing that allows the holiday to go smoothly, but what we're trying to do is extract out, or tease out, some of the things that contribute that may not necessarily need to, if you can avoid it in the first place.
Molly Shrodes:
So how does alcohol play a role in all of this?
Dr. Matthew Sacco:
Alcohol is something that people, they can have very strong views about. And certainly during the holiday time, it's very, very common for holiday parties to include alcohol, in particular wine. And people are drinking at times more than they would during a normal year. So some of it is a part for many people of the celebration of the holidays. It's within their families. So it's important to understand that that is some tradition for people. I also will say and recognize that alcohol can certainly exacerbate any tensions or stressors within a family. And if you're in a family where you have people who like to debate, who like to stir the pot, who do those kinds of things, alcohol's likely to make that worse. And as people lose some of their inhibitions, the tendency to say things that they normally wouldn't say just to go into subject areas that they wouldn't, it can really add a strain to a holiday get-together.
So I usually tell people if it's your house, or even if you're going someplace with family, you would prefer that alcohol not be served, you can ask that. If it's your house, it's your rules. You can set that up. People might not be happy. Some people might not, but I think that it's important to recognize that that can really unnecessarily add to the stress of the holiday, especially if you're thinking oh my gosh, this person always overdoes it, and they're going to be here, and you start to worry about that ahead of time. Something as simple as saying, "We're not serving alcohol. We're not having it at the holiday party," might help alleviate some of that stress.
Molly Shrodes:
So if you find yourself... You're sitting there, and you find that you're getting frustrated by something that has brought up, what are a few real quick, short tips that you could kind of run through in your head to calm yourself down and kind of take back the control of the situation?
Dr. Matthew Sacco:
Yeah. So first of all, I think it's really important to focus on that kind of self-talk that we have. And if you've kind of done what I said before about having... Even if for whatever reason, even if you can't establish some list of topics, even if your family doesn't want to cooperate for that, if you then already have the list of topics that you feel you want to avoid, and you can see things going the wrong way, then in those moments when it happens, there's that part of you that can run through that in your head and say... I mean, the alarm bells are going to go off, that's one of those things. And first of all, right back to what I said. If you're in a position where you feel comfortable enough to say something like, "I'd rather not go there." But if that doesn't work, maybe starting with just a couple of deep breaths and reminding yourself, trying to reframe that this is a holiday. You only get together so much.
But I think that there are some layers to that, because if it's just pretty [inaudible 00:19:09] just a little bit of an argument, whatever, you're going to have to choose how much you want to invest in what you're going to do there. But if it gets to a point where you're seeing it escalate and you're really not comfortable, and all of the self-talk or all of these things isn't working, then you get up. Then it might create a scene or a moment there. It doesn't mean get up and turn the table or scream or yell, but politely just getting up and removing yourself, because again, you cannot change other people's behaviors, but you can remove yourself. And it is certainly trickier when it's not just you, when you have other family, if you're in a relationship, if you have kids. There are other webs and threads that are tied into that. So you're choosing action that is also going to influence others. But I think that running through that in your head and then excusing yourself if you need to.
Molly Shrodes:
Awesome. That's great. Now kind of shifting gears a little bit, I want to talk a little bit about isolation and how that's impacted all this. Over the last year or so, for a lot of these big holidays, many of us were isolated because of the pandemic. This might be the first time back to a big holiday gathering if you're feeling comfortable. And I am just curious how that has changed the way people approach these gatherings and if it adds a lot of extra stress.
Dr. Matthew Sacco:
Yeah, this is such a relevant question. It has so many implications, I mean, well beyond family gatherings. It's something that many of us are facing and have been facing as we attempt to reenter the world in general more and more since COVID first hit. We're doing that more now than I think we ever have in the last, I don't know, two years, or whatever it's been. So first of all, I think there's two pieces as it relates to the holidays that are really most interesting. First, I think it really depends on how you feel, you yourself, how you feel about coming out of isolation on this continuum in general. So if you're a person that's like oh my God, I'm terrified to be around people since COVID, if you're on that end of the spectrum, it's different than the person that's on the other end, oh my gosh, I can't wait to get back, and we're finally getting to do that. So you have to assess yourself, depending on where you are, if you're a person that is either fearful of how COVID has affected things and getting back with your family and knowing, like most families, not everybody has the same viewpoint, or maybe you have young kids who up until recently, or even younger, haven't been eligible to be vaccinated. And that's something that's important to you. Well, that's going to change your level of fear going into some of these situations.
So there's a uniqueness to that. If you're not comfortable, it's going to cause you to become preoccupied. You're going to be thinking about this now. I mean, you're going to be thinking about this in the weeks leading up to. It's going to be something that's going on. Now, if you're a person who just can't wait to get back in there and start socializing and doing all this again, that's going to be a little bit different. You still may have some of those thoughts or fears or worries as it relates to not being sure, trying to take the steps to reduce the risk of COVID spreading. It might be oh my gosh, I haven't seen so-and-so in so long, or what is this going to be like? So you might have different sets of worries. And it also depends on how you feel about your family as well, again, pre-COVID included. If you've had family gatherings that have routinely caused you to feel really distressed, then you can probably anticipate that's going to continue with some added layers that has to do with people's personal viewpoints, like I said, on COVID, on vaccines, on all of that.
So that's just going to be really added fuel. And it's very, very incendiary types of information, as we've seen. So it's not the just typical holiday issues that might do with people not liking somebody's job or their partner, whatever. Those are hot button issues, but not like we're seeing as it relates to COVID. So it can be really hard not to anticipate and not anticipate things happening again. But setting some ground rules, setting some expectations for you and your family. It can be important. I often tell people to have an escape plan and discuss this with your family, or whoever you're with, before the gathering. Don't try to draw up your fire escape route in the middle of the fire. It's not going to go well.
It's difficult if it's in your house, but, have that discussion with your family about what you can do if you're getting uncomfortable, or if someone is starting to act in a way that isn't making you feel like you want to be there any longer. Could be a secret kind of code word that you come up with. Also it could be something as simple as a squeeze of the hand, just to indicate that someone's wanting to leave. And then you don't have to add that explanation, well, what's wrong with this person? What's wrong with that person? But it's something that's just between you and the people who are in on this so that you're demonstrating actively that you're supporting one another. And if somebody doesn't feel comfortable, you have to decide how worth is it to stick it out? And I think if we have those conversations ahead of time, it makes it a little easier.
Molly Shrodes:
That's really good. Yeah, and I've even heard before people say to have like a designated break space, like going outside for a minute, or taking a walk, or if the weather doesn't permit, going to another room for a few moments. Things like that probably help a little bit.
Dr. Matthew Sacco:
Absolutely. They absolutely do. And I mean, they're the types of interventions and the types of little tips and strategies that we can and use throughout the year, because yeah, when we're talking about the holidays, but we're not also talking about having to create a brand new set of ways to cope. What we're talking about is actually just using them. If you're a person that likes to kind of go outside, or if you're a person that just likes to go walk off into another room and listen to some music or something like that, oftentimes getting back to nature a little bit, taking some breaths where you can kind of reduce the amount of sensory stimulation that's coming in and you can kind of calm and gather yourself, and you're getting a little bit of fresh air. Yeah, I mean, anything that you can do that's in a healthy fashion that can lead you to at least stepping out of the situation that you're maybe feeling overwhelmed, anything that you can do would be absolutely worth it, as opposed to potentially unnecessarily escalating some situation that doesn't need to be.
Molly Shrodes:
Great. Now, I liked earlier when you pointed out that everybody's on a different point. There's levels of this. Kind of you might be at either one end of the scale or the other on your comfort levels here. Now, let's say that you're excited to get back into this, and you're looking forward to your first holidays kind of back at it. Is there added pressure to kind of strive for perfection because we had to skip a few big holidays?
Dr. Matthew Sacco:
Yeah. I think not only for some people to strive towards perfection, but to try to get it all in and make up for what has been missed, which is just even more of an issue. And it's really a real common phrase that I hear, that also speaks to this and drives this, is when people say things like, maybe especially someone who may have lost someone over the last year or two as it relates to COVID or any other reason, I hear people say things that the get-togethers are even more important, and they'll say things like this idea of like, "Well, we're not promised tomorrow, so we might as well take advantage. We got to do everything we can." And while that's a wonderful sentiment in terms of living for today and kind of taking advantage of what the here and now, it is a much different juggling act than it may have been two years ago when it comes to understanding the risks associated with COVID and these family gatherings.
And so regardless of where someone might be in terms of how they view COVID and all those health and political ramifications, there's more risk associated with it, or at least conversation about risk, than ever. So, yeah, I think that there's this tendency to want to get as much in as you can. And therefore, oftentimes people, even if they feel uncomfortable, even if they're not sure that that's what they want to do, then they'll almost feel obligated to show up or to do things. And even if they're excited initially, it can be really difficult, and it can put an added layer of pressure that we haven't had before, at least as it relates to more across the board from a society standpoint.
Molly Shrodes:
Yeah. And I know that even before COVID, there was a lot of pressure people would put on themselves to have that picture perfect moment where everything had to go exactly as planned. And a lot of it too might've the nostalgia of that idea of it being perfect in the past, so we got to make it perfect again. And that is hard. That is placing a lot of extra weight on yourself. Kind of what are a few ways to maybe check that, like notice it and then maybe take a few steps back?
Dr. Matthew Sacco:
Yeah. We are inundated with that perfect holiday. I mean, it starts early. I mean, there are a couple things that... Look at all the It's a Wonderful Life and all of the holiday, the Hallmarks that the people get all excited to watch. And it's not that I believe people genuinely believed that that's the expectation that how the holiday should go. I know that people have a much better sense of reality, and they kind of laugh about it. However, we're exposed to it, and there's still that little piece of us that interprets that as like wouldn't that be nice? And that in and of itself can be challenging, especially if you're doing everything you can to try to achieve this perfect holiday. In the past, you had a better chance of controlling the information that was coming. You had a better chance of okay, either I'm not going to watch that show, or whatever.
Now, I would say that probably the single most important and effective thing that any individual can do, and this speaks to especially if you're a person who might find yourself feeling a little bit more anxious about this stuff and the person who really feels like you have to do all these things, it starts with social media. If you're the person that's scrolling and seeing all of these ideas, and I got to do this and that, and you notice you're sitting in bed scrolling on your phone, and the next minute like two hours has passed, and you were thinking about the perfect holiday gift or whatever, probably, if you're really honest with yourself and wanting to reduce some of those stressors associated with having this perfect holiday, would be to just eliminate, cut yourself off, shut down the social media for... I mean, if you can't do it for the whole holiday season... That may not be possible... starting with limiting the amount of time you spend. Maybe it's 15 or 20 minutes, and that's it. Maybe you give yourself day breaks, whatever it is.
But that's the kind of very passive kind of stress that we're experiencing, because it's constant. It's ads. It's other people's stuff. You're looking at somebody else's, I don't know, their Christmas tree setup, or what their fireplace looks like, or all the gifts that they've talked about getting their kids. And it's hard to screen through that stuff and not on some level compare. Even if you're like well, I don't need to do all that, it's still in your face, and it still can cause some distress.
Molly Shrodes:
Yeah. We absolutely know in our minds that it's fiction and that that is staged, but it's hard to not want to live up to that and do that for your family and have that thing in front of you.
Dr. Matthew Sacco:
It is.
Molly Shrodes:
Now, speaking of all the gifts, there's a lot of financial pressure here too. People try to go above and beyond, buying something, or the perfect thing even, for everyone. What kinds of things can we tell people to maybe not think that they need to go that far and put themselves in that kind of extra stress?
Dr. Matthew Sacco:
Well, you'll hear all sorts of things probably coming up in the coming months, but people will talk about the end of January being the time when people report the most substantial increases in terms of time of the year of depressive and anxious symptoms. And it's usually when credit card statements from December come due, and they look back, and they're like oh my gosh. If you're running all over the place, trying to find that perfect gift, or whatever it is, I don't think we even realize how much that day-to-day is contributing to how distressing the holidays can be. I mean, the research is pretty clear on this. The research and the science behind this is really clear. A lot of studies have shown that... We use this anecdotally all the time, but a lot of studies actually show that material possessions does not equal increases in happiness. You may hear those phrases all the time. People will say, "Well, yeah, let me try that out. Let me prove that wrong," or whatever. But over and over and over, the research has suggested that material possessions do not equal happiness. And in fact, as we talk about those experiential types of gifts, actually lead to increases in intrinsic fulfillment, that internally motivated part that is like wow, that just feels good because I was able to do that. It's much more fulfilling than stuff.
So looking for those kinds of opportunities. And you kind of have to buy into it and believe that that is in fact the case. You have to start somewhere. You might have to try some of these things out. I don't know. Maybe you combine some things, or maybe you decide to set up a day of cooking before the holidays. Yes, cooking or baking for the holidays could be stressful, but experientially, maybe passing down family recipes or traditions or whatever, because this is not saying well, forget it, just don't do any of this stuff, but trying to find a way to make it intrinsically meaningful. So inviting family over to do some of this, setting a day up. Yes, it changes your routine, but it kind of allows you to focus on the moment and do something experientially.
Maybe if you have family, if you have kids, maybe sending them over to somebody else, send them to the grandparents to cook dinner, or perhaps setting a time sometime throughout the year that you're going to send your kids or your grandkids, your nieces, nephews, whatever, over to somebody else's house to make a meal during the year, maybe not during the holidays, as a way to stretch that out, but making that known during the holidays, because it's much more likely that it's going to occur if you kind of set that up. You can take advantage of the thousands upon thousands upon thousands of photos that you probably have saved in your phone. Go through that, and it could be as simple as identifying a handful of those and make... What most of us don't do anymore, is actually getting them printed. You can print them on your own printer and making a little collage or just nothing extravagant, but getting some pictures throughout the year and putting that out there.
I know something in our family, and it's something that my wife has done for years, is she does a calendar for the grandparents and aunts and uncles that have every month four or five, six pictures on each month's calendar of the entire family. And it takes a little bit of time. If you ask her, it's probably at times more frustrating working with those computer programs online to do that, but doing that. And a lot of the drug stores will have specials where you put it all together, you send it to either Walgreens or CVS, whatever it is, and print it out. And it costs, but there's also something throughout the year, and you've also felt like you actually have made use of those photos. So that's also the added piece. And then every month, the people get to see those things. But if that's your thing. It's just finding something that works for you.
Molly Shrodes:
Yeah, it's interesting being able to work in those heartfelt experiences or personal kind of handmade items, because they're often not as expensive, and they do resonate over a long period of time.
Dr. Matthew Sacco:
Oh, absolutely. And it does take, though, starting with yourself and really having that conversation, sincerely having a conversation with yourself or the people that you are closest to that this is important to do and that this is just as, if not more, valuable than having to go out and buy something. But for a lot of people, that can be a shift, because there are certainly families, or broadly there are cultural differences where gift giving means different things. So you do have to know your own family. It's not a one size fits all, but being able to kind of maybe find some wiggle room can help in that as well.
Molly Shrodes:
As we've been talking, I keep thinking that it seems like one of the big things with managing your stress during this holiday season is kind of having that internal conversation and checking it at the door and saying like, "Okay, this is what I expect. And this is what I'd like out of this."
Dr. Matthew Sacco:
Absolutely. And I think probably the most important message from that is that this is not going to be a one-time conversation that you have with yourself. And it's not going to be a one holiday thing. We see them now, the Thanksgiving. Then you have like Christmas, New Year kind of season, and these are when things are really packed close together, and it might be something that you have to have those conversations with yourself to convince yourself throughout the year, throughout the holiday season, because the influences aren't going away. You're going to continually be inundated and reminded of all of those things that you didn't do, that you didn't buy, the commercial with the car that rolls up with the big red bow on it, and you're kind of like who on the earth does that? Even if you laugh at it, it's still the messaging, and you're still going to be exposed to it. So it's going to be an ongoing thing to kind of remind yourself. And then in action, do it. Don't say well, it's important, and then go out and do the exact opposite. It's a matter of having your words and actions align, and that will help over time.
Molly Shrodes:
Great. Now, as we wrap up, I just kind of want to talk for a moment about staying in the moment and enjoying the holiday for all the good and the bad and just that time together. Can you talk a little bit about how you can relieve a little stress and anxiety and just stay in that moment with your family?
Dr. Matthew Sacco:
Yeah. Going back to kind of even how we started the conversation today, having those conversations and plans before the holidays get into full swing. Maybe having some conversations that include asking your family what do they want to do this holiday? What are the important pieces that they want to make sure are a part of their holiday season? And then taking the steps, obviously the best you can, to make that happen. So sometimes it's ahead of time learning to say no. Sometimes it's in those moments on your drive to wherever you're going, having conversations about the experience about how, I don't know, how nice it's going to be to see people, or also being able to recognize and talk as a family about when family get-togethers seem to be a little bit too amped up, or they seem to be a little bit too much emotion going on, having those conversations and recognizing it, and then together as a family, like you've said before about taking that step outside, say, I don't know, "We're going to go out... This could trigger a lot of people, but, "We're going to go out and have a snowball fight," if there's snow. Some people want it. Some people don't. But if in this part of the country, if you've got snow and things are going, "Let's go build a snowman," or, "Let's go do whatever." And you can kind of in those moments take advantage of what's there.
And it allows you to focus on the important pieces, for most people what's deemed to be the most important, which is to create a scenario where people do enjoy themselves and ultimately want to come back, want to do it again, look forward to it. And it doesn't mean that the entirety of it is just perfect, that there are no problems, but it's a matter of recognizing that it's fun, that there are going to be struggles, that there're going to be stressors. And all of that is a part of it. If you spend a lot of time trying to push all that stuff away, and oh my gosh, this happened, and now it's ruined, that's going to be equally as much of a problem as it is just trying to look for those moments that you enjoy.
Molly Shrodes:
Wonderful. Thank you so much for joining us today and sharing your insights.
Dr. Matthew Sacco:
Absolutely. I look forward to kind of hearing, even with the folks I work with, on how the holidays turn out. And it means different things to different people. So best of luck. I guess that's what I usually tell people, because as much as you plan and predict, anything can happen.
Molly Shrodes:
Absolutely. If you'd like to schedule an appointment with Cleveland Clinic Center for Behavioral Health, please visit clevelandclinic.org/behavioralhealth, or call 216-636-5860.
Outro:
Thank you for listening to Health Essentials, brought to you by Cleveland Clinic and Cleveland Clinic Children's. To make sure you never miss an episode, subscribe wherever you get your podcasts, or visit clevelandclinic.org/hepodcast. You can also follow us on Facebook, Twitter, and Instagram for the latest health tips, news, and information.
Health Essentials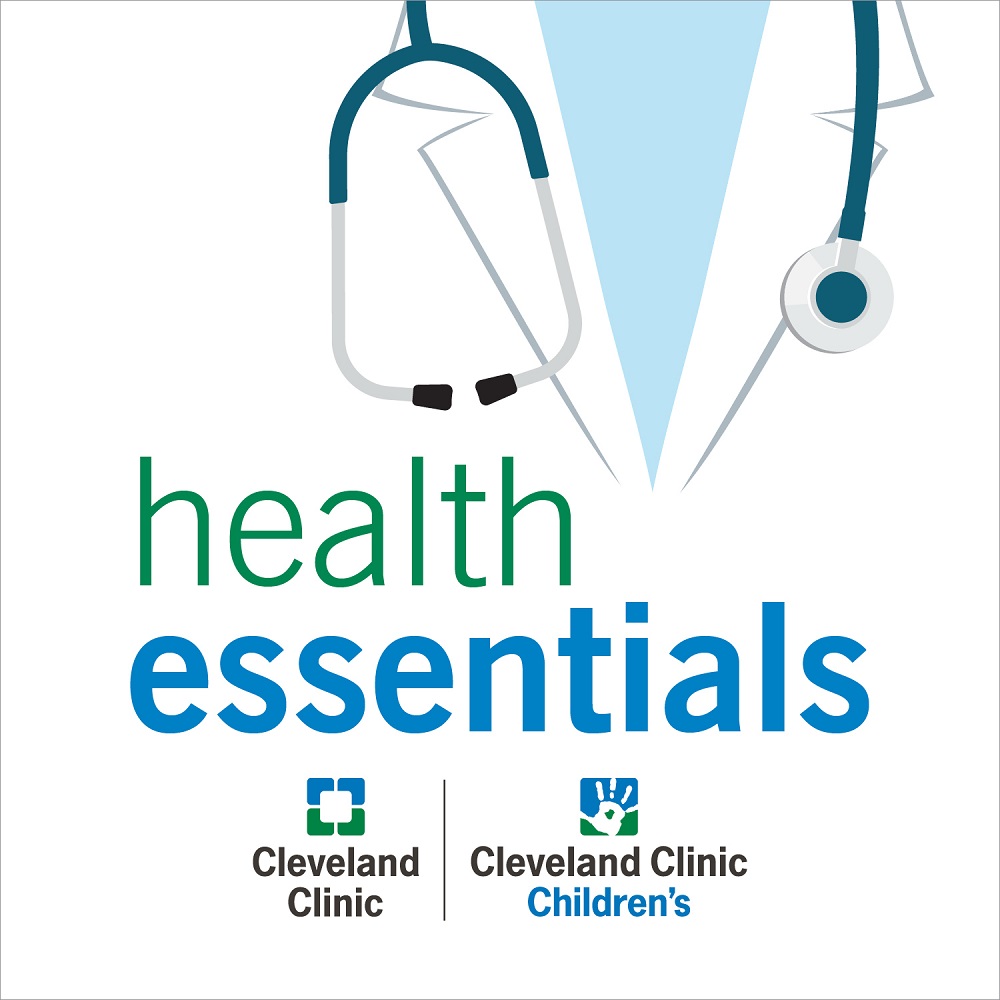 Tune in for practical health advice from Cleveland Clinic experts. What's really the healthiest diet for you? How can you safely recover after a heart attack? Can you boost your immune system?
Cleveland Clinic is a nonprofit, multispecialty academic medical center and is ranked as one of the nation's top hospitals by U.S. News & World Report. Our experts offer trusted advice on health, wellness and nutrition for the whole family.
Our podcasts are for informational purposes only and should not be relied upon as medical advice. They are not designed to replace a physician's medical assessment and medical judgment. Always consult first with your physician about anything related to your personal health.
Subscribe: