Sentinel Device in Transcatheter Aortic Valve Replacement (TAVR)
April 15, 2021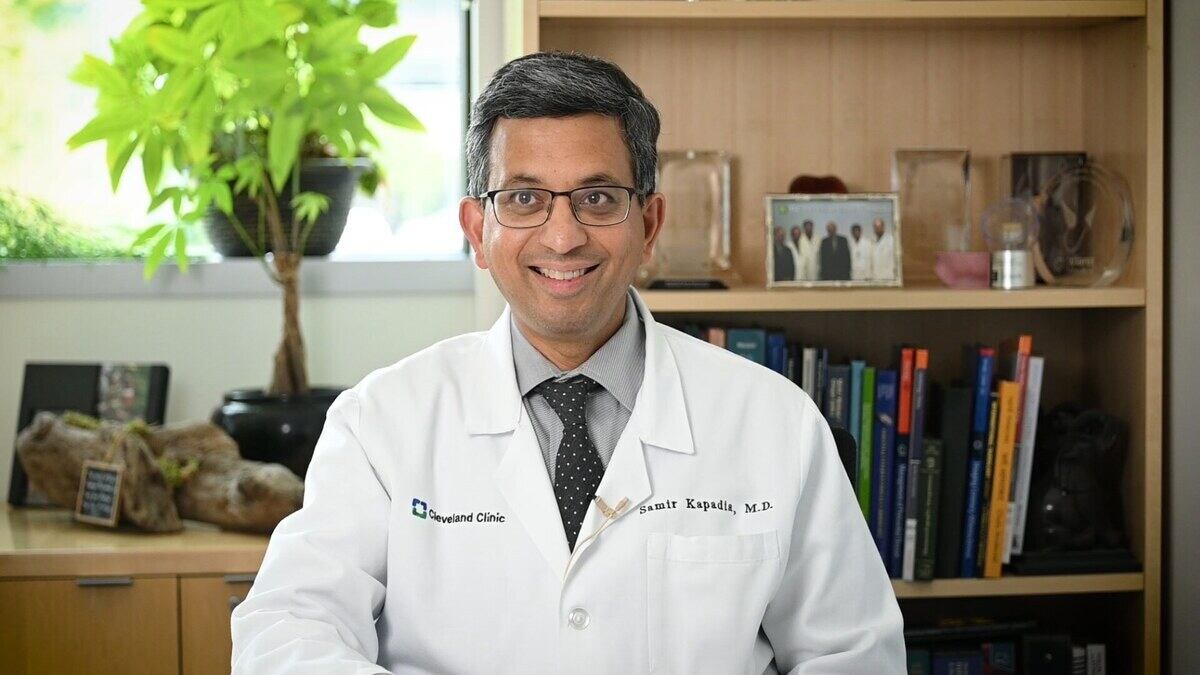 Transcatheter aortic valve replacement (TAVR) is a minimally invasive procedure used to insert a new aortic valve in patients with aortic stenosis. While risk is low, stroke remains an important risk for this procedure. Dr. Samir Kapadia, Chairman of Cardiovascular Medicine, explains the goal of the sentinel device during the TAVR procedure to lessen risk of stroke. A large multicenter randomized clinical trial is underway to determine the overall benefit of using this device during TAVR.
Subscribe: Apple Podcasts | Google Podcasts | Blubrry | SoundCloud | Stitcher | Spotify
Sentinel Device in Transcatheter Aortic Valve Replacement (TAVR)
Podcast Transcript
Announcer:
Welcome to Cleveland Clinic Cardiac Consult brought to you by the Sydell and Arnold Miller Family Heart, Vascular and Thoracic Institute at Cleveland Clinic.
Samir Kapadia, MD:
Hi everybody. I am Samir Kapadia, Chairman of Cardiology here at Cleveland Clinic, and very interested in transcatheter aortic valve replacement. As you know, TAVR is now available for all risk patients. And as a group, we are using TAVR after having heart team evaluation, where we decide TAVR or SAVR is a better choice. Stroke remains to be one of the most important complications of TAVR. Although it is less or equal to SAVR, it is still a problem, especially when we treat the patients who are young. And everybody that we see do not want stroke. Many people say that they would rather die than have a stroke.
Samir Kapadia, MD:
So how do we prevent stroke? And as you know, the Sentinel device is currently approved by FDA and is available in the United States. We have been using Sentinel device in Cleveland Clinic for last 4 years. And nowadays, we use it in more than 95% of patient population. The only time we do not use it is if we do not have good radial access or the anatomy of the arch or the arteries is such that the size of the filters or the tortuosity does not allow us to put the filter.
Samir Kapadia, MD:
It's very important to recognize that when we did the first pivotal trial, we did show that the Sentinel device is extremely safe. And in 99% of the filters, we collected debris. It was also important to note that the primary endpoint was reduction in the number of MRI-related brain infarction and the volume of this brain infarcts. The volume was less numerically, but statistically not significantly different from the controls. And there are many reasons for that. It is a small study, we could not image everybody because if they got a pacemaker or they did not want another repeat MRI, we could not do the MRI. And for these reasons, the primary endpoint was not met. When we did a meta analysis to compare similar studies, we did find that the total volume of stroke was reduced, total volume of brain infarction was reduced in the patients who had filters.
Samir Kapadia, MD
Now, since the device is approved, we are doing a randomized trial, and this is a trial called PROTECTED TAVR trial. This is a multicenter randomized trial, not only in the United States, but all over the world, we are going to enroll 3000 patients in this trial. And then we'll do the first analysis to see if the stroke is reduced or not. And if we have to enroll more patients, we'll enroll more patients. The reasons why we need such large trial is because now the stroke risk is reduced and it is in the 1.5 to 2% range rather than three to 4% range, which was when the initial devices of TAVR became available.
Samir Kapadia, MD:
The reason for reduced stroke risk is the fact that the devices are smaller, they are more maneuverable and they are not touching the arch as much as they did in the past and we are using less balloon dilatation. All of these things have improved the stroke risk, but the stroke remains to be one of the most important complications. Once people get stroke, about 30 to 40% of the people do not make it. So even the stroke is a fatal complication. And equally that meant that when numbers, two thirds of the patient do not go home, they go to a nursing home. So overall, the stroke has a very, very poor prognosis in terms of morbidity and mortality if it happens with stroke. Currently, although this is a randomized trial, there are several centers enrolling the patients fairly rapidly, and we are hoping to finish this trial in about a year's time where we'll have more data for the efficacy of the device, especially with prevention of stroke.
Samir Kapadia, MD:
In Cleveland Clinic, when we analyze our data, we do find that the stroke risk is reduced and the severity of the stroke, even if it happens, it is less. As you know, this filter covers both the carotid supply and the right vertebral artery, but not the left vertebral artery. So there is a partial protection. It is not a 100% protection, but it covers three-fourths of the circulation of the brain and maybe larger because the vertebral artery is obviously smaller than the carotid artery. With that in mind, I think we'll look forward to the results of the PROTECTED TAVR trial, which will be available, as I said, in about a year's time, I think.
Announcer:
Thank you for listening. We hope you enjoyed the podcast. We welcome your comments and feedback. Please contact us at heart@ccf.org. Like what you heard? Subscribe wherever you get your podcasts or listen at clevelandclinic.org/cardiacconsultpodcast.
Cardiac Consult
A Cleveland Clinic podcast exploring heart, vascular and thoracic topics of interest to healthcare providers: medical and surgical treatments, diagnostic testing, medical conditions, and research, technology and practice issues.
Subscribe: