Electrophysiology Research Review
June 16, 2022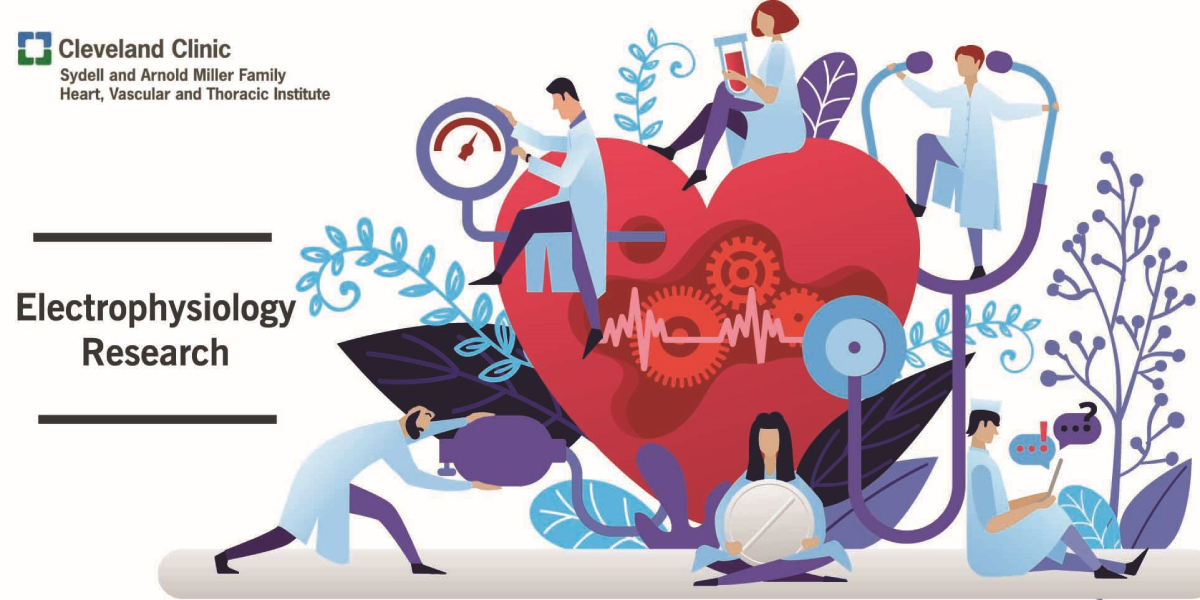 There have been many advancements in the field of electrophysiology. Dr. Oussama Wazni, Section Head, Cardiac Electrophysiology & Pacing Section, and Dr. Hiroshi Nakagawa discuss some of these evolutions and progress including new methods utilizing ablation index, ablation techniques, and developments in advanced high-definition mapping.
Fruit Protocol which is a left atrial box isolation procedure using different ablation index values and inter-lesion distances to increase the incidence of complete box isolation with first encirclement around the box line,
FrAP (Fractionated atrial potential). In this protocol, we identify and ablate the areas of AF drivers based on FrAP mapping (rapid and rotational activities during AF, which we developed the mapping system with Boston Scientific, Inc).
MAP study: Comparison of mapping accuracy between CARTO and Rhythmia mapping system to identify the location of re-connection in patients with prior pulmonary vein isolation procedures.
Learn more about the Cardiac Electrophysiology & Pacing Section at Cleveland Clinic.
Subscribe: Apple Podcasts | Google Podcasts | Blubrry | SoundCloud | Stitcher | Spotify
Electrophysiology Research Review
Podcast Transcript
Announcer:
Welcome to Cleveland Clinic Cardiac Consult, brought to you by the Sydell and Arnold Miller Family Heart, Vascular and Thoracic Institute at Cleveland Clinic.
Oussama Wazni, MD, MBA:
Good morning everyone, and welcome back to the electrophysiology podcast from the Cleveland Clinic. I'm Oussama Wazni, I'm the section head of electrophysiology here at the Clinic. Today it is my honor and pleasure to introduce you to Dr. Hiroshi Nakagawa who is joining me. Dr. Nakagawa is, I hope, known to all of you. He's a world-famous and world-renowned electrophysiologist. His work has had a seminal impact on what we do in the animal lab, and the human lab actually, starting from the animal lab, with mapping and also ablation. So Dr. Nakagawa joined us two years ago from the University of Oklahoma and he continues in that tradition. He has been a pioneer in ablation and mapping. Most catheters that you're using today have had some validation and some aspects of them were studied by Dr. Nakagawa. So welcome Dr. Nakagawa, welcome Hiroshi, good morning.
Hiroshi Nakagawa, MD, PhD:
Oh, thank you very much Dr. Wazni for the very kind introduction for me. As Dr. Wazni introduced me, I joined the Cleveland Clinic three years ago and I feel I'm very happy and very lucky to be a member of the Cleveland Clinic. And then I have been enjoying working with the many partners. It's a big team compared to the University of Oklahoma. It's a huge EP group clinically and also some of the research people as well. So I'm very happy now to be a member of here.
Oussama Wazni, MD, MBA:
Thank you, thank you Hiroshi. So let us dive in quickly. Again, this is something we're really very proud of and we're so excited to have you with us. Let's divide this into two groups or three groups. We will divide it into the clinical studies that you are working on right now, then we will talk a little bit about the preclinical work that you are doing. And also lastly, we will talk about future developments and some exciting things that you will be doing here at the Cleveland Clinic. So let's start with some of the clinical questions that you are trying to answer in clinical studies here at the Clinic.
Hiroshi Nakagawa, MD, PhD:
All right. Thank you very much Dr. Wazni. And let's talk about the studies, clinical studies, ongoing now. One important study – we call it the fruit protocol – essentially uses a radiofrequency ablation catheter as a 3D mapping system. And then as we know, I developed the ablation index to predict the lesion side, lesion depths at each ablation site. This is a project of working with the Biosense Webster, and that's already becoming the worldwide standard.
Hiroshi Nakagawa, MD, PhD:
During the application, how much power, what is the contact post, how many grams, and application time. How did we make a formula to predict the lesion depths, each ablation site, in real-time in the clinical setting? And using this, the index, and working with Dr. Wazni, and the other EP group, we initiate the fruit protocol. We performing box isolation. And then, for the superior segment or anterior segment, we expecting a thicker myocardium. So, therefore, using like a target ablation index value of around 600. Posterior wall expecting everything, or maybe, target value like a 380-400. And we connect those lesion ablation sites, by using this technique, the chance past end segment produces the box isolation, it's quite high. So this is actually, circumference is more than 20 centimeters. Now, that's indicating using this technique even more than a 20-centimeter-long linear lesion, we do not leave the conduction gap much.
Oussama Wazni, MD, MBA:
That's great.
Hiroshi Nakagawa, MD, PhD:
But yeah. And then, so this is ongoing in the project, but the-
Oussama Wazni, MD, MBA:
And we're hoping to get results probably early next year, correct?
Hiroshi Nakagawa, MD, PhD:
Yeah. Yeah. Actually including the follow-up data, but we hope we can present it this year at the Heart Rhythm Society meeting.
Oussama Wazni, MD, MBA:
That's perfect. That's great. So again, just to quickly recap, Dr. Nakagawa developed the ablation index, which is the standard now, in labs worldwide. And I have to say, it has simplified the way we do it. It's also made our fellows more reliable and actually has contributed to their training. Right? Because now, we have a target to achieve. And I have to report that, although I was skeptical in the beginning, the clinical outcomes, when I see them back in the OPD, are fantastic. Patients are doing very, very, very well. And now, this fruit protocol. So we called it fruit protocol because of the different colors, orange, apple, and grapes. So that's why it's called the fruit protocol, depending on what index is achieved. It will further simplify this. And if the findings are positive, and we have very minimal reconnection, then it really simplified the whole ablation process. So thank you for that.
Oussama Wazni, MD, MBA:
Now we know also another issue, Hiroshi, Dr. Nakagawa, is that this issue of reconnection and also recurrence of atrial fibrillation. And it's always, we go in and you're not sure, where to ablate, how to ablate, do you really need high definition mapping to figure out the reconnection site or not? Which system is better? Is something like RHYTHMIA from Boston Scientific better than, for example, than high definition mapping with Biosense Webster? So can you tell us more about that and is there anything going on to address that issue?
Hiroshi Nakagawa, MD, PhD:
Yes. Thank you very much, Oussama again. Again, the PV isolation, box isolation, is effective, especially in patients with paroxysmal atrial fibrillation. However, persistent if you have a longstanding AF patient, we need on top of the isolation box isolation. So then, I had a chance to work with, Oussama mentioned the, okay, RHYTHMIA team and also the Biosense Webster. Looking for the active AF driver, especially inpatient after the box isolation, PV isolation, some patient back with AF recurrence. In those patients, more likely the active AF driver is outside of the previous ablation site. And then in those cases, the mapping is important. Look for the AF drivers, active drivers. And then we develop the, we call FrAP map, looking for the activity, A for activity, and looking for the localized, the entrance circuit, like we call the aurora.
Hiroshi Nakagawa, MD, PhD:
And then, this study, we call FrAP map study. We initiated last year and then expecting a total of 150 cases. We've randomized the multicenter trial; we initiated a few months ago and then we are analyzing and getting data. And then, it's important really, because nowadays, a box isolation, it's reliable. We don't see much reconnection. Even reconnection conduction, it's very poor. And as well, the outside ablation site, it's in a source of an activated driver, outside of box isolation. And the likely also contributing as well.
Oussama Wazni, MD, MBA:
That's great.
Hiroshi Nakagawa, MD, PhD:
Yeah. We're looking for the whole site and there are still, we need to analyze, but so far data is quite encouraging and we identify a three major site right atrium and also the three, four, major site left atrium outside of the pulmonary vein.
Oussama Wazni, MD, MBA:
That's good. That's good. Thank you so much. So this is basically now more mapping for persistent atrial fibrillation to identify areas of possible drivers or rotors. Now also, there's the other one, the map study. The map study, and I think that was one that is a one-of-a-kind study. So could you tell us about it and why this one is also so unique? This is a unique study and I don't think anybody else has even tried to do such a concept.
Hiroshi Nakagawa, MD, PhD:
Yeah. This is also very unique study. Thank you very much Oussama. This is led by the doctor Ayman Hussein, and actually a patient underwent PV isolation. And then in those patients, some patient have some recurrence. And then we do redo procedure. Then we have the blindly analyze the data for the using a two mapping system, the Biosense Webster system, and the Rythmia Boston Scientific system. And then we check the old open wide veins, whereas the deep connection sites. And each patient we use two maps. And then we just compare blindly. And then, which is the more accurate. Of course, each mapping system has advantages and disadvantage. And we now, we prospectively randomize the comparison.
Oussama Wazni, MD, MBA:
Yes.
Hiroshi Nakagawa, MD, PhD:
This kind of study never done before. And then we collecting a very interesting data. And hopefully, we can present it one year later, but it's-
Oussama Wazni, MD, MBA:
It is a unique and exciting study in that, in each patient we're mapping them with both systems. The operator is actually blinded to the data, to the mapping data where you're going to ask "Well, how you do that?" We only see the scans, we don't see the activation. And then the patient is randomized to one or the other. And then the operator works based on the one, the unblinded one, the one that becomes unblinded based on randomization, so that's a very exciting concept. So now let's move on to the preclinical lab and the work that you're doing there with high-definition mapping and also ablation.
Hiroshi Nakagawa, MD, PhD:
Yes. The last 20 years, we have tremendous improvement in the mapping catheter, mapping computer, and the multiple industry is making a new systems. However, still we have a space further improve, especially mapping the complex arrhythmia, i.e. atrial fibrillation or even ventricular fibrillation. So therefore, we like to have the increasing, improving the mapping resolution and density. So therefore now, we are making deflectable multi electrode catheter, up to a hundred electrodes. The tiny electrodes just facing outward and reducing a far field component. And then we got some idea putting the non-contract reference electrode in the center with the small mapping catheter to identify the more local signal and reducing a far field component, improving accuracy. So we are testing this one for that using animal model, and we have three different catheters now. So hopefully, after we get the FDA approval, we can initiate the clinical trial as well, at the Cleveland Clinic.
Oussama Wazni, MD, MBA:
That is good. That's great. And then touch briefly, if you can, on your work on pulsed-field ablation.
Hiroshi Nakagawa, MD, PhD:
Okay.
Oussama Wazni, MD, MBA:
And where do you think we're going with this. Is it really as hyped? Is it fantastic? It's amazing? Or are there some things that we have to be cautious about?
Hiroshi Nakagawa, MD, PhD:
Well thank you Oussama again, yes, a pulsed-field ablation, we are talking about, especially last three years. And then yes, this is people say, this is a new energy source. Actually, historically speaking, this is actually all the energy source, the whole RF application, radiofrequency ablation, we have the direct current, DC ablation, like late eighties, early nineties, and it was effective. However, we have the adverse effect and we abandoned, because essentially the too much high energy producing Barotrauma, some complications. Then, we got the RF energy, and which changed to everything, radiofrequency energy, which is essentially the thermal energy producing a heating within myocardium. And then we destroying the malfunctioning tissue. But we know there's some limitations still, especially like a long linear lesion, durability issue. Then going back to the direct current ablation, but now the high duty cycle, very short microsecond energy application, no Barotrauma, and we have more control.
Hiroshi Nakagawa, MD, PhD:
So then it's not Thermal energy. It's a direct current energy application to the myocyte. That's changing the myocyte, the membrane primary ability produce a conduction block, or eventually necrosis. Then, including Cleveland Clinic, we initiate already clinical trial. And as Dr. Wazni knows very well. So we put in the, let's say, circular catheter or focal ablation catheter, let's say, out of the pulmonary vein ostium.
Hiroshi Nakagawa, MD, PhD:
Your data about the pulsed field energy, it's quickly you eliminate almost all the pulmonary vein potential. Well, wider area no potential. Essentially all potential is gone. Looks good, so therefore the acute isolation, like a procedure time would decrease significantly. However, lesion variability still, we got to figure that out. In other words, you're changing a membrane primary ability. So produce the conduction flow below the area, but doesn't mean it's durable lesion. Yes, centrally ablation, but some divide very wide for the device zone. So therefore now, I'm thinking they are even pulsed field ablation, we need an ablation index. And the contact is still important, because with energy, they project to myocyte. So it's exciting time to get a new energy source pulsed field, but still we need to figure out, what is the best application?
Oussama Wazni, MD, MBA:
Yes.
Hiroshi Nakagawa, MD, PhD:
And also, in a clinical speaking, what is a clear end point for the procedure?
Oussama Wazni, MD, MBA:
That's great. So these are the things that I encountered, we did the study. And what happens is that we lose the electrograms immediately. But obviously for those of us who have been involved in the studies, they know that it takes more than one application. So then we are required to apply even more around the same area. And that has to do with the fact that just what Dr. Nakagawa just mentioned here, is that losing the electrograms does not mean that you have a durable lesion. And that's why this is so exciting because we have to determine what is the endpoint acutely, and then see if that translates into clinical outcomes. Now, of course the clinical trials are ongoing. We will find out. I mean, I am still very hopeful and very excited about this because I think this is now the new way to go, but I think we can refine it and optimize it still more. And I think this will be dependent actually on Dr. Nakagawa's work.
Oussama Wazni, MD, MBA:
So that is great. So we covered now some clinical studies, we covered some preclinical work on mapping and ablation and clinical trials. Now how about what's next? What is it that is going to take us to the next level of understanding atrial fibrillation mechanisms? Because you see, I think what's been happening is we've been ablating, and we're getting good results, but the basic understanding of what is it that is going on in the atrium that allows AFib to persist and that allows the atrium to continue to remodel and support atrial fibrillation. We are really, we're not sure. So can you tell us a little bit about the work that you think that is needed or that you will be doing for us to understand this even better?
Hiroshi Nakagawa, MD, PhD:
Okay. Thank you very much. Oussama, this is a very important aspect we need to explore the next five, 10 years. The mechanism atrial fibrillation, still not very clear. Yes, the anatomical approach, PV isolation, linear lesion, or box isolation, yes, effective. However, some portion of patient has a, what can I say, especially for their persistent or longstanding persistent AF patient.
Hiroshi Nakagawa, MD, PhD:
So there, we got to figure out what's going on with the AF. Then, still we need the work with the research people, basic research people. And the last five years, I had a chance to work in the optical mapping Langendorff-Perfused Heart Model providing an ultra super high density high resolution mapping, like a special resolution, like a 0.1 millimeters. And even three by three centimeter area using a CCD camera, 262,000 points. I'm sorry, so they have too many. And the 0.1 millimeter, the special resolution, simultaneously recording right atrium, left atrium of the swine heart model. At the same time, we putting a hundred electro each chamber, left atrium, right atrium, with recording simultaneously. So therefore using optical mapping data as a gold standard, and we simultaneously recording catheter mapping. Then using optical mapping ultra super high dense data as a golden standard, we compare the catheter mapping. And they like to see how much we can see, where we cannot see by catheter mapping. And we explore how we improve the catheter mapping procedure for the clinical setting. So that's all... yeah.
Oussama Wazni, MD, MBA:
That is great work and it's going to improve our understanding of atrial fibrillation and also it'll improve our understanding of the limitations of what we do right now and how we can improve on that. So any final words or thoughts regarding your research over all these decades Hiroshi? And then I will end with a few comments.
Hiroshi Nakagawa, MD, PhD:
Yeah. Especially with talking about working with the clinical and preclinical in the last 20 years, atrial fibrillation or ventricular tachycardia. And then, still we have space we need to improve. And, but the next five years, it's very exciting the timing, because we're getting the pulsed field ablation, improving the high evolution, high density catheter, improvement mapping computer capability. I think next five years, I believe we have the tremendous improvement in next five years.
Oussama Wazni, MD, MBA:
Thank you. Thank you Hiroshi. So, and this for our colleagues who are in electrophysiology, or cardiology fellows who are interested in EP, it's exciting times at the Cleveland Clinic with all of the clinical work that we do, the clinical research, the preclinical work, and also our fantastic faculty and collaborators. I'll mention a few of them, Dr. Hussein, Dr. Sroubek, Dr. Taigen, Saliba, Kanj, myself, Dr. Wilkoff. So if any of this excites you and you like it, please contact us. We'll continue to grow both on the research side, and on the clinical side. And as you can see from what we just talked about, and also because of our very large clinical volume and fantastic outcomes that we track very carefully, things are growing and things are really very, very exciting.
Oussama Wazni, MD, MBA:
So finally, I want to thank Hiroshi Nakagawa. I think you're a pioneer in electrophysiology, whether it was with from the beginning, pathways and WPW and concealed pathways, or AVNRT, and then later ventricular tachycardia and atrial fibrillation, to the upcoming and new research and exciting research. So we want to thank you really for your legacy and for your vision and leadership in electrophysiology. And with that, I will thank you all for your attention. I'm on Twitter @OMWazni, and also by email, you can reach me anytime. And once more, thank you Hiroshi and thank you to our listeners for your attention. Thank you.
Hiroshi Nakagawa, MD, PhD:
Thank you.
Announcer:
Thank you for listening. We hope you enjoyed the podcast. We welcome your comments and feedback. Please contact us at [email protected]. Like what you heard? Subscribe wherever you get your podcasts or listen at clevelandclinic.org/cardiacconsultpodcast.
Cardiac Consult
A Cleveland Clinic podcast exploring heart, vascular and thoracic topics of interest to healthcare providers: medical and surgical treatments, diagnostic testing, medical conditions, and research, technology and practice issues.
Subscribe: