A New Way to Care for Patients with Pericardial Disease
December 30, 2021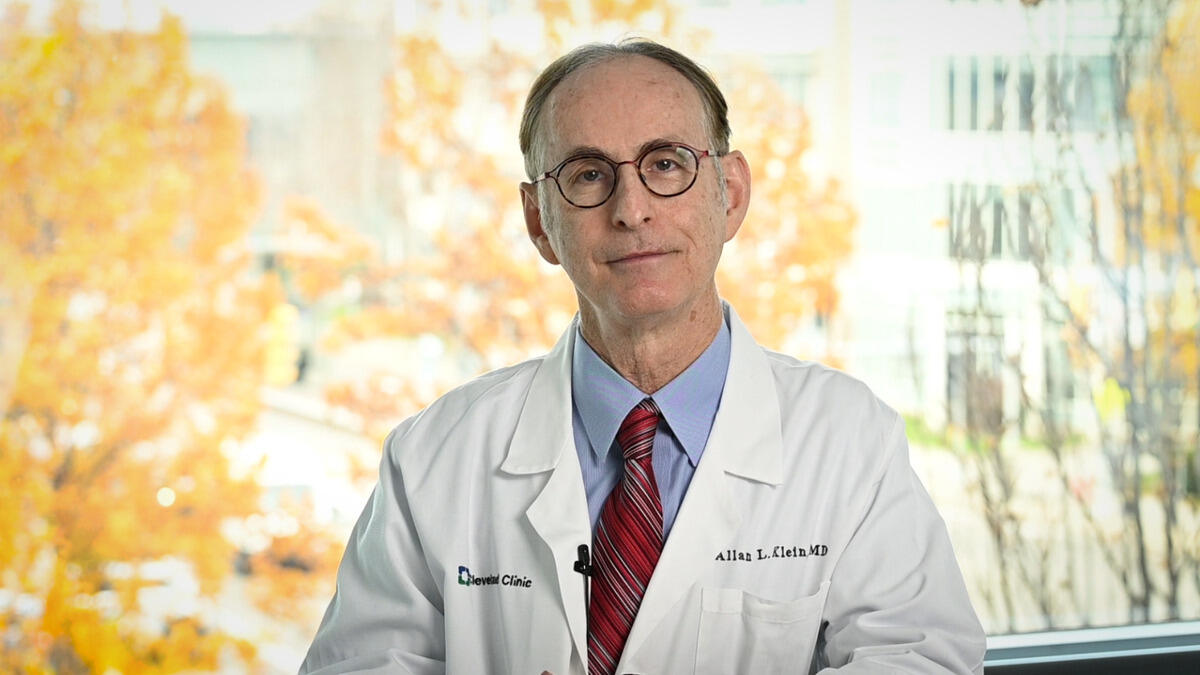 A New Way to Care for Patients with Pericardial Disease
Podcast Transcript
Announcer:
Welcome to Cleveland Clinic Cardiac Consult, brought to you by the Sydell and Arnold Miller Family Heart, Vascular and Thoracic Institute at Cleveland Clinic.
Allan Klein, MD:
My name is Dr. Allan Klein. I'm the Director of the Center for the Diagnosis and Treatment of Pericardial Diseases here at the Cleveland Clinic, and it's very exciting to talk to you about pericarditis. And I think this area is very, very exciting because we're at the crossroads of advances in imaging to diagnose pericarditis, and also now we have therapeutics such as the interleukin blockers anakinra and rilonacept to treat this. What do we have here at Cleveland Clinic? We have a center of excellence for pericardial disease, which basically is a multidisciplinary center where a patient with what we call complicated pericarditis can come here for one to two days and see the expert pericardial specialist, get a diagnosis, see other subspecialties such as rheumatology, collect blood samples for analysis for genetics, see a surgeon, if a surgical option is available, have a heart catheterization. So basically it's one stop shopping. And within one to two days, the patients will come back and get their diagnosis and the proper therapy.
Allan Klein, MD:
So I should mention that it's a very exciting area because now we've come a long way from sort of an old diagnosis where you looked at EKG changes or just clinical spectrum of pericarditis to what we call complicated pericarditis. What complicated pericarditis means is that after the acute episode, which most of the time resolves, can be complicated. Complicated, meaning that you have recurrent pericarditis in roughly a third of the patients, and around 6% of the patients can have multiple recurrences. And there are a few percent that get what you call constricted pericarditis, so-called transient constricted pericarditis, which is an inflammation. And a couple percent can end up with advanced constrictive pericarditis. In terms of pericarditis, we think that there's like a spectrum of disease.
Allan Klein, MD:
We use MRI in particular to sort of prognosticate. An MRI here at Cleveland Clinic has a very pericarditis specific protocol, including late gadolinium enhancement. We use fat suppression to differentiate that from epicardial fat, and that baseline MRI can tell us, first of all, do you have the diagnosis? I should mention, 20% of the people here don't even have pericarditis that's referred here. But if you do have it, and it looks very, very bright, meaning that the gadolinium gets into the pericardial space and it's very, very intense, very, very thick, as well as if you have edema, swelling around the heart, that will predict maybe up to three to five years of active therapy before clinical remission. So that's a very, very powerful task in terms of the management.
Allan Klein, MD:
There's a lot of exciting research going on with pericarditis. As I mentioned, we now have targeted therapy with interleukin-1 blockers. There's two types of IL-1 blockers. One drug would be anakinra, a very short-acting type drug, which is recombinant interleukin blocker. And then we also have rilonacept, which is an IL-1 alpha and beta trap. And this blocks the interleukin, much more targeted therapy than the standard therapy. As you know, we've we were involved with the RHAPSODY trial, which was published last year in The New England Journal of Medicine, and presented as a late breaking trial at the American Heart Association meeting. And our data from RHAPSODY showed that rilonacept is very, very powerful in treating the acute episodes of recurrent pericarditis, dramatically improving the CRP, C-reactive protein, and also decreasing the chest vein, and also strikingly, lower dramatically the number of recurrences compared to placebo. There was a 95, excuse me, 96 percent risk reduction with rilonacept compared to placebo. Very, very powerful drug. This led to the FDA approval of the drug in March of 2021. And now it's available for clinicians and patients to use.
Allan Klein, MD:
In terms of our management of pericarditis, we use the European Society of Cardiology guidelines. So this is a stepwise approach where acute or recurrent pericarditis is treated first line with NSAIDs, including ibuprofen, or Naproxen or aspirin, plus colchicine. Then if patients fail that, we move on to a low-dose prednisone. And the problem with prednisone is that if you introduce prednisone and you take away too quick, this will cause a recurrence. So if you're giving prednisone, it's a very, very slow taper. And often patients are on what you call triple therapy. That is NSAID plus colchicine plus prednisone. Now, I should mention that what patients don't like to hear is that they want exercise, but exercise and the heart are generally good, but it's very bad for inflamed pericarditis. So we tell patients to restrict their activity. And almost like to walk the dog, to get a heart rate less than a hundred beats per minute. But unfortunately the exercise could aggravate the pericarditis.
Allan Klein, MD:
Now, if you fail the first line and second line, then you go onto the biologics such as anakinra, rilonacept, drugs like inuran or methotrexate, or IVIG, and then the fourth line would be pericardiectomy. So from the data from RHAPSODY, which showed that rilonacept is very powerful, allowing patients to wean off prednisone and colchicine if they're resistant to that, now you have a new drug that perhaps could treat those conditions if you're colchicine-resistant, steroid-dependent. But also perhaps you could come in even earlier after first-line therapy to avoid the prednisone, so so-called second-line therapy. And this would have to be shown in clinical trials.
Allan Klein, MD:
There's a lot of ongoing research in pericarditis, as I mentioned, that there's a explosion of interest. There's an explosion of publications in European Heart Journal, JAMA, Journal of American Heart Association type publication, and JACC on this area. The major interest now is these biologics. For how long do patients have to be treated with this, and when can you stop it? Do you wean it or do you just stop it cold turkey? We're very interested in the genetic basis for pericarditis, and we have ongoing studies on genetics. We're very interested in the effective exercise in pericarditis. As I mentioned, exercise could aggravate things, but we have to do a... we're planning a randomized trial with actually the digital Apple Watch to see if we can record the heart rate and the number of steps to see if this aggravates pericarditis.
Allan Klein, MD:
We're very interested in the post cardiac injury. So if you have a cardiology procedure, whether electrophysiologic procedure and ablation, or a pacemaker or even cardiac surgery, what is the role of those surgeries in causing pericarditis? Very briefly, I'd like to mention about COVID. COVID-19, as you know, can affect the lungs and as well as the heart. And probably between four and 10%, cause some myocardial and pericardial damage. Often we see patients that have COVID that have chest pain, but we don't find too much. So it's pretty rare to get the myocarditis from the COVID virus. In addition, recently, you've heard a lot about the COVID-19 mRNA vaccine, such as from Pfizer and Moderna. And a certain type of patient could get a complication from the vaccine. It's pretty rare. It's roughly two in a hundred thousand vaccinations. And basically, it's really affecting young people, young males around 19 or 20 years of age, actually with a lot of testosterone. And that seems to be some role in these type conditions. It's usually self-limited. Usually self-limiting, goes away with the standard of therapy.
Allan Klein, MD:
So in summary, I think this is a very exciting time for the treatment of pericarditis. Now we have advanced imaging techniques, including echo and MRI to diagnose it. And now we have advanced therapeutics, targeted therapy with the IL-1 blockers to treat it. And we're definitely on top of pericarditis. Thank you very much for your attention.
Announcer:
Thank you for listening. We hope you enjoyed the podcast. We welcome your comment and feedback. Please contact us at heart@ccf.org. Like what you heard? Subscribe wherever you get your podcasts, or listen at clevelandclinic.org/cardiacconsultpodcast.
Cardiac Consult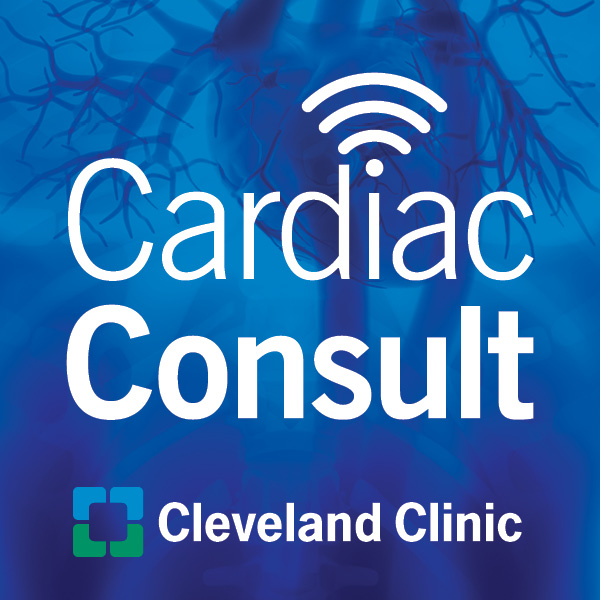 A Cleveland Clinic podcast exploring heart, vascular and thoracic topics of interest to healthcare providers: medical and surgical treatments, diagnostic testing, medical conditions, and research, technology and practice issues.
Subscribe: