An Innovative, Organ Sparing Approach to Rectal Cancer
September 28, 2021
An Innovative, Organ Sparing Approach to Rectal Cancer
Podcast Transcript
Dr. Scott Steele: Butts & Guts. A Cleveland Clinic podcast exploring your digestive and surgical health from end to end.
Hi everybody, and welcome to another episode of Butts & Guts. I'm your host, Scott Steele, the Chair of Colorectal Surgery here at the Cleveland Clinic in beautiful Cleveland, Ohio. And I'm very, very pleased to have a third-time guest on Butts & Guts. Dr. Emre Gorgun, who is our Section Head of Colorectal Cancer in our Department of Colorectal Surgery here at the Cleveland Clinic. He's also our Krause-Lieberman Chair in Minimally Invasive Surgery, and actually, Emre also wears multiple hats, one of which, he is the Director of our Endoluminal Surgery Center. Emre, welcome back to Butts & Guts.
Dr. Emre Gorgun: Thank you very much, Scott. It's an honor to be with you. I enjoy every time I get connected with Butts & Guts. Thank you very much.
Dr. Scott Steele: So, I know I really want a lot of our listeners to go back and listen to the back episodes, but I know not everybody does that. So, for those who don't know your background, can you tell us a little bit about your background, and how did it come to the point that you're here at the Cleveland Clinic?
Dr. Emre Gorgun: Sure. Happy to share that with you. Thank you for asking. I went to medical school overseas, in Turkey, Istanbul. I did complete my full surgical training back there as well, then came to the United States for further doing research, since research in medicine is so well advanced in this country, and ended up falling in love with medicine, as well as my wife, of course. And I repeated my residency in this country again, and get board certified in both colorectal surgery, as well as general surgery, and have been on faculty here for now more than 10 years.
Dr. Scott Steele: And there's no question that we are a better department because of that. And so, we're going to talk a little bit about rectal cancer. And so, I know I tell my patients we're one long garden hose from our mouths to our bottoms, but can you kind of talk about a little bit on a 50,000-foot view? What is the difference between rectal cancer and colon cancer?
Dr. Emre Gorgun: Sure. Yeah, that's a great analogy. Garden hose from mouth to anus, and the last portion where it ends, of that garden hose that goes to the toilet bowl is, if you will, the rectum or last portion of our intestinal track, that's about five inches long, if you will. Of course, from person to person that may differ, but more upstream, more than five inches above the anus, gets you into the colon. And that colon, we can say about five, six feet long. So, anywhere in that area upstream to the five inches from the anus, is really the colon that we refer as.
And as you know, the garden hose upstream to colon is our small bowel. So, we really, as colorectal surgeons, are in charge of treating diseases of the segment mainly downstream from small bowel that connects into the colon. And we see a lot of diseases, not only cancer, ulcerative colitis, inflammatory bowel disease. But of course, I think we'll be talking more on the rectal and cancer for the purpose of this podcast.
Dr. Scott Steele: Yeah. So again, so now we're going to focus for our listeners on the rectal cancer aspect. So, in general, how is rectal cancer typically diagnosed and just for our home viewers out there, what type of symptoms, understanding that many of the symptoms may be just completely benign and not to do with cancer, but what type of symptoms should they be on the watch out for?
Dr. Emre Gorgun: Yeah. Changing in the bowel habits, I think, is something that everyone should watch out for. When we say changing in the bowel habits, it's such a cliché word, but what does that really mean for listeners is I think very important. And what that means is you have, rather than more formed stools or banana-size stools, more formed, we call it, formed stools, you get a little bit more mushy maybe, or more ribbon-like, more string-like changes in your stool forms, or the shape, or additionally, maybe you may be seeing some streak of blood, or some blood drop dripping after you have a bowel movement. And so, these things are indicative of changing in bowel habits.
Or difficulty. Maybe you need to push more. Like you said, Scott, a lot of these can be related to different things, maybe hemorrhoids or fissures, or some wounds in the anal canal. But still, of course, we need to be, until proven otherwise, we need to figure it out what it is. So, it's important because we don't want to miss, of course, cancer, so we need to be on the lookout for these type of symptoms.
Other things are, in addition to changing in bowel habits, are bleeding, which we talked about that a little bit as well. Bleeding is important.
Additionally, weight loss, in a certain amount of time, unintentional weight loss. Those are the probably three main things that I would count from the top of my head.
Dr. Scott Steele: So, when patients have that, and they are willing to get examined or going to have a workup for potentially rectal cancer, can you walk through? What does that involve?
Dr. Emre Gorgun: When they come in to us with those symptoms, depending on their age, of course, first things first, colonoscopy, which means looking directly to it. What is this? How does it look inside? Is there anything inside of the intestine that is blinking to us in a nasty fashion? So, that's what we need to figure out.
But, of course, sometimes patients do not come with the symptoms, rather with screening colonoscopy. And I think that should be also an important emphasis on healthcare providers that we need to emphasize. It's important, just don't miss your screening colonoscopies. Because before even these type of rectal cancer we're talking about, for example, before they become symptomatic, patients can be... Or rectal cancer can be diagnosed with screening colonoscopies.
And recently, actually the U.S. Task Force published a recommendation to even lower the age of screening colonoscopy down to 45 years of age, which is really important that, with this way, we will probably diagnose earlier some of the cancers, especially in the younger population.
And as we all know, more recently we started to see more patients at a younger age, in which we are privileged to have young-onset colorectal cancer within our group and center, within our group under your leadership and Dr. Liska's leadership, which is important. But the screening colonoscopies and other methods, that's where these patients are discovered.
But back to your questions. When they come in with symptoms or with screening colonoscopy, when they are found, of course we need to find their stage, proper staging. And that's starts with a MRI for further imaging, x-rays, and the modern x-ray specifically for rectal cancer in this day and age is MRI, and with a special protocol MRI.
Unfortunately, nationwide, we do see a lot of mis-staging, or not properly performed imaging. And the patients sometimes are treated without even having an MRI. So, we are really making an emphasis, and proud to make sure that we do stage our patients properly and treat them properly. So, the first step is getting these MRIs and making a proper decision how we can treat our patients.
Dr. Scott Steele: So, when a patient has been diagnosed, what has been the traditional or standard approach to treat rectal cancer? And then, if you will, take us through how maybe some of the novel, innovative approaches, of an organ-sparing approach. What does that mean?
Dr. Emre Gorgun: Sure. Yeah. Traditionally, when patients are diagnosed with rectal cancer, they have been treated in the past, actually, by just cutting the... If you go back to 50, 60 years, of course, cutting the rectum off, removing the rectum, and giving them a permanent bag. Because it's the last portion of the garden hose. We didn't have modern techniques to put things back together as surgeons.
More recently, that changed. When I say more recently, maybe 20, 30, 40 years, we started to treat these patients with upfront radiation treatment, then operated on them. And after surgery, possibly put them back together, reconnected their intestinal system, intestinal continuity, and then gave them chemotherapy.
But really more and more recently, meaning really last five years, if not in the last year or so, we started to do actually, rather than doing that chemotherapy after surgery, we skipped that, swapped that order, and now we're giving chemo radiation or radiation first, then chemotherapy for four months or so, and then operating on our patients.
So, with that, we have seen significant improvement in patient care, in the ability to put them back together, even maybe also even complete responses, meaning some of these patients may not, even after this aggressive combined treatments, medical and oncological treatments, may not even need surgery.
And that allows us to preserve organs. When we say organ, of course for the purpose of rectal cancer, we mean rectum and the bottom portion of the garden hose, which is important. So, that way we can preserve rectum, or we can preserve anal canal. We can preserve sphincters, control muscles. That's a major improvement in health, in quality of life for our patients.
Dr. Scott Steele: Now you're talking about the opportunity to not have surgery at all, don't have a permanent bag, or don't have what we call a connection between the colon and the anus. So, is that a large percentage of patients that would get this? And how do you make that determination whether patients can have an organ-sparing approach for rectal cancer or not?
Dr. Emre Gorgun: Compared to before? I think it is a large portion. It depends on how you look at it. If you look at glass full or glass half, of course that's completely a philosophy approach. But certainly more higher numbers than what we used to have in the past, in terms of when we did give the chemotherapy after surgery.
When we just treated them with radiation, our complete response rates were much lower, maybe in low teens. Now, we can see up to even 30, 40% complete responses, which is dramatic improvement in terms of complete response, meaning just with medical treatment, without even doing any surgery to these patients, to our patients. That the responses and the chance that tumor completely disappearing is up to 40%, which is, I think, a high improvement.
And this is where we are at right now. But with more advancements, maybe even treating really earlier-stage tumors, these numbers may even go up higher than maybe 50%, 55%. So, there's a lot to be accomplished, and I'm extremely excited as the section head, as you mentioned before, to move the needle in this area.
Dr. Scott Steele: Yeah. And for our listeners out there, Dr. Gorgun is definitely one of the thought leaders in this area, as well as the thought leader in some of the advanced endoluminal surgery, of which I encourage all of you to go back and listen to some of the back podcasts on that.
So, let's talk a little bit about, how has this organ-sparing approach helped out, in terms of the patient's quality of life? Is it something that they're worried about? That they've got to get more tests afterwards? I mean, are they followed? Is there a chance that if they undergo a non-operative therapy approach, are they cured? Do they have to be surveyed? Do they ever need surgery? Talk to us a little bit about that.
Dr. Emre Gorgun: Thank you for the opportunity to talk about this. I would like one answer, how does that affect their quality of life? I would say day and night. The difference is that much. It is a dramatic change. Some patients may require a permanent bag without this type of approach, versus now they can really keep their rectum. They can avoid totally major operation. And depending on their risk factors for having a surgery, completely avoiding a major surgery is huge.
So, there are significant quality of life changes with this type of approach. Yes, nothing comes free. There is no free lunch. But at the end, they need to follow up closely. And until we know more about this type of approach, of course, we feel safer to monitor our patients very closely after this type of neoadjuvant, or TNT, total neoadjuvant therapy, non-operative management, or organ-preserving approach.
And we monitor our patients closely at least for the first two years, every three months, with flexible sigmoidoscopy. So, meaning taking a direct look at where the tumor was, and trying to watch that area like a hawk, that nothing tries to grow back up.
But in our center also, we are using our abilities and skills from what we learned from endoluminal surgery. Even if you see something like a small lining change in the rectum, something trying to grow back up, or anything like that, we can use these still endoluminal approaches, and try to shave these new tissues off, and see if there's something really real, or it's a false alarm, if you will.
So, there's a lot to accomplish in this area. And as every day goes by, you learn something new. But don't get me wrong. We are not obviously experimenting things. But that's, again, to move the needle to a higher level. So, the patients, yes, they follow up closely with us. They do get scans every six months, CT abdomen, pelvis, chest CAT scans, to make sure that we don't miss anything. Having said that, even if they don't, even if they have surgery, and even if they have permanent bags, if they are in any other places, or outside, these patients would still require close surveillance. They would still require CAT scans on a regular basis.
Dr. Scott Steele: Yeah. So, I think the take home message there is, there is a little bit of some more frequent screening. And again, not all patients with rectal cancer can be treated with this novel approach. But it's a really individualized treatment plan that we use our multidisciplinary team in order to select those patients, then how we'll follow them afterwards.
So, Dr. Gorgun, as we finish up here, what's on the horizon as far as additional research into this novel approach? Is there any other things? Are you doing this with colon cancer? Is there anything that is happening novel in this aspect?
Dr. Emre Gorgun: In terms of some of the things, advancement and changes and what future will bring us, we talked about that a little bit. But more, too, of course. Even if there is no complete response, for example, after this type of neoadjuvant treatment organ-sparing approach, even if there is some shrinkage, and I'm optimistic and hopeful that we can still be a little bit more facile in terms of preserving the sphincter muscles, saving the muscles and anuses for our patients.
So, if there is no involvement of the control muscles, even though if the tumor was large at the beginning, but with this type of approach, if we can shrink it to a certain level, we could potentially save their rectums or anuses. Not rectums, but anuses, the control muscles. We could still develop that type of approach.
Of course, everything that we do here, I just need to emphasize, that needs to be oncologically sound and safe. So, that's number one priority for us. But, that is where we can take this to the next level in terms of preserving the control muscles.
In the colon, certainly for locally advanced tumors, upfront chemotherapy also is something that we started to talk more and more extensively, recently. That's another area of development. And also, to research and see what these patients do with this non-operative management.
How is their functional outcomes? How happy are they? If you think about that, it's not only intestinal functions, but also, for example, sexual functions, bladder functions, all that is affected if someone has a surgery. So, these areas are still to be explored and studied.
Dr. Scott Steele: So, as all of our listeners know, we typically wind up with some quick hitters. Since you're a three-time guest, I've got a couple of different questions for you this time, and in order to get to know you a little bit better. So, what's your favorite color?
Dr. Emre Gorgun: It's blue.
Dr. Scott Steele: If you had to choose something salt or something sweet, which one would you go with?
Dr. Emre Gorgun: Salt.
Dr. Scott Steele: How about your favorite, or one of your favorite, movies that come to mind?
Dr. Emre Gorgun: Drift.
Dr. Scott Steele: And then finally, what was your first car that you ever had?
Dr. Emre Gorgun: It was a European car. Probably most listeners might not know, but Opel. Opel Vectra.
Dr. Scott Steele: Yeah. We had a Buick Opel, I think. My brother had that car. So, that's fantastic. So, Dr. Gorgun, give us a final take-home message for our listeners regarding this novel approach to organ-sparing for rectal cancer.
Dr. Emre Gorgun: Read, read, read. Research, research, research. And always seek for a second opinion. Don't take everything as granted. There's always an alternative to your problem, and we are here to help with any questions you have. Organ preservation is my last word.
Dr. Scott Steele: That's fantastic. So, download a free treatment guide with information on colon or rectal cancer prevention and treatment. Please visit clevelandclinic.org/coloncancerguide. That's clevelandclinic.org/coloncancerguide. You can also call Cleveland Clinics Cancer Answer Line at 866.223.8100. That's 866.223.8100.
And remember, it's now recommended that everyone ages 45 and older receive a colonoscopy. So, take control of your health, and get screened if you're in that age range. And finally, remember in times like these, it's important for you and your family to continue to receive medical care. And be rest assured, here at the Cleveland Clinic, we're taking all necessary precautions to sterilize our facilities and protect our patients and caregivers.
Dr. Gorgun, thanks so much for joining us again on Butts & Guts.
Dr. Emre Gorgun: Thank you very much, Scott. Always a pleasure.
Dr. Scott Steele: That wraps things up here at Cleveland Clinic. Until next time, thanks for listening to Butts & Guts.
Butts & Guts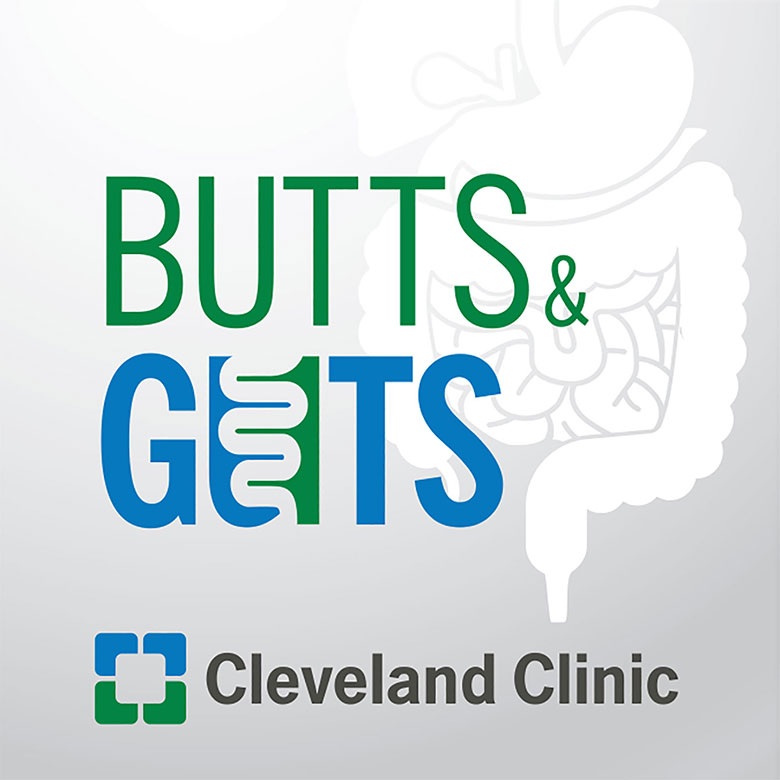 A Cleveland Clinic podcast exploring your digestive and surgical health from end to end. You'll learn how to have the best digestive health possible from your gall bladder to your liver and more from our host, Colorectal Surgery Chairman Scott Steele, MD.
Subscribe: