Make it Personal - Lead through Shared Values
May 2, 2022
Make it Personal - Lead through Shared Values
Podcast Transcript
Brian Bolwell, MD: Beyond Leadership, a Cleveland Clinic podcast at the intersection of leadership and everything else. In this podcast, we will co-mingle with extraordinary thinkers and explore the impact of their ideas and experiences on leadership and management.
In today's episode of Beyond Leadership, we're discussing medical education and leadership, because we've got a great guest and that's Dr. Jamie Stoller, who's the chairman of the Education Institute of the Cleveland Clinic. I'm Dr. Brian Bolwell director of the physician and leadership development program here at the organization. And Jamie, welcome.
James Stoller, MD: Thank you, Brian. I'm delighted to be here.
Brian Bolwell, MD: Jamie, you've had a long interest in leadership and leadership development. When did that start for you?
James Stoller, MD: Well, it's sort of an accidental serendipitous thing. So, I've been now at the clinic for 35 years and came here like you, to be an academic doc. I'm a lung doctor. You're an oncologist. We both came at the same time. I remember early on, and with the same aspirations of contributing to new knowledge. Somewhere along the way, about 15 years into my career here, I got very interested in organizational development for complicated reasons. The interface between the person and the organization and how careers evolve. So, that set me on a journey to study it. I realized that I'm sort of a structured learner, so I needed a structured environment. So, I signed up to participate in a graduate program, a master's degree in organizational development. Really not at the time, having been able to tell you what organizational development was to be quite honest, but I found my curiosity satisfied and, in fact, quite peaked by it.
And that set me on a pathway that created some opportunities for me to develop curriculum on leadership and teach leadership. Then ultimately realized that I'd studied it. Now I had sort of the appetite to see if I was any good at it. That's what prompted me to put my hat in the ring for the position that I'm very thankful to now hold, as you said, chairman of the Education Institute, which opened when my predecessor Andy Fishleder, I was invited to serve in Abu Dhabi. So, that was the occasion. You remember it well. You were the chairman of the search committee, as I recall.
Brian Bolwell, MD: That's true.
James Stoller, MD: So, our paths crossed multiple ways in our careers, Brian. Yeah.
Brian Bolwell, MD: So, let's talk about that. So how long have you been in this position? It's been, what, about 15 years or so?
James Stoller, MD: Not quite, about 12. Yeah, about 12 years.
Brian Bolwell, MD: We had some wonderful candidates. Why did you toss your head into the ring, and what about the opportunity intrigued you?
James Stoller, MD: Well, as I said, at that point I had graduated from this graduate program, and I had studied leadership. Then I sort of reasoned to myself, never having really thought of myself in a leadership role, what Victor Dzau called an accidental leader, I think. I'd been studying it and I didn't want to go to my grave without an empiric trial, finding out whether I was any good at it. School's still out on that, of course, and others will judge that, not me, but I wanted to try my hand at it. So, that's what prompted my interest in putting my hat in the ring. In terms of education versus other leadership roles, I've been invited to consider chairmanships of pulmonary critical care medicine, I'm sure like you have and others have.
Quite honestly, I really was never interested in those things. The operational dimensions, I'm delighted that people are keenly interested in that, and I'm keen to manage my own practice, but that was not the source of my passion. I reflected on what it was that really gave me energy. I reflected on the fact that I had been interested in education organically through my whole career. This went back to 34 years ago when David Longworth and I started the internal medicine board review course that you'd participated in over the years as well, and many others. That sort of provided insight that my real energy came from teaching and developing programs that were in service of others' development, which is essentially education.
So, when this position became available, it was sort of a convergence of interest, my interest in trying my hand at leadership and then the convergence with education. So, I consider my myself incredibly lucky for that serendipitous alignment and the opportunity I've had. Yeah.
Brian Bolwell, MD: So, let's talk about a couple things that you just mentioned. So, one of the things is you co-chaired the internal medicine board review course, and boy, that started about 30 years ago, I think. The reason why bringing it up is that it was the way you taught it was novel. You had an awareness many years ago of the importance of audience participation and an interactive environment. So, we did that and all of those of us who participated as speakers, part of our job was to create questions and to interface with our audience. How did you come up with that? Because it was a very innovative idea at the time.
James Stoller, MD: Well, it was, and this was really conversations that David Longworth, our colleague, and I had. David's now at the Lahey as you know, and a very creative thinker and sort of, it was a perfect example of the synergy of teams. Both of us had a deep interest in medicine and in medical education. At that time, you pointed out these audience response systems were really brand new. I remember the early one that we got, it's sort of like the way people talk about calculators in the old days. These were things about the size of a tissue box. Now of course they're done virtually and polling on your cell phone, but at the time that was the nature of the technology. We used course proceeds to buy an early system.
Then of course designed everything around it on the idea that this was a creative and interactive approach. We as doctors, we know intuitively that we learn in a case-based approach. So how does one develop case-based thinking in a large lecture format? Early on, there were 600 people in the audience. The question is, how do you really do that in an intimate way? So, the idea emerged of posing questions and cases that would guide the listener through these with multiple choices and then having the speaker respond to the audience's knowledge base with histogram distributions of the percent correct, as you all remember, and that created the paradigm for teaching, which again, faculty like you indulge us, because you didn't have a canned talk that was built that way. Everyone had to build a talk around that pedagogic style.
We went on to study that actually, and publish, although modestly publish on that, and at least demonstrated in that forum that that was the preferred approach. I often ascribe the longevity of this course. This is now directed by colleagues, by Adarsh Bhimraj, Ren Ashton, and Andrei Brateanu. But I attribute the longevity of the course to its continued evolution of innovation and novelty in a pedagogic sense. They now do the interactivity in a virtual format if you can imagine that. So, it's really evolved over time, but that was the original nidus of the idea.
Brian Bolwell, MD: Well, it was really cool because I remember how engaged the audience was and just how different the whole thing was. It was also kind of fun. Anyway, congratulations to you.
The other thing I wanted to mention was I remember that search committee, and I remember your presentation, which was outstanding. And what I remember most was your passion about the opportunity and your passion about education. It's interesting because you can detect different levels of passion based on how people present, and yours was quite real and authentic. And I think you've proved it out over the subsequent 12 to 13 years.
James Stoller, MD: You're very kind. Even today, I reflect on the fact that I have the privilege, almost on a daily basis, to help think about how we create developmental pipelines for our colleagues, whether it's in content of medical knowledge or other dimensions. Colleagues in the Education Institute and I, for example, partnered with Cleveland State University and we offer a master's in health educations. Master's in education, in health professions education, a program that's been ongoing for almost a decade now with 70 or so caregivers at the Clinic having gotten a master's degree. We have an executive MBA collaboration with the Weatherhead School of which I'm an alum. We've had 70 plus caregivers partake in those programs, each developing themselves in ways that are consistent with their own career dimensions that are also in service. It's a win-win in service of the institution's interests because people develop talents that they then apply in service of our organizational mission. So, these are things that are incredibly gratifying to me, as gratifying today as they were when I was applying for the position those years ago.
Brian Bolwell, MD: Jamie, the Education Institute here at the clinic is large and it has a lot of different components. Could you briefly just describe the different components for our audience?
James Stoller, MD: Sure. It's grown over time. The Education Institute, initially the Education Foundation, which was founded actually by Frank Bunts, about seven years after the initially of the Cleveland Clinic in 1921. Grew from a couple of departments at the inception graduate medical education and medical photography were the first. CME came online about 75 years ago with an ophthalmology course. Today it's now 10 centers that include the Learner College of Medicine, graduate medical education, continuing medical education, international medical education, health sciences education, the simulation and advanced skill center, a more recent addition of the Cleveland Clinic Journal of Medicine, our Center for Technology, enhanced knowledge, and instruction. People that develop online learning, a whole my learning platform. Our Center for Education Resources, which are PhD educators, the medical library. Those are the 10 centers that currently comprise the Education Institute, which my predecessors have built upon in which have grown under my tenure as well.
Brian Bolwell, MD: When people come to visit the Cleveland Clinic, sometimes they don't understand our relationship with Case Western Reserve University. Could you briefly describe that for us?
James Stoller, MD: Yes. We have a wonderful synergy with the university that's really evolved over decades. Today we're strategically aligned. You well know since you were intimately involved in the genesis of our relationship with the Cancer Center. Similarly in education, we have a very close relationship in the Lerner College of Medicine. The case Western Reserve University actually has two medical schools embedded within the same degree granting institution, Case Western Reserve University. One is what we call the university program, which is a four-year program, roughly 190 students a year with a somewhat, and I say this in the most admirable way, the university was one of the standout landmark curricula when Flexner did his work in the teens, and more recently when curricula were evaluated. The Case Western Reserve curriculum was identified as a beacon. So, that university program is the legacy of that tradition.
The Lerner College of Medicine, which has now graduated 14 classes, came online under Dr. Loop's leadership with President Hunder. Came online in 2002 and is very differently organized. A five-year curriculum, one year committed to research, pedagogically very different in the sense that there are no exams, no grades, no lectures. It's all problem-based learning. We're teaching doctors to be team-based players who are research savvy. So, that is the pedagogic goal of the medical school, has now graduated 408 alumni. And it is absolutely realizing its mission. These graduates of our college, 16 of whom are now on the staff at the Cleveland Clinic, I should say, are populating academic medical centers throughout the United States and getting grants and producing scholarship and new knowledge, as well as practicing first class medicine, something we're all very proud of. You and so many members of the staff at the Cleveland Clinic are actively engaged in teaching these students. It's something that we can all be proud of.
Brian Bolwell, MD: Yeah. I very much echo that. It's a wonderful program. So, you said, when you looked at the opportunity, that it was kind of convergence of your interest in leadership, as well as that of education. So, how's that going?
James Stoller, MD: Well again, I think it's for others is to decide. We have a wonderful APR process at the clinic. I actually look forward to that every year, to garner feedback, which is of course a gift. I think it's gone well from my point of view. Again, that's a loaded question, of course, but it's created the opportunity to be innovative, to bring online new programs that are aligned with the current paradigms of learning. We're focusing now, for example, on interprofessional learning. We have an office of interprofessional learning that is actively engaged in teaching doctors side by side with nurses side by side, with health science students together in the same learning environment, which is of course consistent with the teams approach and medicine. We're trying to just design curricula around the caregiver of the future, the Wayne Gretzky quote, "We're skating to where the puck is going rather than where it is."
So, we're imagining the skills needed for future caregivers, virtual skills, technology-based skills, skills in health system science, as the AMA has called it, leadership change management, population health quality, patient safety, change management. These are all part of the curricula that are incorporated throughout the continuum of our learning audiences. To the extent to which we're anticipating those needs and then designing programs who address them, I think it's going well, but again, others will judge that.
In terms of external metrics, for example, the college, last year we had 2,099 applicants for 32 positions, highly coveted. In graduate medical education. We get about 12,000 applicants for about 300 positions a year. And you know, one of the other things we're very proud of is the diversity that we celebrate. We've accepted trainees to our GME programs from 127 countries. So, the Cleveland Clinic at its core has always identified talent wherever it is around the world in a holistic way, not constrained to the sort of pedigree approach to recruiting, which of course is extent in some institutions that you and I both recognize.
Brian Bolwell, MD: How has your personal leadership changed over the past 10, 15 years? What have you learned?
James Stoller, MD: Yeah, that's a great question, Brian. I've become more and more attentive. I think I always had a basic sense of this. And of course, you do as well having so successfully run Taussig for many years, about the importance of culture, the importance of creating a culture that invites more recently named psychologic safety by Amy Edmondson, of course. But even before her work, before she wrote Fearless Organization and other things, I was always aware ... we've since written a book on this, that creating cultures that release discretionary, that creating cultures that are virtue based, we thought explicitly about it, the seven classic Aristotelian virtues of trust, compassion, hope, wisdom, courage, temperance, justice, that when you create cultures that are explicitly designed around these principles, who, for example, would not want to be part of an organization that values compassion and trust.
These are universal principles from the research that I and my co-authors have done. So, when you create cultures that demonstrate these values, you release people's discretionary effort, and you free yourself from having to be in a carrot or stick environment. Carrots where you reward positive behavior, and sticks where you punish aberrant behavior, which in the end does not produce high performance. There's ample literature to support this idea. So, what have I learned? I've learned empirically that I'd like to be thought of, at the end of my tenure, as someone who tried to create a culture that created that opportunity for people to bring their best ideas forward. I think that the external metrics that we enjoy in the Education Institute—Press Ganey data. We're proud to say that we're the 97th percentile and engagement and national norms, which I hope is some biomarker, if you will, of having created that kind of culture.
Brian Bolwell, MD: So, certainly, everyone would agree that creating that kind of culture is a major goal and a wonderful aspiration. How do you do it?
James Stoller, MD: Well, I think the first thing you do is create a common language around the values that you hold. So, you give voice to these principles as explicit design elements. I think of culture, culture is like a garden, Brian. It's going to grow one way or the other. It's going to grow as a bunch of weeds in a very unattractive way, or it can grow as a fine English garden. The growing in the latter way requires sort of explicit design. So, one of the things we did very, very early on taking a chapter out of the Johnson and Johnson history, going back to the Tylenol scare in the sixties, I think it was, was to create a credo that we co-created, all of us in EI. I remember going through about nine iterations of this document with colleagues, and we wrote it about our common values, respect for persons, harvesting wisdom, that sort of thing.
That language was then emblazoned. We made a big giant poster that we all signed, and it's framed in the hallway today. People walk by it not really even giving it ... it's sort of part of the furniture now, but in fact it was a very early effort to be explicit about the kind of culture that we collectively wanted to design and live in. I think that that being mindful about the culture and then modeling those behaviors on an everyday basis in order to maintain trust and garner trust, trust is one of those things, as you all know, it's gained in drops and lost in buckets. So, demonstrating these values on a continuous basis is part of how to cultivate that garden.
Brian Bolwell, MD: For those of you who don't know Dr. Stoller, he probably has as wide a knowledge of leadership literature as anybody, certainly, that I've met. He's been a great help to me. I remember at one point he gave me a book, What Got You Here Won't Get You There, which is basically about how you need to evolve as you take on new roles, especially new leadership roles. Do you still read as much as you always did about leadership, Jamie? Because it's always been remarkable to me how much knowledge you have about the entire field.
James Stoller, MD: Well, you're kind Brian. I do. This remains a passion of mine. I've been fortunate enough; I've been mindful that the way you create sort of being fresh about this is that you surround yourself with leadership scholars. So, I've been fortunate enough to be invited to serve on the faculty in the department of organizational behavior at the Weatherhead School. So, I attend the faculty meetings. Many of the faculty were my former teachers, mentors when I was doing this master's degree, but we'd become peers. Those conversations provide me with ongoing sounding boards and literature. And then in turn, I've tried to contribute to that literature at least through the medical lens, because I think one of the perspectives that you and I and other leaders at the Cleveland Clinic uniquely have is this intersection between leadership competencies and medicine.
Our colleagues in business obviously may be world experts in leadership, but lack of medical perspective. So, I've tried to capitalize on the basic academic reflexes that brought me to the Cleveland Clinic, that I've tried to exercise in my pulmonary life. I have an interest in COPD and alpha one antitrypsin deficiency. I've tried to contribute to that literature, and I've taken those fundamental appetites for clarity and to publish in the leadership arena as well. So, yes, I try to read, and I try to write and contribute to new knowledge. I think it's an obligation that we at the Cleveland Clinic, among great academic medical centers, we have an obligation to share our knowledge and our innovation with a broader community at large.
Brian Bolwell, MD: So, you published a very strong leadership book about the virtues of leadership, which you just mentioned a couple minutes ago. You talk about the seven virtues. Do you think they're all equal?
James Stoller, MD: Well, I think trust and compassion are the foundational virtues, and many have written about this. Lencioni's work on dysfunctional teams. Everything is predicated on trust. This is fundamentally what Amy Edmondson has also talked about in psychologic safety. That if there's no trust, it's impossible to develop teams. If there are no teams, it's impossible to develop high performance. So, I think of the seven, I would say they're all important. They all contribute. But I would say that that trust, compassion, and justice are the foundational virtues. Absent those, it's very difficult to have hope or wisdom, or even courage for that matter.
At the same time, when you look at very high performing organizations, examples include the Navy seals, all of the United States military service academies, all of them…and my co-author Peter Ray has been in conversation with leaders in all of them…They all fundamentally align with these principles around culture based on the seven virtues, trust, compassion, and justice being foundational among them.
Brian Bolwell, MD: So, trust, compassion and justice are relationship-based virtues. They basically involve at least two people, and in an organization, certainly many more than that. Courage is something that's an individual characteristic. There are, several—many—actually leadership literature that suggests the courage is the most important characteristic to have as a leader. Do you ever think about it in those terms, that some of the virtues are cultural versus individualistic?
James Stoller, MD: Well, it's a great question. One of the principles is that it's not a virtue until you act. It's fine to imagine being compassionate, imagine being trustworthy, imagine being courageous, imagine being just. But unless one acts in ways that are consistent with those values, they don't exist. So even courage, although it comes from an inner appetite, an inner commitment to being right at the risk of personal harm, if you will, reputational or even physical, even courage is relational in my view. Because again, it isn't courage until you act in a way that's courageous, and courage necessarily involves an interaction between at least two people. So, I do think about it all the time and leadership can at times be very lonely, as you're aware. There are times when you can't confer with others, and you just have to make tough calls. I suppose there's courage in that. There's always the desire to sort of fit in versus do the right thing. Sometimes those things are not colinear, if you will. Often, they are in institutions that align with justice and compassion and trust as foundational values. But even then, sometimes, they're at odds with one another, and then you have to take the position of asking forgiveness rather than permission. I've been fortunate enough that, in the times when I've done that, I've made plenty of mistakes, but they've not been existential mistakes, I don't think. Yeah, I think courage is also relation.
Brian Bolwell, MD: What do you think the biggest missteps are for leaders who don't achieve the success they aspire to?
James Stoller, MD: Well, I think the key step in leadership is deciding at the outset of leadership, being mindful about the fact that you're in service of others' needs and not your own. I often advise folks when they come and chat with me, as folks do with you as well, and many others around here, about what they should be thinking about if they put their hat in the ring to advance to this leadership role. That the fundamental decision you need to make with yourself, looking yourself in the mirror is to say, am I at a point in my career where I'm really in service of other people's advancement at the expense of my own. It comes to roost in things like your door is closed, you're working on something, and someone knocks. Are you going to open the door?
As simple a paradigm as this. Are you going to leave the door open, or are you going to do your thing? Or authorship position on a paper. Those sorts of very concrete academic sort of ... maybe they're trivial examples, but you know what I mean? The idea that is that my job is to help others and not advance my own career. That's not to say I can't engage in the academic life of medicine, something that you and I have both enjoyed and been the beneficiaries of over our long careers here. But fundamentally, my job is to advance other people. I would say to people that, if you're not ready authentically to make that transition, then I would defer stepping into leadership because, unless that's true, it's green leaf, servant leadership concept that's been well articulated. That unless you're really authentically ready to make that leap, I would advise against taking on leadership because it's bound to not work out well.
Brian Bolwell, MD: I agree with that. Another tenant of leadership is the ability to self-reflect, to examine your own behaviors and to work on continuous improvement of yourself. Is that something that you tell aspiring leaders?
James Stoller, MD: Yes. Well said, Brian. When you think deeply about what leadership attributes must we teach in the Mandel Global Leadership and Learning Institute, and of course we thought about that together over time. Among the core competencies of leadership is emotional intelligence. Depends on which model you use, but if you use the populous model, the Goleman-Boyatzis model, there are 18 components in terms of self-awareness, self-management, relationship awareness and relationship management. Within those four quadrants, 18 components such as being a change catalyst, understanding team building, that much of this is around self-awareness. Really success in becoming more emotionally intelligent, which has been one of my lifelong aspirations, comes through meaningful and trusting relationships, providing feedback that's offered in a supportive way. In my own training, I received lots of feedback, usually quite acrimonious.
I can recall my experiences as an intern receiving feedback that was sort of commensurate to getting new body orifices, if you will. I've often reflected on that. That's not the sort of feedback that creates an appetite for feedback. Yet, feedback is an absolute gift. Our whole medical school's predicated on TAFIs-targeted areas for improvement. If we reframe the way we work in medicine by being supportive of one another in service of better improvement, rather than trying to spar with one another, to be adversarial, then we create a different culture. Again, this gets back to the culture discussion we were having. So, I think self-awareness and mindfulness, the things you're talking about are critical. They come through coaching and mentoring, and coaching and mentoring comes from having trusting and supportive relationships that are in service of getting better, not creating gratuitous criticism, if you will.
Brian Bolwell, MD: Well, I'm a huge believer in coaching. I think that coaching and mentoring is a wonderful way to self-reflect, to learn about leadership, to get better, to do all the things that you're describing, and ultimately to live your values. I think that's what we all want to do. I think that's kind of what we're all taught to do, but a lot of times the world isn't linear. The world has all sorts of obstacles in front of you and living your values, frequently, is not as easy as it sounds, but boy, that's got to be the goal. I think the more you can execute on that goal, probably the easier it gets going forward.
James Stoller, MD: Yeah, you know I think it comes down, and I agree with you completely, to authenticity. I think that success in any organization, whether leader or what Richard Bowmer calls a big L leader versus a small L leader. Physicians are leaders intrinsically, whether you're leading a team on rounds, whether you're leading a department, an institute, whether you're leading the whole organization as the CEO. We are leaders in every dimension because we interact with others. In any of those contexts, I think authenticity is critically important. In other words, you need to be able to model the values you espouse and hold dearly.
If you're really interested in providing fabulous care to patients, that's what drew me here to the Cleveland Clinic at the inception of my career is the idea that I was aligned with the mission of a place that took clinical care seriously. I regarded myself as being very serious about providing clinical care to my patients as you did, as so many of our colleagues do. So, that was a part of early alignment in my career. Then the alignment on leadership values, as you point out, is to truly be in a place where you derive energy and passion from being able to bring to fruition the same values that the organization holds dear. So, education is one of the key missions of the Cleveland Clinic, caring for life, researching for health, educating those who serve. We're serious about it.
We expend tremendous resources and service of it. We value it, and so the opportunity to be authentically involved with an organization that values these things as I do is a privilege. But as you point out, it can get complicated. What I tell people when they're imagining even going from medical school to residency or residency to fellowship, or fellowship to jobs, is to think about their alignment between their personal values and those of the organization they're joining, because you've seen one academic medical center, you've seen one academic medical center in terms of the true culture. Even those cultures have microenvironments within organizations, and being sensitive to what those are, and being clear that they align with your own values, is the key to longevity in an organization in my view.
Brian Bolwell, MD: Yeah, I agree with that. That's actually a very interesting topic and it kind of leads me to wondering about one of the things that you've successfully done is branch the Education Institute to all of our parts of the organization, including those that are international. Is the way you approach education or leadership training and development different internationally, or is it pretty much the same as what we do here in Cleveland, Ohio?
James Stoller, MD: Well, it is different, and it has to be different. Yet it's all the same in some ways. So, I can tell you that, through the research that my colleagues and I have done in this book, that the appetite for the virtues is absolutely transcend geography. It's the same around the world in organizations that are international. One of my co-authors Peter Ray is at a Fortune 200 company called Parker Hannifin based here in Cleveland. Peter has been around the world in 55 countries where Parker is and has demonstrated that these virtues are universal. Yet at the same time, teaching in other geographies, as we have the privilege of doing at the Cleveland clinic, and in Abu Dhabi, in London, now that it's opened, in Canada, the nuances of pedagogy are different around the world, and they have to be culturally sensitive and contextual for the particular learning environment. So, it's like an antibody. There's a constant region and a variable region, and the constants are around the basic principles of we all align with, and the variable regions are how we adjust our pedagogic style to that in keeping with the local culture.
Brian Bolwell, MD: Jamie, we're about to wrap up. Do you have any thoughts that you'd like to leave our audience with, in terms of their own leadership journey?
James Stoller, MD: Well, first of all, I've tremendously enjoyed our discussion, Brian, as I always have valued our conversations over many years here. I would say that we've talked about the important themes, the important themes of authenticity, of making a decision about leadership based on a commitment to altruism in service of others. Then having stepped into the role of leadership, being mindful about how you want people to experience your leadership, particularly the culture that you create, because leadership is around creating culture that disseminates and affects others. So, I think being mindful of those principles, being conversant with what the attributes of great leadership are, being knowledgeable about those things, acquiring that knowledge, and then realizing that leadership development has three components.
One is curriculum, so developing a vocabulary. Two is coaching and mentoring, that we've talked about. And third is experiential leadership, being put into a leadership role, using that role to learn, garner feedback, and then leveraging that success and service of greater and greater responsibilities. Your own career has been a perfect example of that. You've grown into greater leadership roles around the successes that you garnered from earlier roles. That's how it goes. Realizing that those elements are in play are the key leadership lessons I would offer.
Brian Bolwell, MD: Thank you so much, Jamie. I would invite all of our listeners to read Dr. Stoller's outstanding book leadership as well, and he publishes a lot on this topic. Thank you so much, Jamie.
James Stoller, MD: Thank you, Brian. A pleasure.
Brian Bolwell, MD: To our listeners, have a wonderful day and thank you very much for listening. We'll see you on our next podcast.
This concludes this episode of Beyond Leadership. You can find additional podcast episode on our website, clevelandclinic.org/beyondleadership or subscribe to the podcast on iTunes, Google Play, Spotify, or wherever you get your podcast. We welcome any topic ideas you may have for future episodes, comments, and questions about this, or any past up episode. You can let us know by emailing us at [email protected].
Beyond Leadership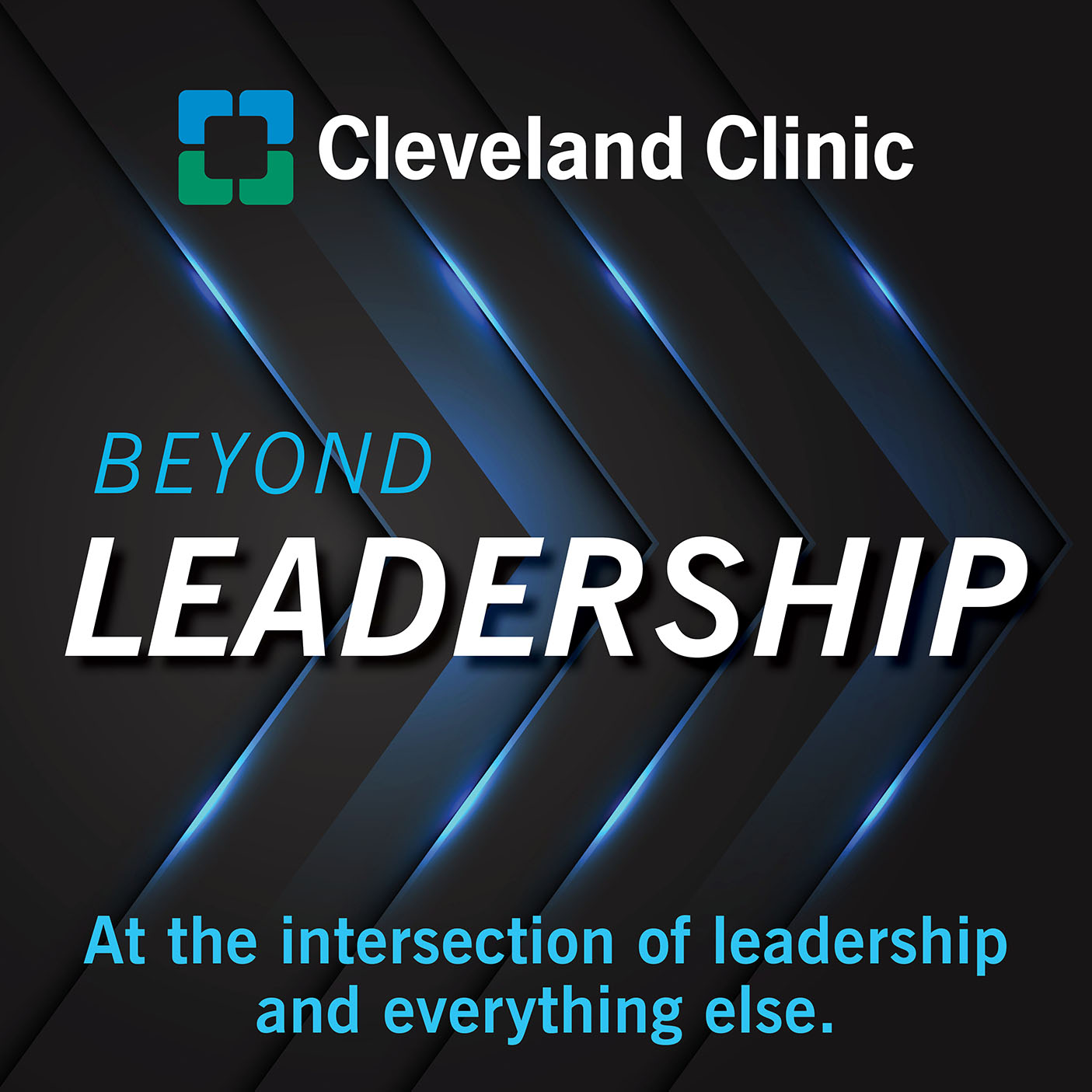 Host Dr. Brian Bolwell escorts you through a network of thought leaders, sharing world-class insight on leadership and cutting-edge hospital management approaches. They will inspire and perhaps compel you to reinvent your practices – and yourself.
Developed and managed by Cleveland Clinic Global Executive Education.
Subscribe: