Overview
Overview
Welcome to the Pediatric Gastroenterology Fellowship Program at Cleveland Clinic Children's! Our program is nationally ranked by U.S. News & World Report.

We offer a fully accredited three-year program in compliance with the guidelines set forth by the Accreditation Council for Graduate Medical Education (ACGME) and the North American Society of Pediatric Gastroenterology and Nutrition (NASPGHAN).
Our fellowship program is the backbone of our department. Our faculty's depth of experience allows for a variety of different clinical and personal teaching styles. We are a mid-sized program and pride ourselves on making fellows part of our family at Cleveland Clinic Children's. Our core research staff includes seasoned clinical researchers and world-renowned inflammatory bowel disease and nutrition researchers, and we offer cutting edge technology in research and clinical areas for learning and growing. We offer a strong collaboration in research and clinical space with our adult gastroenterology colleagues, allowing for close relationships with experts in academic research, colorectal surgery expertise, and transitioning patients to adult care via shared clinics. We are so proud of our graduates, many of whom are in academic and leadership positions around the world.
Take a Virtual Tour of Our Campus
Our fellowship program provides a strong academic background as well as clinical training. We focus on clinical and translational research with core faculty and research faculty members taking an active role in fellowship training. We strive to produce academically productive fellows with strong mentorship, in both research and clinical fields. Please see the above tabs for more information about our structure, including curriculum, clinical modules and research time during fellowship.

We look forward to meeting you!
Diversity & Inclusion
Discover the role diversity and inclusion plays at Cleveland Clinic and at its Graduate Medical Education program, as well as our diversity and inclusion efforts.
Learn more
How to Apply
Benefits
Benefits
Vacation
15 vacation days per year.
5 personal days (interviews, sick time, etc.).
Conference attendance
Travel and logistical support is provided to the fellow when presenting at a regional or national meeting.

Cleveland Clinic Children's offers up to $2,500 per year for conference attendance stipend.
Salary
Please visit the Graduate Medical Education website for more information.

Cleveland Clinic Children's is pleased to offer, in addition to salary, a $1,000 allowance for training-related educational expenses, such as books, study materials, etc.
Additional benefits
Cleveland Clinic sponsored Pediatric Board Review course available during your PGY4 year.
Free iPhone for the duration of the fellowship.
Greater Circle Living - $5,000 forgivable loan grant.
Cleveland Clinic discounts (dining, computers, cellphone carriers, and more).
Increase in the House Staff Association budget for social activities.
Enhancements to your benefits package.
Increase in academic travel dollars from $1,500 to $2,500 per year for eligible trainees.
Increase in interest-free Schroh loans from $2,400 to $4,800.
The greater Cleveland area has a lot to offer! Nestled against beautiful Lake Erie, its attractions are diverse and include top-notch schools, an award winning MetroParks and state park that are ranked in the highest in the nation. We have the second largest theater district in the world, Playhouse Square, second only to Broadway in New York City. We have excellent dining of all types, a world-renowned orchestra, exciting nightlife and concerts, a superb zoo and science center, botanical gardens, the Rock and Roll Hall of Fame, and NBA, NFL and MLB teams whose games are all easily accessible. We have a low cost of living with up-and-coming areas to live in, including downtown Cleveland, Ohio City, Gordon Square Arts District (all these locations have walkable coffee shops, stores, parks, and grocery stores and they're within minutes of Cleveland Clinic main campus!). Learn more about Cleveland!

Fellowship appointment includes competitive salary and full benefits including paid vacation, maternity/paternity/adoption leave, health and dental insurance, and malpractice insurance. Visit the Graduate Medical Education website for more information.
Further information regarding benefits can be found at the GME homepage.
Curriculum
Curriculum
First year fellow schedule (PGY-4)
Gastroenterology, Hepatology, & Transplant Inpatient and Consult Service:
5 modules
Calls per month:
7, including weekends
Clinics:
Weekly fellow continuity clinic with core teaching staff.
Outpatient gastroenterology clinical electives.
Endoscopic and procedural skills in inpatient and outpatient schedules.

Research module and mentorship meetings begin early in 1st year.
Second (PGY-5) and third (PGY-6) year fellow schedule
Overall Structure:
Hypothesis-driven research investigation with dedicated research time: Each fellow works closely in a mentor to learn academic skills, with extensive training on manuscript writing; Projects include clinical, translational, or bench research projects with many mentor opportunities which are assigned early in fellowship; Hypothethesis testing rigor is expected; Statistical coursework is part of core curriculum in 2nd/3rd years.
Weekly Fellow Continuity Clinic with core teaching staff.
Subspecialty Clinic Exposure including IBD Clinic, EOE/Motility Clinic and Hepatology/Transplant.
Optional electives/observations offered:
Clinical Conferences
Clinical Conferences
Pathology Conference: Monthly (fellow-facilitated)
Pathology staff review interesting cases with GI fellows and staff with direct observation of tissue and slides. The presenting fellow presents the case and focuses on findings and clinical decision making, and staff and fellow facilitate discussion of cases. Pathology conferences allow fellows to improve their ability to review and interpret histological specimens in an organ-based fashion from a variety of pathological conditions.
Radiology Conference: Twice monthly (fellow-facilitated)
Observation of interesting radiologic scans or unusual cases are shown with focus on normal and abnormal anatomy, findings in disease processes and findings in common cases in radiology. Radiology conferences are designed to improve the fellow's ability to interpret basic radiology studies and determine which tests are applicable in specific clinical situations.
Grand Rounds: Weekly
Presentations by Cleveland Clinic/Cleveland Clinic Children's caregivers and visiting faculty on a broad range of topics, including clinical topic updates, clinical and basic science research in GI topics, surgical history, etc. Each fellow presents once per academic year.
Pediatric GI Fellow Lecture Series
Lectures curated by GI faculty on a broad range of diverse topics that are relevant to practice and improve clinical decision making, along with topics covered frequently on Pediatric GI Boards.
Pediatric GI Board Review and Physiology Review
Lectures given by the fellowship program director or associate PD that target board specific topics, including review of the NASPGHAN Fellow's Handbook, along with review of board relevant questions and answer discussion.
Pediatric GI Case Conference and Review
Lectures review interesting cases and are presented either by a fellow or the faculty leading the case conference. Steps on their decision making and clinical thought-process are discussed.
Pediatric GI Journal Club

Critical Appraisal of Journal Articles is reviewed in detail with core faculty members.

Adult and Pediatric IBD Conference: Weekly

Adult and Pediatric Journal Club: Monthly

Adult and Pediatric Grand Rounds: Weekly
Endoscopy Conference: Monthly

Liver Transplant Grand Rounds: Weekly

Transplant Coordination Meeting: Weekly

Our Team
Fellows
Fellows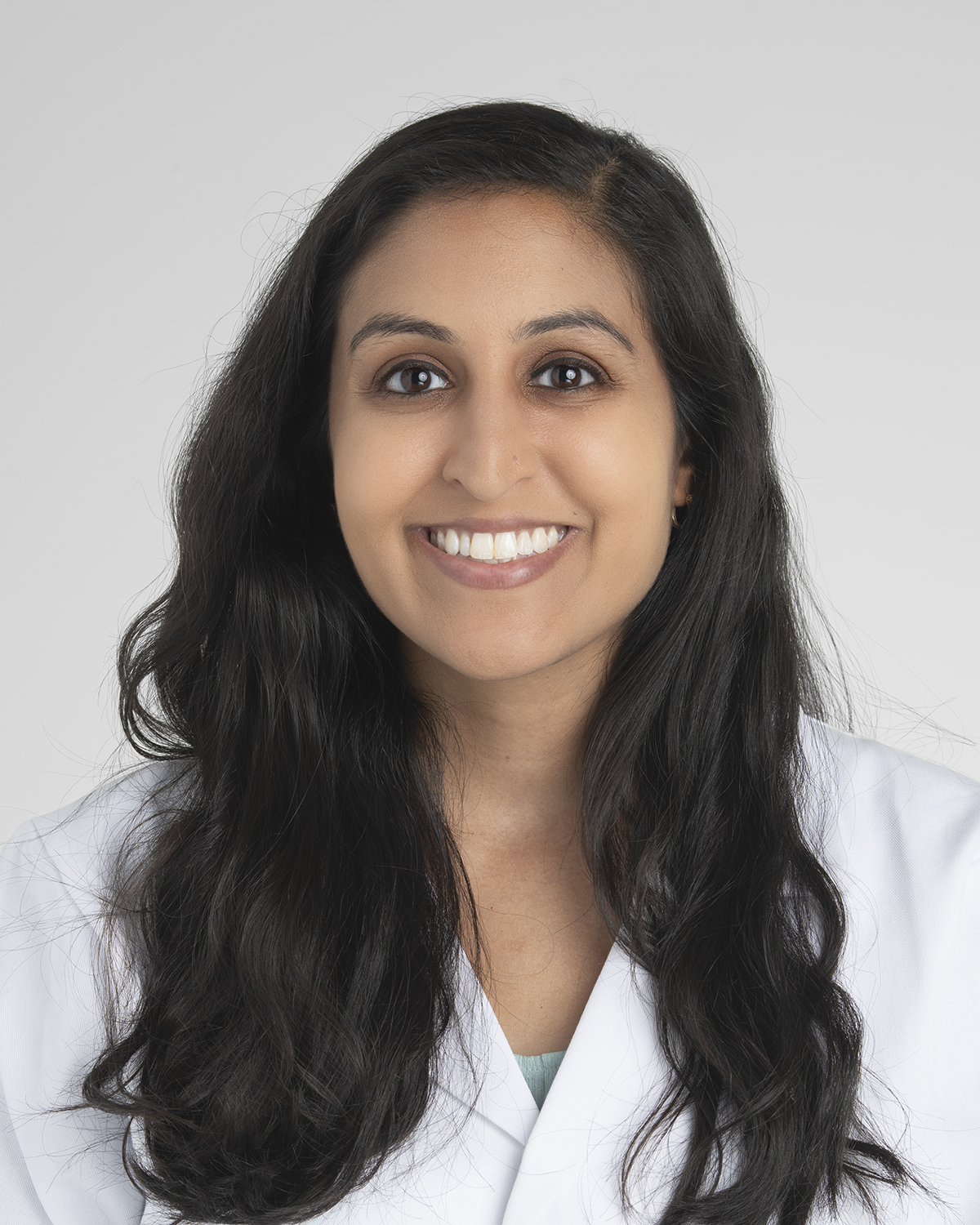 Name: Meenal Thadasina Karuvannur, MD
Year: PGY4
Hometown: Dallas, TX
Medical School: Wright State University Boonshoft School of Medicine, Fairborn, OH
Residency Program: UH Rainbow Babies and Children's Hospital, Cleveland, OH
Why I Chose Cleveland Clinic Children's: "The friendly and welcoming staff during my interview day was one of the many aspects that drew me towards this program. Cleveland is a medium-sized city with a small town feel and it has a diverse population of patients. Cleveland Clinic has both intestinal and liver transplant services which brings a diverse pathology in patients to learn from."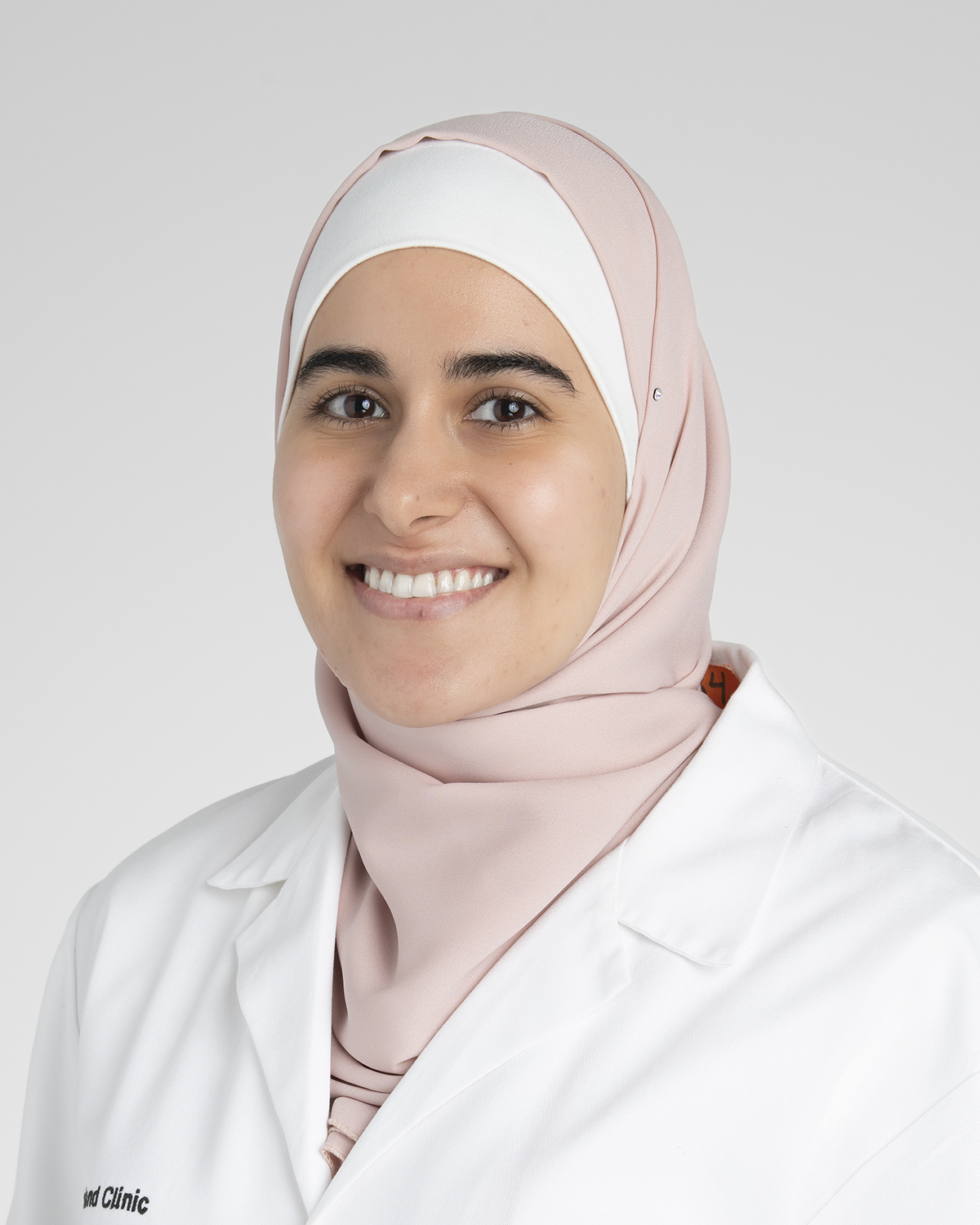 Name: Mira Younis, MD
Year: PGY4
Hometown: Amman, Jordan
Residency: University of Jordan, Amman, Jordan
Medical School: Cleveland Clinic Children's, Cleveland, OH
Why I Chose Cleveland Clinic Children's: "It becomes difficult to leave once you experience the warmth, passion and dedication to pediatric gastroenterology shared by the department in this internationally renowned institution! I chose to stay at Cleveland Clinic Children's for fellowship because of its commitment to the success and growth of its fellows, the robust mentorship and support provided by the faculty, the various research opportunities, the exposure to a large spectrum of clinical pathologies while serving a diverse patient population and finally, for the unparalleled training opportunities across different clinical settings under the guidance of outstanding faculty who are experts in their respective fields."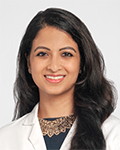 Name: Amala J. Alenchery, MD
Year: PGY5
Hometown: India
Medical School: St John's Medical College, Bengaluru, India
Residency Program: Cleveland Clinic Children's, Cleveland, OH
Why I Chose Cleveland Clinic Children's: "The institution prides itself for the wide range of pathology and socio-cultural backgrounds of patients, while fostering holistic development of trainees. The people here are indeed the strength of this program. The diversity and inclusivity along with opportunity for growth, acquisition of knowledge and skills in a nurturing environment is the reason I decided to stay at Cleveland Clinic Children's for my fellowship training."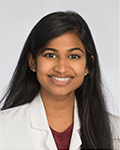 Name: Kritika Sukumar, MD
Year: PGY5
Hometown: Princeton, NJ
Residency: Geisinger Medical Center, Danville, PA
Medical School: American University of Antigua School of Medicine, Antigua & Barbuda
Why I Chose Cleveland Clinic Children's: "I chose this program because it offered a warm culture in the context of access to diverse clinical pathology, an emphasis on trainee education and leaders in the field of pediatric gastroenterology."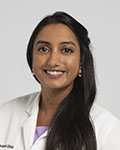 Name: Supraja Swamy, MD
Year: PGY6
Hometown: Menlo Park, CA
Residency: Case Western Reserve University – Rainbow Babies and Children's Hospital, Cleveland, OH
Medical School: Albany Medical College, Albany, NY
Why I Chose Cleveland Clinic Children's: "I chose this program as I was seeking a program with a diverse patient population with exposure to a variety of pathologies in the outpatient and inpatient setting as well as transplant medicine. I liked the multiple research opportunities and appreciate the mentorship from a diverse faculty."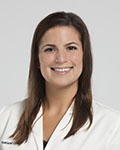 Name: Carolyn Vespoli, MD
Year: PGY6
Hometown: Akron, OH
Residency: Akron Children's Hospital, Akron, OH
Medical School: Northeast Ohio Medical University, Rootstown, OH
Why I Chose Cleveland Clinic Children's: "I chose this program because of its broad range of clinical and research experience. Additionally, several of the attending gastroenterologists I trained with during residency did their fellowship at Cleveland Clinic Children's and felt that they were well prepared for clinical medicine, procedures, and research."
Recent Graduates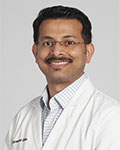 Name: Sanu Raja Yadav, MD
Hometown: Janakpur, Nepal
Medical School: Rajendra Institute of Medical Sciences, Ranchi, India
Residency Program: Cleveland Clinic Children's, Cleveland, OH
Why I Chose Cleveland Clinic Children's: "Outstanding leaders as faculty, broad patient population, and the love of the people in the institution."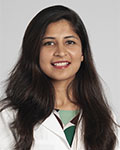 Name: Aditi Mital, MD
Hometown: New Delhi, India
Medical School: Maulana Azad Medical College, New Delhi, India
Residency Program: Metrohealth Medical Center, Cleveland, OH
Why I Chose Cleveland Clinic Children's: "I saw a variety of GI pathologies ranging from simple to complicated, common to rare during my rotations here as a resident from Metro. I soon realized that my dream place for advanced training is just a few miles away from me. I admire the amicable, professional, extremely experienced yet humble staff in this program and super-supportive co-fellows whom I was fortunate to know in advance. We get excellent opportunities to perform a variety of procedures and manage transplant patients."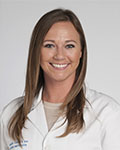 Name: Caroline Conley Phillips, DO
Hometown: Knoxville, TN
Medical School: DeBusk College of Osteopathic Medicine (DCOM), Harrogate, TN
Residency Program: Cleveland Clinic Children's Hospital, Cleveland, OH
Why I Chose Cleveland Clinic Children's: "I chose this program because of the people, education, and emphasis on both the research aspect as well as the clinical/procedural aspect of pediatric gastroenterology. I also love that we see a wide variety of cases from common to rare disorders."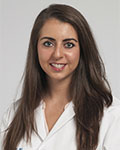 Name: Elizabeth Hilow, MD
Hometown: Lakewood, OH
Medical School: American University of the Caribbean, Cupecoy, Sint Maarten
Residency Program: Cleveland Clinic Children's, Cleveland, OH
Why I Chose Cleveland Clinic Children's: "I sought a robust clinical program with diverse pathology, including transplant medicine, as well as extensive hands-on procedural training. I was fortunate to have such inspiring mentorship and teaching from the department as a resident and continue to learn and foster these relationships throughout the fellowship."