The Center for Pediatric Behavioral Health within Cleveland Clinic Children's offers a one-year Postdoctoral Fellowship in Pediatric Psychology. The purpose of the fellowship is to offer advanced training in pediatric and specialty clinical child psychology to an accomplished psychologist-in-training with a PhD or PsyD from an APA-accredited psychology doctoral program. Our goal is to prepare the fellow to function independently as a psychologist in an academic medical center or outpatient pediatric setting. Postdoctoral training within Cleveland Clinic Children's includes clinical and teaching opportunities designed to foster the professional development of the fellow.
Program Overview
Clinical service
An average week may consist of approximately 3 – 5 inpatient consults and 3 outpatient diagnostic evaluations, 10 – 14 outpatient therapy hours, and variable medical inpatient contact hours. Frequently referred problems include difficulty adjusting to acute and chronic illnesses (e.g., infectious diseases, diabetes, cancer, organ transplant, neurological disorders, gastrointestinal problems), concerns with adherence to medical regimens, enuresis and urinary incontinence, emotional difficulties, and behavioral conduct problems. The fellow receives advanced training in all aspects of assessment, diagnosis, and treatment of these and other conditions. Specialized clinical training is possible in the areas of ADHD and related learning and behavior problems, pediatric behavioral medicine, pediatric pain rehabilitation, feeding disorders, autism, and other complex diagnostic issues. Intensive training modules may be available through collaboration with a staff member in one of these specialized clinics. Since we offer a single fellowship position, we have traditionally been able to tailor the fellowship experience to accommodate the individual training needs and interests of the fellow. Clinically related activities include attending multiple multidisciplinary rounds and participating in other committees (i.e. Child Protection).
Teaching opportunities
The fellow is involved in the training of pediatric residents who rotate through a month-long block rotation in Behavior and Development. Each month, the fellow provides resident lectures on topics related to child development, behavioral pediatric practice, and psychological evaluation and treatment of children. In addition, residents observe 1 – 2 initial evaluations conducted by the fellow, and the fellow reviews and discusses those cases with the residents. Informal teaching opportunities occur while doing inpatient consultations, and umbrella supervision of psychology assistants may be available as well. Frequently, opportunities to present on topics of interest are available, including departmental professional development meetings and invited talks.
Research activities
The fellow has the opportunity to engage in research activities, and a portion of the weekly schedule may be designated for these pursuits. Center staff are involved in numerous research projects and typically work with the fellow to identify an area of interest or a potential research project. Fellows may develop an independent project or join in the ongoing research of a staff member. It is also possible to develop a circumscribed project conducted independently (as opposed to being part of an ongoing study), but using data already collected in the database of the Center. Over the past several years, fellows have initiated independent projects and presented their work in progress at regional and national meetings, and co-authored book chapters and review articles.
Training activities
Additional training activities include weekly Pediatric Grand Rounds presentations and health psychology didactics. There are numerous additional opportunities for education throughout the institution including, Bioethics, Social Work and Psychiatry Grand Rounds. The fellow is welcome to attend any presentations of interest or relevance to their training. Fellows have also enrolled in Professional Development courses offered by the Division of Education. Although there are initial orientation meetings with Center staff, the majority of fellow "teaching" occurs in supervision meetings and other Center activities (e.g., monthly case conference, individual monthly didactics). Fellows typically have 3 – 5 hours of individual supervision a week.
The mission of the Center for Pediatric Behavioral Health is to provide clinical care to patients and families using empirically-supported diagnostic and treatment techniques, implemented with caring and respect. We provide a range of specialized psychological evaluation and treatment services to individuals from infancy through young adulthood, coordinating care with other specialists and professionals to best meet the needs of each child and family.
Staff in Behavioral Health include pediatric psychologists, fellows, assistants, and research, administrative, and support personnel. Professional staff are involved in clinical teaching, research, and professional associations and are recognized regionally and nationally as experts in their subspecialty fields.
Unique to many psychology services in medical settings, the Center is administratively housed within the Pediatric Institute of Cleveland Clinic Children's. Our offices are located across the region including on the main hospital campus, Cleveland Clinic Children's Hospital for Rehabilitation campus, and at the regional family health centers. Our staff work closely with the general pediatricians and pediatric subspecialists of Cleveland Clinic Children's, and the fellow typically gains a great deal of experience working closely and collaboratively with these physicians.
Application Process
All requirements for the doctoral degree, including internship and successful dissertation defense, must be completed prior to the start of the fellowship.
Applicants must have a PhD or PsyD from an APA-accredited psychology doctoral program.
To apply, you must submit a letter of interest, curriculum vita and three letters of reference.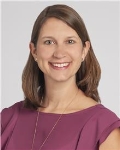 Kate Eshleman, PsyD
Center for Pediatric Behavioral Health (R3)
Cleveland Clinic Children's
9500 Euclid Avenue
Cleveland, OH 44195
Email inquiries can be directed to eshlemk@ccf.org.
Diversity & Inclusion
Discover the role diversity and inclusion plays at Cleveland Clinic and at its Graduate Medical Education program, as well as our diversity and inclusion efforts.
Learn more