Overview
Overview
The Cleveland Clinic Art Program was established by Arts & Medicine at Cleveland Clinic in 2006, and incorporated into the Lou Ruvo Center for Brain Health in Nevada immediately upon the center's 2009 opening. The program's mission is to enrich, inspire and enliven patients, visitors, employees and the community. An emphasis on contemporary art fosters an environment of creative excellence, encourages dialogue and challenges viewers to experience diverse points of view.
Art Education, Library & Music Therapy
Art Education, Library & Music Therapy
Thanks to generous philanthropic support, Cleveland Clinic Nevada offers robust arts education programming at no cost to the community throughout the week, spanning art lectures by docents from some of the world's finest arts organizations to music therapy by a board certified music therapist. View our art and music program calendar or join our mailing list to ensure you don't miss an event: [email protected].
Our Lynn Ruffin-Smith Library for caregivers is open Monday through Friday, 8:30 a.m. – 4:30 p.m. Can't get to the library? Feel free to browse our e-Library or access the card catalog online for materials available in our physical library in Las Vegas. Enter CCLRCBHL in the Library Name prompt.
Music Stimulates Memory
| | |
| --- | --- |
| | Music Therapist Becky Wellman, PhD, says memorization and recall of music can boost latent memories: "It's common when hearing music to recall previous pleasurable encounters with the same tune. What most people never expect, however, is that music can actually help build new memories in individuals with cognitive disorders, and that during music therapy, participants are actually able to learn new songs when nothing else seems to stick.". |
Performance Innovation: Improv for Care
Performance Innovation: Improv for Care
Improv for Care is designed to bring together caregivers in a safe, fun space to play together, be together and to share stories as they expand their toolkit for caregiving. Improv for Care is a collaboration among Cleveland Clinic Nevada; Second City, the legendary comedy troupe out of Chicago; and Caring Across Generations, a national caregiver education and advocacy group.
Cleveland Clinic AR+
Cleveland Clinic AR+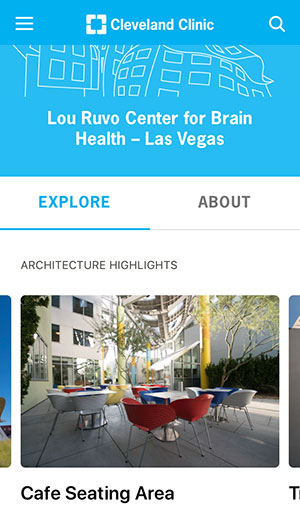 Enjoy our art from anywhere
Experience Cleveland Clinic's world-class art and architecture with this innovative app. You can explore nine Cleveland Clinic facilities in Nevada or across the globe, making unique discoveries whether accessing on-site or remotely. Cleveland Clinic AR+ is available on the Apple App Store.